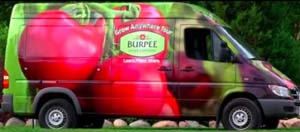 More than 1.25 million votes have been cast, the route is set, and 23 of the country's largest cities await a visit from the Burpee Home Gardens® "Grow Anywhere Tour" truck, the first tour of its kind to deliver plants and produce nationwide. The "Grow Anywhere Tour" will travel more than 10,000 miles to deliver 30,000 pounds of fresh produce, 13,000 vegetable plants, gardening information and support to show the country how easy it is to grow healthy food anywhere.
Students and school staff, community members and Facebook fans in cities around the nation campaigned to have their schools selected as a stop on the tour. The school with the most votes in each city has been awarded the opportunity to host an event where the Burpee Home Gardens team will distribute 1,300 pounds of fresh produce, 450 vegetable plants and gardening support materials at each site. In addition, each school that is selected as a "Grow Anywhere Tour" stop will receive 50 vegetable plants for its school garden. The "Grow Anywhere Tour" focuses on inspiring new generations of urban gardeners to grow their own vegetables on their balcony, back patio, or as part of a neighborhood or community garden. Burpee Home Gardens experts will be available at each tour stop to provide gardening advice, information and educational materials. They will focus on helping communities learn the basics of gardening.
"By digging in and helping these communities explore the basics of gardening, we're demonstrating that you don't need an acre of land or the expertise of a master gardener to grow your own vegetables," said Scott Mozingo, product manager at Burpee Home Gardens.