---
< $5,000.
Pearson required a modular display, with component flexibility for varied spaces. Integrated "showcase shelving", multiple graphic "skins" for easy messaging refreshes, and a greater feeling of presence than their current table and banners offered were the desired outcome. Accenta used its A-Line modular aluminum system to create a custom 3-section display wall. The sturdiness of A-Line allowed Accenta to integrate three shelves to support heavy books without fear of them falling. The project included Accenta's Hinge Counter for placing brochures and Tablet Stand to browse Pearson's online catalog. All graphic panels were magnetic and could be changed in the matter of seconds. The Pearson modular display was created by Accenta Display Corp., 250 Superior Blvd., Mississauga State: ON L5T 2L2; (Web Site) www.accentadisplay.com
---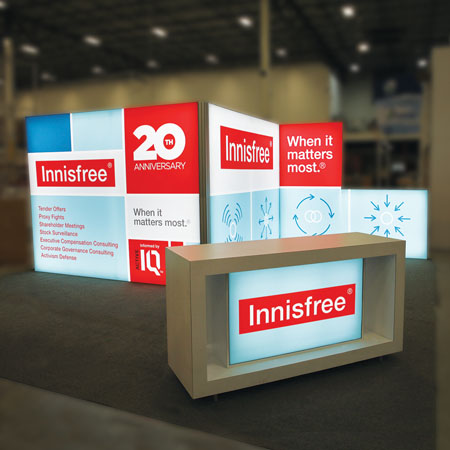 $9,000. Rental
Innisfree, a full service Investor Relations and Proxy Solicitation firm,was in need of a stunning custom island exhibit that would come with a budget-friendly price tag. The exhibit needed to clearly display Innisfree's brand and incorporate product storage. BK Media Group paired up with Orbus Exhibit & Display Group to create a 20'x20′ custom rental exhibit. With three illuminated backwalls arranged in a unique, eye-catching configuration and illuminated front counter, Innisfree's brand was clearly displayed. The off-the-shelf Hybrid Pro™ Modular Counter 02 provided additional branding and secure storage for promotional materials. This rental exhibit was created by Orbus Exhibit & Display Group, 9033 Murphy Road, Woodridge IL 60517; (Web Site) www.orbus.com
---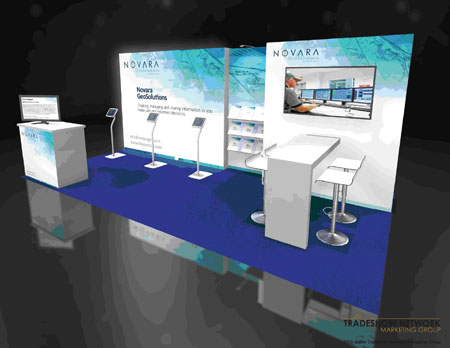 $10,000. – $25,000.
Novara was looking for a 10×20 trade show design that could be broken down into a 10×10 booth for another show one month later. Modular exhibits are best suited for companies that participate in multiple shows where exhibit space requirements differ. By using the same graphics and exhibit components in multiple configurations, you can save substantially on your trade show marketing budget. Novara in the Oil & Gas business, they develop software to help with regulations to make sure a business is compliant and they wanted to showcase their software by having multiple devices running in a demonstration area. Novara's 10×20 exhibit booth was created by The Tradeshow Network Marketing Group, 1900 E. Tyler Road, St. Charles, IL 60174; Web Site) www.thetradeshownetwork.com
---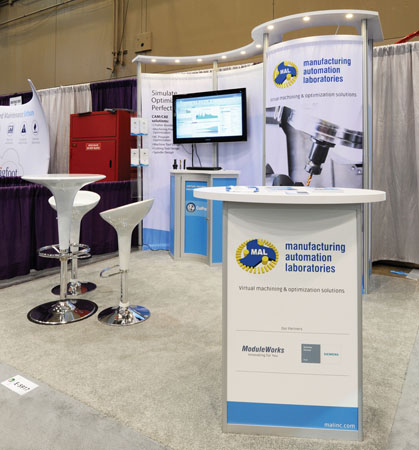 $15,000. Rental
MAL Inc., a machining and operations solutions provider based in Vancouver, wanted to attend the International Manufacturing Technology Show (IMTS) in Chicago. The company was in-need of an exhibit that was cost-effective, functional and sophisticated. Nimlok Chicago supplied MAL with a 10′ x 10′ rental exhibit that incorporated a monitor mount, storage areas, lighting and ample graphic artwork space to convey brand messaging. By providing a rental exhibit solution, Nimlok Chicago was able to build a robust exhibit that fit into MAL's budget. Since the exhibit was rented, MAL also did not have to coordinate shipping across international borders or store the exhibit assets after the show. The exhibit was created by Nimlok Chicago, 111 Rawls Road, Des Plaines, IL 60018; (Web Site) www.nimlok-chicago.com
---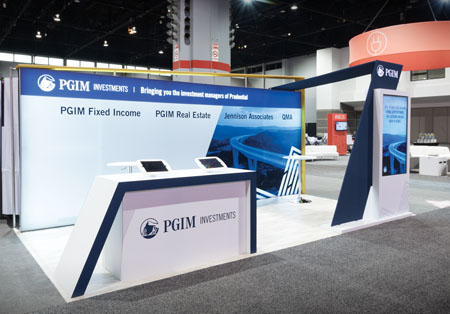 $26,000. Rental
Prudential desired a unique and sustainable exhibit that would showcase their brand and stand out at the MorningStar Investment Conference. The exhibit needed to have a large television monitor and iPads for capturing leads. The exhibit Nimlok New York City designed featured angular exhibit accents to showcase the PGIM brand and contained a reception counter with monitor mounts for two iPads. Nimlok New York City designed the exhibit to be modular and offered Prudential "scale up" options for future expansions. The exhibit was created for Prudential by Nimlok New York City, 31 Dwight Place, Fairfield, NJ 07004; (Web Site) www.nimloknyc.com
---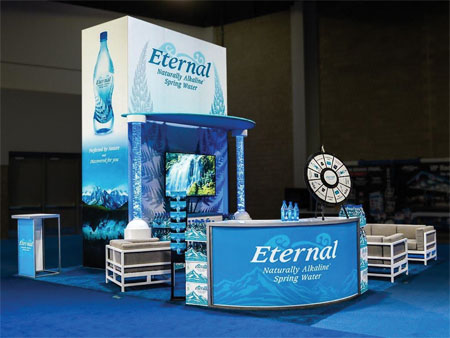 $25,000. – $50,000.
Legacy Exhibits was approached by Eternal Water to design and build an entire new 20×20 booth – their company's first ever tradeshow exhibit. The display had to reflect their brand identity, increase visibility as they were trying to gain market share, provide space for storage, a monitor and counters. Legacy designed a large center tower with branding and eye catching graphics. In particular the lighted, water tubes on each side of the main tower drew lots of attendee attention, as did strategic placement of their product. Legacy also handled install and dismantle. This 20×20 booth was created for Eternal Water by Legacy Exhibits, 9520 Gerwig Lane, Unit F, Columbia, MD 21046; (Web Site) www.legacyexhibits.com