_____________________________________________________________________________________________________


_____________________________________________________________________________________________________


_____________________________________________________________________________________________________


_____________________________________________________________________________________________________


_____________________________________________________________________________________________________

_____________________________________________________________________________________________________


_____________________________________________________________________________________________________


_____________________________________________________________________________________________________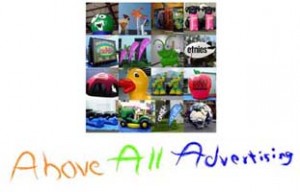 _____________________________________________________________________________________________________

_____________________________________________________________________________________________________

_____________________________________________________________________________________________________

_____________________________________________________________________________________________________

_____________________________________________________________________________________________________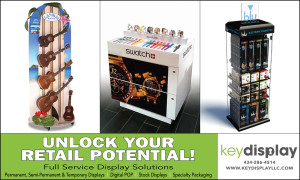 _____________________________________________________________________________________________________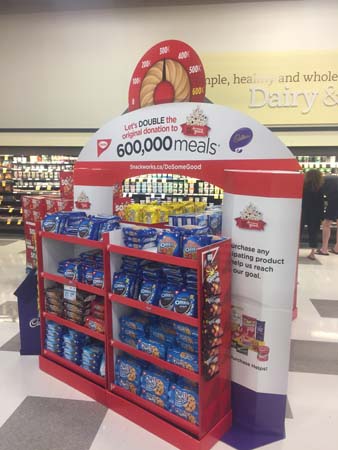 Christie And Cadbury Displays Encourage Consumers To 'Get Some Good' And 'Do Some Good'
In the continuing 2017 celebration of Canada's 150th birthday, CHRISTIE and CADBURY came together to help feed Canadians in need. In store display tools designed to encourage consumers to GET SOME GOOD and DO SOME GOOD were produced.
Through a combination of large format digital printing on their Inca presses and litho printing on their Heidelberg presses, Proprint Services Inc. of Toronto, (www.proprintservices.com), once again manufactured the pos materials. All die cutting and finishing was completed in house as well. These displays are extremely eye catching and were given prominent floor space within retailers to ensure success. (Web Site) www.proprintservices.com
_____________________________________________________________________________________________________
GM Outlines All-Electric Path To Zero Emissions
General Motors recently outlined its vision of a world with zero emissions. In the next 18 months, GM will introduce two new all-electric vehicles based off learnings from the Chevrolet Bolt EV. They will be the first of at least 20 new all-electric vehicles that will launch by 2023. Given customers' various needs, getting to a zero emissions future will require more than just battery electric technology. It will require a two-pronged approach to electrification – battery electric and hydrogen fuel cell electric depending on the unique requirements.
"General Motors believes in an all-electric future," said Mark Reuss, General Motors executive vice president of Product Development, Purchasing and Supply Chain. "Although that future won't happen overnight, GM is committed to driving increased usage and acceptance of electric vehicles through no-compromise solutions that meet our customers' needs."
_____________________________________________________________________________________________________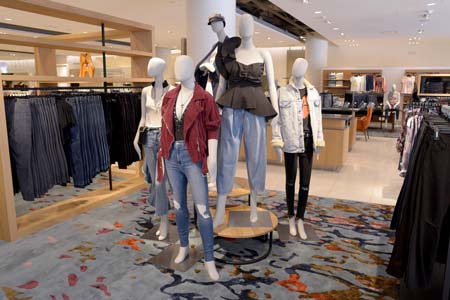 Nordstrom Launches Extended Sizing Initiative
Nordstrom, Inc. celebrates women of all shapes and sizes with its extended sizing initiative launching at its new Century City store. Most women's contemporary brands start with size 2 or 4 and go up to size 12. Plus size brands typically range from size 18 to 24. Nordstrom is asking its customers' favorite brands to fill the gaps in sizing and expand their size ranges by adding more zeros, 2's, 14's, 16's and 18's. The retailer made progress with denim brands first. Mannequins in varying sizes–rather the typical size 2–will bring the story to life to create what the retailer hopes is a more inclusive shopping experience in the denim department of its newest store. In addition, the customer centric retailer is integrating all denim sizes together, side by side in one department rather than separating the petite and plus sizes.
Nordstrom is working on a bigger sizing statement for Holiday with about 40 brands committed to offering extended sizes on Nordstrom.com in multiple categories including swimwear, activewear and ready-to-wear. For Spring 2018, the initiative will evolve even further with extended sizes from a total of 60 brands and inclusive sizing in-store experiences in 15 stores. The retailer is not eliminating its existing plus size or petite departments, rather it is working toward filling the gaps in sizes and integrating all sizes together on the selling floor.
_____________________________________________________________________________________________________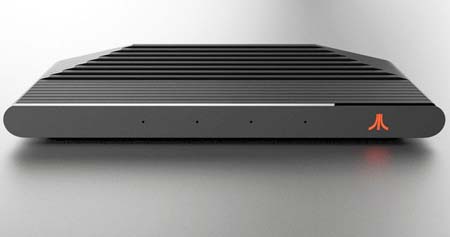 Atari Launches Ataribox
Atari®, one of the world's most recognized publishers and producers of interactive entertainment, has released new information about Ataribox, a product that brings gaming and more to the living room. The launch also signals a return by Atari to creating its own hardware in a broad eco-system of accessories and content. Ataribox has a unique modern design, influenced by iconic Atari products such as the Atari 2600. Technology wise, it is powered by an AMD customized processor with Radeon Graphics technology. Ataribox will offer games and more: bringing a full PC experience to the TV, it will also include streaming, applications, social, browsing, and music. Ataribox will run on Linux OS, with a user interface customized for the TV. Ataribox will launch with a large back-catalog of Atari classic games, and current titles from a range of studios. Given the open nature of the OS, players will also be able to access and play compatible games from other content platforms.
"With Ataribox, we wanted to create an open system, a killer product where people can game, stream and browse with as much freedom as possible. Atari games and content will be available as well as games and content from other providers," said Fred Chesnais, Atari Chief Executive Officer. "We also wanted to launch Ataribox with our community, and reward our fans with exclusive early access, special editions, and include them as active participants in the product rollout."
_____________________________________________________________________________________________________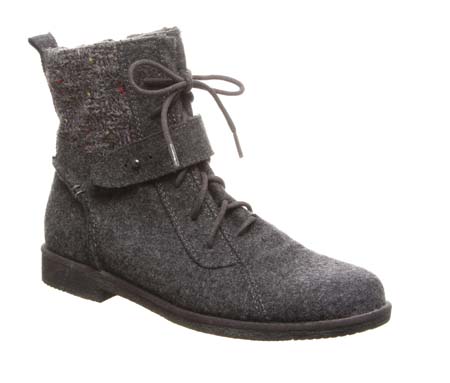 BEARPAW Set To Launch Its First Trans-Seasonal Collection In 2018
BEARPAW, a global leader in fashionable footwear for women, men, and children, is set to debut its first Trans-Seasonal collection in 2018. The rollout features styles that offer versatility and functionality to the brand's Metropolis, Weekend, Cozy, and Venture collections for women, and bridge the gap between summer and winter. BEARPAW's Trans-seasonal collection will provide retailers with a new class of comfortable footwear options during the time of year when weather is unpredictable. Suitable for any season, the line features an innovative lightweight and breathable material that adapts accordingly to temperature and wicks moisture.
Select designs from the Metropolis collection will feature new details such as 100% wool upper and wool-lined removable sockliners. Options from the Weekend collection will offer the perfect mix of casual cool and and sleek silhouettes with lightweight booties and slip-ons that showcase perforated patterns on suede, elastic gore inserts for an on- and-off ease. Consistent with BEARPAW's theme of blending function and style, the Venture collection presents active footwear cushioned with a memory-foam footbed as well as lightweight and flexible rubber outsoles providing endless comfort. In addition to their day to night selections, the brand's Cozy collection will offer the best in lounging footwear.
____________________________________________________________________________________________________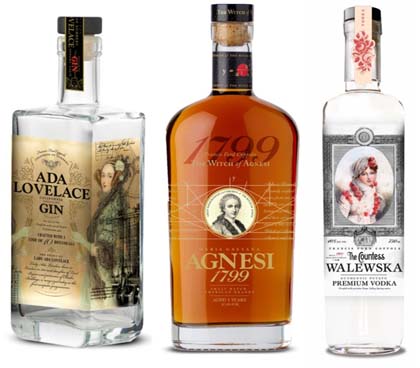 The Family Coppola Launches Great Women Spirits
Having successfully secured a craft spirits license, The Family Coppola has launched Great Women Spirits, which will be available this October in select restaurants and retailers. Great Women Spirits — small-batch, house-crafted, classically styled spirits — will begin production with its brand of vodka, gin, and brandy, and has plans to expand the collection in the near future. Being in a family comprised of three accomplished female filmmakers — Eleanor, Sofia, and Gia — Francis Ford Coppola is surrounded by powerful women.
"My mother, sister, wife, daughter, and granddaughters have all inspired me, as have all of the incredible women we celebrate with Great Women Spirits. We all know well the great men of history, Alexander the Great, Julius Caesar, Napoleon and so on. I can think of as many women who distinguished themselves at that level in the fields of politics, science, mathematics and philosophy, so my choices and reasons for this collection are very personal," said Francis Ford Coppola.
_____________________________________________________________________________________________________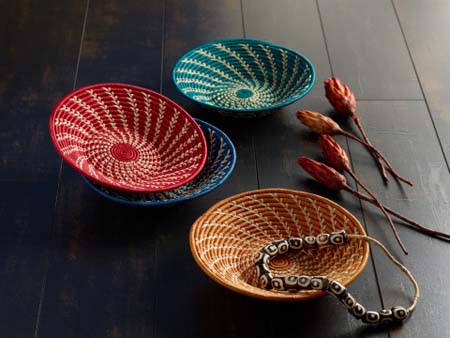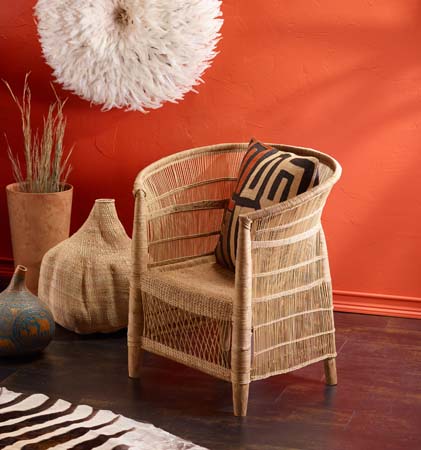 Cost Plus World Market® Launches CRAFT Africa Collection
Cost Plus World Market® has launched its latest focused collection of artisan crafts with CRAFT Africa Collection, in select stores. World Market® buyers journeyed through African countries, including South Africa, Kenya, Uganda, Ghana and Ethiopia, to explore an astounding array of artisan-crafted pieces inspired by ancient traditions. The authentic beaded jewelry, tribal headdress wall art, hand carved wood decor and handwoven baskets have their own unique stories. Sourced from more than a dozen countries in Africa, each piece in the CRAFT Africa Collection is limited in production and has been handcrafted, which means each item is one of a kind. And, from a Samburu tribe warrior hand beading a colorful Maasai choker to the female owner of a banana leaf basket company, each artisan's story is as unique as the beautiful pieces they're creating. Bringing these items into a home can spark conversation, inspire one to travel or simply add an eclectic global vibe to your decor. The CRAFT program will change countries or regions every few months.
_____________________________________________________________________________________________________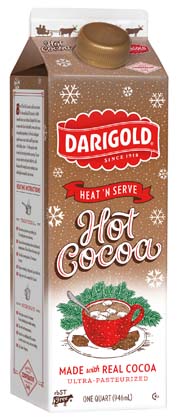 Darigold Releases New Heat N' Serve Hot Cocoa
Darigold has introduced its new seasonal product, Heat N' Serve Hot Cocoa. This indulgent treat is made with whole milk, cream, real cocoa and liquid sugar, utilizing the highest-quality ingredients. To create the best-tasting, rich seasonal beverage, Darigold uses a premium cocoa blend, created exclusively for this product. The exceptionally creamy hot cocoa is found in the refrigerated section in the grocery store and can be heated three ways: on the stove top, in the microwave or with a milk steamer.
"This hot cocoa has us ready for the colder weather," said Randy Eronimous, senior director of marketing at Darigold. "We are excited to finally share this seasonal product. As a ready to heat and serve beverage, this hot cocoa is a quick and easy treat for the entire family. Whether you're planning a holiday party or looking for a new snow day essential, this hot cocoa will keep you warm and satisfy your sweet tooth throughout the season."
_____________________________________________________________________________________________________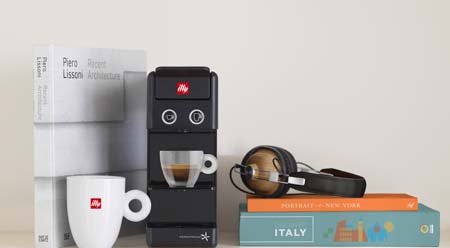 illycaffè Launches The New Y3.2, Espresso And Drip Coffee Machine For Compact Spaces
illycaffè, the leading global company in the high-quality coffee industry, launches the new Y3.2 single serve espresso and coffee machine that combines function and form to inspire coffee lovers' daily ritual. The new Y3.2 is a compact, easy-to-use machine that perfectly combines aesthetics and practicality. At a height of 10 inches, width of 3.94 inches and depth of 11.73 inches, Italian designer Piero Lissoni has created a beautiful object for everyday coffee use. The Y3.2 has clean, minimalist lines and easy to distinguish push buttons to prepare either espresso or filter coffee. illy Iperespresso is a technological innovation protected by five patents entirely conceived and developed for home espresso brewing at the illycaffè Research & Innovation labs in Trieste, Italy.
_____________________________________________________________________________________________________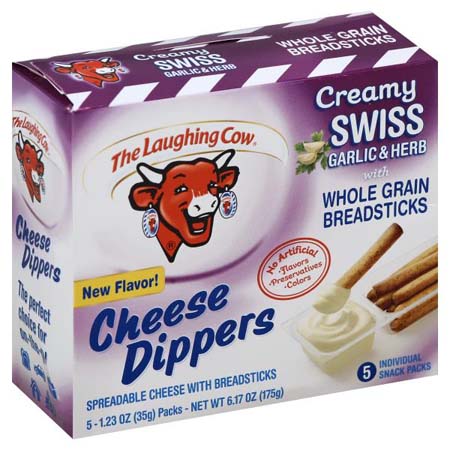 The Laughing Cow Adds Two New Flavors To Its Line Of Portable Cheese Dippers
The Laughing Cow® has introduced two new flavors to its portable, individually portioned snack line – Cheese Dippers. The new Cheese Dippers flavors now include Creamy Swiss Garlic & Herb and Creamy White Cheddar cheeses. The deliciously rich, creamy cheese is now paired with new crunchy whole grain breadsticks, making this on-the-go snack a great choice to enjoy any time, anywhere.
"Cheese Dippers has been a successful addition to The Laughing Cow line of cheese snacks. Bringing more of our most popular flavors of The Laughing Cow's rich, creamy cheese to this line is the next step to growing our brand," said Francis Perrin, chief marketing officer at Bel Brands USA, parent company to The Laughing Cow. "We want consumers to take our Cheese Dippers wherever they go – whether it's in a school lunchbox, during a family weekend trip to the zoo, or in the car on the way home from a big game."
_____________________________________________________________________________________________________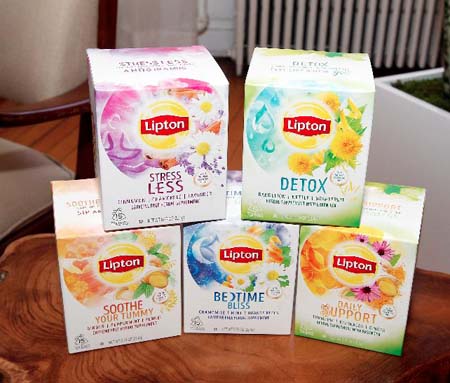 Lipton Introduces New Wellness Range
Lipton® is helping make wellness more accessible for busy people with its new Lipton Wellness range. The new range, made with carefully selected botanicals and blended with essential oils, helps make wellbeing a part of your everyday routine – in just 4-6 minutes of brew time. Enjoy a daily cup or two to supplement your varied balance diet – anytime, anywhere. The new wellness range is available in five varieties, including: Stress Less: A comforting, cozy herbal infusion to help you unwind featuring cinnamon, chamomile and lavender. Detox: This herbal and green infusion is the perfect companion to clean eating featuring dandelion, nettle and grapefruit. Soothe Your Tummy: An herbal infusion for those times your tummy feels less than its best featuring ginger, peppermint and fennel. Bedtime Bliss: An herbal infusion that sings you to sleep, like a lullaby in a cup with chamomile, mint and orange peel. Daily Support: An excellent source of vitamin C, this herbal infusion helps support your body's natural defenses with turmeric, Echinacea and ginger. The new Lipton Wellness range will be available in retailers nationwide.
"We're delighted to launch our new Lipton wellness range," said George Hamilton, Tea Director at Unilever. "We know we're all looking for ways to take care of ourselves. Essential oils, supplements and herbs are often part of wellness routines, and now we've found a way to incorporate them that's as simple as brewing a tea bag. From Stress Less to Detox, our range offers a beautifully crafted experience for everyone, everywhere."
_____________________________________________________________________________________________________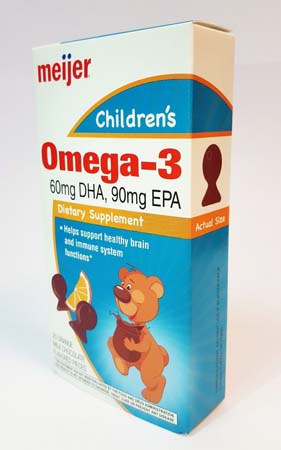 Anlit Introduces Omega Bites Under The Meijer Children's Brand
Anlit Ltd. introduces Omega Bites under the Meijer supermarket's children's label. Omega Bites are a high-DHA+EPA omega-3 supplement in a single, fish-shaped orange-chocolate flavored chewable for children. Omega Bites will launch in Meijer's 230 supercenters and grocery stores in the United States. The concentrated formula delivers a total of 150mg of highly concentrated DHA (60mg) and EPA (90mg) omega-3 fatty acids per single serving. While the benefits of omega oils are outstanding, the taste often is not appealing. In order to provide essential omega health benefits to children, Anlit focused on kids' preferences in both taste and texture, and identified the parameters children care about in shape, texture and flavor. The delicious chewy matrix, with a chocolate-like flavor and smooth texture, helps overcome children's natural reluctance to taking nutritional supplements. "The opportunity to launch Omega-3 Bites across the Meijer chain is possible thanks to Anlit's expertise in children's supplements," said Shai Karlinski, VP of sales and marketing for Anlit.
_____________________________________________________________________________________________________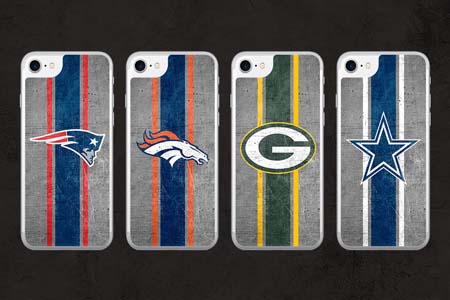 OtterBox NFL Alpha Glass Features 32 NFL Team Logos
Football season is here and NFL fans everywhere can display their team pride every day while protecting their phones with new NFL Alpha Glass featuring all 32 team logos for the latest iPhones. This new Alpha Glass offering fortifies iPhone with double-sided protection. The front glass displays the team name and colors while the back glass features team colors and logo. The fortified, anti-shatter glass offers flawless clarity and powerful protection from scratches and scuffs while representing the NFL team of choice. Paired with clear-backed Symmetry Series cases, NFL Alpha Glass provides all-around coverage from the blitz threatening the ultimate football fan's device.
"NFL fans know that game day isn't the only day you suit up in your favorite team's gear," OtterBox CEO Jim Parke said. "NFL Alpha Glass lets you show off your team pride every day while also protecting your phone from tough scratches."
_____________________________________________________________________________________________________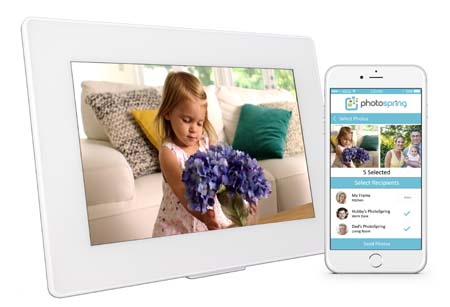 PhotoSpring Now Available Through Best Buy Ignite Program
PhotoSpring Inc., the completely automated digital frame and album for photos and videos, has made its product available through Best Buy's Ignite program. Best Buy Ignite makes it easier and quicker for customers to purchase the latest tech products from startups and entrepreneurs. PhotoSpring is redefining the digital photo and video experience by creating new ways to help people stay connected through these features: Ease of use: PhotoSpring requires minimal technical expertise to set up and enjoy. The intuitive, high-resolution touchscreen interface lets users browse or find photos and videos from their entire collection. Intelligent display: PhotoSpring software automatically analyzes photos and videos, selects the best ones and optimizes them for display. The frame formats each photo to display perfectly on the screen and selects a new set of photos to be displayed each day. A true multimedia experience: The frame allows both photos and videos to appear in the same slideshow. Videos play automatically as they appear on the screen. Security: Photos and videos are securely transferred using the latest encryption technology. All photos and video are stored on the device, not in the cloud. Users can confidently invite family and friends to share photos directly to their frame using a PhotoSpring companion app or through the PhotoSpring website.
Dan Ho, CEO and co-founder, PhotoSpring, said, "People are taking more photos and videos than ever, but uploading them to devices is often time-consuming and tedious. PhotoSpring solves this problem by automating the process of sharing and displaying digital media that would otherwise stay buried within smartphones, laptops and other devices. Now that the frame is available through Best Buy's Ignite program, we have the opportunity to help even more people rediscover and enjoy their treasured memories."
_____________________________________________________________________________________________________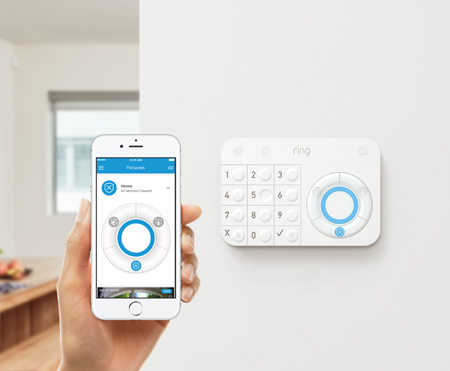 Ring Launches Ring Protect™
Ring, the leader in neighborhood security, has introduced Ring Protect, an affordable and comprehensive DIY home security system. Built to further reduce neighborhood crime, the new customizable security system enhances the effectiveness of Ring's powerful, easy-to-use Doorbells and Cams. Together, these products create a stronger-than-ever Ring of Security that protects homes both inside and out. With Ring Protect, there are no long-term contracts or expensive fees for cancellations or for using cameras, sensors or a mobile app. Ring Protect is easily installed by the homeowner without any tools and can be customized to fit an individual's needs. Ring Protect works seamlessly with all Ring products, including Ring Video Doorbell, Floodlight Cam, and Spotlight Cam, as well as other home security products, like smart carbon monoxide detectors, locks, lights, thermostats, sensors, and more. Battery backup and LTE cellular backup allow professional monitoring to continue even if the power goes out or broadband is unavailable. This complete Ring of Security is what prevents crime and creates the "Always Home" presence that is crucial for reducing neighborhood crime.
_____________________________________________________________________________________________________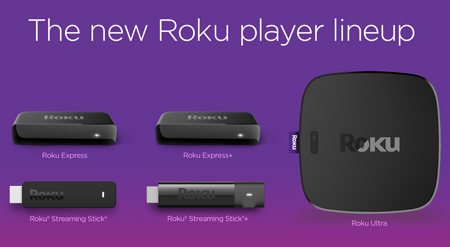 Roku Launches New Streaming Player Line
Roku has introduced five new streaming players giving people who enjoy TV better ways to connect to the streaming entertainment they love. The new line up includes a range of player models that offer better performance, improved wireless reception, new convenience features and greater value than ever before. The new more powerful Roku Express makes HD streaming easy while those who want Roku's ultimate player can get the new lower-priced Roku Ultra. In addition, the company also unveiled the newest version of its operating system, Roku OS 8.
"Our new streaming player line up provides performance, price and features to meet our users needs so they can sit back, relax and enjoy their TV viewing experience even more," said Chas Smith, general manager of Roku TVs and players. "Consumers will love our new sleek Roku Streaming Stick+ with an innovative advanced wireless receiver that gives up to four times the wireless range and a remote that controls TV volume and power. It makes 4K and HDR streaming simple."
____________________________________________________________________________________________________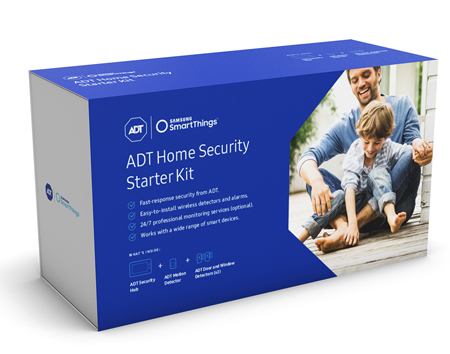 Samsung Unveils ADT-Monitored DIY Security And Home Automation Solution Powered By SmartThings
Samsung, a global leader in home automation, and ADT LLC, the leading home and business security provider, have formed a new professionally monitored, self-installed life safety solution powered by the SmartThings platform. With the intelligence and connectivity of Samsung and the unmatched professional monitoring of ADT, the Samsung SmartThings ADT home security system is the safest, easiest, and most flexible DIY security and smart home solution available for families today. Consisting of a Home Security Starter Kit and Home Safety Expansion Pack, the new solution from Samsung and ADT gives consumers the ability to create a safe and secure home and grow their connected home ecosystem as their needs evolve – all backed by ADT professional monitoring with no long-term contract. The basis for the new DIY system is the Home Security Starter Kit, which includes the Security Hub, two Door and Window Detectors, and Motion Detector. The system size can be expanded with additional sensors as needed, including fire, carbon monoxide and water detection with the addition of the Home Safety Expansion Pack. The ADT Security Hub touchscreen panel also works as a SmartThings Hub so users can control and monitor hundreds of third party smart devices, like door locks and doorbells, thermostats, lightbulbs and more – making it easy to customize endless combinations for home devices to work together, without needing additional hardware. From the Android- and iOS-compatible SmartThings mobile app, consumers can easily manage these devices and sensors, set up routines, and receive alerts based on their preferences, as well as check on the security of their home. All of the security and life safety features can be backed by ADT professional monitoring. Consumers have the ability to sign up for or suspend ADT service on their app, at their convenience.
_____________________________________________________________________________________________________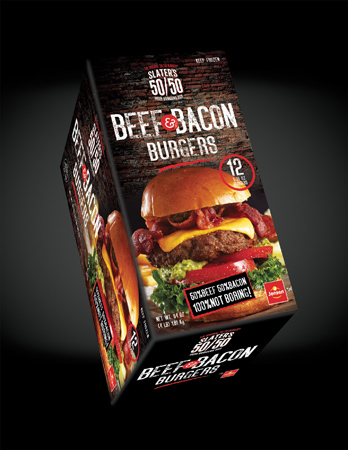 Slater's 50/50 Partners With Jensen Meat To Bring Patented Bacon Burgers To Retailers
Slater's 50/50, a Southern California restaurant phenomenon that takes its name from its patented burger made of 50 percent ground beef and 50 percent bacon, has partnered with Jensen Meat Company to bring the legendary patty to grocery stores. The product will initially be introduced to 77 Sam's Club locations in Southern California and six in the Dallas market this month, according to Abel Olivera, CEO of Jensen Meat. The frozen patties will be offered in 2- and 4-pound packages with six or 12 individually quick-frozen (IQF) one-third pound handmade-style patties.
"Baconmania shows no signs of receding," said Olivera. "There is a huge demand for bacon products. In fact, national bacon reserves have hit a 50-year low."
"We're ecstatic to join forces with a company capable of maintaining Slater's patent-worthy taste and quality and delivering it to customers around the country," said Michael Nekhleh, president of Slater's Restaurant Group.
_____________________________________________________________________________________________________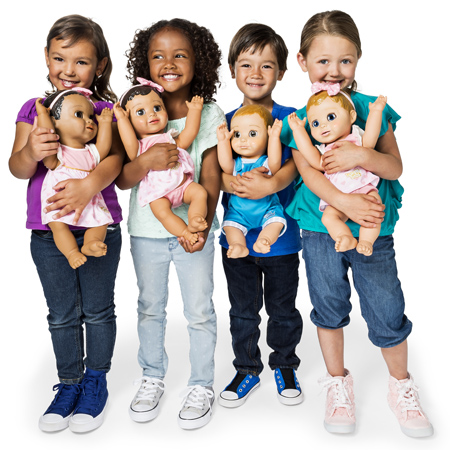 Spin Master Launches Luvabella And Luvabeau, Interactive Baby Dolls
Spin Master, a leading children's entertainment company, has introduced Luvabella™ and Luvabeau™, the most interactive and lifelike baby dolls ever. With so many real baby surprises to discover, kids will be continuously amazed. The first doll of its kind, Luvabella is a technological breakthrough with hundreds of lifelike expressions and interactive responses based on advanced animatronic technology. Luvabella is available in three skin tones and Luvabeau is her brother. The dolls are so lifelike and easy to love, they're great preparation for children waiting to welcome a new sibling into the family.
Both Luvabella and Luvabeau behave like real babies. Tickle Luvabella's tummy and she'll giggle. Feed her with her spoon and she'll start to chew. Cover Luvabeau's eyes and he'll play peek-a-boo. Give him his lamby toy and he'll give it a kiss. Like real babies, Luvabella and Luvabeau are never predictable but always adorable.
"We've taken classic doll play to a whole new level, allowing children to fully immerse themselves in the imaginative world of nurturing," said Nancy Zwiers, Chief Marketing Officer of Spin Master. "Most baby dolls can do one thing, while Luvabella has hundreds of unique lifelike responses, making her irresistible to everyone who has experienced her realism and interactivity first hand…it's beautiful to see."
_____________________________________________________________________________________________________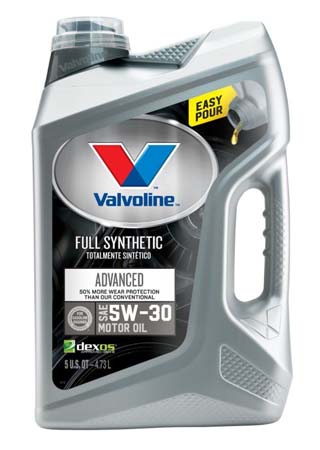 Valvoline Launches Easy Pour Packaging
Valvoline, a leading worldwide supplier of premium branded lubricants and automotive services, has launched its newest innovation, the Easy Pour Bottle at retail. Valvoline™ worked alongside consumers to develop the game-changing design. The brand's patent-pending Easy Pour Bottle will make changing oil easier while offering a simplified shopping solution for the automotive Do-It-Yourself (DIY) audience.
"Valvoline's goal for 151 years has been to use our expertise for the benefit of our customers. Each part of Valvoline's Easy Pour Bottle has been engineered with our DIY consumers in mind – reimagined, redesigned, tested and proven to make changing oil easier, faster and cleaner," said Heidi Matheys, Valvoline chief marketing officer. "Our technical team integrated an abundance of consumer field research and feedback, which ultimately resulted in this one unique design."
_____________________________________________________________________________________________________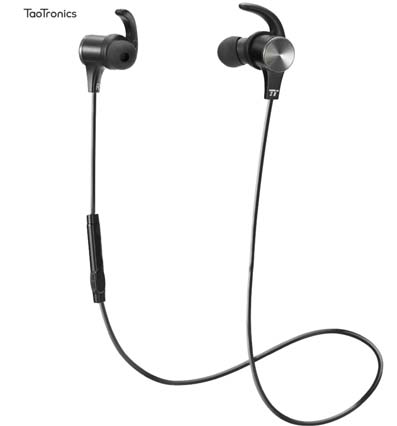 Wireless Audio Brand Introduces TaoTronics Phobos And Deimos
Specialized in consumer electronics with proven expertise in wireless audio devices, TaoTronics, a part of Sunvalleytek International Inc., has introduced its latest Phobos and Deimos Bluetooth Sports Headphones, now available at Best Buy. As a pair of headphones designed to be used during sport activities, the TaoTronics Phobos combine great audio quality with a sturdy construction for both indoor and outdoor usage. Engineered to stay snug in the ears even when running, exercising, or simply walking, the TaoTronics Deimos cater to those looking for a comfortable wear without compromising on audio quality.
"TaoTronics is about moving forward, reaching for the possible, and creating better lives for everyone–and so are our newest Phobos and Deimos Bluetooth Sports Headphones," said Allen Fung, General Manager at TaoTronics. "Phobos and Deimos are made especially for the doers, the everyday warriors, & the believers in the possible. These earphones bring wireless freedom, rich sounds, and customized comfort. We are excited to make both available for customers at Best Buy."
_____________________________________________________________________________________________________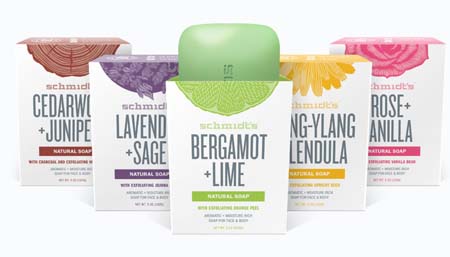 Schmidt's Naturals Introduces Collection Of Six Bar Soaps
Schmidt's Naturals is expanding their mission to provide quality natural alternatives to conventional personal care products by introducing their first non-deodorant product line extension-Schmidt's Bar Soaps. One of the most-requested products by Schmidt's customers, soap signals a step forward in the brand's planned expansion throughout the bathroom and into the household. Schmidt's bar soaps are available now in six signature scents that mirror the brand's signature deodorant line, and each contains a unique natural exfoliant- Rose + Vanilla (with exfoliating Vanilla Bean), Bergamot + Lime (with exfoliating Orange Peel), Ylang Ylang + Calendula (with exfoliating Apricot Seed), Lavender + Sage (with exfoliating Jojoba Seed), Cedarwood + Juniper (with Charcoal and exfoliating Volcanic Sand), and Fragrance Free. Aromatic and moisture-rich, the soaps provide a luxurious cleansing routine for face and body. Their natural formulation holds up the same core values and standards that Schmidt's is renowned for-quality, plant-based ingredients without controversial additives like SLS, phthalates, PEG, artificial dyes, or artificial fragrance. They are true saponified soaps with no compacted detergents, and, like Schmidt's deodorants, are certified vegan and cruelty-free.
"We are delighted to extend Schmidt's product lines beyond our signature deodorants. The development of bar soaps is just the beginning to a growing line of innovative plant and mineral powered products. We are truly amplifying the needs of our consumers and incorporating their voices into our own unique POV. Our soaps are a direct response to customer demand," said Jaime Schmidt, Founder and Chief Product Officer of Schmidt's Naturals.
_____________________________________________________________________________________________________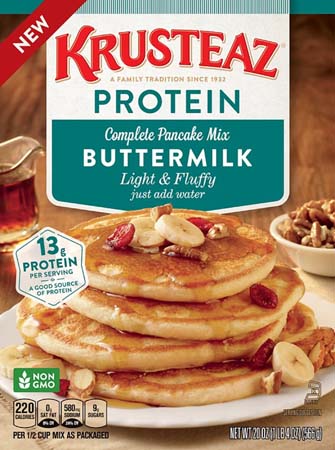 Krusteaz Introduces New Buttermilk Protein Pancake
Krusteaz, maker of premium baking, pancake and waffle mixes, has added the Buttermilk Protein Pancake to its pancake portfolio. Featuring a plant-based wheat protein, sweet cream buttermilk and non-GMO ingredients, the new protein pancake offers 13 grams of protein per serving, or 11% of the recommended daily protein intake. In keeping with Krusteaz's commitment to simplified and wholesome ingredients, the new protein pancake is free of partially hydrogenated oils, high fructose corn syrup, artificial colors, flavors and preservatives. For consumers looking to further boost their protein intake, the Krusteaz Buttermilk Protein Pancake also features instructions for alternative preparation by adding milk and/or eggs.
"We know that more and more consumers are looking for better-for-you versions of their favorite foods," said Andy Heily, President of Continental Mills. "Our new pancake delivers not only the benefits of protein, but the taste and texture that other protein pancakes are lacking – this is no flat flapjack! Our version is light and fluffy with a hint of sweet from the buttermilk."
_____________________________________________________________________________________________________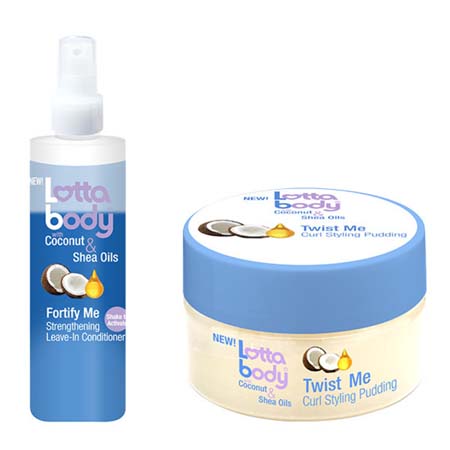 Lottabody® Adds 'Shake-To-Activate' Leave-In Conditioner & Curl Twisting Pudding
The company behind the world's best setting lotion, Lottabody®, has added two new products to its signature collection of coconut and shea oil-infused styling products: FORTIFY ME Strengthening Leave-In Conditioner and TWIST ME Curl Styling Pudding. The New FORTIFY ME Strengthening Leave-In Conditioner is a 'shake-to-activate' two-phase system comprised of penetrating hair oils and conditioning moisturizers, which helps strengthen, condition and prevent hair breakage. The New TWIST ME Curl Styling Pudding is uniquely formulated with natural ingredients to deeply penetrate and nourish natural hair textures, resulting in soft, shiny and 'crunch-free' hair while preventing breakage to fragile hair shafts. This cream-based 'hair treat' is free from petrolatum, mineral oils and sulfates and is perfect for defining hair for twist and braid outs without drying, shrinking and flaking. There are now thirteen affordably priced, multi-textured hair care products in the Lottabody® line-up, providing a diverse array of hair styling products designed to grow, retain and maintain healthy hair.
_____________________________________________________________________________________________________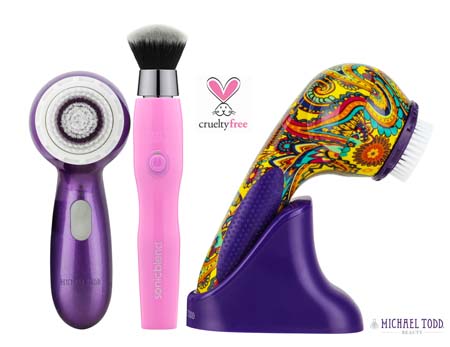 Michael Todd Beauty Launches At Beauty Brands And Riley Rose
Michael Todd Beauty, maker of award winning patented sonic beauty devices and high performance skincare products, has expanded distribution channels designed to bring the company's offerings to a broad new array of consumers. The brand will launch at Beauty Brands in all 61 doors as well as making a debut in the new Forever 21 specialty beauty boutique, Riley Rose. Michael Todd Beauty is well known for its state of the art skincare devices, including its revolutionary Soniclear cleansing brush, with its patent-pending anti-microbial technology. The company has grown its franchise with a full range of medical grade at-home devices including the Sonicblend makeup brush, the Sonic Eraser Pro skincare infuser, Total Refresher Dermal Rejuvenation system and the new Sonicsmooth dermaplaning system. Beauty Brands will carry a curated assortment of Michael Todd Beauty tools and best selling skincare in a 4 foot linear space in stores.
The brand will also be a part of Forever 21's new experiential beauty boutique concept, Riley Rose. The first door opened in Glendale, California on September 30th, and 12 additional stores will open across the US by spring 2018.
_____________________________________________________________________________________________________
Bacardi Names John Burke CMO
Bacardi has appointed John Burke Global Chief Marketing Officer, responsible for leading all marketing efforts of Bacardi, and President of Bacardi Global Brands Limited. Burke will also serve as a member of the Bacardi Global Leadership Team. Burke has spent more than two decades in various leadership roles within Bacardi. Burke has achieved notable success during a more than 24-year career at Bacardi. He has had diverse experience working in country operations, regional and global sales and marketing, including as the lead for core brands in the Bacardi portfolio including BACARDÍ®, BOMBAY SAPPHIRE®, MARTNI®, and DEWAR'S®, and most recently as president of Incubation Brands charged with building brand equity in the fastest-growing premium brands in the portfolio including ANGEL'S ENVY®, ST-GERMAIN®, BANKS®, SANTA TERESA®, and LEBLON®.
_____________________________________________________________________________________________________
Blue Nile Adds Erin Daley As CMO
Leading diamond and fine jewelry retailer Blue Nile has appointed Erin Daley as Chief Marketing Officer. Daley brings nearly 20 years of marketing leadership experience to Blue Nile, including strategic planning, brand architecture, new product innovation, and digital content. She most recently served as Senior Vice President and Chief Marketing Officer at e.l.f. Cosmetics, one of the fastest-growing beauty companies in the United States.
_____________________________________________________________________________________________________
Matt Bruhn Joins Pabst As CMO
Pabst Brewing Company (PBC), America's largest independent brewer, has named Matt Bruhn to the newly-created role of PBC Chief Marketing Officer. In this role, he will oversee marketing for the entire PBC portfolio, including heritage, imports, craft and other categories. Bruhn previously served as Chief Marketing Officer for GWA Group Limited – Australia, where he led their business transformation from an industrial building business to a lifestyle brands business, generating positive growth trends each year. Prior to his role at GWA, he held the position of Global Senior Vice President, Smirnoff & Release Brands at Diageo PLC, where his focus was the delivery of ground-breaking marketing platforms for powerhouse brands including Smirnoff vodka, Cîroc vodka, Captain Morgan rum, and Diageo's Venture Brand portfolio. Prior to his tenure at Diageo in the United States, Bruhn served in a variety of senior-level marketing roles at Diageo over a period of seven years in both Australia and Asia.
_____________________________________________________________________________________________________
GE Appliances Names Mary Putman V.P., Marketing And Brand
GE Appliances, a Haier company, has named Mary Putman VP, Marketing & Brand. Putman most recently held the position of global associate brand director, personal cleansing, for Procter & Gamble. Putman spent more than 14 years with Procter & Gamble, working on major brands in the U.S. and globally, including Olay, Safeguard, Herbal Essences, Nice 'n Easy, Wella Professionals, Secret and Ivory. In her new role, Putman will be responsible for leading marketing and brand activities, including brand development, consumer and market insights, industrial design, digital and CRM, pricing and promotions, marketing communications, advertising and merchandising.
_____________________________________________________________________________________________________
Pita Pit Hires Doug Reifschneider As V.P. Veteran Marketing
Pita Pit, the "Fresh Thinking, Healthy Eating" brand focused on value and quality through delicious, healthier food options continues to strengthen its positioning in the quick service segment with the hiring of industry veteran Doug Reifschneider as its new Vice President of Marketing. Bringing years of experience in the restaurant franchise space, Reifschneider will be focused on developing innovative campaigns, improving restaurant technology and will look to further enhance Pita Pit's loyal fan base and market position. Reifschneider most recently served as Vice President of Marketing for Firehouse Subs. Before this, Reifschneider served in various roles in field and corporate marketing for Fazoli's, Hardee's and Wendy's.
_____________________________________________________________________________________________________
Flowers Foods Names Debo Mukherjee CMO
Flowers Foods, producer of Nature's Own, Wonder, Tastykake, Dave's Killer Bread, and other bakery foods, has appointed Debo Mukherjee to the newly created role of chief marketing officer. Mukherjee will lead Flowers' marketing and branding initiatives and play a key role in product innovation, reflecting the company's increased brand and consumer focus. Mukherjee was most recently founder and owner of Intacta Consulting Group LLC. Prior to launching Intacta, Mukherjee served as the CEO of Redco Foods, Inc., a subsidiary of Teekanne GmbH, the largest herbal and flavored tea company in Europe, from 2011 to 2015. He also served in marketing roles for such well-known packaged goods companies as Mars Inc., Unilever, H.J. Heinz Co., and The Hershey Co.
_____________________________________________________________________________________________________
Foxwoods Names Jennifer Johnson Vice President Of Loyalty Marketing
Foxwoods® Resort Casino, the premier resort destination in the Northeast, has promoted Jennifer Johnson from her previous role as Executive Director to Vice President of the resort's Loyalty Marketing program. As Foxwoods' Vice President of Loyalty Marketing, Johnson will be responsible for the overall leadership and execution of efficient and profitable loyalty marketing strategies and programs. Additionally, she will spearhead the overall creation and scheduling of all Special Events, Promotions and Gaming Tournaments.
"Since Jennifer joined the Foxwoods team two years ago, her tenacity and relentless work ethic have proved that she is the perfect fit for the incredibly important role of Vice President of our Loyalty Marketing program," said Felix Rappaport, President & CEO of Foxwoods. "From day-to-day operations to evolving and rebranding our Foxwoods Rewards, we can attribute our growing, loyal customer base to Jennifer's inventive know-how to keep guests coming back for more."
_____________________________________________________________________________________________________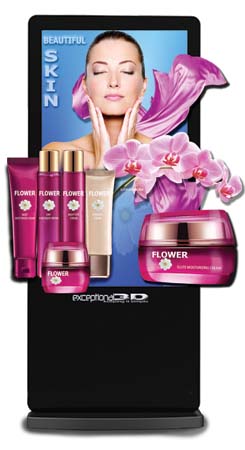 Exceptional 3D Introduced 3 New Portrait Displays
Exceptional 3D, the world largest provider of Glasses-Free 3D displays and solutions, has introduced 3 new Portrait displays to meet the increasing demand for popular large formats vertical displays for various applications. Its 32″ Glasses-Free 3D 4K Portrait display is ideal for Quick Service Restaurants, Pharmacies, Convenient Stores and other places where you might find smaller format digital signage displays. Exceptional 3D's other two new models are their 58″ & 85″ Glasses-Free 3D 4K kiosk, designed for applications in shopping malls, transportation hubs, stadiums & arena's. The kiosk supports ultra-thin commercial displays and accentuates the sleek look of the kiosk while providing ample space to integrate a media player. "We are excited about these new size Portrait displays," said Mike Egan, Exceptional 3D President & CEO, "as we are seeing more demand for these types of vertical size displays in the marketplace. We feel that they will also be big sellers for us especially in retail locations and in Quick Service Restaurants for Digital Menu Boards, where patrons as an example can see menu items such as a hamburger POPPING off the displays 10-15 inches prompting patrons' 'sense of sight' in addition to the aroma of food one smells when visiting a QSR." Exceptional 3D will train clients on the ease of producing 3D portrait content as many companies are now opting for Glasses-Free 3D displays over traditional 2D displays to attract more viewers with eye catching content and to make transition from 2D to 3D go smoothly. For more information about Exceptional 3D new product line, visit| its website at; (Web Site) www.exceptional3d.com
_____________________________________________________________________________________________________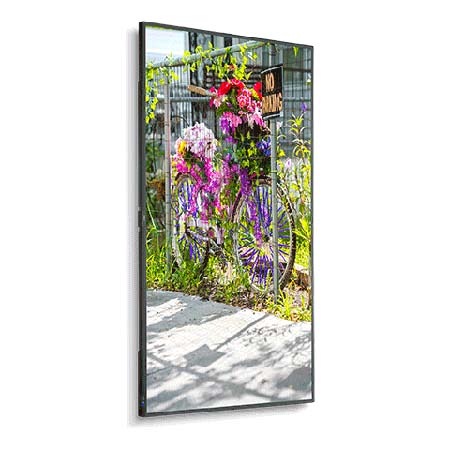 Nec Display Solutions Introduces New Fully Commercial C Series Sisplays
NEC Display Solutions of America, Inc., a leading provider of commercial LCD displays and projectors, has launched its new, fully commercial C Series displays, offering customers a slim profile and sleek design at an economical price point. The new C Series includes three models – the 43″ C431, 50″ C501 and 55″ C551 – all of which have a mechanical depth of a mere 45mm. This slender profile allows for a lighter design as well as unobtrusive mounting and easier accessibility in situations where ADA compliance is of importance. These models provide many commercial-grade features, including full bidirectional external control through both the LAN and RS232 interfaces, which enables easier integration into control systems. They can also be installed in both landscape and portrait orientation, expanding the ways in which users can deploy them. The C Series models are ideally suited as digital signage displays for informational and advertising purposes as well as presentation devices for smaller conference rooms or huddle spaces. They contain anti-glare screens that scatter incidental light and allow customers maximum visibility of the content being displayed on the screen, which is of utmost importance for digital signage applications. Each C Series display will also have an optional IR touch overlay that will allow users to easily turn each display into a touchscreen for wayfinding and other interactive uses. For more information, about NEC Display Solutions of America products, (Web Site) www.necdisplay.com
_____________________________________________________________________________________________________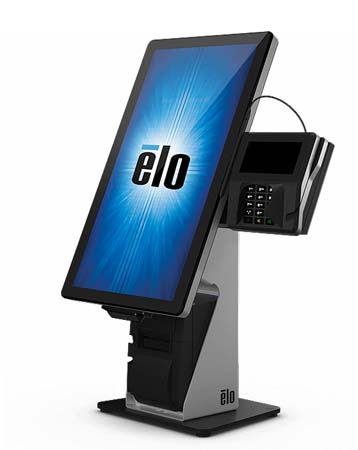 Elo Introduces Self-Service Wallaby Stands
Elo, a leading global supplier of touchscreen solutions, has introduced the new Wallaby self-service countertop and floor stands for an elegant and simple interactive touchscreen experience in high-traffic environments. The Wallaby self-service stands deliver an out-of-the-box customer-facing solution that combine a Windows- or Android-powered Elo all-in-one (AiO) touchscreen computer with secure housing for a printer and peripheral connections. The stands, with an I-Series or X-Series touchscreen computer from 15 to 22-inches, support a multitude of compatible accessories enabling a simple solution for point of sale, self-order, endless aisle, price verification, loyalty programs, brand experience, and patient check-in. Increasingly, customers expect self-service technology options, and traditional brick-and-mortar stores, restaurants, hospitality and healthcare environments are no exception. Retailers are looking for ways to implement technology to enrich customer experiences by freeing POS from the checkout counter and blending e-commerce with in-store experiences. Elo's new Wallaby self-service stands cater to omnishoppers by streamlining the checkout experience while also enhancing it with software-driven capabilities like attract-loop videos, digital promotions and cross-sell capability. The Wallaby self-service stands are compatible with the Elo 15- and 22-inch I-Series touchscreen computers in portrait orientation and the Elo 22-inch I-series, 15-, 17- and 20-inch X-Series touchscreen computers in landscape orientation. For more information about the new Wallaby self-service stands, visit; (Web Site) www.elotouch.com
_____________________________________________________________________________________________________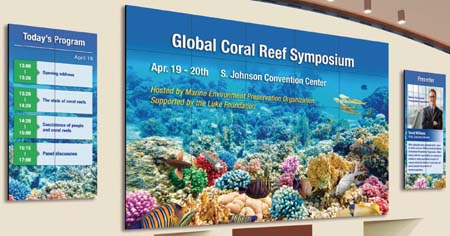 Sharp Introduces Largest Monitor Specifically Designed For Video Walls Displays
Sharp Imaging and Information Company of America (SIICA), a division of Sharp Electronics Corporation, has introduced the largest monitor specifically designed for video walls in the industry, the PN-V701 LCD display. Sharp's latest display provides high-quality video wall solutions, perfect for attracting the attention of large crowds.
The newest addition to Sharp's family of displays is ideal for use in stores and shops that are looking to affordably create that "wow" factor. With a bezel of just 4.4 mm, large images on the video wall appear natural and seamless. The 70″ Class (69.5″ diagonal) monitor allows integrators to assemble video walls with fewer monitors and less bezel lines, minimizing the non-display areas and maximizing value for users. Developed specifically for use in multi-monitor installations, the PN-V701 display is rated for 24/7 operation and can be arranged in portrait or landscape orientation. It's also approximately 16 percent lighter in weight than the 60″ Class (60″ diagonal) PN-V601A display. The PN-V701 comes equipped with Sharp's Inverse Scan function. Designed to correct image misalignments by alternating the scanning direction between vertically adjacent monitors, Inverse Scan creates smooth, natural images on the large video wall. Additional features include SHARP Advanced Uniform Color Calibration Technology (UCCT), which can deliver uniformity of color and brightness across the entire video wall. The monitor also has an optional HDBaseT™ Receiver Board. By installing the optional receiver board, the PN-V701 display is able to receive HDMI video, audio signals, and control signals sent up to 100 meters away through a single CAT6 cable.
(Web Site) www.timberland.com
_____________________________________________________________________________________________________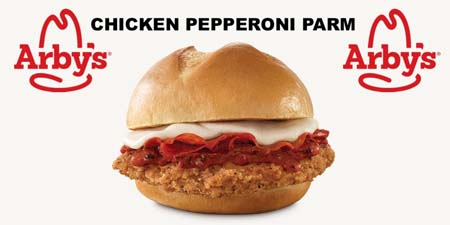 Arby's Adds Chicken Pepperoni Parm To Lineup Of Buttermilk Chicken Sandwiches
Last year, Arby's introduced a new premium buttermilk breaded chicken breast fillet to its everyday menu, making Arby's chicken sandwich offering crispier, juicier and more tender. Arby's has now added to its Buttermilk Chicken Sandwich lineup with the introduction of the new Chicken Pepperoni Parm, available nationwide for a limited time.
The Chicken Pepperoni Parm Sandwich showcases what Arby's does best: piling meat on top of more meat and adding cheese. In this case, it's pepperoni on top of buttermilk chicken with fresh mozzarella and roasted garlic marinara sauce on a star top bun.
"When it comes to protein, we have more quality, variety and abundance than any other restaurant chain in the industry, and our lineup of buttermilk breaded chicken sandwiches is a perfect example of this," said Jim Taylor, Chief Marketing Officer of Arby's Restaurant Group, Inc. "But the quality doesn't stop with the meats. Our new Chicken Pepperoni Parm features fresh, thick cut mozzarella that really sets it apart."
Arby's lineup of buttermilk chicken sandwiches now includes: Chicken Pepperoni Parm: marinara sauce, pepperoni and fresh mozzarella cheese melted over a crispy buttermilk chicken breast fillet on a star top bun. Buffalo Chicken: a crispy, tender fillet of buttermilk chicken breast drenched in spicy buffalo sauce and topped with creamy parmesan peppercorn ranch dressing and shredded iceberg lettuce all on a star top bun. Chicken Bacon & Swiss: a crispy buttermilk chicken breast fillet topped with thick cut pepper bacon, Swiss Cheese, lettuce, tomato and honey mustard served on a toasted star top bun. Chicken Cordon Bleu: a crispy buttermilk chicken breast fillet topped with thinly sliced ham, Swiss Cheese and mayo served on a star top bun. Crispy Chicken: a crispy buttermilk chicken breast fillet topped with lettuce, mayo and tomato served on a star top bun. (Web Site) www.arbys.com
_____________________________________________________________________________________________________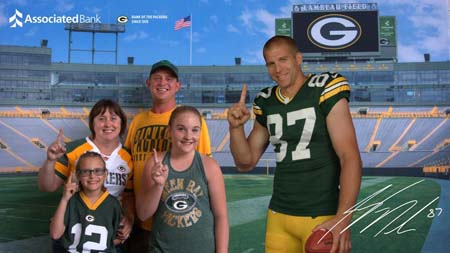 Associated Bank Launches 'Get Closer To The Packers' Promotion
Associated Bank is offering Packers fans an exclusive opportunity to keep celebrating throughout the football season, with the launch of the "Get Closer to the Packers," promotion and meet Jordy Nelson and Randall Cobb. Fans are invited to enter the Party with the Pack Sweepstakes through Nov. 20 for a once in a lifetime chance to meet Nelson and Cobb. The exclusive event in December will provide fans with an opportunity to take a photo with Nelson and Cobb, participate in a Q&A with the players, receive an autographed item and more. Through Nov. 30, Associated Bank will continue to give fans the chance to win Packers tickets so they can celebrate in the stadium and on the sidelines. Fans can win two game tickets paired with VIP sideline passes, or two tickets to the Festival Foods MVP Deck.
"Associated Bank has been the Bank of the Packers since 1919 and is proud to have Jordy Nelson and Randall Cobb among our customers," said Christopher Piotrowski, executive vice president and chief marketing officer, Associated Bank. "We invite fans to join the Packers Checking team so they can enjoy the same benefits as Jordy and Randall." "This season's 'Get Closer to the Packers' campaign provides fans, the business community and our community partners with an array of perks that only the official Bank of the Packers since 1919 can offer," he said. (Web Site) www.associatedbank.com
_____________________________________________________________________________________________________

BIC Launches New Star Wars™ Writing Instrument Range
BIC is launching a new Star Wars™ range of writing products featuring the famous characters from the Star Wars ™ saga.
BIC® Star Wars™ range is available in stores including: BIC® Ball Pen, BIC® 4-Color TM/MC ball pen, BIC® Mechanical Pencil, BIC® Briteliner® Grip Highlighter and BIC® Marking TM/MC Permanent Marker. (Web Site) www.bicworld.com
_____________________________________________________________________________________________________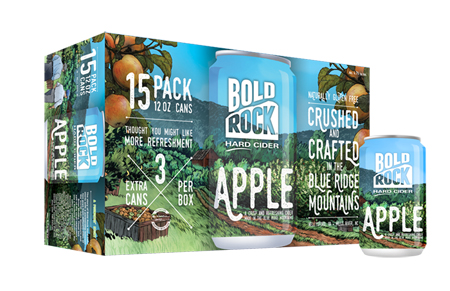 Bold Rock Hard Cider To Release Flagship Apple Cider In 15-Packs
Bold Rock Hard Cider has released Bold Rock Apple, its flagship style, in a new package offering – 15 pack, 12 oz cans with a new creative design. Available in October 2017, Bold Rock will become the first hard cider company to release 12 oz cans in a 15-pack format. The illustrated packaging captures the essence of Bold Rock's commitment of treading lighty, using locally sourced fruit, and a nod to the founders' inspiration for establishing a craft cider company. The 15-pack format will give consumers a new option for enjoying the popular Bold Rock Apple, which features the crisp and refreshing character of apples crushed and crafted in the Blue Ridge Mountains. Cans are becoming increasingly popular in the craft cider industry, and Bold Rock, now the third largest hard cider company in the U.S., is timing its new release for fall occasions, including football tailgating, barbeques and camping under the changing leaves.
"Our loyal customers enjoy Bold Rock Hard Cider while sharing experiences, often outdoors," said Senior Vice President of Sales & Marketing Jeff Liebhardt. "We're excited to give them a new option for enjoying our product in packaging that speaks to the essence of our brand."
Founded in 2012, Bold Rock makes a variety of hard cider styles from apples picked in the Blue Ridge Mountains of Virginia and North Carolina. The award-winning craft cider company operates two cideries: an original Bold Rock Cider Barn in Nellysford, VA, which features an innovative production facility and tasting room overlooking the Rockfish River Valley, and a recently expanded second production facility and taproom in Mills River, NC. (Web Site) www.boldrock.com
_____________________________________________________________________________________________________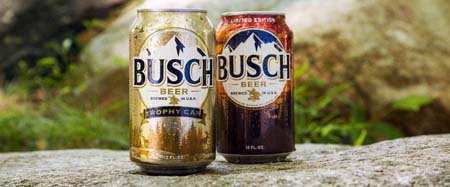 Busch Beer Refreshes Popular Trophy Can Program Celebrating The Great Outdoors
Busch Beer has launched the next evolution of its popular hunting and fishing program, "The Great Outdoors." Busch has embodied the spirit of the Great Outdoors since its Midwest inception in 1955, and this fall, the beer brand will continue to honor these deep roots and celebrate those who are passionate about outdoor pursuits.
"We've been celebrating outdoor endeavors ever since Busch beer was first brewed in 1955 – first with skiing and more recently with hunting and fishing – so the great outdoors are in our brand DNA," said Chelsea Phillips, VP of Value Brands at Anheuser Busch. "Our new Great Outdoors campaign gives us the opportunity to further celebrate those whose passion for the outdoors is more than just a hobby, and find themselves at ease when surrounded by our country's forests, rivers and streams."
From Sept. 4 to Nov. 20, all specially marked 12-, 18-, 24- and 30-packs of Busch and Busch Light will feature the new Great Outdoors look, introducing bold colors, wildlife, and the iconic stream. There are 30,000 golden trophy cans to be found nationwide, allowing lucky consumers to enter the Great Outdoors sweepstakes by submitting a picture of their trophy can on social media using #TrophyCan and #Contest. Consumers will have a chance to win weekly prizes or the grand prize: a trip to Big Cedar Lodge with pro angler Kevin VanDam. (Web Site) www.anheuser-busch.com
_____________________________________________________________________________________________________
Captain D's Promotes New Lobster Feast
Captain D's, the leading fast casual seafood restaurant, is introducing its new Lobster Feast limited time offering consisting of a variety of meals made from real North Atlantic Lobster: Lobster Bites, Lobster Rolls, Lobster Bisque, and a Creamy Lobster Scampi. These indulgent, luxury items that are typically only available to seaside residents or folks with deep pockets will now be available at every day affordable prices for everyone near a Captain D's. A great deal of time and care was put in to making the Lobster Feast a reality. Captain D's lobster comes directly from the North Atlantic Ocean. Their Lobster Bites are fried in their secret batter recipe that hasn't changed since 1969: it's still golden, crispy, savory.
"At Captain D's we believe that everyone deserves to eat great seafood," said Bob Kraut, CMO of Captain D's. "Bringing lobster to our guests in a variety of ways allows our customers to experience a variety of delicious, indulgent items at an affordable price." (Web Site) www.captainds.com
_____________________________________________________________________________________________________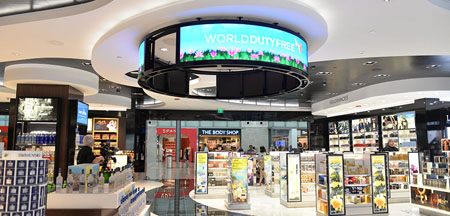 ComQi Helps Hudson Group's World Duty Free Stores 'Take Flight' At Detroit Metropolitan Airport
Hudson Group, one of the largest travel retailers in North America, has deployed a diverse set of dazzling digital displays at one of America's busiest airports aimed at energizing the large store and driving sales and promotions, as well as adding to the customer experience. The feature pieces at the World Duty Free store in the McNamara Terminal at Detroit Metropolitan Airport include a circular LED display and a large touchscreen interactive station. Combining three separate displays to create a truly innovative ring, the 3mm Nixel SeriesTM fine-pitch LED halo display by NanoLumens, suspended like a digital chandelier from the store's ceiling, makes shoppers aware of brands and promotions, no matter where they are in the duty-free store.
The 42-inch wall-mounted touch display – designed to deliver the same, smooth familiar experience as smartphones and tablets – invites travelers to engage in content such as product information, live departures and arrivals information, weather reports and highly visual curated news and sports summaries. There are also 55-inch digital displays around the store being used as digital posters, scheduled to run multiple promotions.
Running on ComQi's powerful digital signage content management system, EnGage, content is delivered with "right time, right place" targeting to individual displays. Utilizing EnGage's "Store Message Domination" the content on the circular halo display and digital posters is synchronized Hi on scheduled intervals to create visually dominant in-store messaging.
"We love working with the folks at Hudson, their vision is paving the way to advancing shopper engagement in the ever-changing world of airports and other travel hubs," said Stuart Armstrong, Group President at ComQi. "Combine that with Pearl Media's exceptional creative, ComQi had the perfect environment to deliver a highly successful program." (Web Site) www.comqi.com
_____________________________________________________________________________________________________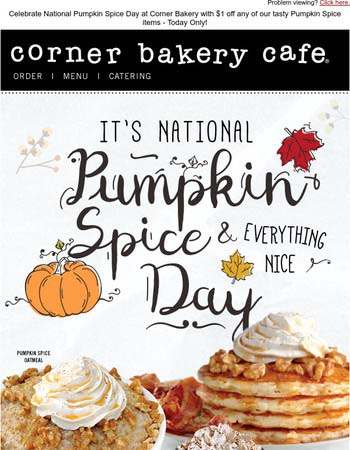 Corner Bakery Cafe Celebrates Pumpkin Spice Season
Corner Bakery Cafe is introducing two new pumpkin spice breakfast items available through the end of the year: Pumpkin Spice Pancakes and Pumpkin Spice Oatmeal.
Corner Bakery Cafe's popular Buttermilk Pancakes will receive a seasonal update with the debut of Pumpkin Spice Pancakes, which include four fluffy pancakes topped with walnuts, whipped cream, vanilla syrup and pumpkin pie spice, served with a side of smoked bacon. The bakery-cafe brand will also roll out Pumpkin Spice Oatmeal made with whole grain steel-cut oatmeal topped with walnuts, whipped cream and pumpkin pie spice, served with a homemade raisin pecan sweet crisp. During this season, Corner Bakery Cafe will also bring back two fall-themed guest-favorites, Pumpkin Spice Latte and Pumpkin Spice Baby Bundt Cake, available through Nov. 6.
"We are celebrating the start of the fall season with the launch of two new pumpkin spice breakfast items and the return of two of our fall favorites," said Corner Bakery Cafe CEO Frank Paci. (Web Site) www.cornerbakerycafe.com
_____________________________________________________________________________________________________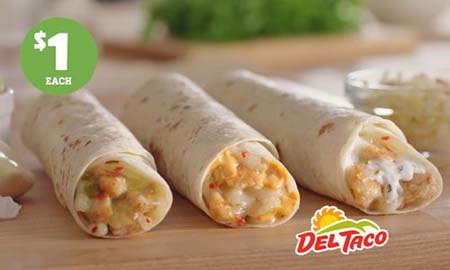 Del Taco Launches New $1 Queso Chicken Roller
Del Taco Restaurants, the nation's second leading Mexican quick service restaurant, has added its newest Buck and Under Menu item, the Queso Chicken Roller. Priced at just $1, Del Taco's new Queso Chicken Roller is made with fresh grilled chicken, the company's new Queso Blanco — which contains no artificial colors, flavors or preservatives — and hand-grated cheddar cheese, all wrapped together in a warm flour tortilla. It is now available at Del Taco's more than 550 restaurants nationwide.
"Our Queso Chicken Roller combines two products we know our guests crave — our new Queso Blanco and our popular Chicken Rollers," said Barry Westrum, Del Taco's Chief Marketing Officer. "We're thrilled that our Queso Blanco has been met with such enthusiasm from guests and will continue to look for ways to utilize it across our menu, not only because it's a premium product, but because our fans across social media are telling us how much they love it." Corner Bakery Cafe Celebrates Pumpkin Spice Season. (Web Site) www.deltaco.com
_____________________________________________________________________________________________________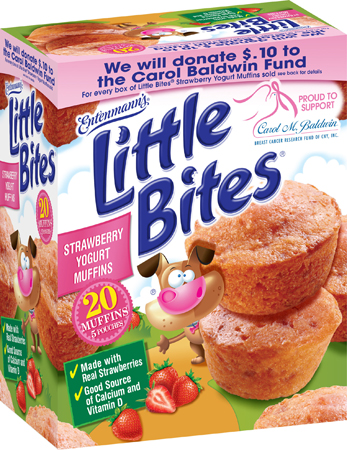 Entenmann's®Little Bites® Helps Support Carol M. Baldwin Breast Cancer Research Fund During Breast Cancer Awareness Month
Entenmann's® Little Bites® announced that a portion of sales for its 5ct Little Bites Strawberry Yogurt Muffins during the month of October will be donated to the Carol M. Baldwin Breast Cancer Research Fund of CNY, Inc. Timed to Breast Cancer Awareness Month, 10 cents will be given for every box of Little Bites Strawberry Yogurt Muffins sold, up to $50,000, to support the Fund's efforts in finding a cure.
"We are honored to help support the Carol M. Baldwin Breast Cancer Research Fund's tremendous work and dedication to such an important cause," said Maureen Sticco, Entenmann's Director of Marketing. "Almost everyone knows someone who has been impacted by the disease, and our partnership provides consumers with an easy way to contribute to the fight in finding a cure and helping millions of families across the country."
"We are very appreciative of the support from Entenmann's Little Bites as we continue to make great strides in researching the causes, prevention and treatment of breast cancer," said Elizabeth Baldwin, Executive Director of the Carol M. Baldwin Breast Cancer Research Fund. "The work we do would not be possible without the generosity of our partners and sponsors, and we look forward to a very successful month of spreading awareness and hope for the progress yet to come." (Web Site) www.littlebites.com
_____________________________________________________________________________________________________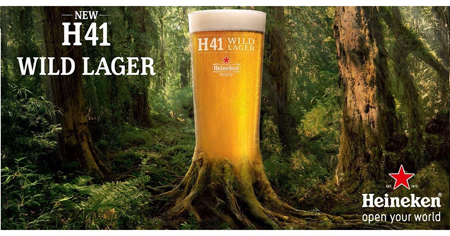 Heineken® Launches New Brew, 'H41,' First In New Wild Lager Series
Heineken® has launched H41®, a limited edition Wild Lager brewed using a rare 'mother' yeast discovered in the deep forests of Patagonia. Developed over the course of multiple years by the brand's Master Brewer, the new lager has a fuller taste, with spicy notes balanced by subtle fruity hints. The name H41 is derived from the latitude co-ordinate of the beech forest in Patagonia where this yeast was discovered. The H stands for Heineken®. To honor the region to which this rare yeast was found, Heineken has named the special beer H41, after the longitudinal coordinate where it was discovered: 41 degrees south.
"The release of H41 in the U.S. shows Heineken's continuing commitment to innovation, discovery and quality," said Katharine Preville, Brand Manager at HEINEKEN USA. "Heineken has more than 150 years of passion for beer and brewing mastery, and H41 highlights that we will literally search the far reaches of the world to develop exciting brews for beer lovers."
H41 appears at a time where beer drinkers are naturally looking for new and unique beers to try. Officially launching in the U.S. in mid- October, the brew will be available on draught in New York City. The Wild Lager series will expand to additional U.S. markets in 2018. (Web Site) www.heineken.com
_____________________________________________________________________________________________________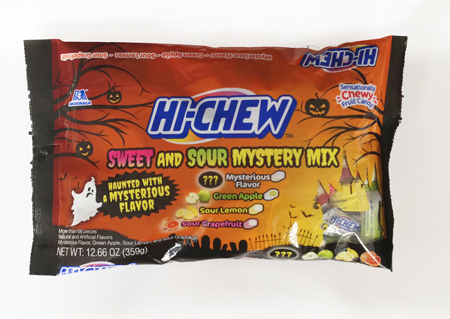 HI-CHEW Gives Fans Sweet & Sour Mystery To Solve This Halloween Season
Morinaga America, Inc. is making candy selection a thriller this Halloween season with the launch of the new HI-CHEW Sweet & Sour Mystery Mix bag. Featuring four flavor varieties including fan-favorites Sour Grapefruit, Sour Lemon and Green Apple, the bag will also include a fourth Mysterious Flavor. HI-CHEW is challenging its fans to guess the flavor of the unknown chew for a chance to win the ultimate HI-CHEW Halloween Grand Prize.
A Halloween story complete with hidden clues tied to the Mysterious Flavor will be featured on HI-CHEW's social media channels, including Facebook, Twitter and Instagram. Fans will be prompted to submit their flavor guess on hi-chew.com. The Grand Prize includes HI-CHEW product ($100 value) and swag, along with a $100 gift card from Spirit Halloween.
"Mysteries provide great fun and excitement during Halloween," said Mr. Norio Otsuki, Chief Operating Officer of Morinaga America, Inc. "This year, we wanted to give our fans a chance to come together, enjoy great tasting HI-CHEW, and add the anticipation of a good mystery to their Halloween season." (Web Site) www.hi-chew.com
_____________________________________________________________________________________________________
iSIGN Media Makes Its Push Sensor Technology Demonstrable To Existing And New Customers
iSIGN Media Solutions, a leading provider of interactive mobile advertising solutions that serves brands, commercial locations, retailers and service providers throughout North America , has completed a pre-production engineering demo unit housing its patent pending Push Sensor technology.
The Push Sensor builds upon the Company's existing patented technology to provide a non-app and non-download system for integrating messaging and coupon solutions with Google Chrome and Apple Passbook, with additional integration for Google Wallet and Apple Pay expected, when messaging/coupons drives purchasing. This system allows for seamless interaction with all mobile devices, especially Smartphones, including iPhones.
The Push Sensor is patent pending in Canada , and in process for the United States. Filings in additional countries will be undertaken as required. The plan is to ultimately integrate and retrofit the Push Sensor technology into iSIGN's existing Smart Antennas and networks and integrate it with iSIGN's Security Alert Messaging ("SAM") technology. (Web Site) www.isignmedia.com
_____________________________________________________________________________________________________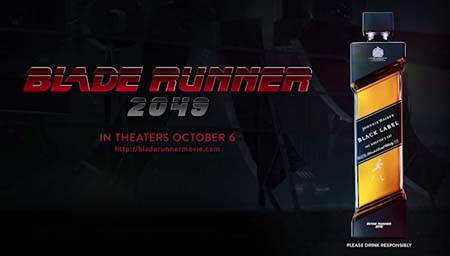 Johnnie Walker Releases Whisky Of The Future, Inspired By Blade Runner 2049
Johnnie Walker has released Johnnie Walker Black Label The Director's Cut – a limited-edition whisky developed in collaboration with visionary Blade Runner 2049 director Denis Villeneuve and Johnnie Walker Master Blender Jim Beveridge. The new blend comes thirty-five years after Johnnie Walker Black Label appeared in the original Blade Runner film as an iconic whisky of the future.
The unique, custom blend and the futuristic bottle were created in partnership with Blade Runner 2049, opening in theaters October 6. Both showcase Johnnie Walker's commitment to progress and Alcon Entertainment's dedication to maintaining the legacy of the original sci-fi classic.
To celebrate the promotional collaboration surrounding the film, Johnnie Walker has released four digital vignettes featuring Villeneuve, who discusses the project. "Like many fans, I remember the Johnnie Walker bottle from the first film, so it was a unique privilege to collaborate with Johnnie Walker on designing a totally original, custom bottle for the new movie," he said. "It was also a once-in-a-lifetime experience to help create the limited-edition Director's Cut blend, which perfectly captures the complex and mysterious world of Blade Runner 2049."
Beveridge said, "What we have created in Johnnie Walker Black Label The Director's Cut is something really special that fans will be able to relate to and whisky drinkers will love. I was truly inspired by Villeneuve's artistic vision for Blade Runner 2049 and how it could come to life in this new blend. I learned that filmmaking is much like blending–you have to constantly be committed to creating the best possible outcome. Johnnie Walker blending tradition dates back to 1820 and I'm honored to carry on the legacy and collective memory of our other past blenders to ensure that the same whisky enjoyed today can be enjoyed responsibly in 2049." (Web Site) www.johnniewalker.com
_____________________________________________________________________________________________________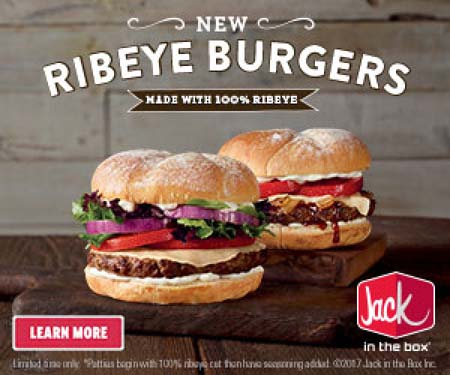 Jack In The Box® Launches Ribeye Burger
Industry innovator, Jack in the Box, reveals an industry breakthrough with the introduction of fast food's first 100% Ribeye Burger. Food lovers now have access to mouth-watering, flavor-packed, juice-dripping pure Ribeye beef and it's all thanks to Jack. Inspired by the quality of a high-end steakhouse, the Ribeye is available in two distinct and decadent builds: All American Ribeye and the Havarti & Grilled Onion Ribeye. With the debut of the Ribeye Burger, Jack in the Box continues its trend of premium, craveable burgers most recently and notably demonstrated by its Smoky Jack and Buttery JackTM burgers. The Ribeye also marks the beginning of an onslaught of innovative new menu items that fans can expect from Jack this year and onward.
"Jack in the Box has a proven track record for exceeding guest expectations," said Iwona Alter, Chief Marketing Officer at Jack in the Box. "We thrive on challenging convention. While many of our competitors are narrowing menus or following the movement toward craft, we're focused on giving our customers what they want, when they want it."
"Jack in the Box is proud to spearhead this shift in food culture by introducing fast food's first Ribeye burger and elevating the overall dining experience," said Jennifer Kennedy, Director of Product Marketing at Jack in the Box. "This year we will continue prioritizing flavor, unique ingredients and surprising new menu items that satisfy the cravings our consumers did not even know they had." (Web Site) www.jackinthebox.com
_____________________________________________________________________________________________________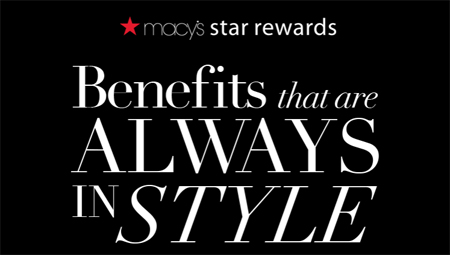 Macy's Reinvents Loyalty With New Star Rewards
Macy's has reinvented the retailer's loyalty program, Star Rewards. Using their Macy's card and beginning October 2, 2017, Macy's customers can enjoy an even more engaging shopping experience at Macy's stores and at macys.com. Macy's new Star Rewards makes it simple for customers to receive benefits with every Macy's purchase. Based on annual spend, customers with a Macy's credit card will be automatically enrolled into one of three levels: Silver, Gold or Platinum. Rewards are tiered by level, with Macy's best customers receiving benefits that include free shipping, additional savings and earned points on every purchase. Additionally, cardholders are automatically upgraded to the next tier when annual spend reaches the new level. The program was developed with the customer in mind, based on a careful analysis of evolving shopping behaviors and consumer preferences.
"Macy's customers have high expectations for their shopping experience, and earning and keeping their loyalty is now more important than ever. We listened to our customers – and with the reinvention of Macy's Star Rewards, we are delivering a loyalty program that will strengthen our relationships and better engage, reward and grow our best customers," said Jeff Gennette, Macy's, Inc. chief executive officer. "Loyalty is a foundational element of our North Star Strategy, and stronger relationships increase the lifetime value of our customers. We are providing what matters most to her – an enhanced experience both in store and online, edited and elevated products, compelling value and an excellent loyalty offering." (Web Site) www.macys.com
_____________________________________________________________________________________________________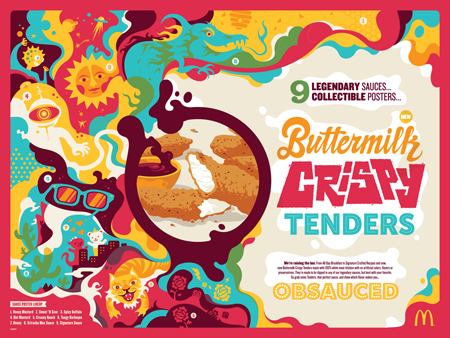 McDonald's Launches New Buttermilk Crispy Tenders Poster Promotion
McDonald's has introduced new Buttermilk Crispy Tenders. Expertly crafted by its culinary team, and made with 100% white meat chicken and no artificial flavors, colors or preservatives, McDonald's Buttermilk Crispy Tenders are seasoned, battered and breaded to perfection and pair perfectly with nine McDonald's sauces. McDonald's is celebrating the launch of Buttermilk Crispy Tenders by letting sauce fans show their appreciation as they would for any other pop-culture phenomenon, with limited-edition, custom screen-printed gig-style posters. McDonald's partnered with Delicious Design League to create a limited run of individually numbered posters depicting the essence of each of the nine McDonald's sauces. A team of artists custom designed the dipping sauce-themed posters to celebrate the variety and flavor of sauces.
"Limited edition, illustrated, screen-printed posters have really taken off in recent years, expanding from music to TV, movies, games, and now… McDonald's sauces. They're a collectible way for fans to express their unique fandom," said Billy Baumann, co-owner of Delicious Design League, graphic design studio and print shop. "When creating these posters, we approached them as we would any intellectual property — trying to capture the feeling and defining characteristics of each sauce in one eye-popping visual."
Customers will have the chance to receive their favorite limited-edition sauce poster at participating McDonald's restaurants on Saturday, October 7, beginning at 2 p.m. local time in select restaurants while supplies last, with the purchase of Buttermilk Crispy Tenders. Limited-edition stickers of the poster designs will also be available when the collectible posters run out. (Web Site) www.mcdonalds.com
_____________________________________________________________________________________________________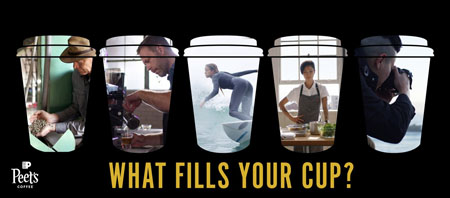 Peet's Coffee Launches 2017 'What Fills Your Cup?' Brand Campaign
Peet's Coffee has unveiled the 'What Fills Your Cup" brand campaign. Moreover, timed to the launch of the "What Fills Your Cup?" brand campaign, Peet's Coffee is inviting consumers to "Share Your Passion" by uploading a photo of them in pursuit of their own aspirations-such as art, sport, music, and many others-for a chance to win a year's supply of Peet's Coffee valued at $1,000 USD. With passion at the heart of Coffee First™, Peet's Coffee is rolling out the central campaign theme of the cup silhouette as an interactive social filter for consumers to engage with online and across their platforms.
A new, 1.1 million-dollar advertising campaign answers the question of "What Fills Your Cup?" by exploring the passion that drives the brand and talented individuals in pursuit of craft, art, sport, and other aspirations. The content features Top Chef winner Kristen Kish, professional surfer Brianna Cope, Top Photographer winner Scott Borrero, Roastmaster Doug Welsh, and Beverage Innovator Patrick Main. The campaign, created in collaboration with Cutwater, includes a series of 30-second and 15-second digital spots, a unique social filter, and a consumer-facing sweepstakes.
"The success of Peet's Coffee is intrinsically tied to our passion for crafting the finest and freshest coffee sourced from the highest quality beans and hand-roasted in small batches," said Andrea Fernandes, Director, Brand Marketing, Peet's Coffee. "When developing 'What Fills Your Cup?', we sought aspirational stories of individuals who are equally driven by their passions and are excited to debut content that brings to life how people embrace their talents authentically." (Web Site) www.peets.com
_____________________________________________________________________________________________________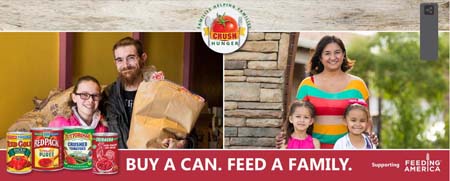 Red Gold And Feeding America® Encourage Families To Share A Meal And Help 'Crush Hunger' This October
This October, Red Gold is making it easy for people to give back when sharing their family meal. For any Red Gold canned tomato product purchased throughout the month, Red Gold will donate one meal to help families facing hunger, with a goal of donating 2 million meals to Feeding America and its network of food banks. Whether it's labeled Red Gold, Redpack, Tuttorosso or Huy Fong, consumers can simply buy a can, and help feed a family.
This is the second year of Red Gold's national Crush Hunger effort. The inaugural campaign secured over 1.7 million meals for Feeding America and its network of food banks. This year, in honor of Red Gold's 75th anniversary, the company is looking to generate its largest charitable donation yet: 2 million meals to Feeding America food banks. Red Gold research shows that a majority of parents use the family meal as a moment to teach, inspire and talk to their children about important issues like hunger, poverty, and giving back to others in need. In fact, more than 80 percent of parents said they would be willing to take the time to share a family meal, or use a new recipe or ingredient, if they knew it could help provide for families in need.
"As a family-owned company rooted in the business of giving back, we know how important it is to share a meal together," said Colt Reichart, fourth-generation owner of Red Gold. "We can't stand by when we know millions of people in our own country are struggling with hunger, so we're pledging our support to Feeding America and encourage our consumers to do the same. By simply by sharing their family meal using a Red Gold product in October, they can help another family in the process." (Web Site) www.RedGoldTomatoes.com
_____________________________________________________________________________________________________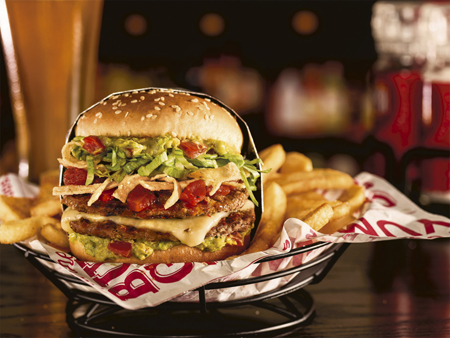 Chimi Fresco Finest And Taco Tavern Double™ Burgers Bring Latin American Flavors To Red Robin Menu
Red Robin Gourmet Burgers and Brews' can enjoy all-new, limited-time offerings, including the Latin-inspired Chimi Fresco Finest Burger and the taco-burger mashup Taco Tavern Double™. Red Robin's new Finest Burger, the Chimi Fresco, features a half-pound Black Angus beef patty with seared queso fresco, a chimichurri vinaigrette and aioli (made from a blend of olive oil, onions, parsley, cilantro, jalapeno, lime and red peppers), lettuce, tomatoes and house-pickled, red onions on a savory telera bun. Red Robin's Taco Tavern Double Burger features two fire-grilled beef patties, melted pepper jack cheese, crispy tortilla strips, fresh guacamole, zesty salsa and shredded lettuce on a sesame seed bun.
"Red Robin is famous for remixing American classics to create innovative menu items that are full of flavor," said Jonathan Muhtar, senior vice president and chief marketing officer at Red Robin. "Our talented chefs can make just about anything work well as a burger, even a taco, and with the launch of our new limited-time offerings we bet guests will agree!" (Web Site) www.redrobin.com
_____________________________________________________________________________________________________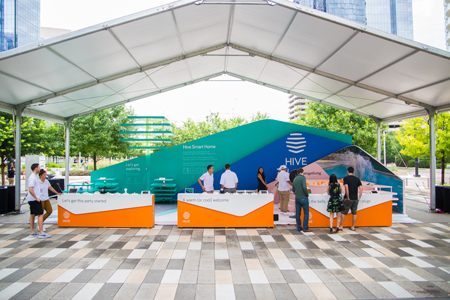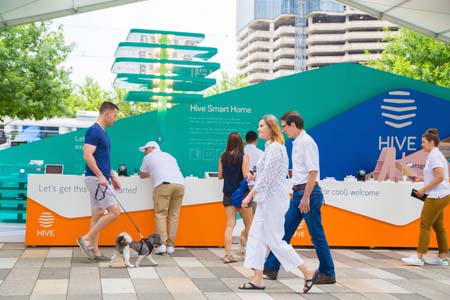 WPP Agency SET Launches Smart Home Innovator, Hive, To North America Through Vibrant Activations And Retail Engagements
WPP experience agency SET kicks off its partnership with smart home innovator, Hive, by developing retail strategy and environmental installations to help launch the brand in North America. Building on the launch of Hive's global repositioning campaign #LetsGetLiving created by its AOR CHI&Partners, SET initially developed an immersive set of activations for launch in seven test markets in middle America and Canada, all focused on generating PR, engaging consumers and gaining awareness among influencers and key retailers.
Among SET's noteworthy executions was a multi-room pop-up that brings together education, playful product experience and commerce. With social media moments in mind, SET designed vivid, playground-like spaces for adults and kids alike to capture and share memories including a ball pit with ambient color supplied by Hive bulbs and an artificial tree-shaded rest spot complete with video and app-controlled lights and breeze.
"The experience direction we looked to achieve was to enable people to immerse themselves in the proposition of what it feels like to Get Living and incorporate Hive's products throughout the experience to demonstrate how Hive played the role of enabler in the proposition," said SET President/Chief Strategy Officer Alasdair Lloyd-Jones. Following the initial activations, SET designed and developed standalone mall kiosks to generate awareness and commitments from key retailers and merchandising solutions across all forms of retail from big box to cultural retail.
"Critical to the success of our work was the need to achieve consistency across all channels for Hive," SET Creative Director Cooper Gill explains. "As a result, our physical builds really feel like you've stepped into the brand and each digital touchpoint is a refinement on their existing platforms. Once we start rolling out retail initiatives at major partners like Target, Best Buy, and Home Depot, all channels will feel like one system." (Web Site) www.setkick.com
_____________________________________________________________________________________________________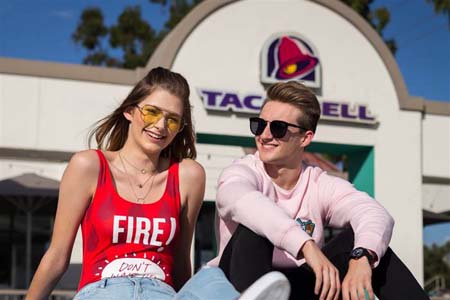 New Limited Edition Forever 21 x Taco Bell Collection Launches In Forever 21 Stores
Taco Bell and Forever 21 have partnered this October to celebrate personal style and self-expression ahead of the launch of Taco Bell's first fashion collection collaboration. The two like-minded brands, together at the intersection of culture and innovation, are joining forces to make fall wardrobes a whole lot saucier. While they're at it, they'll help fans keep the heat up and the fun on, in more ways than one.
Fans of both brands can submit photo or video content on social using the hashtag #F21xTacoBell to be featured in design details alongside the models debuting the collection. By capturing content that personifies "Forever Taco Bell," the essence of the preview event, fans can actively take part in the ultimate fashion after-party.
The Forever 21 x Taco Bell collection will be previewed on October 10 in the heart of the Fashion District in Downtown Los Angeles, on the eve of its global launch. A late-night runway show modeled through the lens of "Who Wore It Different" will reveal the two brand's unique spin on traditional fashion labeling. The event will be complete with a taco truck and entertainment from a Taco Bell Feed the Beat® artist, setting the stage for the collection in a way only the two, trendsetting brands can.
Inspired by iconic graphics that each brand is known for and set against a mix of playfully vibrant prints, the collection features tops, bodysuits and cropped hoodies for women. For men, a sweatshirt, hoodie and anorak jacket are updated with pops of color and distinctive illustrations that effortlessly bring the heat. The exclusive collection also features select graphic tees, a pullover and hoodie for girls.
"We often think of Taco Bell as 'the fast fashion of food,' given how we continuously introduce innovative limited edition products that everyone can enjoy, so when it came to our first-ever retail collaboration, we knew our partner had to be the leader in actual fast fashion," said Marisa Thalberg, Chief Marketing Officer at Taco Bell Corp. "We've seen our fans get individually creative in expressing their love for Taco Bell through fashion, and we believe this collection with Forever 21 is going to be everything they would expect from us in extending the Taco Bell lifestyle to fashion: original, affordable, creative a little quirky and definitely fun."
"We are excited about this partnership with Taco Bell," said Linda Chang, Forever 21 Vice President of Merchandising. "Food, like fashion, is driven by trends and culture. Merging fashion and food in this collection gives our customers a new way to experience both our brands." (Web Site) www.tacobell.com
_____________________________________________________________________________________________________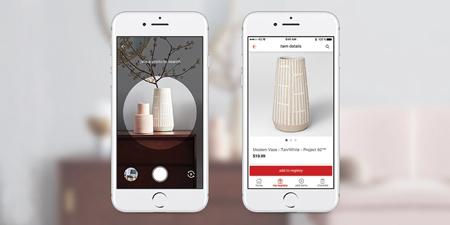 Target Collaborates With Pinterest To Help Guests Find The Perfect Product
Target and Pinterest are teaming up on an exclusive partnership to make finding that perfect product as easy as snapping a pic. In the coming months, Target will bring Pinterest Lens-along with insights from its massive catalog-into Target's registry experience. (Planning for that new baby, outfitting a new home or creating the perfect dorm room look has never been easier). From there, it will add the visual search tech into the Target app, letting guests use visual search to discover everything from that perfect sweater in the right shade of purple to that hard-to-describe and even-harder-to-find action figure.
"We've partnered with Pinterest for years-it's a natural fit, thanks to our shared passion for creating inspiration and a sense of discovery," said Kristi Argyilan, senior vice president, media and guest engagement, Target. "Now, Target's excited to take our partnership to the next level. We'll be the first-and exclusive-U.S. retailer to bring Pinterest Lens directly into our apps and experiences, creating an incredibly rich and much easier way for our guests to explore, discover and buy millions of products at Target."
"This Pinterest partnership quite literally helps us shorten the distance from when our guests have an idea to when they're ready to make a purchase," said Rick Gomez, chief marketing officer, Target. "It's another way we're making it easy and fun for our guests to explore and find new products. Plus, as we start to understand what shoppers are really looking for, it'll help us better anticipate-and plan for-the latest styles and trends. We look forward to unlocking new potential, together." (Web Site) www.target.com
_____________________________________________________________________________________________________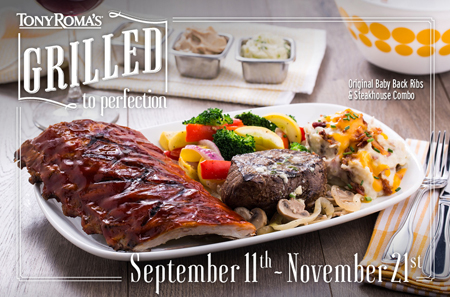 Tony Roma's Promotes New 'Grilled To Perfection' Menu
Romacorp, Inc., the parent company of Tony Roma's, introduces a new, limited-time menu celebrating their expertise using one of the most flavorful cooking methods available: grilling. The "Grilled to Perfection" menu goes back to Tony's Roma's grilling roots and highlights the unique flavor profile that the grill imparts on everything from the brand's world-famous baby back ribs to steak, seafood and even fruit and vegetables. Available now at participating locations in the USA and around the world through November 21st, the menu also features innovative versions of old favorites, including Grilled Veggie Crostini's, Upside Down Pineapple Pecan Spice Cake and more.
"With 45 years of ribs and grilling expertise, Tony Roma's truly believes that having the grill at the heart of our concept is critical to our global success," said Jim Rogers, Chief Marketing Officer for Romacorp, Inc. "This new, limited-time menu celebrates the incredible flavor that Tony Roma's grills infuse into each dish, including our world-famous baby back ribs, and it's the perfect treat for every Tony Roma's fan." (Web Site) www.tonyromas.com.
_____________________________________________________________________________________________________

Trivento Wines And U.S. Importer Excelsior Wines Strike Multi-year Deal With Major League Soccer
Excelsior Wines, North America's largest importer of South American wines, has signed a three-year sponsorship agreement with Major League Soccer (MLS). As a result, Trivento, Excelsior Wine's top-selling wine brand from Argentina, becomes the Official Wine of Major League Soccer. The sponsorship, which takes effect January 1, 2018 and extends through 2020, will enable Trivento to collectively leverage all 20 U.S.-based MLS Clubs at retail (LAFC joins in 2018). All four ranges in the Trivento line-up – Trivento Reserve varietal wines, Amado Sur blends, Golden Reserve Malbec and the single-vineyard prestige cuvée Eolo Malbec – are included in the partnership, the latest in a series of high-profile sports partnerships initiated by Excelsior Wines.
New MLS-branded packaging for the Trivento Reserve label and access to MLS regular and post-season matches are included in the agreement. Opportunities extend to game tickets and access to VIP hospitality, including the MLS All-Star Game presented by Target, the Audi MLS Cup Playoffs and MLS Cup, MLS' championship match, plus branded merchandise, player appearances and sweepstakes programs.
"MLS continues to afford brands access to a unique, engaged audience in North America, which enables new partners like Trivento to grow market share in the world's most competitive retail environment," said Carter Ladd, vice president of business development for Soccer United Marketing, MLS' commercial arm. "We're excited that a great, global brand like Trivento is joining our family of corporate partners at the MLS table." (Web Site) www.trivento.com
_____________________________________________________________________________________________________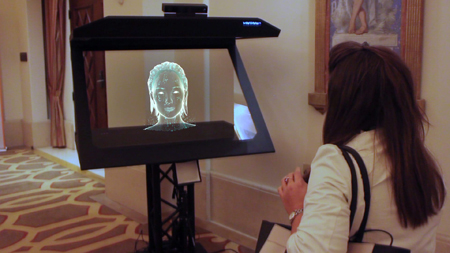 First-Ever Responsive AI Hologram Launched By VNTANA And Satisfi Labs Partnership
Leading Augmented Reality hologram company VNTANA, and Satisfi Labs, an intelligent engagement platform, have launched the first-ever artificial intelligence hologram concierge for retail, sports and hospitality. The industry-first experience allows the hologram to react and respond to consumers' questions without the need for wearables or a touchscreen device while collecting data on the consumer. The hologram concierge is powered by VNTANA's patented hardware and software that projects an interactive 3D persona who answers questions based on Satisfi Labs' custom AI.
"Our hologram technology has helped numerous brands better connect and engage with their consumers, and we are thrilled to offer this new addition on our platform," said Ashley Crowder, CEO and Co-Founder of VNTANA. "By partnering with Satisfi, we are able to integrate AI and AR for the first time, so our holograms can interact with consumers on a more advanced level, while using our trusted platform to track data to create more personalized experiences and advertising."
For retail, the technology enables you to automatically respond to your customers' real-time wants and needs, providing immediate value while driving revenue. The hologram concierge will not only answer consumer questions, but will use the data it collects to seamlessly tie eCommerce with brick and mortar to increase sales and deliver personalized advertisements. For example, it can welcome you into a store, tell you the hours of operation, highlight deals available, direct you to what you're looking for and promote retail venues in mall. At sporting events, the hologram, who can be an actual player, can direct fans to their favorite concessions or help them find their seats. For hospitality clients, guests can check into their room and get restaurant recommendations and even make a reservation.
"We are super excited to partner with VNTANA and launch what promises to be an unprecedented opportunity for the development of both AI and Holograms," said Don White, CEO and Co-Founder Satisfi Labs. "Consumers will be transfixed by the technology and will truly appreciate the ease and intelligent interaction they can have with the hologram." (Web Site) www.vntana.com
_____________________________________________________________________________________________________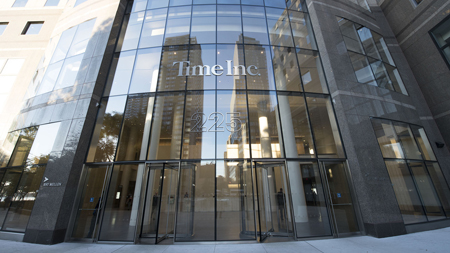 Time Inc. Launches 'PEOPLE Perks'
Time Inc. is bolstering its consumer product offerings with the launch of PEOPLE Perks, now available on PEOPLE.com/JoinPerks, a membership program for PEOPLE's audience that provides unique discounts on a wide range of products and experiences across entertainment, style, food, beauty, pets, home, shopping and more. Memberships are available for $60/year or $5.99/month. PEOPLE Perks provides members with exclusive invitations and offerings from participating partners, including national deals, local discounts from independent retail outlets nationwide, instant savings on shopping, fine and casual dining, local attractions, travel and more.
Leslie Dukker Doty, Executive Vice President of Consumer Marketing and Revenue, said, "PEOPLE Perks, like PetHero, a new paid membership program designed for the millions of pet owners nationwide, reinforces Time Inc.'s commitment to creating new, relevant and provocative product offerings for our large direct customer base that includes 30 million subscribers and a digital footprint of more than 127 million uniques every month."
"The PEOPLE Perks membership program provides access to a very wide variety of savings," said Jess Cagle, Editor in Chief, PEOPLE. "It also enables our retail partners an opportunity to connect and engage with the PEOPLE audience in new ways." (Web Site) www.timeinc.com
_____________________________________________________________________________________________________
WHOSAY Launches Shopper Marketing Division
WHOSAY, the brand-trusted influence marketing company, has introduced WHOSAY Shopper, a services division specifically dedicated to shopper marketing campaigns appealing to consumers at the time of purchase. As media measurement and transparency becomes increasingly important to marketers, WHOSAY delivers the combination of science and art behind its Talent recommendations to enhance sales conversions.
"Never before has the Shopper Marketing community had access to the level of talent and production that WHOSAY is introducing," said Mike Swart, Head of Shopper Marketing at WHOSAY. "Our key differentiator is our ability to connect a custom branded social influence experience with e-commerce and in-store by crossing over to in-store signage, display, demo, celebrity appearances and retailtainment." (Web Site) www.whosay.com
_____________________________________________________________________________________________________
SPAR Group Appoints John Dilts VP Of Business Development
SPAR Group, a leading supplier of retail merchandising, business technology and other marketing services in ten countries throughout North America, Latin America, Asia Pacific and Africa, has appointed John E. Dilts as Vice President of Business Development. Dilts has 25 years of experience in the retail/consumer goods industry including sales and marketing leadership positions at Bed Bath & Beyond, Advantage Sales & Marketing, Massimo Zanetti (Chock full o'Nuts Coffee), Nabisco, News America Marketing and PromoWorks. (Web Site) www.sparinc.com
_____________________________________________________________________________________________________
STRATACACHE Acquires Walkbase
STRATACACHE has added Walkbase to its family of complementary digital media/ad tech solution companies, expanding their industry leading global footprint of scalable, high performance marketing technologies. Walkbase, based out of Finland, is a pioneer in highly advanced in-store marketing and analytics for smartphones. Their real time software stack enables shopping experience personalization through highly advanced mobile tracking, mobile messaging and artificial intelligence based mobile ad targeting systems. Walkbase's world class solution directly aligns with the STRATACACHE customer experience strategy – helping retailers and brands drive highly targeted, relevant experiences based on deep shopper insights and shaped by a customer's online identity.
The Walkbase solution uses existing in-store technology – such as WiFi enabled devices and access points, digital signs, sensors and beacons – to understand precisely how customers behave in stores, in real time. The solution then ties that behavior to their online persona, enabling every message, via the digital sign or mobile device, to be tailored to the relevant interests of the consumer. Every aspect of the customer's experience can be anonymously analyzed, customized and mapped – from moving throughout the store to what's being viewed and, ultimately, what results in a sale.
"The holy grail of advertising for our retail clients is tying a mobile persona to a buying history and making that actionable in store via digital signage and mobile engagement. This 360-degree view of the customer – linking online interests to in-store behavior – is what makes Walkbase so valuable," said Chris Riegel, CEO of STRATACACHE. (Web Site) www.stratacache.com
_____________________________________________________________________________________________________
RMG Appoints Dina Townsend Vice President, Retail Practice Leader; Expands Position In Retail
Digital Signage Market
RMG, a global leader in technology-driven visual communications, has added Dina Townsend as Vice President, Retail Practice Leader, to seek to expand the company's presence in the global retail digital signage market. Townsend, most recently a Vice President, Retail at Scala, will leverage her deep industry expertise and wealth of experience to lead RMG in the pursuit of growing sales in the retail marketplace. The multi-billion dollar retail marketplace is the largest industry segment in the digital signage industry and represents a major strategic target for the company. RMG anticipates that the retail segment will become a significant source of RMG's long-term revenue growth. (Web Site) www.rmgnetworks.com
_____________________________________________________________________________________________________
PowerChord Offers Major Brands New Store Visitation Lift Capabilities
PowerChord has introduced Store Visitation Lift capabilities – a new service that measures the direct impact of online advertising to in-store traffic and local purchasing. This is the second recent addition to PowerChord's suite of digital marketing solutions, with the company also launching weather-triggered advertising last month.
An industry leading SaaS company, PowerChord works with manufacturers who sell through independent dealer networks across the US and in Europe. And with nearly 90% of commerce happening offline, PowerChord can now offer major brands an in-depth view of how digital advertising strategies, such as paid search, display, or retargeting ads, drive shoppers into their dealers' brick and mortar stores. To influence in-store consumer behavior, Store Visitation Lift leverages location data from consumer smartphones using cell-tower signals, Wi-Fi, and GPS to correlate shoppers that are exposed to online ads and those that set foot into a physical store to purchase. The ability to close the reporting loop of online advertising to in-store visits provides brands with critical insights to better understand trends within their industries, gauge ad performance, and identify new, hyper-local digital marketing opportunities.
"Being able to properly attribute sales and effectively quantify the impact of digital marketing to dealer revenue is a critical piece of our solutions," said PowerChord CEO, Lanny Tucker. "These local capabilities will be monumental for strengthening channel participation and dealer-to-consumer engagement for our clients." (Web Site) www.PowerChord.com
_____________________________________________________________________________________________________
Hawk Incentives Launches Wallet-Enabled Prepaid Card For Promotions And Incentives
Hawk Incentives, a Blackhawk Network business that provides rewards and incentive solutions, has launched its new open-loop Mastercard prepaid cards that can be added to major mobile wallets. Leveraging Blackhawk's Digital Pass™ technology, wallet-enabled Mastercard prepaid cards for promotions and incentives are exclusively available to Hawk Incentives customers. Blackhawk's Digital Pass technology also enables marketers to connect loyalty programs, gift cards and other offers to mobile wallets, helping to advance the wallets beyond simple payment tools to platforms for far-reaching customer engagement.
"The ability to connect your incentive or promotional reward to a wallet is a game-changing innovation," said Theresa McEndree, vice president of marketing, Hawk Incentives. "With our Digital Pass technology, we enable our clients to extend brand engagement with their mobile-minded consumers. Additionally, our virtual Mastercard combines great options in a single reward: recipients can pick an online or physical reward and can store, manage and make payments with the reward using their mobile wallet. This flexibility helps our partners to deliver the right rewards to the right recipients."
By increasing the mobility of rewards, brands can maintain relevance with their consumers and deliver a better overall promotional experience. Also, by integrating rewards and loyalty programs into major mobile wallets, brands have the opportunity to reach a larger audience of users and promote their own payments or retail apps.
"We are excited to introduce this market-first capability that helps our clients expand the ways branded value engages their end users," said Talbott Roche, chief executive officer and president, Blackhawk Network. "Mobile devices are an integral part of consumers' lives and they have high expectations for the mobile brand experience. Shoppers don't just want to replace the function of a credit or debit card with a mobile wallet; they want the ability to incorporate all of their loyalty cards, promotions, rewards and offers in one mobile location. We developed our Digital Pass technology to respond to this consumer demand and create better sales and marketing potential for our partners." (Web Site) www.hawkincentives.com
_____________________________________________________________________________________________________
NYC Agency, iDEKO Productions, Names Melissa Davidson V.P., Business Development, West Coast
Leading Experiential, Events and Marketing Agency, iDEKO Productions, expands its business to the West Coast with the appointment of Entertainment Industry Executive, Melissa Davidson, as Vice President, Business Development. Davidson will be based in Los Angeles, reporting to Evan Korn, Managing Partner. In this newly created position, Davidson will lead strategic business growth and client relations across multiple industries with a focus on entertainment properties. Additionally, she'll be responsible for creative & concept development, expanding the agency's activation footprint nationwide, as well as within key events – Comic-con, SXSW, Coachella, and Vidcon among others. Davidson recently served as head of Consumer Marketing for Hallmark Channel and Hallmark Movies & Mysteries where she led media planning, advertising creative, experiential marketing and strategic partnerships.
"Melissa is the perfect addition to the iDEKO team as we continue to expand across the country. We are thrilled to welcome her, and look forward to her success" said Korn. "She is a seasoned and talented industry veteran, uniquely positioned to open our west coast office." (Web Site) www.idekoproductions.com
_____________________________________________________________________________________________________
comScore And PlaceIQ Launch Jointly Developed Product To Quantify Impact Of TV, Mobile And Desktop Advertising On Retail Store Visits
comScore and PlaceIQ have launched a joint solution, PlaceIQ PVR powered by comScore, which measures lift in retail visits resulting from TV, mobile and desktop advertising. With this solution, marketers and their agencies will be able to understand the holistic impact of their advertising on driving visitation to physical locations such as retailers, automotive dealerships, dining establishments and more. In addition, media sellers will be able to prove the value of their inventory and its ability to drive consumers to visit brick-and-mortar locations.
The new joint offering is built on comScore and PlaceIQ's history of providing marketers with accurate insight into the efficacy of advertising. Ad exposure data from comScore is matched to location data from PlaceIQ to measure the overall and individual impact of campaign components such as TV networks, digital publishers, dayparts and placements. comScore can further integrate viewability measurement to account only for digital impressions that have an opportunity to be seen, as is the standard in TV. This viewable lift data provides marketers with an apples-to-apples comparison of lift across platforms and the ability to optimize spend accordingly.
"Auto dealerships, restaurants, travel providers and retailers all have the challenge of connecting the dots between ad exposures and in-store foot traffic," said Steve Ahlberg, senior vice president, advertising products, comScore. "Today's launch gives marketers access to the neutral, third-party data they need to make those connections, and to ultimately optimize their marketing mix. comScore is excited to partner with PlaceIQ, a premier provider of advanced location data and analytics, to launch this product, which is available to our clients today." (Web Site) www.comscore.com
_____________________________________________________________________________________________________
American Eagle Outfitters Launches New Customer Loyalty Program – AEO Connected
American Eagle Outfitters has launched AEO Connected, a new, highly-digitized loyalty program serving all American Eagle and Aerie customers. Over 16 million current rewards members were immediately converted to AEO Connected, where they enjoy greater convenience, more rewards and an enhanced customer experience.
"Staying connected to our customers is at the core of everything we do, so we are excited to offer a unique program to attract new members and build on the strength of our brands, while highlighting our leading product categories, AE jeans and Aerie bras. AEO Connected rewards brand advocates and encourages greater customer engagement, beyond just transactional," said Kyle Andrew, American Eagle Outfitters Chief Marketing Officer. "The new platform provides flexibility to evolve with the changing needs of our customers and supports upgraded features such as greater personalization, enabling us to provide a truly special customer experience." (Web Site) www.ae.com
_____________________________________________________________________________________________________


_____________________________________________________________________________________________________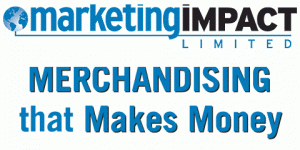 _____________________________________________________________________________________________________

_____________________________________________________________________________________________________
CLASSIFIED ADS
_____________________________________________________________________________________________________
CLICK ON IMAGE TO VIEW DIGITAL EDITION
_____________________________________________________________________________________________________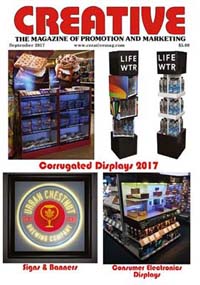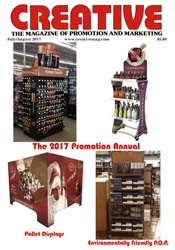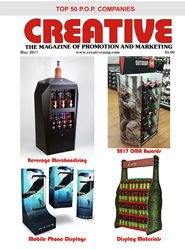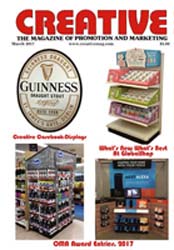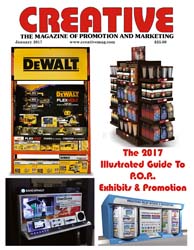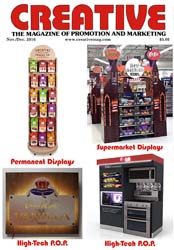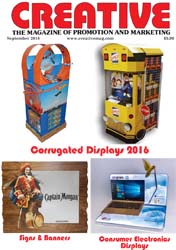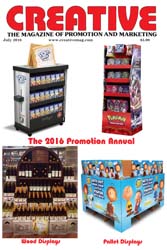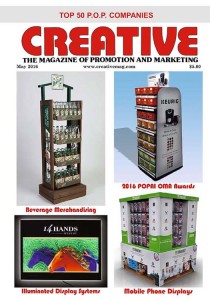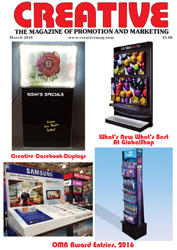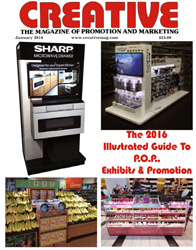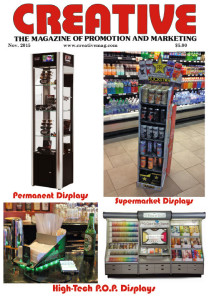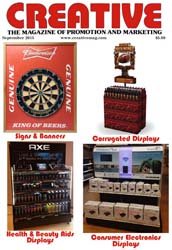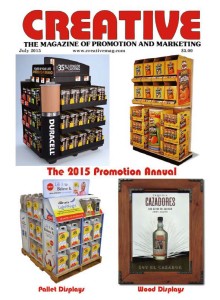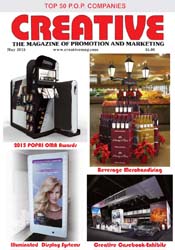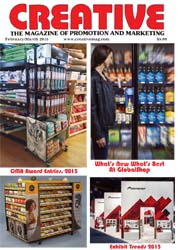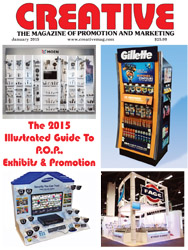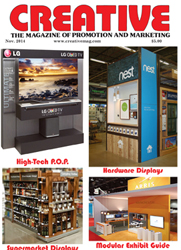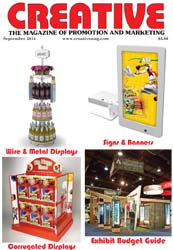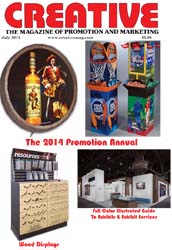 MAY 2014 ISSUE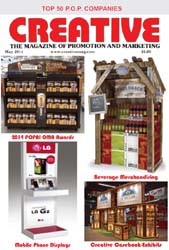 MARCH 2014 ISSUE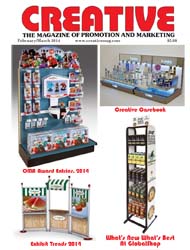 JANUARY 2014 ISSUE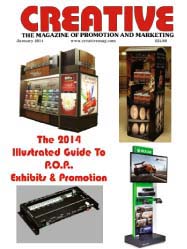 NOVEMBER 2013 ISSUE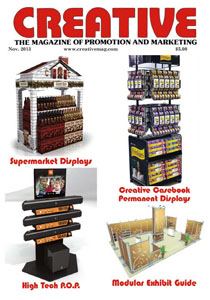 SEPTEMBER 2013 ISSUE
MAY 2013 ISSUE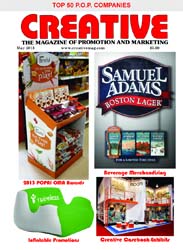 MARCH 2013 ISSUE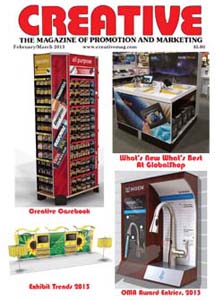 JANUARY 2013 ISSUE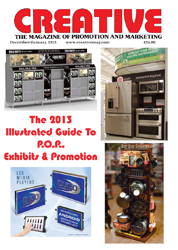 NOVEMBER 2012 ISSUE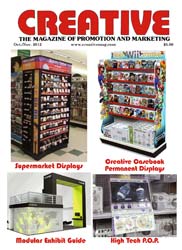 SEPTEMBER 2012 ISSUE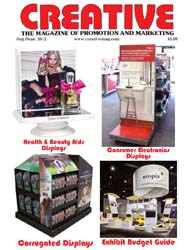 JULY 2012 ISSUE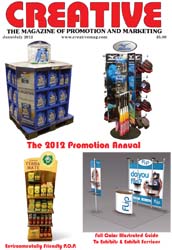 MAY 2012 ISSUE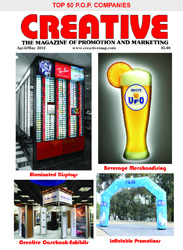 JANUARY 2012 ISSUE