_____________________________________________________________________________________________________



_____________________________________________________________________________________________________


_____________________________________________________________________________________________________


_____________________________________________________________________________________________________

_____________________________________________________________________________________________________


_____________________________________________________________________________________________________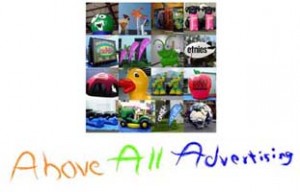 _____________________________________________________________________________________________________

_____________________________________________________________________________________________________

_____________________________________________________________________________________________________

_____________________________________________________________________________________________________

_____________________________________________________________________________________________________

_____________________________________________________________________________________________________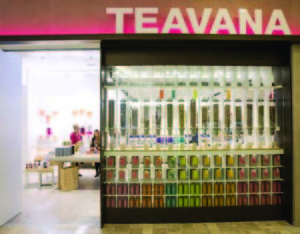 Teavana Stores In Seattle, WA Redesigned To Enhance Customer Experience
Two Seattle-area Teavana stores have been redesigned to create a special experience for tea connoisseurs.
"We selected one of our Teavana stores and completely transformed the customers experience," said Dan Karches, director, Marketing and Category for Teavana. "A tight partnership between tea, design and merchandise partners was the only way we were able to develop this unique concept that makes meaningful changes to how customers will experience our Teavana brand."
Color-corrected LED lights create a spotlight on 75 varieties of tea in vibrant pink, yellow and traditional grey tones at the store, which re-opened in Westfield Southcenter in Tukwila. A second location with a similar design opened at Bellevue Square, a high-end shopping center in Bellevue. Teavana partners are on hand to answer questions or provide assistance to customers with tea blending, sampling and demonstrating merchandise.
Anthony Perez, director, Americas Concepts and Pacific Northwest Store Design for Starbucks and Teavana, and a team of designers altered the store layout and put tea front and center. "We know that it takes about three seconds for a customer to decide to come into the store or not," said Perez. "Our goal was for the intention of the store to be immediately and clearly understood, that this is a vibrant and exciting new store absolutely all about tea." "We wanted to turn the original store experience inside out, so it's more invitational," said Perez. "You can experience the store through a self-guided tour or learn about tea alongside one of our tea experts."
The Southcenter store features a matcha green tea wall, a hot tea demonstration section and a self-serve wet bar with six flavors of signature fresh-brewed iced tea. Customers can order iced tea by the glass or fill a glass growler to enjoy at home. In addition, pure teas as well as epicurean tea blends are available in loose leaf and pre-packed sachets.
A 23-foot-long concrete table known as the "make table," runs nearly the length of the Teavana location. It's the store's centerpiece where people can come together to taste and blend tea.
Ben Nelson, Starbucks director, Creative and Merchandise Design, ensured the look and feel of the merchandise appropriately complemented the store's contemporary design. At Southcenter and Bellevue, one will find tea pots, tins, cups and other merchandise not available at any other Teavana store. "I thought about our existing customers as well as those who are new to tea when I assembled our collection," said Nelson. "We pushed for a mix of high design, fashion and fun," he said. "We tried to straddle that mix of what a museum art design store might carry, while also staying fun and youthful with colors and patterns." (Web Site) www.teavana.com
_____________________________________________________________________________________________________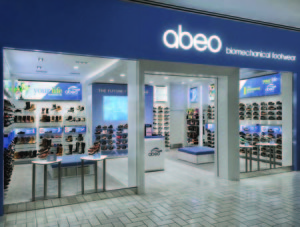 ABEO Biomechanical Footwear Opens Its First Concept Store In Tysons Corner
ABEO biomechanical footwear, the fastest growing comfort footwear brand in the U.S., has opened its first concept store in Tysons Corner Center located outside of Washington, D.C. "We are excited to open our first ABEO concept store in the exclusive Tysons Corner Center retail community," said Lee Cox, president of ABEO footwear. "The exceptional product mix and comfort expertise combined in a state-of-the-art retail environment will offer customers customized footwear options with innovative technology for greater mobility, and improved overall health and wellness."
The new concept store showcases all seven of ABEO's customized comfort collections along with the latest in 3D digital foot scanning technology within a modern retail store design. The collection includes: B.I.O.system® sandals, boots, clogs and shoes, AEROsystem® athletic performance styles, SMARTsystem® walking shoes, LiTe™ lightweight athletics, R.O.C.S™ rocker bottoms, the 24/7™ everyday styles, and 3D3® orthotics.
"Tysons Corner Center paves the way for future ABEO footwear locations in the U.S.," said Cox, president of ABEO footwear. "The brand has experienced incredible growth, and we are thrilled to begin establishing ABEO in the best retail locations in the country to provide customers unparalleled comfort footwear options combined with a personalized shopping experience." (Web Site) www.abeofootwear.com
_____________________________________________________________________________________________________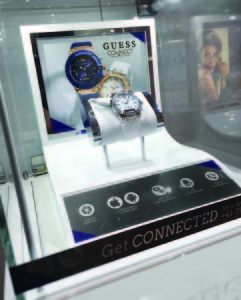 GUESS CONNECT Smartwatch Now Available At GUESS Stores And Retailers Worldwide
GUESS Watches has announced worldwide availability of the new wearable tech timepiece, GUESS CONNECT. Based on its global best-selling style called RIGOR, this boldly-styled smartwatch is powered by smartwatch award-winning leader Martian Watches' technology marries beauty and brains in a chic fashionable line of smartwatches designed for men and women. The new GUESS CONNECT smartwatches simultaneously offer voice command functions while providing hands-free and eyes-free notifications to the wrist from thousands of popular apps and programs. GUESS CONNECT watches are water resistant and compatible with both iOS and Android operating systems. In addition, the GUESS CONNECT smartwatches uniquely house a fully-contained Martian module that sports a microphone and clear audio speaker. This allows users to connect to their smartphone's resident voice command app, so wearers can give voice commands, talk and listen, and respond to texts and emails directly from the watch.
"We are excited to bring this blend of fashion and functionality to market to market," said Cindy Livingston, President and CEO of Sequel / GUESS Watches. "The subtle yet purposeful technology provides a needed lifestyle convenience and we are confident that these watches will be a favorite among watch wearers around the globe." (Web Site) www.guesswatches.com
_____________________________________________________________________________________________________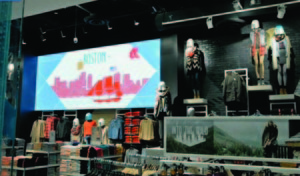 Audio-Visual Installations Create High Quality In-Store Experience For Primark's First U.S. Location
Mood Media and its creative innovation brand, Technomedia Solutions, are collaborating in designing the audio-visual experience for Primark's first U.S. retail location, located at Downtown Crossing in Boston, Mass.
When the European retailer expanded to the United States, Mood worked through its specialized creative team to design a plan based on Primark's retail strategy. Technomedia designed and built custom LED displays for the store based on the unique aspects of Primark's retail strategy. Each display is integrated into high visibility locations, blending into the environment and highlighting key features of the Primark brand. As part of the overall design objective, each LED display attracts guests, presents current trends and provides store information in a hip and stylized fashion.
"Our first project with Primark has been an incredible journey of reaching further to provide noticeably elevated environmental treatments while working with a client that really understands the value and importance of high-quality experiences in retail," said John Miceli, president of Mood's Technomedia Solutions. "Primark has invested wisely in technology, creating sustainable, reliable experiences that will captivate its customers for years to come." (Web Site) www.moodmedia.comm
_____________________________________________________________________________________________________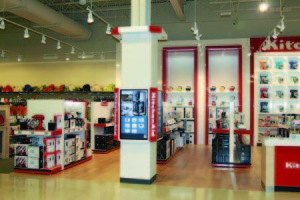 High-Impact Digital Signage Integrated Into Nebraska Furniture Mart's New Location In Northern TX
Premier Mounts, an internationally recognized leader in the design and manufacture of innovative A/V mounting solutions, has partnered with Reflect Systems, a full-service provider of out-of-home digital media solutions, to integrate high-impact and branded digital signage throughout Nebraska Furniture Mart's new location in northern Texas.
This new Nebraska Furniture Mart store has a retail showroom spanning 562,000 square feet, and the goal of this project was to enhance the customer experience by providing a completely immersive brand experience, and not lose them in an overwhelming maze of products. They reached out to Reflect and Premier Mounts to design and integrate 14 unique digital experiences for nearly 60 displays throughout the store to achieve these goals. The NFM digital experience begins the moment customers walk through the entrance to the store and expands through every department.
Some of the digital signage solutions include: A two-story Tree House with 40″ displays mounted to its trunk; Interactive displays in the KitchenAid area to browse product line options; A 3×3 video wall that displays entertaining & vibrant images related to Texas
Interactive displays throughout the Appliance Salon and Center Sales areas to speed selection of models; and 3×1 video walls above escalators showing ads and entertainment. (Web Site) www.reflectsystems.com
____________________________________________________________________________________________________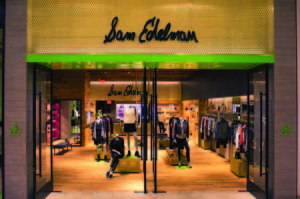 Sam Edelman Opens Second West Coast Store In Santa Clara, Calif.
Sam Edelman continues to expand its West Coast retail presence. The iconic lifestyle designer's new 2,896 square foot store recently opened at Westfield Valley Fair Mall in Santa Clara, Calif. The new location is the second in California and is the largest of all Sam Edelman stores, including those planned to open in the next year.
"Libby and I lived in Northern California for ten years and we have continued to watch the exciting growth of this area," said Sam Edelman, designer, founder and division president for the Sam Edelman division of Caleres. "With the opening of our Valley Fair location, we are thrilled to have a store back home."
Designed by Dagnell Folger of Architecture + Information, the store stays true to the Sam Edelman aesthetic with a mix of materials such as reclaimed wood and raw concrete with rose-colored brass and black leather. Hints of the brand's signature shade of green provide a pop of color, and vintage furniture pieces-curated by Sam Edelman himself-are mixed throughout for a personal touch. The full Sam Edelman lifestyle assortment will be displayed in custom-designed fixtures. There will also be a dedicated section for the Circus by Sam Edelman brand. (Web Site) www.samedelman.com
_____________________________________________________________________________________________________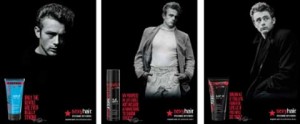 Sexy Hair Partners With Hollywood Icon James Dean™
Sexy Hair, the professional hair care brand and creator of the best-selling and award-winning Big Sexy Hair Spray & Play hairspray, has named cultural icon James Dean as the new ambassador for the brand's Style Sexy Hair line beginning in April 2016. This partnership will pay homage to Dean's iconic, brooding look with a multi-tiered marketing campaign, including use of Dean's name and photos in in-store marketing efforts.
"James Dean's sexy-cool look is a forever-classic, much like our 'big red can,'" said Jennifer Weiderman, Vice President of Marketing and Education for Sexy Hair. "We are excited to partner with one of the greatest style icons of our time that encompasses the same confidence, flare and attitude that Sexy Hair products instill in its users."
For decades, James Dean has been recognized as the epitome of "cool," with a devil-may-care demeanor and suave style. His voluminous, perfectly coiffed hair has transcended decades of fashion and trends, and became a trademark all its own. Now, 60 years after his death, James Dean remains one of Hollywood's most enigmatic icons, and "The James Dean" is still one of the most desired hairstyles today. (Web Site) www.sexyhair.com
_____________________________________________________________________________________________________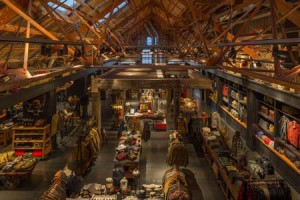 Filson Flagship, Seattle's Outdoor Outfitter To Expand Manufacturing In SODO
Filson, a Seattle-based outdoor outfitter since 1897, is opening the doors to its brand new flagship store in Seattle, WA and expanding its manufacturing capability in SODO. The 6,500 square foot store will feature Filson's "unfailing" products and a new kind of retail. The store will highlight local artisans who are creating one-of-a-kind Pacific Northwest products found only in Filson's flagship store. Filson will also become a community-gathering place for workshops and events.
C.C. Filson established Filson in Seattle in 1897. Filson has been the premier outfitter for the rugged men and women of the Pacific Northwest and has been committed to manufacturing the majority of its products in the Pacific Northwest and in America. With the continued expansion at 1741 First Avenue South, Filson is planning on taking the established brand into the future as the new face of retail.
_____________________________________________________________________________________________________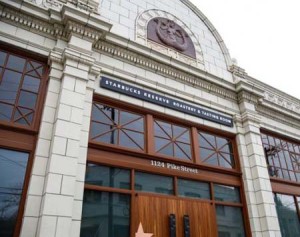 Starbucks To Double Number Of LEED Certified Stores; Roastery Earns LEED Platinum Certification
As the first anniversary of the opening of the Starbucks Reserve® Roastery and Tasting Room approaches, the historic building has been awarded a new honor – LEED® Platinum certification. The designation from the U.S. Green Building Council (USGBC) is its highest level of certification for environmental design and construction in the areas of energy, water, waste, materials, indoor environmental quality and innovation. Today, utilizing the talents of 300 LEED-accredited designers in its 18 in-house design studios around the world, Starbucks has more than 700 LEED certified stores in 19 countries. That's more than any other company in the world and Starbucks has committed to nearly double the number in 2016 with a total of 1,200 LEED certified stores.
"Starbucks has been one of our very earliest retail partners," said Scot Horst, Chief Product Officer for the USGBC. "Starbucks really helped form the entire platform for LEED for Retail, and has been important to the evolution of green building around the world."
"Our job as designers is to create spaces that reflect the communities we serve while anticipating its future needs so that we are designing for the longevity of the neighborhood as well as our business," said Bill Sleeth, vice president, Store Design. "Our responsibility is to do this in a way that integrates environmental sensitivity and local resources, so that we are also using our scale for good."
"Starbucks isn't done," added John Kelly, senior vice president of Global Responsibility and Public Policy. "In addition to considering how to better globalize green building standards, the company hopes to influence the green retail sector in a way that takes greater advantage of emerging technologies to move toward a more performance-driven focus."
_____________________________________________________________________________________________________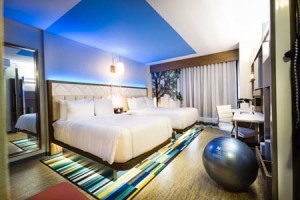 IHG Opens Flagship EVEN Hotel In NYC, Expanding Options For Wellness-Minded Travelers
InterContinental Hotels Group (IHG), one of the world's leading hotel companies, has opened the EVEN® Hotels brand's third hotel, first New York City location and its newest lifestyle hotel brand, created with wellness at its core. Located at 321 West 35th street, the 150-room flagship EVEN Hotels New York – Times Square South sits in the heart of Midtown Manhattan. The brand is designed to help travelers Eat Well, Rest Easy, Keep Active and Accomplish More, making it ideal to better serve wellness-minded travelers in the NYC area.
Jason Moskal, Vice President, Lifestyle Brands, The Americas, IHG, said, "We are thrilled to launch our flagship EVEN Hotels property in the heart of Midtown Manhattan. As the only holistic wellness brand in the hotel industry, we are dedicated to helping wellness-minded guests traveling to New York City find their balance while on the road. This new hotel also demonstrates the continued momentum behind our newest hotel brand and our commitment to providing the EVEN Hotels brand experience wherever our target guest both lives and travels to."
As soon as guests arrive, natural elements of wood, sand, rock and living plants create a welcoming and revitalizing space. The hotel offers different design and technology elements to help guests maintain the balance they desire. Guests can also expect a personalized service culture where team members champion wellness and inspire guests to stay on track while on the road. Eat Well – The Cork & Kale Market and Bar offers a menu of freshly prepared food items such as a Yogurt Bowl with house made granola, a customizable Signature Black Kale Salad, flatbreads, all-natural burger and indulgent desserts. Guests can also enjoy hand-crafted cocktails made with organic and natural ingredients, freshly-squeezed orange juice from a Citrocasa machine and free filtered water available throughout the hotel. Keep Active – For guests desiring a great workout, the property features a natural light filled 1,200 sq. ft. Athletic Studio which wraps around the ground floor level. Spin and yoga classes are offered in addition to morning runs off the Hudson River led by the property's Chief Wellness Officer. For those who prefer to work out on their own, guestrooms feature an In-Room Training Zone which includes a foam roller, yoga mat, yoga block, core exercise ball and the EVEN Hotels Trainer, a mounted fitness wall which includes resistance bands. The brand also developed 19 fitness videos and a robust in-room training guide which shows guests different ways to use the equipment. Rest Easy – Restful environments are essential to maintaining balance, and a calming, open design throughout EVEN Hotels sets a relaxing tone within the property. Guestrooms offer a modern yet comfortable environment and feature eucalyptus fiber linens that offer a cooler sleep; fully glass-enclosed rainfall showers; naturally derived bath products exclusively available from EO and color LED mood lighting. Accomplish More – Ergonomically designed movable work spaces at the property are configured to integrate with guests' preferences, ensuring they can complete work comfortably and efficiently. Guestrooms feature both moveable desks and stand-up desk options. Places to sit back, relax and catch up on the day include the brand's first Wellness Den, offering guests access to table games, music and a reading corner, as well as stadium seating. Free Wi-Fi is also available throughout the hotel.
_____________________________________________________________________________________________________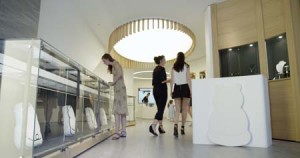 Zazen Bear Flagship Store Opens In SoHo
Zazen Bear, a new Zen retail concept store at 497 Broome Street, wants to help New Yorkers find their moment of inner peace. Through a carefully crafted collection of products that range from jewelry to home furnishing, Zazen Bear offers a unique retail experience that starts when entering the 2,400 sq. ft. store. Spread out on two floors, connected by an open staircase and a harmonious live-plant vertical garden, visitors are lead through the three interlocked circular rooms into a voyage of discovery and sensory exploration.
Inspired by the idea that everything and everybody is connected, each item is carefully crafted to evoke a sense of harmony, relaxation and tranquility when touched, worn or used to decorate the home. Incorporating precious materials like diamonds, sapphires, gold and silver the jewelry collection spans from the Connected Ring Series designed to represent the connection of the mind and the universe where our inner self intersects with the world around us. To offer a complete Zen and inner peace experience that consumers can also recreate in their homes or on the go, Zazen Bear has created a series of home décor objects and accessories that are a reminder to seek inner peace and harmony, like the Zazen Bear Ceramic Figure that placed where it can easily be seen throughout the day as a reminder to stop and breathe; Aromatherapy Candle made with essential oils and 100% organic soy wax; and the Zazen Bear Key Ring replicating the gentle curves of the logo's bear as a simile with balance. Zazen Bear wants to offer a 360° experience that creates a path from Zen to shopping by providing a sense of sanctuary and harmony that allows exploring through scent, texture and visuals. The lower level of the store is entirely dedicated to yoga and meditation for consumers and passersby in search of a moment of quiet but can also be used as a community center for art exhibits, events and screenings.
To further connect all the elements of the space, Italian architect, Pierpaolo Martiradonna, has selected all natural materials for the interiors: Pietra di Vals for the main floor, natural oil finished white oak for the yoga studio floor, hand painted white oak for all the custom millwork elements (including the curved walls) and 3 types of plants for the vertical garden that require minimum light exposure to survive but act as air filter purifying the entire store.
_____________________________________________________________________________________________________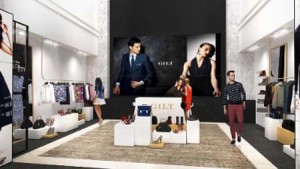 Saks Fifth Avenue OFF 5TH To Open In Tower57 In New York
Saks Fifth Avenue OFF 5TH will open a new store in Tower57, located at 125 East 57th Street, in March 2016. The new 47,333 sq. ft. store will be the first Saks OFF 5TH to open in New York City.
"Saks OFF 5TH delivers an exciting "thrill-of-the-hunt" environment to a millennial shopper demographic. The move into NYC marks a significant milestone for our brand and represents an exciting opportunity for us to bring the distinct OFF 5TH experience to the NY consumer," said Jonathan Greller.
The new store will feature a lobby entrance at street level, which will access two lower level floors. The opening in Manhattan is part of OFF 5TH's plans to open in high density/high traffic locations, and marks the second announced NYC-location for the banner. The company previously announced it will open an OFF 5TH at One Liberty Plaza in downtown Manhattan in 2017.
"HBC has made huge strides on our strategy to grow our off-price business in the U.S., and has aggressive growth planned moving forward, including expansion beyond the United States. We have seen exponential demand as we continue to open new stores, which positions us well for continued growth moving forward," added Greller.
_____________________________________________________________________________________________________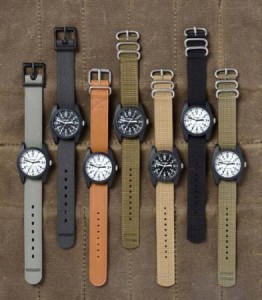 Bertucci Performance Watches Introduces A-3P Sportsman Vintage Field Watch
Bertucci® Performance Watches™ introduces the A-3P Sportsman Vintage Field™, a classically designed field watch drawing its inspiration from traditional American outdoor gear design. The watch is built for those who seek a refined watch style combined with the hallmark traits of a classic American field watch. The A-3P Sportsman Vintage Field features a four-year battery life and 100 meters water resistance.
"This watch embraces the look and feel of American military watches of the '40s and '50s," said Tammy Mcguire, a spokesperson for Bertucci Performance Watches. "The A-3P has a clean, vintage look and is built for those who demand durability, versatility and performance. And with a starting suggested retail price of $120, the A-3P is all about affordable performance."
_____________________________________________________________________________________________________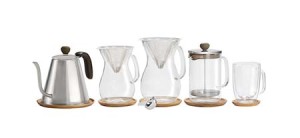 Best Buy And Caribou Coffee Partner On Exclusive Product Line
Best Buy and Caribou Coffee have partnered to bring the great taste of Caribou Coffee right into your home with an exclusive line of home brewing equipment. Consumers can choose from a variety of brewing and drinking options that combine the Caribou coffeeshop experience with the quality of Best Buy's Insignia brand. The set includes an 8-cup and 6-cup pour-over coffee maker, a 2.5-cup French Press, as well as clear double-wall mugs and a stainless kettle. All cost less than $40. The five products launched in nearly 400 Best Buy stores throughout the United States. Caribou Coffee stores are expected to sell the line starting in spring 2016.
_____________________________________________________________________________________________________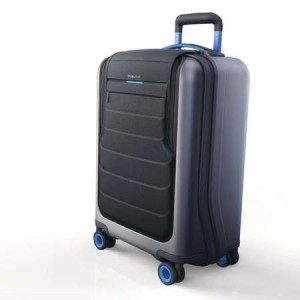 Brookstone Launches Bluesmart Carry-On–App-Controlled Smart Suitcase With Location Tracking
Specialty retailer and innovative product developer Brookstone has introduced the Bluesmart Carry-On smart, connected suitcase. The Bluesmart Carry-On Suitcase uses a combination of Bluetooth, GPS, and innovative technologies not found in other suitcases to do things other suitcases simply can't. The companion Bluesmart app uses a smartphone to track the bag's location, digitally lock and unlock it, and even weigh the suitcase before getting to the check-in counter. Bluesmart also features an internal USB battery that can charge a typical smartphone up to 6 times, eliminating the need for travelers to stop and find outlets in crowded airports. For hardcore travelers, Bluesmart offers even more jetsetting features. An easy-access electronics compartment on the front of the bag makes the security screening process faster and easier. A proximity sensor alerts travelers when they get too far away from their bags. And the Bluesmart app can be used to receive real-time travel reports, including miles traveled, airports visited, and time spent in each country.
_____________________________________________________________________________________________________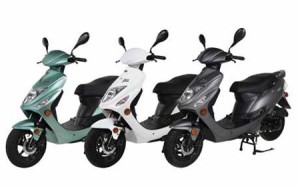 Chicago Scooter Company Debuts With The 'go.' Scooter
The Chicago Scooter Company has introduced its first new scooter, the "go." The "go." boasts standard features that far out-weigh other competing economical scooters, including alloy rims, 7 amp battery, Duro Brand tires, three Coats of UV Resistant Paint and anodized hardware to resist rust. Additional features include telescopic fork front suspension, single shock rear suspension, front disc brakes, rear drum brakes and high quality wiring harness. The "go." will be sold through dealers across the country and is available in mint green, white, or matte titanium. Powered by a 49.6cc, 2.0 horse power restricted forced air engine, the "go." will reach a top speed of 30 mph, is drivable in most states with a standard auto driver's license, and features 100 miles per gallon gas mileage.
_____________________________________________________________________________________________________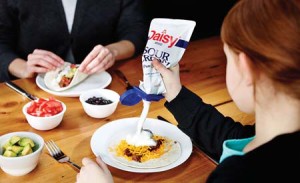 Daisy Brand Sour Cream Introduces Industry-First Flexible Pouch Squeezable Package
Daisy, the maker of America's top-selling sour cream, has developed a squeezable package that dispenses fresh sour cream evenly and exactly where they want it. The new Daisy Squeeze Sour Cream package is a patented design that uses a flexible foil material fixed to a cap – a first for the industry. The package sits cap-down, fits in the refrigerator door, and dispenses sour cream through a one-way valve when pressure is applied to the unit. The revolutionary design was developed with convenience and freshness in mind. Everyone in the family – from toddlers to grandparents – will find the new package easy to use with no spoon required.
"Consumers were asking for a better way to use sour cream as a topping with greater precision than a spoon allows, so we worked closely with them to develop a unique package that suits their needs," said Craig Ziemkiewicz, Director of Marketing, Daisy Sour Cream. "Our flexible package is both fun and easy to use, allowing consumers to squeeze a dollop of Daisy exactly where they want it."
_____________________________________________________________________________________________________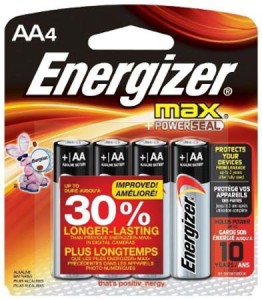 Improved Energizer® MAX® AA Batteries Introduced
Energizer [NYSE: ENR] is helping consumers get the most out of the devices that power their lives with its improved, longest-lasting Energizer® MAX® AA batteries ever. Through design enhancements, the improved Energizer MAX® AA batteries offer consumers the brand's longest-lasting premium alkaline battery with the proprietary Power Seal Technology that consumers have come to expect from Energizer. Energizer MAX® AA batteries also hold their power for up to 10 years in storage, ensuring consumers have the power they want at their fingertips when they need it most. The improved Energizer MAX® batteries last up to 30 percent longer than previous Energizer MAX® AA batteries in digital cameras, giving consumers the power to do more of what they love. They also offer leakage protection through Power Seal Technology for up to two years after fully used- giving consumers peace of mind that their cameras, toys and other valuable devices are protected with Energizer MAX® batteries.
"As consumer battery needs continue to grow, our scientists are always looking at new ways to innovate and ensure even higher performance," said Michelle Atkinson, Chief Consumer Officer at Energizer. "The improvements to our Energizer MAX® AA batteries will enhance the user experience, letting consumers enjoy their favorite devices for even longer."
_____________________________________________________________________________________________________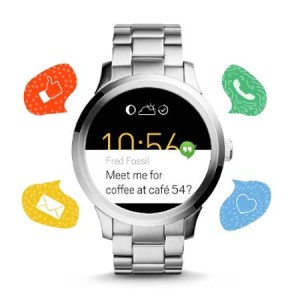 Fossil's First Touchscreen Watch Q Founder Introduced
It's time to meet Q Founder, the newest addition to Fossil's connected accessories line. Engineered with Intel® Innovation and powered by Android Wear, Q Founder tracks your activity, connects to your favorite apps, alerts you of your notifications and has customizable digital watch faces that are sure to fit your style. With its stunning touchscreen display, refined steel and classic leather accents, Q Founder is an unassuming powerhouse. Q Founder will let you know when you have an incoming call or text message, notify you of upcoming appointments or even whether or not your flight is on time with smart Google Now cards and inspire you to get creative with a weekly curiosity challenge. And if you want to go hands free, it can also listen and respond to your commands via your voice.
"Technology is a major disruptor in many industries right now – even fashion. But to successfully merge the two, you need to have the fashion design expertise and focus on it first," said Jill Elliott-Sones, chief creative officer at Fossil. "What's most exciting about Q Founder is not only how it looks, but the true flexibility it offers our customers. Thanks to its ability to pair with both iOS and Android devices, and the personalization opportunities it brings, we're more accessible to more people, and able to complement even the most unique personal styles."
_____________________________________________________________________________________________________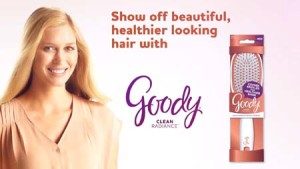 New Goody Clean Radiance Brushes Equipped With Copper Bristles For Radiant Hair
Goody®, a leader in hair accessories and styling tools, has launched Clean Radiance®, a sophisticated new line of copper bristled hair brushes, which reduces buildup in all hair types and restores natural moisture balance for a healthier shine. The copper bristles in the new Clean Radiance brushes massage the scalp and work through the hair to reduce buildup that is produced over time, which in turn leads to beautiful and radiant locks. By incorporating the Clean Radiance brush into their daily routine, beauty enthusiasts everywhere will be thrilled to notice healthier looking hair with added shine in a matter of weeks.
"Healthier looking, radiant hair can now be achieved by anyone, with the help of our Goody Clean Radiance brushes," said Monica Tyler, Director of Marketing for Goody. "The strong copper bristles sweep easily through hair to leave behind beautiful and lustrous tresses."
_____________________________________________________________________________________________________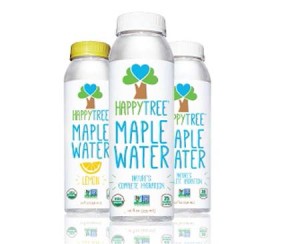 Happy Tree Organic Maple Water Expands National Footprint And Is Non-GMO Verified
Happy Tree, innovator of the first cold pressed/HPP maple water, has expanded to Whole Foods Market's Mid-Atlantic and North Atlantic regions, all of HEB's Central Market locations in Texas, as well as online grocer Fresh Direct. With Whole Foods Market, this increases the leading maple water brand's presence to over 200 stores across seven regions – Northeast, North Atlantic, Mid-Atlantic, Southwest, South Pacific, Northern California and Pacific Northwest. All of Happy Tree's products are certified organic and the full product line recently received Non-GMO Project verification. Non-GMO Project verified is the fastest growing label in the natural products industry, representing more than $13 billion in annual sales, and is the most trusted sign that a product comes from best practices for GMO avoidance. New Happy Tree labels with the Non-GMO Project seal will begin to appear on shelves nationwide.
_____________________________________________________________________________________________________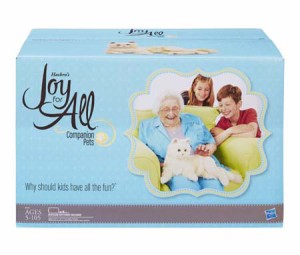 Hasbro Launches 'Companion Pets' For Seniors
Hasbro, is bringing joy, fun, and happiness to an entirely new demographic this winter through an animatronic pet with soft fur, soothing purrs, and pleasant meows: Hasbro's JOY FOR ALL™ Companion Pet Cat. The Joy For All brand, which recently launched with its first product line, Companion Pets, is Hasbro's first foray into products designed specifically for seniors. The brand was inspired by consumer feedback highlighting the appeal of certain Hasbro toys and games for seniors, and the development of Companion Pets was informed by extensive consumer research with older adults and their caregivers nationwide. JOY FOR ALL Companion Pets build on Hasbro's 15 years of expertise in animatronic technology and incorporate new innovations including exclusive technology that enables a purring experience the user can actually feel. Companion Pets respond to petting, hugging and motion through built-in sensors, authentic cat sound effects, and soft fur inspired by real felines. In addition to captivating seniors, JOY FOR ALL Companion Pets can help enhance the interaction between caregivers and their loved ones by incorporating lighthearted fun, joy, and laughter into time spent together.
"We heard from seniors across the country that companionship was important to their happiness. Many live alone, miss having a pet, or are no longer able to care for a pet," said Ted Fischer, vice president of business development at Hasbro. "While it's not a replacement for a pet, the JOY FOR ALL Companion Pet Cat is a life-like alternative that can provide the joy and companionship of owning a real pet, without the often cumbersome responsibilities."
_____________________________________________________________________________________________________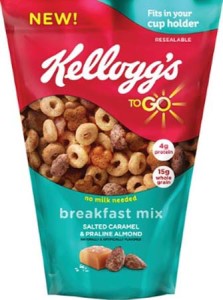 Kellogg Company's U.S. Debuts To Go Breakfast Mix
Kellogg Company's new Kellogg's To Go Breakfast Mix combines delicious cereal pieces and delectable nuts in two savory options. They come in single-serving pouches and are made to be enjoyed without milk. The cereal pieces are larger than traditional cereal for optimal finger-to-mouth munching and the resealable pouch was ergonomically designed to allow fingers to easily access the food and to fit in a car's cup holder. They debut in Salted Caramel & Praline Almond, and Cinnamon Roasted Candied Pecan. Each serving has 4 grams of protein, 3 grams fiber and 15 grams of whole grain. (4 – 4.5 grams total fat/serving.)
_____________________________________________________________________________________________________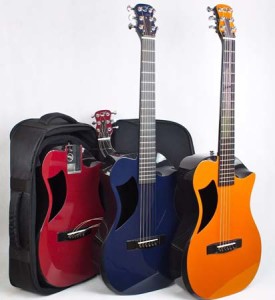 Journey Instruments Launches First Collapsable Carbon Fiber Travel Guitar
Journey Instruments, the creator of the Overhead® series of collapsible travel guitars, is introducing a new series of Colored-Top Carbon Fiber models to its line of full-sounding collapsible travel guitars designed to meet Airlines' carry-on luggage size and weight requirements. Whether a frequent-flyer business professional, or a traveling artist, now the hassle of traveling with a great sounding guitar on an airplane is completely eliminated. The TSA-approved travel case safely encloses the guitar within 22″ x 14″ x 9″ backpack with ergonomically designed pockets for laptops, tablet computers, pedals, cables, accessories, and clothing. Practically everything needed for a business trip or live performance can fit within the overhead bin requirements and they are available in different color options including Burgundy, Navy, Pearl White, Burnt Orange, and Black.
_____________________________________________________________________________________________________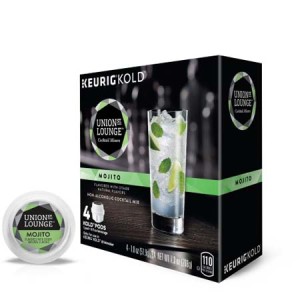 Keurig KOLD Launches Pod Cocktail Mixers
Keurig Green Mountain expands its Keurig® KOLD™ beverage lineup with two new cocktail mixer brands: Rita's & Tina's™ and Union St. Lounge™ – both available in KOLD™ pods. These two new brands deliver a whole new level of in-home entertaining flexibility with premium margarita and mojito beverage mixers, all fresh-made cold, on demand and ready to enjoy with the addition of your choice of spirits. Developed as a skinny mixer, the new Rita's & Tina's™ brand launches with a Classic Margarita KOLD™ pod cocktail mixer, at just 40 calories before adding spirits. Big on taste, small on calories, Rita's & Tina's™ is a perfect addition to any girls' night in and creates an expertly portioned Margarita mix that's ready to enjoy with the addition of 2 ounces of your favorite tequila. The Union St. Lounge™ brand, featuring premium ingredients in classic varieties, debuts with a KOLD™ pod mixer to create one of the world's most popular cocktails, the Mojito. Simply place the pod into the Keurig® KOLD™ drinkmaker and make the sparkling Mojito mix directly into a 12 ounce glass. The ice-cold beverage is made perfectly carbonated without a CO2 canister for a fast, delicious drink every time. Add 2 ounces of your favorite white rum, stir and enjoy.
"Keurig KOLD makes in-home bartending and entertaining so simple and easy with ready-on-demand, precisely crafted cold, non-alcoholic cocktail mixers," said Tara Murphy, Senior Vice President of Keurig KOLD. "From refreshing, light sparkling waters to craft sodas to iced teas and now, perfectly blended cold cocktail mixers, Keurig KOLD brings cold beverage spontaneity and variety to your home and all your holiday gatherings."
_____________________________________________________________________________________________________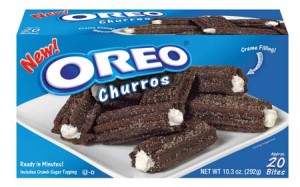 National Snack Craze OREO® Churros Now Available In Filled 'Grab And Go' Format
On the heels of strong consumer excitement about its new OREO Churros snack, J&J Snack Foods Corp. has introduced two filled varieties of OREO Churros to meet the demands of consumers seeking a "grab and go" snack experience. The new line extensions include 10″ Creme Filled OREO Churros and OREO Churros Creme Filled Bites, both made from real OREO Cookie pieces with creme filling inside. These innovative new items will be sold nationwide in the foodservice channel, and the bites – ideal for at-home consumption – are available for purchase at retail stores nationwide.
Gerry Shreiber, CEO & President of J & J Snack Foods, said, "With five different varieties of filled and non-filled OREO Churros available, we feel confident the portfolio now fits into any snacking occasion – whether around the table, in the car, at a movie theatre, on the sidelines of a sporting event or wherever else our consumers enjoy time with family and friends."
_____________________________________________________________________________________________________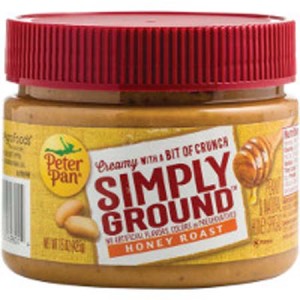 Peter Pan Simply Ground Drives Innovation In Nut Butter Category
Peter Pan®, a brand of ConAgra Foods, is delivering innovation to the peanut butter category with the introduction of Peter Pan Simply Ground™. Simply Ground has the texture of freshly ground peanut butter – creamy with a bit of crunch. Unlike other crunchy peanut butters, Simply Ground is perfect for snacking and is easily spreadable so it won't tear up bread. Simply Ground features simple ingredients- roasted peanuts, sugar, vegetable oils and salt. There are no artificial flavors, colors or preservatives, and Simply Ground has 0g trans fat per serving and is gluten free, cholesterol free, and is kosher certified. Available in two varieties, Simply Ground Original is packed with eight grams of protein per serving and Honey Roast with seven, making it perfect for the classic PB&J or wholesome dipping and snacking.
Brian Evangelista, Brand Manager, Peanut Butter, ConAgra Foods, said, "Consumers want great taste, simple ingredients, the benefit of protein and convenience – all at an affordable price. In recent years we've seen more category innovation around sweet offerings, but this category is all about real food. That's why we're proud to be able to offer Simply Ground."
_____________________________________________________________________________________________________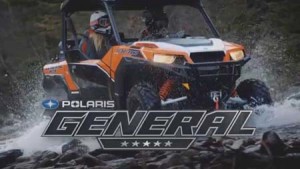 Polaris GENERAL Sets New Standard In Off-Road Vehicle Versatility
Polaris® Industries, the leading manufacturer of off-road vehicles, continues to expand its market leadership by broadening its side-by-side product line-up. The company is introducing the Polaris GENERAL™, the new standard in off-road versatility. The Polaris GENERAL has class-leading features needed to tackle the trails and a work ethic to battle tough jobs. It starts with a 100 horsepower ProStar® 1000 engine delivering the most power and torque. The engine accelerates 0-40 mph in 3.6 seconds, thanks to a best-in-class power-to-weight ratio. When it's time for work, the Polaris GENERAL brings the biggest payload [1100 lbs (498 kg)] and a class-best 600 lb. (272 kg) dump box to get the job done. For all-day comfort and a locked-in, aggressive feel, the Polaris GENERAL features a completely new cabin for an all-new ride experience. Inside the cockpit, the Polaris GENERAL features an all-new customizable instrumentation cluster that tilts with the steering wheel and includes a combination of digital and analog gauges giving clear readings of vehicle speed, engine RPMs, and standard trip information. To keep riding and work essentials close, the vehicle features 23 liters of integrated storage inside the cab with a combination of enclosed and in-dash storage. The Polaris GENERAL showcases fully-integrated accessories and with more than 30 brand new Polaris Engineered Accessories™ and 90-plus common fit items, the vehicle can be customized to work more efficiently and get back to the trail quicker. To meet the variety of recreational and work needs, the Polaris GENERAL is available in three different models.
_____________________________________________________________________________________________________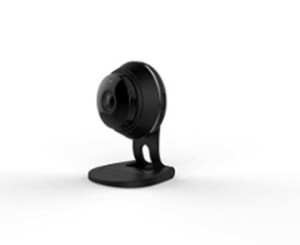 Samsung Techwin America Unveils SmartCam HD Plus
Samsung Techwin America, a leader in consumer video monitoring and security products, has made available its next generation home monitoring camera – the SmartCam HD Plus. The new camera offers 1080p HD streaming, 130 degree ultra-wide angle lens and night vision capabilities up to 32 feet, enabling users to monitor a wider range of activity at their homes and businesses via mobile devices. This model includes a Motion Zone Select feature, which allows users to monitor movement in specific areas within the camera's field of view. The latest addition to Samsung's extensive home security lineup also touts a sleek design with a removable base, providing consumers with the flexibility to position the camera in various locations for an exhaustive view of the vicinity.
"Samsung Techwin America is committed to providing users with a simple, reliable way for consumers to remotely monitor their homes and businesses from anywhere in the world," said Richard Simone, Samsung Techwin America VP of Sales and Marketing. "With the SmartCam HD Plus camera's ease-of-use and wide range of advanced features, users will be better equipped to monitor their loved ones and properties."
_____________________________________________________________________________________________________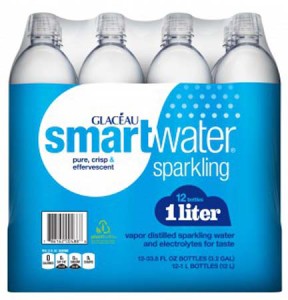 New smartwater® sparkling Now Available
The makers of smartwater® are bubbling with excitement to introduce new smartwater sparkling. With the purity of vapor distillation, combined with electrolytes for taste and just the right amount of delicate carbonation, smartwater sparkling is carefully designed to deliver a taste that is distinctly fresh, crisp and delicious. smartwater sparkling will be available at select retailers. 2016 will be a big year for smartwater sparkling as it will become available in more packages and sizes and will expand into additional markets throughout the country.
"smartwater sparkling is the innovation that our fans have been waiting for," said Caroline Kibler, Director of smartwater. "Earlier this year, we launched our #upupup campaign which aimed to inspire consumers and help to elevate their everyday journeys, in the same way that smartwater is water inspired by the clouds. Similarly, smartwater sparkling, with its crisp and refreshing effervescence, is a new way to elevate consumer experiences."
_____________________________________________________________________________________________________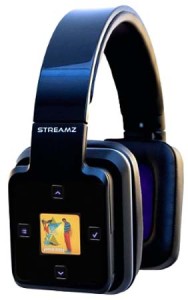 STREAMZ® Debuts As World's First WiFi 36GB HD Smart Headphones That Stream Online Music WITHOUT A Smartphone
STREAMZ® will debut the world's first Wifi smart streaming headphones that streams online music without a smartphone. STREAMZ® includes a 1.6 GHz Quad-core Android processor, HD Music Player, voice control, color display and Apps (Spotify®, Pandora® and others). STREAMZ® VOXXI voice-Control offers hassle-free listening while jogging, traveling or just hanging out, without the need for a phone or music player.
Just "Say and Play" VOXXI voice commands allow users to enjoy their favorite stored or online streaming music. STREAMZ® is more than just headphones, it's a complete WiFi HD music player that users can wirelessly listen to stored and online streaming music such as Pandora®, all without a smartphone. You can also take calls from your phone and stream gaming audio. Like a smartphone, Streamz® will have software App updates so they will keep their value for many years to come. STREAMZ® Smart Streaming Headphones will be available in both leather cushioned On-Ear and Over-Ear styles. Streamz will be available in black and white colors. All models have an integrated 128X128 pixel color OLED display. STREAMZ® will be available from retailers worldwide.
"Most music lovers, commuters and audiophiles just want to listen to their music without having to mess with their smartphone, apps, cables and Bluetooth pairing. We've created a solution that provides you complete freedom to instantly and easily listen to any source and quality of music at anytime, anywhere," said Douglas Kihm, CEO.
_____________________________________________________________________________________________________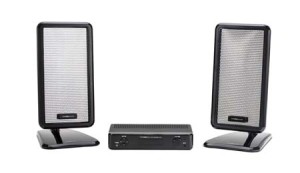 HyperSound Clear From Turtle Beach Introduced
HyperSound Clear from Turtle Beach, the Company's first-of-its-kind directed audio home entertainment solution for people with hearing loss, is now available to consumers through hearing healthcare providers. Turtle Beach has vastly broadened its network of providers via a new distribution partnership with Elite Hearing, LLC, the largest network of independent hearing healthcare providers in the United States. HyperSound® technology is a fundamentally new approach to sound delivery that generates a highly directional, narrow beam of audio in the air. Similar to how a flashlight directs a beam of light, HyperSound Clear directs a beam of audio to targeted listeners, which has been shown to significantly improve sound clarity and speech intelligibility in individuals with hearing loss1. HyperSound Clear works in parallel with the audio from the TV or home theater system, so a person with hearing loss will experience immersive, 3D audio when sitting in the HyperSound beam, while everyone else in the room hears audio from the TV speakers or home theater system at a normal volume level. This means that people with hearing loss, along with family members and friends, can once again return to the family room to enjoy the latest home entertainment together. Additionally, HyperSound Clear will be programmed by a hearing healthcare professional to a specific user's hearing profile to deliver optimal results, and is customizable for up to two individuals.
_____________________________________________________________________________________________________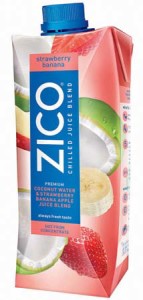 ZICO Introduces Strawberry Banana As Newest Addition Chilled Coconut Water And Juice Blends
ZICO Beverages LLC®, maker of ZICO Premium Coconut Water™, is launching a flavorful way to hydrate with the introduction of ZICO Chilled Strawberry Banana Juice Blend. The newest addition to ZICO Chilled Juice Blends line combines chilled natural coconut water with a fruit juice fusion of strawberry and banana puree and apple juice.
With five naturally-occurring electrolytes, including as much potassium as a small banana, ZICO Chilled Strawberry Banana Juice Blend offers the hydration benefits of coconut water and the delicious taste of fruit juice-with 33 percent fewer calories than regular fruit drinks. ZICO Chilled Strawberry Banana Juice Blend has 60 calories per 8 fl. oz. serving; regular fruit drinks contain 90 calories. Like ZICO Natural Coconut Water, ZICO Chilled Strawberry Banana Juice Blend is free of artificial flavors, fat and cholesterol, and has no added preservatives and is gluten and dairy free. ZICO Chilled Strawberry Banana Juice Blend is the latest addition to the ZICO Chilled Juice portfolio, which includes Orange and Pineapple Mango juice blends as well as ZICO Natural Chilled Coconut Water, which is just 100% chilled coconut water. From the moment ZICO Chilled Juices are packaged in Thailand to when they hit the refrigerator aisle at the grocery store, the product has been kept cold, allowing for a refreshing, "straight-from-the-coconut" drinking experience.
_____________________________________________________________________________________________________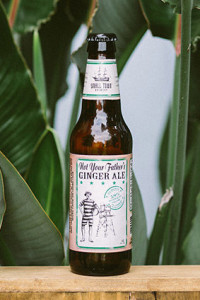 Small Town Brewery Rolls Out Not Your Father's Ginger Ale Nationwide
Small Town Brewery is launching Not Your Father's Ginger Ale, a gruit-inspired botanical beer brewed with ginger. Not Your Father's Ginger Ale is expected to hit store shelves in 40 states next week, with full nationwide distribution. "The Ginger Ale was a logical next step for us. Alcoholic ginger beer — just like alcoholic root beer — was known as 'small beer' and enjoyed great popularity in colonial America," said Tim Kovac, founder and Master Brewer at Small Town. "We've worked hard to create this gruit-inspired brew that pays homage to the classic taste Americans know and love. It has a high intensity of ginger and lemon, a tinge of black currant, and a light sweetened flavor with woody attributes. We are very proud of the finished product — it really delivers on the taste profile that people crave in a ginger ale."
Not Your Father's Ginger Ale is Small Town's second nationally distributed product after the roll-out of Not Your Father's Root Beer last spring. "We're finding that consumers are looking for new and innovative brews within the craft beer category," said Etienne Houseknecht, Marketing Director at Small Town Brewery. "Gruit-inspired ales are Small Town's answer to this market need, and we are proud to be leading the creation of a new botanical craft beer segment."
_____________________________________________________________________________________________________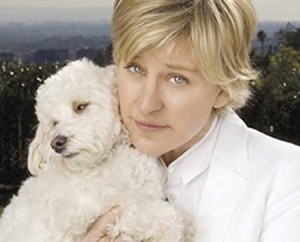 Ellen DeGeneres Partners With Posh Paws On Pet Accessories Collection
International designer and manufacturer of pet accessories, Posh Paws has entered into a partnership with Ellen DeGeneres' lifestyle brand, ED, on a 2016 pet accessories collection. Featured in the collection, categories include pet beds, toys, carriers, leads, collars, feeding bowls, sweaters and coats, and all products will be reflective of ED's unique style and design. Additional categories of grooming and hygiene products will be introduced later in the year.
"We are thrilled to partner with Ellen DeGeneres' lifestyle brand to transform her design vision into high-quality pet products," said Isaac Dweck, Vice President of Posh Paws. "ED's strong design perspective, coupled with Ellen's personality and known love for animals, is a natural fit for our portfolio of brands, and we are looking forward to collaborating on these fine pet products."
"We're very excited to team up with Posh Paws to design and create unique pet accessories reflective of our brand's artistic design," said Marisa Gardini, Managing Partner and CEO of ED. "With Posh Paws' industry expertise, we look forward to working with them in developing this extension of the ED brand."
_____________________________________________________________________________________________________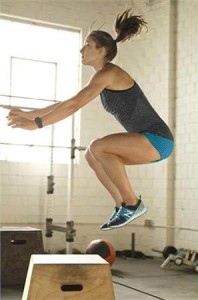 New Balance Introduces NB Women Inspired By The Athletic Female
Global athletic leader New Balance has launched NB Women, a comprehensive, cross-category, head-to-toe collection of products that offer athletic female consumers the performance and style they demand. Based on in-depth consumer research, NB Women was born from a position of deep understanding of the athletic female – her motivations, aspirations and the stage of life she is in.
"NB Women represents our commitment to place the athletic female at the center of everything we do – we are 100% inspired by her and 100% in service to her," said Norma Delaney, Head of Global Marketing for NB Women. "Through product innovation, motivational content, and engaging global platforms like Girls' Night Out, we are helping our female consumer achieve her goals. We serve her by giving her exactly what she needs, when she needs it, so she can focus on her life and explore her full potential."
_____________________________________________________________________________________________________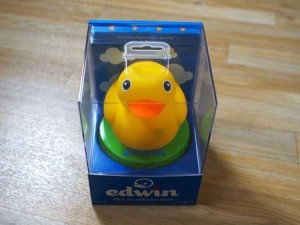 Edwin™, the World's First Smart Duck, Set To Launch In Best Buy
pi lab, an education technology company focused on intelligent product and application creation, has made available Edwin – a learning toy with personality – in over 560 Best Buy locations across the United States. Edwin brings a personality to learning with fun interactive experiences for ages newborn and up, melting hearts with his soft touch, adorable quack, and glowing charm. Utilizing SQUACK™ Technology, (motion-based interaction between Edwin and a mobile app), a child will instantly connect with Edwin. By tapping, turning, and tilting Edwin, children will guide the animated character on an adventure, explore educational games, and sing-a-long to original songs.
"First made popular in the 1940s, the rubber duck is one of the most iconic and recognizable toys worldwide," said Don Inmon, co-creator. "We have given this cherished character a name and personality, while embedding innovative technology to offer infinite experiences for your child to learn, play, sing, and dream with Edwin."
_____________________________________________________________________________________________________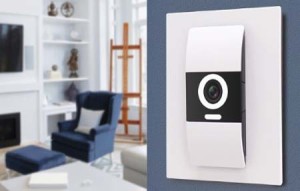 D-Link Introduces New Komfy™ Smart Home Device
D-Link has introduced the Komfy Switch with Camera, a Smart Home Device under the new Komfy™ brand name. The Komfy Switch with Camera delivers a new smart light switch for homeowners looking to create a smarter and safer home. Built to replace a standard 1 or 2-gang light switch, the Komfy Switch with Camera (DKZ-201S) is an all-in-one solution allowing users to not only keep an eye on their home with a high definition 1080p camera, but also monitor a range of environmental changes including temperature, humidity and air quality. The Komfy Switch with Camera also comes in white and black color options to fit a variety of interior designs. Most solutions require placing multiple devices throughout the home in order to view a room, control light switches and sense changes in the environment, but Komfy offers additional sensors and alerts so customers can have peace of mind with a single device. The free Komfy app for iOS® devices can be used remotely to control lights as well as create on and off schedules and send automatic push notifications to their mobile device to alert users to changes in the room's temperature, humidity, and air quality. And with IFTTT support, Komfy can be used with other smart devices and apps to create a truly automated home that works for you.
"Awareness is everything, and with Komfy you'll always know the status of your home," said Ken Loyd, director of consumer product marketing, D-Link Systems, Inc. "With a Full HD camera, free cloud recording, and multiple sensors with automatic alerts, you can address a problem before it becomes a disaster, allowing you to feel exactly how you should feel at home, which is safe and secure 24/7."
_____________________________________________________________________________________________________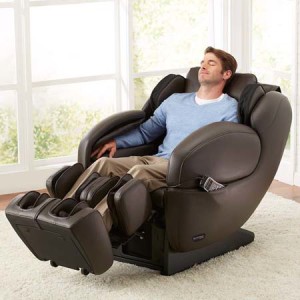 Brookstone Partners With Inada To Introduce Signature Massage Chair
Two leaders in massage chair technology have partnered to develop a chair unlike any other on the market. Innovative product developer and specialty retailer Brookstone teamed up with Inada, the world-renowned manufacturer of massage chairs, to release the Brookstone Signature Massage Chair, available now at Brookstone stores.
"It's no secret that Inada choreographs world-renowned massage programs for their chairs," said Brookstone CEO Tom Via. "So when we set out to design a chair that would represent the pinnacle of our own collection, we knew partnering with Inada would be the best way to get it done."
What sets the Brookstone Signature Massage Chair ahead of the competition are the dual 3D massage systems — which stimulate and caress the user's upper and lower back simultaneously — and its patented, proprietary OCTET® massage technology — which uses eight massage rollers to relieve tension and soothe tired muscles. "It's like having two masseuses working on you at the same time, and it feels amazing," said Via. Additionally, the Signature Massage Chair boasts 14 world-class automatic massage programs choreographed by Inada, optical pressure-point detection for a custom massage, zero-gravity recline and Dynamic Squeeze™ air massage.
_____________________________________________________________________________________________________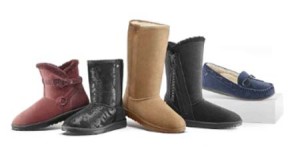 ABEO Footwear Introduces Shearling Collection For Ultimate Comfort And Warmth
ABEO biomechanical footwear, a leading comfort footwear brand, has launched an innovative new shearling collection in time for holiday shopping. The latest evolution in customized comfort featuring the unparalleled support of built-in-orthotics fit to a specific foot type, or ultra-lightweight designs, the collection infuses advanced biomechanical technology into easy-to-wear boots and slippers with premium materials including naturally insulating shearling linings for the ultimate cold weather warmth and comfort. Taking comfort to a new level, the new ABEO shearling collection features genuine shearling linings for natural insulation, and is available in two advanced biomechanical systems: ABEO B.I.O.system® Shearling Collection features the customized 3D fit and comfort of built-in-orthotics, digitally matched to a foot type using innovative digital scan technology available in stores where ABEO is sold. Designed to support the feet, align the body, balance weight distribution, increase stability, and reduce foot fatigue and stress on joints, B.I.O.system shearling is available in over 10 boot and slipper styles in a variety of shaft heights and colors. ABEO LiTe™ Shearling Collection infuses advanced lightweight technology into everyday casuals for the ultimate freedom of motion. Versatile and comfortable, LiTe shearling is available in three boot styles, and one slip-on mule in a variety of colors, and features a removable footbed for customization.
_____________________________________________________________________________________________________
Lowe's Promotes Marketing Executives
Lowe's Companies has promoted Marci Grebstein to chief marketing officer. Grebstein most recently served as vice president of advertising, leading the U.S. advertising strategy and marketing operations to build loyalty for the brand. Erin Sellman has been promoted to senior vice president of strategy, insights and planning. Sellman joined Lowe's in 2004 and most recently served as vice president of strategy and insights.
_____________________________________________________________________________________________________
PDI Names Tom Donovan Exec. Dir. Of Account Services
PDI has named Tom Donovan Executive Director of Account Services. Donovan comes to PDI with a strong record of leadership in the retail environment and point of purchase industries. His experience includes the position of Vice President, Sales for DCI-Artform where he led the sales team with a focus on the cosmetics/health and beauty sector, serving global brands such as Revlon, YSL, Sally Hansen and Rimmel.
_____________________________________________________________________________________________________
Beam Suntory Appoints InnerWorkings As Its Preferred Marketing Execution Provider
Beam Suntory Inc., the world's third-largest premium spirits company, has selected InnerWorkings as its preferred provider to deliver brand and field optimization goals within the area of Point of Sale (POS) materials. As part of the agreement, InnerWorkings will provide custom point-of-sale, branded merchandise, multiple eCommerce sites, warehousing and fulfillment services, as well as a large supporting infrastructure within Beam Suntory and across InnerWorkings' offices worldwide, to deliver an end-to-end POS marketing supply chain solution across Beam Suntory's expansive brand portfolio. Beam Suntory will benefit from InnerWorkings' collaborative VALO® technology. By sharing successful marketing ideas across continents, departments, and regions, the technology platform will maximize Beam Suntory's brand impact and capture field-based efficiencies in all languages and currencies they require.
"After a long and detailed evaluation process, we selected InnerWorkings based on the company's industry experience, global footprint, and technology tools," said Jim Dionne, Global Director, Marketing & Indirect Procurement, at Beam Suntory. "InnerWorkings has the global marketing execution expertise we need to push our creative ideas into the marketplace and explore procurement efficiencies across borders as we evolve our relationship."
_____________________________________________________________________________________________________
Coravin Names Peggy Ang Vice President Of Marketing
Coravin Inc., maker of Coravin™ Wine Systems, has named Peggy Ang as Vice President of Marketing, to guide the development and execution of Coravin's strategic brand and consumer marketing initiatives in the US and across key international markets. Ang joins Coravin with more than 15 years of experience in marketing and communications for global brands including Sony Electronics, Animal Planet and, most recently, Samsung Electronics America, where she served as Vice President of Marketing Communications. Ang joins Coravin at a time when the company is primed for continued growth, with recent significant milestones including expanded retail distribution in leading luxury retailers Neiman Marcus and Sur La Table and the launch of the new Coravin Model Two.
_____________________________________________________________________________________________________
Adder America Names Chip Jewitt Vice President – National Sales
Adder America has hired Chip Jewitt as Vice President – National Sales to represent Adder's innovative line of retail displays and supplementary print media – AdderMedia – in the United States. Jewitt joins the company with more than 30 years' experience in the paper industry, where he worked with distribution and manufacturing units in the fine printing papers product segment.
"Chip will be an excellent addition to our sales efforts in the US," said Ola Billmont, Partner at Adder's Swedish headquarters. "He is bringing the necessary experience and professionalism that we need to reach the next level in our marketing efforts." The Adder InStore display system was patented in 2003 and today the products are central communication tools for many of the world's top brands that focus on store marketing, brand communication, and campaign work. Combined with AdderMedia, a unique printable synthetic paper, the messages can be changed easily and handle tough retail environments and crowded public areas.
_____________________________________________________________________________________________________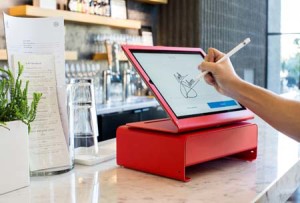 Heckler Design Introduces Hardware Apple iPad Pro
Heckler Design, a made-in-the-USA product design company, has expanded its popular WindFall product line to include WindFall Stand, WindFall Frame, and WindFall Kiosk for iPad Pro. The WindFall Stand, Frame, and Kiosk for iPad Pro are ideal for use in commercial settings for point of sale and digital display. Each is constructed from thick, laser-cut steel and feature sleek design and tamper-resistant assembly. Other features include: Compatibility with the Kensington ClickSafe cable locks; Accessibility to all buttons, ports, and cameras; Integrated power cable management and security; and Compatibility with a variety of third-party VESA 75 and VESA 100 accessories, such as articulating display arms (WindFall Frame only). "Today's most competitive merchants want to wow their customers," said Dean Heckler, founder of Heckler Design. "With an iPad Pro mounted securely at checkout, or throughout the shop on walls or in floor stands, they can create a unique, customer experience — our WindFall products for iPad Pro makes this possible." The WindFall Stand, WindFall Frame and WindFall Kiosk for iPad Pro are available in a variety of colors. For more information, visit (Web Site) www.HecklerDesign.com
_____________________________________________________________________________________________________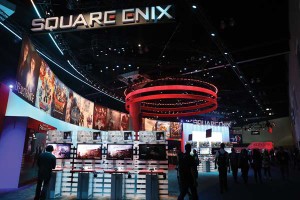 Kenwood Experiences Creates Exhibit For Square Enix
Kenwood Experiences, created an exhibit for video game developer Square Enix featured at E3 in Los Angeles. The 11,000-square-foot exhibit featured: a highly branded presentation playing continuously in an open air theater on a 32-foot LED screen; three uniquely-themed presentation theaters; over 40 branded live-game-play kiosks; an ongoing massively-multiplayer-online-role-playing-game (MMORPG) tournament; 12 product-branded meetings rooms; vivid, integrated lighting and audio design; and large-scale corporate branding throughout.
"The Square Enix booth at E3, with its targeted, personalized, and multi-channel approach, was a triumph for our client," says Daniel Pinkham, President of Kenwood Experiences. "We worked day and night to create a compelling consumer journey that engaged booth visitors along with distant consumers, sparked conversation, and conveyed critically important information and branding messages. This was a powerful demonstration of multi-channel experiential marketing." (Web Site) www.kenwoodx.com
_____________________________________________________________________________________________________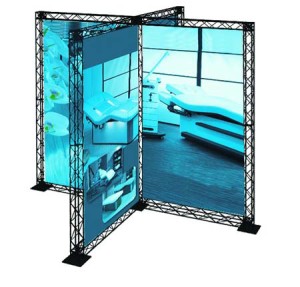 Radius Introduces Xpress Truss
Radius introduces Xpress Truss, a 4″ light-duty design perfect for trade show displays, point of sale, and other applications that don't require heavy load bearing. A wide range of straights and a curve section mean you can design to your heart's content. It's also a sophisticated way to display our RasterPrint graphics, which mount easily using a rod and clips. Components include: Straights: 4″, 8″, 12″, 16″, 20″, 24″, 28″, 32″, 35″, 40″, 44″, 48″ (larger sizes available for large jobs with additional lead time); 45° curve; 6-point connector cube (4″x4″x4″); straight connector- join 2 straights to extend; 45° connector- create 45 degree connection. Also available are shelves & counters- various sizes; floor bases- various weights; lights and rotomolded shipping cases. Xpress Truss is made from aluminum and 30% fiber reinforced composite. For more information, visit (Web Site) www.radiusdp.com
_____________________________________________________________________________________________________
TradeTec Skyline Hires Kelly Voss As Senior Exhibit Consultant
TradeTec Skyline, a premier full-service exhibit house based in Lombard, IL, has hired Kelly Voss as Senior Exhibit Consultant. Voss's primary role is to partner with clients and guide them through the exhibit planning process while focusing on their goals, budget, and timelines. Voss brings over 25 years of experience in B2B and B2C sales and marketing, the last 9 of which were in the exhibit industry. (Web Site) www.ttchicago.com
_____________________________________________________________________________________________________
GES Hires Jeff Youngs As VP Of Production and Operations
Global Experience Specialists (GES), a global full-service provider for live events, has added Jeff Youngs to the company's Corporate Events team as vice president of production and operations. Youngs brings more than 30 years experience producing live corporate events including general sessions, sales meetings, product launches, and training seminars. Prior to joining GES, Youngs was president of Youngs Communication, Inc., providing consulting and creative messaging communication services for agencies and major national and multi-national brands. (Web Site) www.ges.com
_____________________________________________________________________________________________________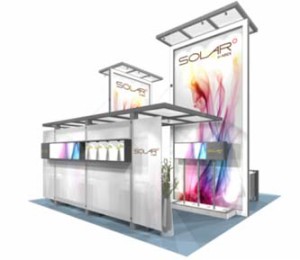 Exhibit Express Introduces Custom Designed Modular Displays
Vancouver, Canada-based trade show display provider Exhibit Express has introduced Custom Designed Modular Trade Displays to make exhibiting easier and cost-effective for businesses. The tailor-made exhibits are designed so they can be reconfigured and adapted to fit into different spaces to meet the diverse needs of exhibitions and trade shows. These modular exhibits help trade show attendees to present their brands and businesses in the most professional way possible, while showcasing their products and services in an attractive and inviting manner. Exhibit Express' Business Development Manager Kayla Grey said, "The custom designed Modular Trade Displays make it easier for business owners to exhibit at different shows and conventions without having to resort to new display sets every time. These fit into multiple spaces and can be easily adapted to meet different exhibit requirements." (Web Site) www.exhibitexpress.ca
_____________________________________________________________________________________________________
Exhibitus Promotes Matthew Beck As Design Program
Exhibitus has promoted Matthew Beck to Design Director. In this position, Beck will manage the company's team of exhibit design experts, as well as work directly with clients to evolve the company's "Design Matters" approach to exhibit marketing. As Senior Exhibit Designer at Exhibitus since 2012, Beck has created award-winning designs for clients, including Kawneer and Yamaha. (Web Site) www.exhibitus.com
_____________________________________________________________________________________________________
Freeman Hires Bruce Mau As Chief Design Offier
Freeman, the leading global provider of brand experiences, has appointed designer, author and visionary Bruce Mau as its Chief Design Officer. In a move to drive innovation in the events industry, Freeman has created this new role at the company and appointed Mau to their Executive Committee. Mau is the co-founder of the Massive Change Network, which promotes the transformative power of design thinking to generate new ideas and help institutions and businesses innovate.
"We are thrilled to deepen our relationship with Bruce Mau as part of our journey to bring design thinking to our company and our community," said Joe Popolo, Freeman's CEO. "Bruce is helping Freeman transform itself and innovate the brand experience category. This move will accelerate that process, further connecting Freeman with Bruce and his Massive Change Network in a strategic partnership". Web Site) www.freemanco.co
_____________________________________________________________________________________________________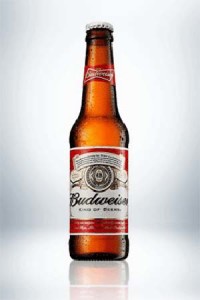 Anheuser-Busch Extends And Expands Partnership With Daytona International Speedway
Anheuser-Busch announced a multi-year partnership renewal with Daytona International Speedway (DIS) that extends its status as the exclusive official beer sponsor of DIS and the DAYTONA 500. The partnership will also provide Anheuser-Busch with naming rights to four locations within the new motorsports stadium as part of the DAYTONA Rising redevelopment project, which is scheduled to open 2016
Two of the bar locations to be featured in the new "World Center of Racing" central "neighborhood" zone and spacious concourses, while the other two will be located in other parts of the stadium. All four locations will enable Anheuser-Busch to advertise multiple brands from its portfolio of beers including Busch, Budweiser Bud Light and Stella Artois. Anheuser-Busch will also retain naming rights to the infield area – the Budweiser Bistro.
"Daytona International Speedway has been a tremendous partner for Anheuser-Busch ever since we first introduced the Busch Clash back in 1979, which was held each year at DIS the week prior to the DAYTONA 500," said Nick Kelly, director of experiential marketing, Anheuser-Busch. "We're looking forward to continuing this relationship that allows us to have a significant marketing presence at the track, and now we'll be able to deliver an elevated experience to our fans as a result of the DAYTONA Rising project."
Anheuser-Busch's partnership with DIS continues a period of investment and rededication to the sport of racing. The Busch family of beers recently announced it is reigniting its storied past in NASCAR by sponsoring Kevin Harvick and the No. 4 team of Stewart-Haas Racing for select races during the 2016 NASCAR Sprint Cup Series season beginning with the Sprint Unlimited at DIS on Feb. 13. In conjunction, Anheuser-Busch will employ a comprehensive marketing approach to celebrate Busch's return to the sport of racing, including on-track, experiential, in-market and retail activations, as well as TV spots leading up to the DAYTONA 500.
"We're thrilled to kick off the next chapter of our longstanding partnership with Anheuser-Busch," said Daytona International Speedway President Joie Chitwood III. "Our new motorsports stadium will provide enhanced opportunities to market their brands and connect with race fans." (Web Site) www.anheuser-busch.com
_____________________________________________________________________________________________________

Big Red Soda Teams Up With NBA's Matt Bonner For Limited Edition 2-Liter Bottle Promotion
Big Red, America's original and best-selling red soda, teams up with the NBA's Matt Bonner for a limited edition 2-liter bottle to commemorate his 10 year professional basketball career in San Antonio. Bonner is 1 of only 6 players to join the team's exclusive 10 year club. Starting in mid-November, consumers in central and south Texas can purchase the limited run bottles until supplies last.
"We are excited to work with San Antonio fan favorite Matt Bonner for a second year," said Big Red's SVP of Marketing Thomas Oh. "To celebrate his 10 year anniversary, we thought it only made sense to put the NBA's only red head on San Antonio's #1 red soda, Big Red."
"I am honored to have spent the last 10 years in San Antonio," said Matt Bonner. "I am excited about teaming up with Big Red, Texas' most iconic soda, for a second straight year. This partnership continues as my teammates and I kickoff the 2015-2016 season." (Web Site) www.bigred.com
_____________________________________________________________________________________________________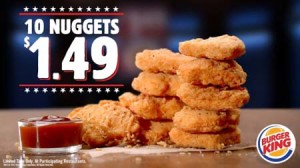 Burger King Conducts $1.49 Chicken Nuggets Promotion
BURGER KING® restaurants are bringing back one of the deals guests love most – 10 chicken nuggets for just $1.49. The bite-sized nuggets are tender and juicy on the inside and golden and crispy on the outside, making for a mouth-watering deal.
"We always want to bring our guests the best tasting food at a great value, so this deal is a big win for everyone," said Eric Hirschhorn, Chief Marketing Officer, North America, BURGER KING® Brand.
Coated in a home-style seasoned breading, the $1.49 nuggets are perfect for dipping in any of the BURGER KING® delicious dipping sauces including BBQ, Honey Mustard, Ranch, Zesty, Buffalo and Sweet & Sour. $1.49 nuggets are available at participating BURGER KING® restaurants for a limited time only. (Web Site) www.bk.com
_____________________________________________________________________________________________________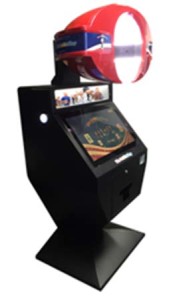 The BobbleShop 3D Automated Photo Kiosk Introduced
The Bobble Shop System is a turnkey retail solution for instantly capturing facial images, creating 3D printed personalized figurines, bobble heads, and 2D images. Then easily sharing the experience with online friends. The Bobble Shop is acclaimed for its scanning speed and accuracy; large and expanding library of figurines; ability to customize, proprietary software and cloud based processing platform.
Now The Bobble Shop is also a totally automated and autonomous photobooth kiosk.
Without the need of an operator, the customer can scan, choose, personalize, order, buy and pay for their special figurine and fun BobbleShop experience. Features include: stand alone automated autonomy, branding and color options, figurine display niche, embedded PC with integrated proprietary software, large touch screen, printer for 2D pictures and receipt, trigger snapshot button controls and credit card payment slot. (Web Site) www.bobbleshopusa.com
_____________________________________________________________________________________________________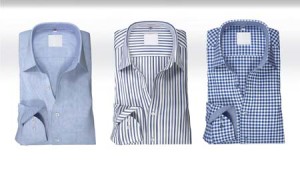 Dassault Systèmes Launches The 'My Retail Theatre'
Dassault Systèmes, the 3DEXPERIENCE Company, has launched "My Retail Theatre," its new industry solution experience for consumer goods and retail. Based on the 3DEXPERIENCE platform, "My Retail Theatre" provides consumer goods companies with interactive, high-end 3D visualization capabilities that let shoppers configure personalized products offline or online. Retailers can display their full product assortment regardless of physical store size, increasing consumer choice while reducing the need for large inventories.
With the 3DEXPERIENCE platform's 3D photo-realistic capabilities, consumers can select, configure and personalize products in a store or on the web using a range of interactive display devices such as tablets, smartphones and touch screen-based systems. Athletic footwear, jewelry, watches, leather goods and other consumer goods can be interactively explored by consumers and customized with unique colors, materials and textures. Product components are displayed based on available inventory and deliveries can be quoted based on realistic lead times. Once fully configured, consumers can proceed to checkout and share their product on social media. By replacing physical stock with 3D digital photo-realistic images, retailers can also offer consumers an extended product assortment without increasing inventory or compromising on the quality of store displays. In addition, retailers can gain insight into consumers' tastes and trends and maximize their online engagement.
"Dassault Systèmes' 'My Retail Theatre' industry solution experience offers the ultimate personalized purchase experience across all channels-from digital 'look books' and catalogues to e-commerce shops or interactive in-store concepts-that incites consumers to go past the browsing stage," said Susan Olivier, Vice President, Consumer Goods and Retail Industry, Dassault Systèmes. "Technology, specifically 3D design data from concept to consumer, is inspiring new ways of shopping that transcend the traditional brick-and-mortar store. Our portfolio of industry solution experiences delivers the necessary digital continuity for product innovation and the consumer environment." (Web Site) www.3ds.com
_____________________________________________________________________________________________________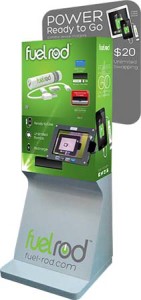 FuelRod Mobile Charger Kiosks Land At Major Airports
Tricopian, a San Diego, California-based developer of the innovative FuelRod mobile device charger, has made its FuelRod "SwapBox™" kiosks available at AIRMALLs in the Cleveland (CLE) and Pittsburgh (PIT) airports with Baltimore-Washington (BWI) coming online in time for the holiday travel season followed by Boston (BOS) in the very near future. FuelRod's kiosks are conveniently located in terminals near boarding gates and near food courts. The FuelRod's self-serve "SwapBox" provides travelers with ready-to-use, grab-and-go mobile device chargers that eliminate the need for charging at airport's electrical outlets.
Travelers simply locate an automated FuelRod kiosk, purchase a FuelRod charging kit complete with cables and adaptors and they're ready to fuel-up their mobile device. The rechargeable FuelRods are small portable chargers that deliver up to eight hours of talk time for an Apple® or Android™ smartphone or nearly four hours of usage for a tablet. When the charger is empty, the FuelRod can be exchanged free of charge at a FuelRod SwapBox self-serve kiosk for a fresh, fully fueled, ready-to-use charger. For additional convenience, users can recharge the FuelRod on their own through the provided USB cable. FuelRod chargers are priced at just $20 each with free unlimited exchanges. Each FuelRod kit includes connectors for both Android and Apple-based devices. Once used, the FuelRod module can be recharged using any standard USB outlet. It can also be quickly exchanged at any FuelRod SwapBox kiosk for a fresh, fully fueled, ready-to-use charger.
"When we first heard of the FuelRod 'Power as a Service' program, we had to take a look," said Jaime Daly, CEO of AIRMALL USA. "We're all about being a game-changer in passenger experience. The FuelRod automated kiosks are a fun and convenient way to keep travelers' mobile devices charged. Not being chained to an electrical outlet gives them the freedom to experience all the great food and retail services these airports offer. This is a win-win." (Web Site) www.fuel-rod.com
_____________________________________________________________________________________________________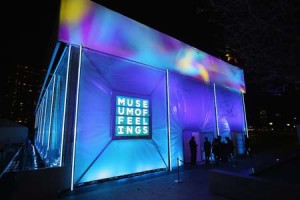 Glade Brings Emotions To Life Through The Power Of Scent At The Museum Of Feelings
Glade® invites consumers to explore their emotions at The Museum of Feelings, an interactive experience built to showcase the beautiful connection between scent and emotion. Visitors will be taken on a sensory journey through the Museum, where Glade® fragrances act as the muse to inspire visitors to explore their emotions. This holiday season, The Museum of Feelings will bring emotion and scent to life through an engaging and immersive experience, inspired by Glade(R) fragrance.
Visitors to The Museum of Feelings will first experience a responsive mood wall where they can see their shadows break apart into the colors represented throughout the space before moving into five unique galleries that reflect the mood of each visitor. The immersive galleries, each inspired by Glade® fragrances, allow museum-goers to experience how the sense of smell, in partnership with the other four senses, create the emotions we feel. Temperature will change, wind will blow and disappear, and subtle fragrances will punctuate and heighten the experience. Each zone will feature a different scent and emotion including: Feel Optimistic: The first zone, inspired by Glade® Radiant Berries fragrance, will feature layers of reflective and sheer curtains that guide guests to the center of the room. Using a reflective pass card, each guest will be able to activate sensors that trigger ambient audio and light as they go through the space. Feel Joyful: Visitors will explore a virtual forest inspired by the Glade® Balsam & Fir Limited Edition Winter Collection fragrance. With mirrored and reflective surfaces on the floor and walls, the forest will appear infinite from above and below. Scented lanterns will react to light making for a magical, fragrant moment. Feel Invigorated: As visitors move into the Invigorated space, inspired by the Glade® Blue Odyssey™ scent, they will be surrounded and tracked by a halo of color and motion that can be experienced in 3-D. The halo will react to your motions and speed as you move about the room and lead you to the scent beacons in the space, causing your halo to react. Feel Exhilarated: Enter a virtual kaleidoscope in the Exhilarated space, where visitors can control the floral images that are displayed throughout the station, and be rewarded with the scent of Blooming Peony & Cherry™. Feel Calm: Upon entering the Calm exhibit, inspired by the Glade® Lavender & Vanilla fragrance, visitors will be walking among the clouds. Every three minutes a new cloud will be created while ambient lighting and sound complement the calming feeling.
To support the Museum, Glade® collaborated with Twitter to generate the world's first ever 'MoodLens', profile picture that will change based on feelings. When users visit the Retail Lounge at the Museum they have the opportunity to create the 'MoodLens,' an emotionally generated self that changes to reflect feeling. The Museum of Feelings is open to the public for a limited time this holiday season and is located at Brookfield Place, 230 Vesey St., in New York's Financial District. (Web Site) www.glade.com
_____________________________________________________________________________________________________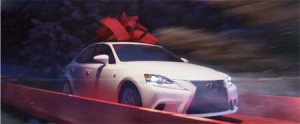 Lexus Partners With Barneys New York For December To Remember Campaign
Lexus launches its holiday marketing efforts, taking its iconic "December to Remember" campaign up a notch in a multitiered partnership with specialty luxury retailer Barneys New York. At the center of the collaboration is an elaborate Lexus racetrack display in one of Barneys' own iconic creations: its signature holiday windows.
The Lexus/Barneys partnership includes the holiday windows collaboration, retail product offerings, in-store promotions and a chance to win a $10,000 Barneys shopping spree.
"Barneys New York is an influential purveyor of high style and modern luxury, making it the perfect match for Lexus this holiday season," said Brian Smith, Lexus vice president of marketing. "This partnership will help us create stunning and memorable experiences for our customers for a true 'December to Remember'."
Beginning with the idea of the penguin, the Barneys New York team partnered with Lexus to reimagine a traditional and playful winter racetrack adventure. The Barneys CHILLIN' OUT – themed holiday window features three penguins surfing atop dazzling, crystal-encrusted Lexus IS, GS F and RC F model cars racing around a track commissioned and created by renowned slot car track designer Gary Gerding. The vignette will also be replicated for the Barneys Beverly Hills, Calif. location.
Two specially designed promotions provide a unique opportunity for customers to enjoy even more shopping at Barneys, courtesy of Lexus. An in-store promotion featuring the new 2016 Lexus LX full-size SUV will give Barneys Beverly Hills customers the chance to win a Barneys gift card ranging in value from $100 to $1,000. Additionally, eligible consumers who visit a Lexus showroom during the month of December can enter for a chance to win a shopping spree at Barneys New York. The sweepstakes offers one grand prize of $10,000 and four first prizes of $5,000 in Barneys gift cards – along with travel, accommodations and a Barneys personal shopper. (Web Site) www.lexus.com
_____________________________________________________________________________________________________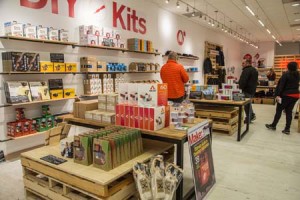 Make: Opens First Pop-Up Store In Union Square In San Francisco
Maker Media, leader of the Maker movement, publisher of Make: magazine, and producer of the popular Maker Faires, opens the doors of its first pop-up store location at 345 Sutter Street, in the epicenter of holiday shopping in the Bay Area — San Francisco's iconic Union Square. As the pulse of the Maker Movement, Make: highlights the best products, kits, and tools in its pop-up store. Store merchandising not only focuses on traditional tech and DIY products typically tied to the Maker Movement, but also features new products from up-and-coming Makers in categories such as craft, DIY, and toys.
Like the online Maker Shed, the physical Make: Store location offers a curated selection of drones, DIY kits, 3D printers, robotics, microcontrollers, Make: books, and tools — as well as Make: branded merchandise — perfect for Makers of every level, from kids to the skilled expert. Located in the heart of Union Square, the Make: Store features a DIY self-gift wrapping station, author talks, "ask a maker," interactive workshops, and product and kit demonstrations.
"We're really excited to bring a selection of our most popular products to a physical location where new consumers can be exposed to the thrill of making, and our offering of DIY electronics, kits and books that facilitate finding your inner Maker," said Maker Media CEO Gregg Brockway. "Opening the Make: Store for the holidays enables people to see, touch, and experience a range of products from 3D printers to soldering irons, Arduino and Raspberry Pi, robotics, and drones."
We organized the 2,600-square-foot space around the theme of 'gifts that matter,' with the hope that we are encouraging people to give presents that are fun and challenging and embrace learning versus whatever the current Furby or Tickle Me Elmo is for the holidays," said Sonia Wong, Maker Media's general manager of commerce. (Web Site) www.makermedia.com
_____________________________________________________________________________________________________
Pizza Patron Expands Black Bean Sauce To All Pizza Recipes
Pizza Patron has introduced the new 'poquito spicy' black bean sauce available at all locations through the end of the year and can be enjoyed as the base for any of the brand's 'Favorita' specialty pies or with any custom-topped pizzas. The company launched its limited time offer Frijolera™ (bean lovers) pizza recipe on Mexican Independence Day in September and soon received customer requests to try the sauce with other toppings. All requests were accommodated for only $1 extra and now each store will be featuring new POP displays promoting the sauce with the brand's other recipes.
"The delicious Frijolera™ pizza featuring our proprietary 'poquito spicy' black bean sauce can only be found at Pizza Patrón," said Andrew Gamm, executive vice president of Pizza Patrón. "For the rest of the year, we hope to inspire more customers to try our black bean sauce on their favorite pizza as well."
The Frijolera™ is a large pizza that starts with a black bean sauce and is topped with generous amounts of cheese, smoky chorizo sausage, savory ham and crispy bacon. A large Frijolera™ pizza runs $8.99 and is available for a limited time only. Through the end of the year, customers may substitute the premium Frijolera 'poquito spicy' black bean sauce on any of their favorite pizzas such as the popular La Mexicana pizza for only $1 more. (Web Site) www.pizzapatron.com
_____________________________________________________________________________________________________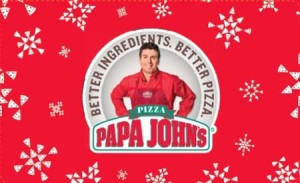 Papa John's Features Gift Card Special Offer
Papa John's is again making gift giving better this holiday season, with the launch of the Papa John's Gift Card special holiday offer. Through December 27, customers who purchase $25 in Papa John's Gift Cards will receive a FREE large 1-topping pizza for themselves.
"In keeping with the spirit of giving, Papa John's is happy to reward gift givers a present of their own that will make everyone happy," said Robert Thompson, SVP of marketing at Papa John's. "Giving is always in season here at Papa John's, and we want to bring families and friends together on better ingredients this year."
Customers will receive a FREE Large one-topping pizza certificate with every $25 Papa Card purchase via restaurants and online. This offer will be available at all Papa John's restaurants nationwide and can be ordered online at www.papajohns.com, or through Papa John's mobile ordering app for iPhone and Android devices. (Web Site) www.papajohns.com
_____________________________________________________________________________________________________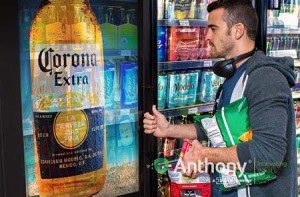 Real Digital Media Integrates NEOCAST® Digital Signage Platform With The Anthony® iDOOR®
Real Digital Media, provider of the enterprise class NEOCAST® digital signage platform, and Anthony®, a Dover Company, have introduced the iDOOR®, a merchandising solution which incorporates a media player and transparent LCD embedded within cooler or freezer doors to play full motion video at the point of purchase.
The iDOOR, powered by NEOCAST, successfully combines digital technology and in-store merchandising strategies to deliver contextually relevant messaging for improved shopper engagement and conversion. This patented technology delivers high-definition visual promotions that target and connect with shopper lifestyles and demographics. The solution provides opportunities for increased shopper engagement by placing actionable messages in the line of sight of shoppers, along their path to purchase and ultimately at their point of decision. The iDOOR is available now in cooler, freezer and stand-alone glass door applications, and is available in various transparent screen sizes and finishes.
Carre' Bistline, Anthony's Director, Business Development, Digital Signage Solutions, said, "the iDOOR revolutionizes how retailers promote and merchandise their brands, engage with shoppers and increase overall sales. The solution artfully pairs digital signage with how shoppers navigate through a store and optimizes messaging along the path to purchase. We think the iDOOR is the best solution for reaching the shopper at the point of decision with relevant messages, and will positively impact in-store conversions." (Web Site) www.realdigitalmedia.com/
_____________________________________________________________________________________________________

Mars Brands SNICKERS® And SKITTLES® Partner For Joint In-Store Super Bowl 50 Promotion
Bolstered by stand-out performances on last year's Super Bowl XLIX marketing stage, Mars Chocolate North America's SNICKERS® Brand and Wrigley's SKITTLES® Brand are launching the company's first joint in-store promotion leveraging their status as official National Football League (NFL) sponsors to "Make Super Bowl 50 Even Sweeter."
"The Super Bowl is an iconic event that the SNICKERS® Brand is excited to be part of again," said Allison Miazga-Bedrick, Director, SNICKERS® Brand. "We can't wait to get back in the game again this year, and we plan to pull out all the stops to satisfy America's hunger to watch another great Super Bowl commercial from SNICKERS®."
"We had an amazing rookie Super Bowl experience, so we're thrilled to be back," said Matt Montei, Senior Marketing Director, Confections and Seasonal at Wrigley. "Once again, we have dozens of awesome integrated activities planned for our Super Bowl party this year with the ad serving as our grand finale."
The joint national in-store promotion, and encourage consumers to text SWEET50 to 87654 for the chance to win instant prizes, as well as enter a grand prize sweepstakes. Instant-win prizes range from $75 NFLShop.com e-gift cards to free SNICKERS®, M&M'S®, TWIX®, 3 MUSKETEERS®, MILKY WAY®, SKITTLES® and/or STARBURST® Brand Singles. The grand prize package includes everything a fan needs to host the ultimate Super Bowl party including a $2,000 Electronics gift card, a $600 pre-paid debit card, and a $250 NFLShop.com e-gift card. The joint promotion is supported with national print, radio and in-store media. (Webb Site) www.mars.com
_____________________________________________________________________________________________________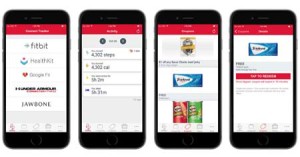 Trident Brand Mobile Experience To Offer Personalized Rewards To Gum Chewers
Healthy habits tend not to stick, Trident Brand has launched its C.H.E.W. (Change Health Every Week) campaign in select Kum & Go convenience stores to reward shoppers for healthy and active behaviors over the holiday season. Shoppers can opt in to share their data including activity, sleep and food details from their choice of wearable device, smartphone, or activity app, in exchange for exclusive offers. Trident Brand is working with human data intelligence platform, Strap, and mobile couponing platform, Koupon Media, to execute the campaign within Kum & Go's mobile app. Shoppers can opt into the C.H.E.W. campaign within the Kum & Go mobile app. The Strap platform will trigger Koupon Media to send an offer inside the app when an individual user reaches pre-fixed thresholds; for example, 'When a user reaches 10,000 steps, send an offer for a free pack of Trident gum.' The C.H.E.W. campaign is snacking giant Mondel?z International's first innovative campaign using wearable technology. Mondelez International is working with Strap through its Shoppers Futures program, a competition which pairs startups with Mondelez International power brands to pilot solutions in retailer locations in just 90 days.
"Shopper Futures allows us to collaborate with some of the brightest minds in mobile technology and tackle pressing retail issues and the increasingly complex path-to-purchase, ultimately shaping the future of retail, in-store and online," said Kim Yansen, Director, Field Shopper Marketing, Mondel?z.
"Wearable technology is the future and Strap's innovative, health and wellness-based platform will help Trident Brand start to harness the power of this new data source," said Mindy Rickert, Associate Director, Shopper Marketing (Small Format).
"Having the ability to send real-time notifications based on fitness activity and other data will help us increase engagement in our mobile app and make our messages more relevant to customers living a balanced lifestyle," said Mike Templeton, Digital Marketing Manager at Kum & Go. (Web Site) www.mondelezinternational.com
_____________________________________________________________________________________________________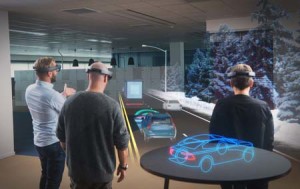 Volvo Cars To Develop Next Generation Automotive Technologies With Microsoft
Volvo Cars, the premium car maker, will work together with Microsoft, the leading platform and productivity company, to jointly develop next generation automotive technologies. The two companies revealed how Microsoft HoloLens, the world's first fully untethered holographic computer, might be used in future to redefine how customers first encounter and explore a car, as well as how cars might be bought and sold in future.
Areas of future collaboration between the two companies could include autonomous driving technologies and the utilization of data generated from connected cars to create new services.
"HoloLens offers the freedom to create a bespoke experience which customers can steer themselves. Imagine using mixed reality to choose the type of car you want – to explore the colours, rims, or get a better understanding of the features, services and options available," said Björn Annwall, Senior Vice President, Marketing, Sales and Service.
He added HoloLens technology might also liberate dealers from more traditional sales environments and allow them to take a car configurator out on the road in small Pop-Up stores, shopping malls or on the high street, opening up new sales channels and introducing cars to a far larger potential audience.
"We are thrilled to be working with Volvo Cars to reimagine what is possible in car design, discovery and purchasing. We are excited to be at this intersection of technology and human-centric design with Volvo," Scott Erickson, Senior Director, Microsoft HoloLens at Microsoft Corp. (Web Site) www.volvocars.com
_____________________________________________________________________________________________________

Victory Hill Exhibitions Teams With Hasbro For New 'TRANSFORMERS' Exhibit
Victory Hill Exhibitions plans to roll-out a new strategic initiative with Hasbro and its iconic TRANSFORMERS franchise. Set to open in 2016, The Transformers Experience will be a revolutionary new walk-through exhibit that immerses audiences in the world of the Autobots and their ongoing battle to protect Earth against the evil Decepticons. Through the use of leading 3D stereoscopic technologies, advanced robotics, dynamic multimedia and projection mapping, intricate sets and engaging performances, audiences will be taken on a journey that will enable them to witness the sheer spectacle of these life size sentient, living robotic beings.
"The TRANSFORMERS franchise is one of the most recognizable of all time," said Nicholas Cooper, Chief Creative Officer of Victory Hill Exhibitions. "With such a rich story universe that expands across all platforms including digital, broadcast, theatrical, print and toy, this is the perfect time to debut an exhibition of this scale and magnitude. TRANFORMERS fans of all generations know the names Optimus Prime and Megatron and with this new exhibit we are going to bring those larger-than-life characters into our world in an equally larger-than-life way."
"Since its launch in 1984, TRANSFORMERS rich immersive storylines and iconic characters have entertained generations of fans through film, publishing and TV," said Tom Warner, Senior Vice President- Transformers Franchise. "We are excited to work with Victory Hill Exhibitions and see our robots brought to life through a multi-sensory interactive experience for fans around the world." (Web Site) www.victoryhillexhibitions.com
_____________________________________________________________________________________________________
Snipp Launches White-Label Loyalty App Companion For Its SnippLoyalty Platform
Snipp Interactive, an international provider of marketing promotions, rebates, rewards and loyalty solutions, has launched a white-label loyalty app for brands and retailers looking to extend their loyalty offerings into mobile. Developed under the SnippLoyalty product suite, the app can be completely white-labeled and customized as per client requirements.
With Snipp's companion loyalty app, brands will be able to provide their consumers a personalized, branded mobile loyalty and rewards experience that links to their main loyalty offering. Brands can also take a mobile first view of their loyalty programs using the app as the center piece of their programs interactions with customers. The app will include a best in class suite of leading loyalty features with real time, location-based targeted offers. Consumers can shop, snap and send in their purchase receipts though this custom branded app and earn a host of rewards. In addition they can earn points and rewards for non-purchase activities such as social media engagement and other in-app activities.
David Hargreaves, Chief Client Officer of Snipp, said, "We're excited to extend clients the ability to complement their loyalty programs with an app that is customizable and scalable to their needs, while still incorporating the full-range of security, receipt processing and big data features that have made our technology platform an industry standard. We have already seen great demand from existing clients and expect this to become a core part of our platform offering going forward." (Web Site) www.snipp.com
_____________________________________________________________________________________________________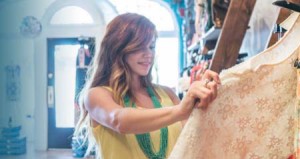 Impinj Launches RAIN RFID Retail Solutions With Detego, Inmotion And Nedap
Impinj has launched the first solutions in its retail portfolio, built in collaboration with partners Detego, Nedap and Inmotion. Based on the Impinj platform, these end-to-end solutions answer the needs of retailers looking to improve store operations, deliver exceptional customer experience and improve sales. The solutions deliver item-level visibility and in-store analytics with Detego, inventory intelligence with Nedap, and interactive visual displays with Inmotion. Impinj plans to continue adding solutions to its retail portfolio, as well as introduce portfolios for other industries.
The solutions are built on the Impinj platform, which comprises endpoints (tag chips that uniquely identify items), connectivity (readers and gateways that wirelessly identify the items) and software. The Impinj platform is the most comprehensive and widely deployed RAIN RFID platform. It gives businesses the ability to implement one infrastructure and leverage Item Intelligence — item identity, location and authenticity — in any number of enterprise applications to run their business and deliver compelling consumer experiences.
"We fundamentally believe that working with partners to deliver solutions makes purchasing and deploying RAIN RFID easier for businesses," said Eric Brodersen, Impinj President and COO. "We have been pleased by the response of innovative companies like Detego, Nedap and Inmotion in partnering and solving end-customer business challenges. We look forward to bringing more solutions to market."
Impinj and Inmotion joined forces to deliver interactive visual displays that engage customers, help convert product sales and give visibility into shopper behavior. The display solution integrates with existing product-information-management (PIM) systems. It also provides monitoring to improve suggestive selling and conversion factors. (Web Site) www.impinj.com
_____________________________________________________________________________________________________
Fandango And National CineMedia Form Strategic In-Theater Marketing, Content And Data Relationship
Fandango, the nation's leading digital destination for all things movies, and National CineMedia (NCM), America's Movie Network, have formed a new strategic relationship that will bring Fandango's original video content to the big screen nationwide as part of NCM's "FirstLook," America's #1 cinema advertising pre-show. The deal will also exclusively provide NCM with a select aggregated set of Fandango's moviegoer demographic data, which NCM will combine into its broader data management platform, enabling more effective in-theater advertising and content targeting for NCM's marketing partners.
Moviegoers will see advertising spots and a variety of comic vignettes from Fandango's new "We Love Movies" campaign, featuring the company's first ever brand personality, movie superfan Miles Mouvay, played by "Saturday Night Live" star Kenan Thompson. The videos celebrate moviegoing and will be seen as part of NCM's "FirstLook" pre-show on over 20,000 movie screens nationwide.
"We want to super serve moviegoers anytime and anyplace with engaging movie information and video content," said Fandango President Paul Yanover. "So it was natural for us to team up with NCM, whose 'FirstLook' in-theater program is enjoyed by millions and is a great distribution platform for Fandango's video content.
"Fandango is a top provider of original content for movie fans, so this relationship is a natural fit," said Cliff Marks, President of Sales and Marketing for NCM. "Their insights into moviegoer behavior will be a key piece of movie audience data that will be added to our growing data and targeting capabilities platform, as we look to better serve our in-theater audiences and marketing partners with timely, targeted and relevant content and messaging." (Web Site) ncm.com
_____________________________________________________________________________________________________
Digital2Go And Incipio Partner To Bring Smart Proximity Platform To Market
Digital2Go Media Networks, (D2GO), a location-based consumer engagement and proximity beacon platform, and Incipio®, the leading designer and manufacturer of award-winning mobile device accessories and technology, have formed a global partnership to bring proximity-based beacon technology to retailers worldwide.
Incipio, whose mobile device accessories are sold in over 50,000 retail locations under the brands Incipio, Braven, Incase, Clamcase, and Tavik, is deploying the D2GO in-store beacon platform to analyze consumer shopping patterns while delivering branded content and personalized offers to increase shopper loyalty and ensure its products are placed prominently within high-traffic areas of its retailers.
D2GO's President, Mike Canevaro, said, "Working with the global leader in mobile accessories, D2GO will help Incipio strengthen its retail presence, while establishing one-on-one relationships with consumers. Andy and the team at Incipio immediately understood the value of our platform, and we jumped at the chance to collaborate."
"Working with Digital2Go helps us better understand consumer behavior, and gives us the ability to engage directly with captive buyers while shopping our retail partners," said Andy Fathollahi, Chief Executive, Incipio. "Beacon technology is here to stay, and we know we made the right decision choosing Digital2Go as our in-store consumer engagement platform." (Web Site) www.digital2go.com
_____________________________________________________________________________________________________
Cue Connect Now Available To Shopify Merchants And Their Customers
Cue, the online retail marketing platform from Cue Connect that keeps shoppers and retailers connected across the entire path to purchase, has made the Cue application available to Shopify's 200,000 merchants through the Shopify App Store. Through Cue, shoppers share or save their favorite items while they shop. Cue captures the purchase intent signaled by these conscious shopper actions for the retailer, while communicating, storing and organizing the items for the shopper.
Cue enables retailers stay connected to shoppers about those specific items, using features such as the Cue Box to deliver personalized offers, price alerts, expanded product information and other marketing messages along the entire path to purchase. Merchants implementing Cue provide better experiences for their customers and realize a number of better business outcomes, including higher conversion rates, increased site traffic and improved profitability. Cue is easily deployed on any Shopify merchant site, simply by installing the Cue app. The Cue app, available at the Shopify App Store, enables advanced shopper share and save actions and a system for merchants to deliver tailored product content, alerts and notifications at a product level. Cue also provides a real-time analytics dashboard and other ROI-driving features. Pricing starts at $99/month and a 90-day free trial is available.
"Merchants are constantly looking for additional ways to increase the revenue and profitability of their businesses as both traditional and online retailing becomes increasingly competitive," said Berkley Bowen, founder and CEO of Cue Connect. "Cue is incredibly powerful because it unlocks significant additional value within a retail business by giving merchants a completely new level of visibility into what any individual shopper is really interested in, along with the tools to market those specific items in a timely and personalized manner. As a premier commerce platform with more than 200,000 merchants, Shopify provides Cue Connect with a tremendous opportunity to improve commerce on a large scale for shoppers and merchants alike." (Web Site) www.cueconnect.com
_____________________________________________________________________________________________________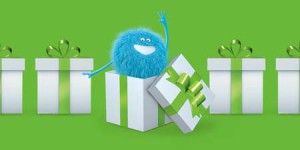 Cricket Rewards: The Only Integrated, Mobile Loyalty Program For No-Contract Customers Launches
Cricket Wireless has launched Cricket Rewards. The only program of its kind in the no annual contract space, Cricket Rewards gives customers a super easy way to earn redeemable points through the things they do naturally like checking the weather, tracking their fitness, or just being a Cricket customer.
Powered by an exclusive relationship with SessionM's Mobile Marketing Cloud and mPLUS Rewards (the world's leading mobile loyalty platform), Cricket Rewards is accessible through the Cricket Rewards app, MyCricket app or Cricketwireless.com website. Customers who sign up can start earning points quickly through Cricket activities like opening and registering an account, adding AutoPay or making on-time payments. They can earn even more by participating in an integrated points-sharing universe that includes over 1,500 mPlus Rewards powered applications and a number of other offers that will be included in the program through social media, events, and sponsorship activities.
And as these points rack up, customers are able to redeem them for things they love and things they love doing, like: Shopping with gift cards at participating retailers including AMC Movie theaters, Amazon, GameStop, Old Navy, Sears & Target and loads more.
Entering sweepstakes to win big prizes and exclusive experiences. Making charitable donations to local and national organizations including the American Heart Association, ASPCA, the Make-a-Wish Foundation and more. Cricket is teaming up with AMC Movie Theaters to give consumers a chance to earn more points by simply checking in when they see a flick. And Cricket is launching a new $25,000 Selfie Sweepstakes – customers who enter not only get a chance at the big grand prize and lots of other cool swag, they also get extra Cricket Rewards points just for entering.
"Cricket Rewards is unlike any other loyalty program in the no-contract industry," said Janna Ducich, vice president & CMO, Cricket Wireless. "We listened to our customers and delivered a program that is quick, easy, and fun – with lots of options for rewards. While other carriers charge you to belong to their rewards program or take loads of your time just to sign up or redeem, we don't. We reward customers for simply doing what comes naturally. We reward you for being you." (Web Site) www.cricketwireless.com
_____________________________________________________________________________________________________

_____________________________________________________________________________________________________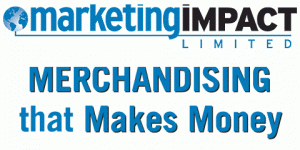 _____________________________________________________________________________________________________

_____________________________________________________________________________________________________

_____________________________________________________________________________________________________
CLICK ON IMAGE TO VIEW DIGITAL EDITION
_____________________________________________________________________________________________________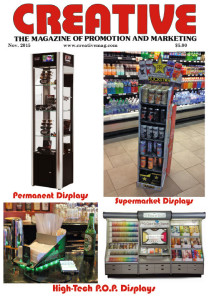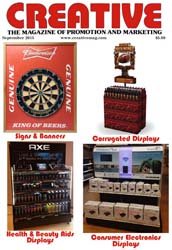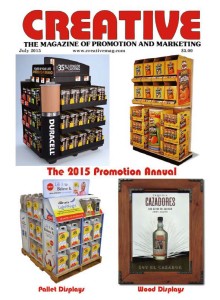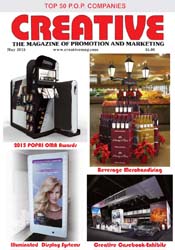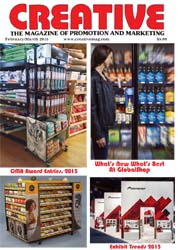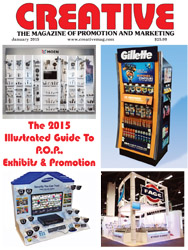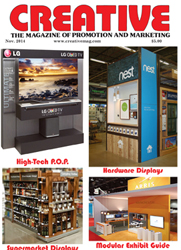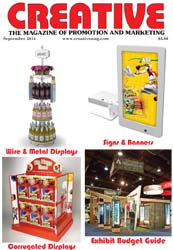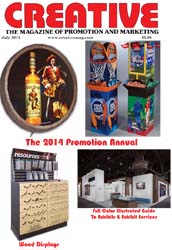 MAY 2014 ISSUE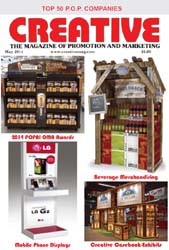 MARCH 2014 ISSUE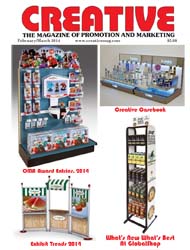 JANUARY 2014 ISSUE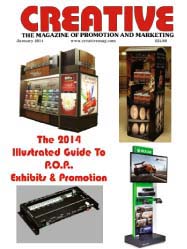 NOVEMBER 2013 ISSUE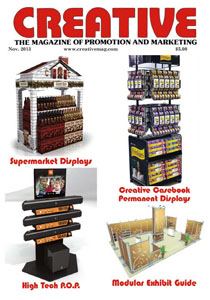 SEPTEMBER 2013 ISSUE
MAY 2013 ISSUE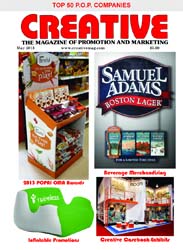 MARCH 2013 ISSUE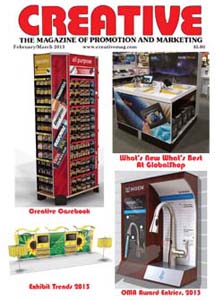 JANUARY 2013 ISSUE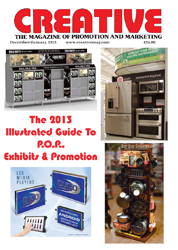 NOVEMBER 2012 ISSUE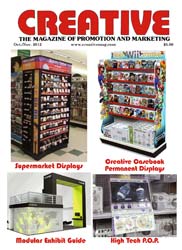 SEPTEMBER 2012 ISSUE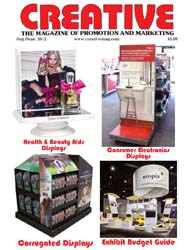 JULY 2012 ISSUE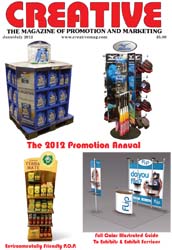 MAY 2012 ISSUE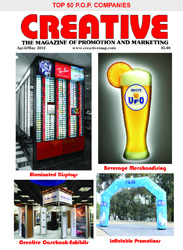 JANUARY 2012 ISSUE