______________________________________________________________________________________________________


______________________________________________________________________________________________________

______________________________________________________________________________________________________


______________________________________________________________________________________________________


______________________________________________________________________________________________________

______________________________________________________________________________________________________


______________________________________________________________________________________________________

______________________________________________________________________________________________________


______________________________________________________________________________________________________

______________________________________________________________________________________________________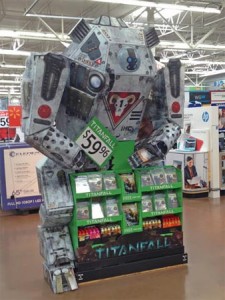 TITANFALL Game Display Features 3-D Robot
This shopper-stopping half pallet, designed for the Walmart launch of the new TITANFALL™ game from EA, stands over 9 feet tall. It features a 3-dimensional robot constructed entirely of recyclable substrates that are printed and die-cut on the latest high-speed digital equipment. The TITANFALL Game Display was created by RockTenn Merchandising Displays, a leading provider of point-of-purchase display solutions; (Web Site) www.rocktenndisplays.com
______________________________________________________________________________________________________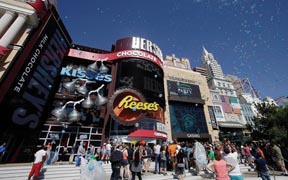 Hershey's Chocolate World Retail Experience Opens On Iconic Las Vegas Strip
The Hershey's Chocolate World retail experience has opened at New York-New York Hotel & Casino on the Las Vegas Strip. The West Coast flagship store, which occupies two floors and boasts an eye-catching 74-feet high Hershey's Milk Chocolate Bar that visitors can walk through, provides guests with an experiential concept that immerses them in more than 800 candy and chocolate offerings, including iconic brands they love: Hershey's, Hershey's Kisses, Reese's, Ice Breakers, Jolly Ranchers, Twizzlers and more.
"Las Vegas is one of the country's top tourist destinations and the perfect place to bring one of America's most iconic brands to life," said Mike Wege, SVP Chief Growth & Marketing Officer, The Hershey Company. "Visiting Hershey's Chocolate World, our guests will enjoy an interactive space where they can taste new treats, personalize sweet gifts and create keepsake photos. These experiences are sure to draw candy lovers from what is arguably the most exciting street in the world and inspire sweet Las Vegas memories."
The store, which covers 13,000-square-feet, brings two American icons to life, Hershey's Chocolate and the New York City skyline, through custom chocolate sculptures of the Statue of Liberty, made of almost 800 lbs. of pure Hershey's Milk Chocolate, and the Empire State Building, made of 1,800 Hershey's Milk Chocolate bars. Cynthia Kiser Murphey, President and COO of New York-New York Hotel & Casino, said, "This is an exciting day for us. We began conversations with Hershey years ago with a vision to deliver the city's sweetest attraction. We recognize that visitors to Las Vegas seek one-of-a-kind experiences and we believe the Hershey's Chocolate World experience will immediately become a must-see attraction on The Strip." (Web Site) www.hersheyschocolateworldlasvegas.com
______________________________________________________________________________________________________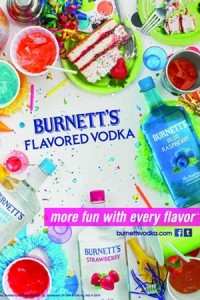 Burnett's Vodka Displays Targets Consumers Who Have "more fun with every flavor"
Burnett's Vodka and Flavored Vodka launched a fully integrated, multi-platform "more fun with every flavor" campaign highlighting festive party occasions that the Burnett's consumers enjoy. The new "more fun with every flavor" program will be executed at retail and on-premise with POS that supports the brand's key messaging with large scale display materials, seasonal items and impactful premium items. The multi-million dollar campaign also includes national print and digital advertising, on- and off-premise programs, digital marketing and social media programs. Developed to support one of the fastest-growing products in the spirits industry, the colorful Burnett's campaign raises the Burnett's Vodka and Flavored Vodka brand by showing the occasions in which it makes a good time even more of a party. From birthdays to beaches, Burnett's Vodka and its flavors are a part of great times. "The message and tone of the new Burnett's campaign speak to the fun-loving and social Burnett's fan," said Senior Brand Manager for Burnett's Vodkas, Reid Hafer. "They recognize the value of good times spent with family and friends at birthdays, cookouts, holidays or the beach. Burnett's Vodkas contribute to these memorable occasions in an exciting, easy and versatile way." (Web Site) www.burnettsvodka.com
______________________________________________________________________________________________________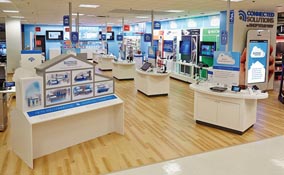 Sears Debuts Connected Solutions Shops Powered By Shop Your Way In Chicago Area
Sears, a leading integrated retailer focused on making shopping easier, introduces Connected Solutions(SM) powered by Shop Your Way™, experiential shops that bring together one of the most authoritative assortments of smart, connected home and personal automation products in the industry. Consumers can find a cross-category assortment of smart offerings for automotive, electronics, fitness, home and mobile devices in the 1,700 square foot shops at three Chicago-area pilot locations and online at Sears.com/ConnectedSolutions. The first three Connected Solutions pilot shops recently opened at: the Sears Woodfield Mall store in Schaumburg, Ill.; Sears Vernon Hills, Ill. store and at the Sears Oakbrook Center store in Oakbrook, Ill. "With a presence in more than 13 million homes annually, dominance across the appliance, fitness and tools categories and knowledgeable associates, Sears is uniquely positioned to lead this category," said Jim Pearse, vice president of consumer electronics for Sears Holdings. "We are presenting products 'up and running' enabling our customers and Shop Your Way members to discover and learn how they connect, work and fit into their daily lives. No one else in retail is doing this today."
"Many of our members are aware of 'smart' devices or 'home automation' products but don't fully understand how they are used to make their lives better," said Craig LaRosa, DVP in-store experience and design for Sears Holdings. "Connected Solutions offers an entertaining and interactive environment to learn about the products and our dedicated sales team is ready to help customers develop solutions that are relevant to them. Sales associates also ensure that all members and customers leave Sears stores with connected products that are fully functioning and are available to provide ongoing customer support following a purchase." (Web Site) www.sears.com
______________________________________________________________________________________________________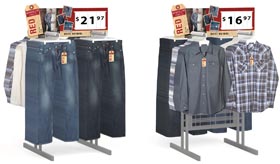 Wrangler Launches RED Collection For Men
Wrangler has launched Wrangler Jeans Co. RED, a collection of jeans, twills and shirts designed for style conscious millennial men.
"When developing Wrangler Jeans Co. RED, we looked to this particular consumer group to determine their wants and needs and responded directly with this clothing line," said Craig Errington, Vice President, Wrangler Marketing. "Millennial males are looking for fashion-friendly styles at an affordable price. We saw an opportunity to fill a void in the marketplace and we jumped on it." (Web Site) www.wrangler.com
______________________________________________________________________________________________________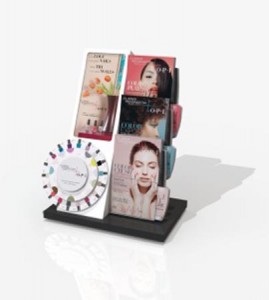 Ace Hardware And OPI Unveil Exclusive OPI Color Palette By Clark+Kensington
Ace Hardware, the largest retailer-owned hardware cooperative in the industry, and OPI, the world's premier professional nail lacquer brand, have come together to bring OPI's most popular colors to life with an exclusive color palette by Clark+Kensington®, Ace's premium paint line. The alliance between Ace Hardware and OPI is the first-ever collaboration of its kind and combines Ace's expertise in paint with OPI's expertise in color to create the OPI Color Palette by Clark+Kensington. The new color palette is launching in over 3,200 Ace Hardware stores nationwide and offers consumers the opportunity to bring their favorite nail lacquer colors to life within their home décor. The OPI Color Palette by Clark+Kensington is launching three collections comprised of six iconic OPI shades each, for a total of 18 new paint colors. Each of the OPI Color Palette by Clark+Kensington collections will also offer five coordinating Clark+Kensington colors, providing additional inspiration for homeowners.
"We are thrilled to offer women a unique way to extend their personal style into their decorating style through paint color," said Mary Rice, President and General Manager of Ace Paint. "The OPI Color Palette by Clark+Kensington was curated to encourage consumers to bring fashion-forward colors into their homes through the hues they've grown to love in the nail salon."
"It was important for OPI to partner with Ace Hardware, a known industry expert in paint, to bring our iconic colors to life," said Suzi Weiss-Fischmann, OPI Co-Founder & Executive Vice President. "The paint colors in the OPI Color Palette by Clark+Kensington offer a refreshing alternative to the home décor category and we're excited to give our fans the opportunity to experience their favorite OPI colors in a new way."
_____________________________________________________________________________________________________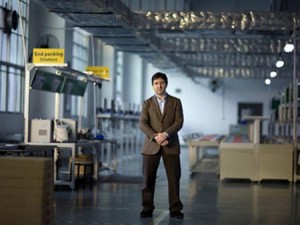 RadioShack And PCH Launch RadioShack Labs To Support Startups And Boost New Product Innovation
PCH and RadioShack have launched RadioShack Labs, a collaboration to support inventors and startups that will promote product innovation and provide a path from concept to production to distribution. PCH is a respected leader in product innovation with robust experience bringing distinctive products to market. As part of the relationship, RadioShack intends to offer select PCH Access companies special retail terms, and create a direct path to up to 2,000 RadioShack stores and preferred positioning on radioshack.com. With PCH, RadioShack plans to implement a direct-to-store model for select products, reducing inventory requirements and increasing inventory turn in stores. RadioShack Labs is designed to enable innovative startups to sell to a significant market and will provide considerable consumer awareness through marketing promotion, as well as strong retail and online presence. By the end of year, RadioShack plans to have these products in a dedicated space in-store.
"It's long been our belief that innovation and collaboration go hand-in-hand. As we transform RadioShack, it's important that we simplify and streamline the channels that encourage inventors and entrepreneurs to join us in the retail environment," said Joe Magnacca, chief executive officer of RadioShack. "We see so many exciting consumer products coming from startups and we want these differentiated products in our stores. Traditionally, big retailing requires big inventory, but we can improve our supply chain and be a more nimble partner."
______________________________________________________________________________________________________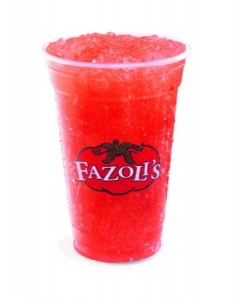 Fazoli's Celebrates Bridge Players With Free Italian Lemon Ice Promotion
National fast food chain Fazoli's is celebrating bridge players in June by encouraging teams to come in and hold a game in the restaurant, and along with free breadsticks, the players will receive a free Italian Lemon Ice drink. Bridge is making a comeback, with more and more Americans taking up the game. Fazoli's is continuing its commitment to Seniors by recognizing the social card game with a refreshing offer. Every Wednesday in June from 2 p.m.-5 p.m., Fazoli's will offer members of the American Contract Bridge League (ACBL), the nation's largest bridge league representing over 167,000 members and 3,200 clubs in the United States, a free Italian Lemon Ice with any entrée purchase. To take advantage of this offer, the bridge players simply need to state that they are there to play bridge. The members are also welcome to stay and play a social game of bridge at the restaurant.
Jon Quinn, Fazoli's Vice President of Marketing, believes Fazoli's is a perfect place for bridge players. "We have the perfect environment for bridge players, with a relaxing dining area that's great for both a sit down meal and a game of bridge," said Quinn. "And with free unlimited breadsticks and our special June offer, Fazoli's may become the favorite hangout for bridge players." Recently, Fazoli's rolled out a special program for all of its senior guests. The program, called Club 62, allows seniors age 62 or over to pay just $4 on Wednesdays. The offer is for any Club 62 Menu item. In addition, small drinks on any day of the week are just $1. Seniors can take advantage of these discounts by obtaining a Club 62 card, which is available at participating Fazoli's locations.
______________________________________________________________________________________________________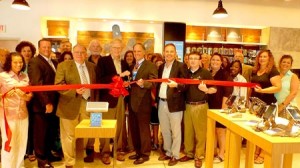 C Spire Opens New State-Of-The-Art Retail 'Experience' Store In Oxford, Mississippi
C Spire, a diversified telecommunications and technology company, has unveiled its new 3,605 square foot, customer-inspired store in downtown Oxford, Mississippi, which promises to transform and redefine the retail shopping experience with a new, fresh approach that captures the imagination, discovery and excitement associated with shopping. The new store is the result of more than a year of exploration and research by C Spire – all designed to deliver on the company's customer inspiration promise and bring to life a shopping experience like no other by creating a more interactive and inviting store environment. The store highlights C Spire's consumer and business telecommunications and technology products and services, devices and accessories across four unique areas – explore, live, work and play.
A new Live area features a smart tech display wall with devices, accessories and other applications that consumers can discover, explore and learn how they can be used in everyday life. The section focuses on topics like health, home security and entertainment.
A Work section highlights products and services offered by C Spire Business Solutions, including demonstrations of "Find-me-follow-me," IP Voice device features, Push-to-Talk service, wireless phones, hosted Exchange email services and customer testimonials on touchscreen video displays. A Play area that encourages customers to shop and play in an open and interactive space. The area helps consumers understand and learn how apps, accessories and devices can work together. An Explore area has walls that highlight C Spire's diverse music accessories line up complimented by digital monitors with product information.
"C Spire is customer inspired and we want customers to feel that from the moment they walk through our doors," said David Hayes, V.P., Marketing. "Our new retail design makes it easy for customers to learn more and fully immerse themselves in a personalized and relevant shopping experience."
Colors, store layout, designs and materials all were scrutinized with the goal of appealing to a multi-generational cross section of consumers. The store is highlighted with reclaimed hardwood. C Spire even developed a unique scent that shoppers will notice when they enter the store and commissioned a Mississippi artist, Michael Wilcoxin of Hernando, to transform the company's iconic brand logo into a piece of art with a special metal and reclaimed wood design that is prominently displayed on the wall inside the building. Everything inside the store is modular, scalable and designed for ultimate flexibility.
______________________________________________________________________________________________________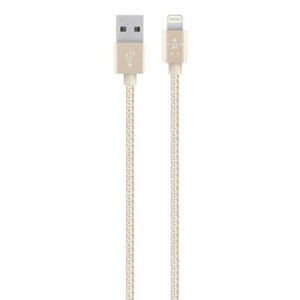 Belkin Introduces Premium Metallic Lightning Cables To Its MIXIT! Collection
Belkin, creator of people-inspired products, has introduced gold, silver, and gray premium braided Lightning to USB cables designed to coordinate with the colors of the iPhone 5s. Braided with metallic threads, this new threaded design makes the cable more flexible and longer lasting, and adds a more sophisticated look and feel. Belkin's line of MIXIT! Lightning cables are MFi-certified for safety and plug directly into any USB 2.0 port to charge and sync quickly. Available in 4-foot or 6-inch lengths and designed for use with a laptop, car or wall charger, the premium metallic cables are the perfect charging accessory for home, work or on the road.
"Much more than just a device to make calls, iPhones are now a necessity in our daily routine as well an extension of our personal style," said Melody Tecson, director of product management at Belkin. "Belkin's new lines of premium metallic cables speak to our love for fun, colorful accessories and our responsibility to provide safe, responsible charging solutions."
______________________________________________________________________________________________________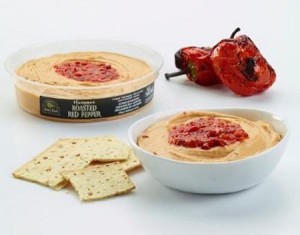 Boar's Head Brand Introduces Boar's Head Hummus
Boar's Head, one of the nation's leading providers of premium delicatessen products, introduces new Boar's Head Hummus in four varieties: Traditional, Roasted Red Pepper, Roasted Pine Nut and Roasted Chipotle Pepper. The line of gluten free and all natural hummus is available nationwide. "With a portfolio of more than 500 products, including delicatessen meats, cheeses and condiments, we are thrilled to add a new category with the introduction of our delicious hummus," said RuthAnn LaMore, Director of Communications for Boar's Head. "Each flavor offers a unique twist on a family favorite, while never compromising on quality."
______________________________________________________________________________________________________
G-SHOCK Releases New Ocean Concept Timepiece
Casio North America has released a new shock-resistant G-SHOCK watch. Equipped with Triple Sensors for measuring direction, atmospheric pressure/altitude, and temperature, the Gulfmaster GWN-1000 is an ocean concept model inspired by the image of a strong man against rough seas. The new G-SHOCK Gulfmaster boasts features useful for ocean activities – an atmospheric pressure sensor that can help predict changes in the weather, compass bearing to check the direction to a destination, and a tide graph that indicates the tide level. Along with digital display of current atmospheric pressure values, the second hand also indicates the change in pressure compared to the previously measured value.
______________________________________________________________________________________________________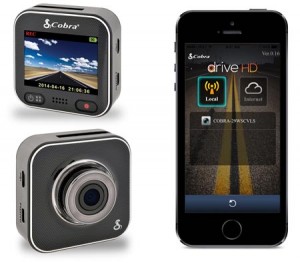 Cobra Electronics Introduces New Line Of Drive HD Dash Cams
Cobra Electronics Corporation has introduced the newest Drive HD™ Dash Cams by Cobra: the Cobra CDR 820, CDR 840 and CDR 900. Drive HD Dash Cams continuously record video of the road ahead of you, serving as the perfect eyewitness in the event of traffic incidents, while also providing peace-of-mind and an extra sense of security for drivers. All models in the new Drive HD™ Dash Cam series are designed in compact form factors and utilize Continuous Loop Recording, which automatically overwrites the oldest footage when the memory card gets full. Each model also features a motion sensor for automatic recording while driving, as well as a G-Sensor, which senses sudden acceleration and collisions to automatically capture and protect critical footage surrounding an accident. All Drive HD Dash Cam models feature a minimum of 1080P Full HD Video and include an 8GB memory card so that they are ready to use straight out of the box. The series' Wi-Fi enabled flagship model, CDR 900, goes the next step in video capture and sharing through the free Cobra Drive HD™ App. Wi-Fi functionality allows the user to connect and stream live and recorded footage directly to the user's iOS or Android device to instantly view and share footage.
______________________________________________________________________________________________________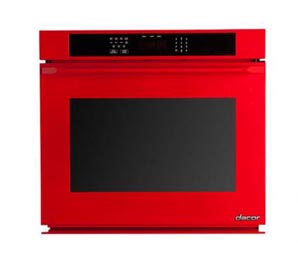 Dacor® Launches Color Customization System
Dacor®, manufacturer of ultra-premium kitchen appliances, is leading the smart cooking revolution with the world's first connected cooking appliances featuring a fully-integrated, wireless tablet-the Discovery iQ™ 48″ Dual-Fuel Range and Discovery iQ™ 30″ Wall Oven. Dacor is also launching color customization options for its smart cooking appliances. With the new DacorMatch™ Color System, Dacor customers can personalize their cooking appliance based on any color imaginable-simply by providing Dacor a swatch of their selected color. In addition, the Dacor design team has hand-selected 10 vibrant color choices for its wall ovens and ranges including Crimson, Envy, Black Tie, Tangerine, Cordon Bleu, Citron, Smoke, Sangria, Arctic and Radiant Orchid – the 2014 Color of the Year, according to Pantone®.
______________________________________________________________________________________________________
Evan Williams Kentucky Slush Cools Down Consumers In Select Test Markets
Heaven Hill Distilleries, producers of Evan Williams, are giving Bourbon lovers in select markets a new way to chill out this summer-Evan Williams Kentucky Slush. The only Bourbon-based pre-mixed cocktail, Evan Williams Kentucky Slush is made with real Evan Williams Bourbon and the natural flavors of Lemonade, Orange Juice, and Sweet Tea, and can be frozen, poured or blended. It is best served frozen in the bottle or any personal container, blended with ice for an instant frozen Bourbon Slush, or simply poured straight on the rocks. Heaven Hill is test marketing Evan Williams Kentucky Slush in 11 markets this summer. Evan Williams Kentucky Slush is available at off-premise accounts from June until August in a 1.75 liter PET bottle suitable for storage in the freezer. Strongly branded with the Evan Williams logo and graphic theme, Evan Williams Kentucky Slush is intended to be merchandised and displayed within the Bourbon aisle using the POS materials made available, either on the shelf or as part of an impactful floor display. All marketing materials, from case cards to posters and bottle neckers, use the tagline "For Seriously Refreshing Bourbon…Just Chill."
"As the Evan Williams brand franchise grows, we have identified additional usage opportunities, and one of these is clearly to expand Bourbon as a refresher during the hot summer months," said Susan Wahl, Senior Brand manager, Whiskeys, at Heaven Hill. "We know through both research and anecdotal evidence that many of our newer Evan Williams consumers look for different, more refreshing ways to drink Bourbon in the summer, whether at backyard cookouts, at the lake, or other summer gatherings. We feel that we have a great taste profile, and with the flexibility to freeze it straight in the bottle, blend it with ice, or simply pour it on the rocks, we look for great results in our 11 test markets."
______________________________________________________________________________________________________

Terlato Wines Partners With Heartland Distillers To Add American Craft Spirits To Portfolio
Terlato Wines, a leading U.S. marketer of luxury wines and spirits, has partnered with Indiana's Heartland Distillers to jointly produce and market a collection of luxury American craft spirits. This represents the newest addition to the Terlato Artisan Spirits portfolio. Terlato and Heartland Distillers expect to launch their first offering, Prohibition Gin, in late 2014. It will be followed by Spring Mill whiskey and bourbon in 2015. "When we started building our Artisan Spirits Portfolio, we knew it would need to include a selection of unique and distinctive hand-crafted American spirits," said Terlato Wines CEO William A. Terlato. "Small-batch American spirits are one of the fastest growing and most dynamic categories in the U.S. drinks market, especially with Millennials. We have been looking for a distillery partner who has the knowledge and passion to craft exceptional spirits of the highest quality and character. Our partnership and co-development of spirits with Heartland Distillers marks our entry into the luxury American craft spirits segment."
______________________________________________________________________________________________________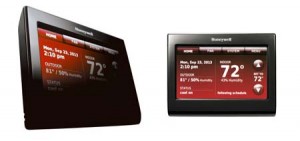 Honeywell Introduces Wi-Fi Smart Thermostat With Voice Control
Honeywell has introduced its new Wi-Fi Smart Thermostat with Voice Control. In addition to changing the temperature with your smartphone or tablet, you can simply tell your thermostat what to do. The Wi-Fi Smart Thermostat with Voice Control is a first-of-its-kind device that provides a seamless voice user interface and transforms legacy programming to a rapid, one-step interaction. Using advanced far-field voice-control technology, homeowners are allowed to make their homes warmer or cooler by simply asking the thermostat to "make it four degrees warmer" or "make it much cooler", even from another room in the house. The Wi-Fi Smart Thermostat with Voice Control allows users to control their home's temperature in three ways; touch via the device screen, by speech commands or by smartphone/tablet. With Wi-Fi connectivity homeowners can control their energy usage and home comfort through their smartphone/tablet using Honeywell's top-rated Total Connect Comfort app. And, because this thermostat is connected through the cloud, it gets smarter with time, adding more commands based on its interactions with homeowners.
______________________________________________________________________________________________________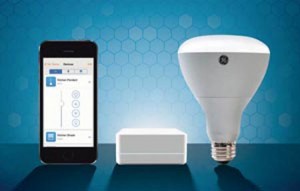 Lutron Debuts Smart, Connected Home System
Lutron Electronics, the leading manufacturer of energy-saving, wireless lighting and motorized shades, has introduced the Lutron Smart Bridge and the Lutron app – its smart, connected home mobile solution for the do-it-yourself or do-it-for-me consumer.
This unique product is a wireless bridge and software application that connects Lutron's Caséta® Wireless dimmers, Pico® remote controls, Serena™ remote-controlled shades, and other third-party devices, while providing convenient home control from any iOS or Android-based smart phone or tablet. The Caséta Wireless system gives consumers the ability to control lights and shades inside or outside the home – either from a remote control or the Lutron app. "This new solution gives consumers the opportunity to transform their homes quickly, easily and affordably into a smart and connected one," said Matt Swatsky, Caséta Wireless product manager at Lutron. "With the Lutron Smart Bridge and app, we are not just giving them the ability to control their lights and shades, but rather, a reliable, energy saving, long-term investment that also provides peace of mind."
______________________________________________________________________________________________________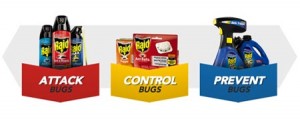 The Raid® Defense System Introduced To Beat The Bugs
Just in time to battle spring and summer bugs making their way into weather-worn cracks and crevices, the Raid® pest control brand has introduced the Raid® Defense System. It empowers consumers to work smarter, not harder and solve their bug problems. The Raid® Defense System provides a regimen of products and non-chemical tips that work together to attack, control and prevent home-invading pests. It is informed by the expertise of the Raid® Entomology Lab and will help consumers better battle bugs. Raid® products are labeled as attack, control or prevent to help guide the consumer to a solution that holistically battles bugs. "No one likes talking about pest problems in the home, but most Americans will encounter it at some point, especially when temperatures rise in summer months," said Kelly Semrau, Senior Vice President, Global Corporate Affairs, Communication & Sustainability. "Without the right tools and information, pest problems will persist and people will spend time and money trying to address the issue. We created the new Raid® Defense System to empower people to beat the bugs with confidence."
______________________________________________________________________________________________________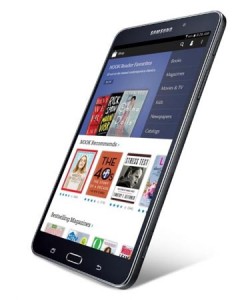 Samsung And Barnes & Noble Partner To Create Co-Branded Tablets
Samsung Electronics America and NOOK Media, a subsidiary of Barnes & Noble, have partnered to develop co-branded Samsung Galaxy Tab 4 NOOK tablets that feature the award-winning Barnes & Noble digital reading experience. The co-branded devices will combine popular Samsung Galaxy Tab 4 hardware with customized NOOK software to give customers powerful, full-featured tablets that are designed for reading, with easy access to Barnes & Noble's expansive digital collection of more than three million books, leading magazines and newspapers. The companies are expected to introduce Samsung Galaxy Tab 4 NOOK in a 7-inch version in the U.S. in early August. The co-branded tablets will be prominently displayed along with NOOK eReaders and sold at Barnes & Noble's nearly 700 bookstores across the U.S.
______________________________________________________________________________________________________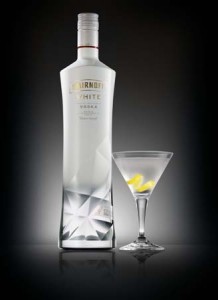 Smirnoff White Super Premium Vodka Launches Exclusively At Duty Free Shops
SMIRNOFF® has introduced a pioneering new super-premium vodka – SMIRNOFF WHITE™ – available exclusively for travelers. The liquid has been freeze filtered at -6°C which results in an exceptionally smooth taste. Freeze filtration signifies a continuing revolution in SMIRNOFF'S distillation process – vodka is chilled to below freezing point and passed through state-of-the-art charcoal filters resulting in an exceptionally smooth vodka. Global travelers will find special SMIRNOFF WHITE pop-ups in airports around the globe where they can sample the sensationally smooth vodka and purchase a bottle to take home. The striking, crisp white bottle of SMIRNOFF WHITE reflects the crystalline formations found in the purest arctic ice and highlights the distinctive quality of this new vodka. A clear cut-glass base transforms into a smooth, white finish towards the neck of the bottle where the SMIRNOFF WHITE logo appears, as if etched into a block of solid ice. Steve White, Global Marketing Director of Diageo Global Travel and Middle East, said, "SMIRNOFF WHITE is a truly exciting vodka which reflects the pioneering spirit of Vladimir Smirnoff. The innovative freeze filtration process guarantees an exceptionally smooth taste which will appeal to travellers the world over. We've chosen duty free as the sole global outlet for SMIRNOFF WHITE in order to reward travellers who seek unique offerings to enhance their experiences and to serve as a momento of their travels."
______________________________________________________________________________________________________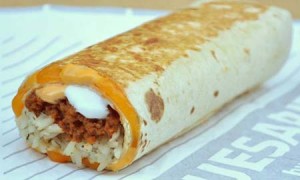 Taco Bell Introduces Quesarito To Food Fans Nationwide
The Quesarito, a quesadilla and burrito rolled into one, will be available at participating Taco Bell restaurants as a permanent and national menu item. The Quesarito is filled with seasoned beef, premium Latin rice, Chipotle sauce, and reduced-fat sour cream, and then wrapped up in a grilled quesadilla loaded with melted cheeses. "We're constantly hearing stories about two great things coming together to create something extraordinary and that takes on a life of its own," said Chris Brandt, chief marketing officer, Taco Bell. "We have just that with the Quesarito, our latest mash-up of a full grilled cheese quesadilla wrapped around a classic burrito, making something so good that you can expect to see more flavor combinations down the road."
______________________________________________________________________________________________________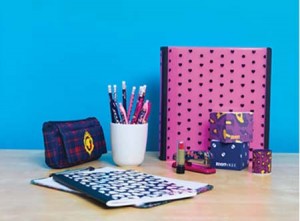 Staples And Teen Vogue Partner On Exclusive Back-To-School Collection
Staples and Teen Vogue are partnering to make more classroom style happen this back-to-school season with an exclusive product collection. Beginning in July, Staples stores nationwide and Staples.com will be stocked with unique Teen Vogue products, including exclusive Staples BETTER® binders, notebooks, folders, pencil pouches, pencils, pens, compact staplers, lipstick and other die-cut erasers, sticky notes, clipboards, and more that make it easy for students to show their style and keep up with the latest trends.
Scott Young, senior vice president, product and business development, Staples, said, "Students love school supplies that reflect their individual style, and we are excited to bring this trendsetting collection to our customers." "We are thrilled to be partnering with Staples on an exclusive assortment of back-to-school supplies for millennial shoppers," said Amy Astley, Editor in Chief, Teen Vogue. "Our editors took inspiration from looks straight off the runway to create patterns and designs, so trendsetting students can now pair function with fashion both inside and outside the classroom."
______________________________________________________________________________________________________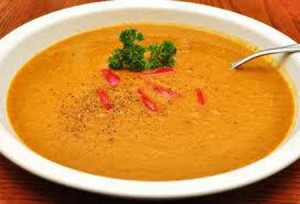 Soupman Introduces Small-Batch Craft Flavors
Soupman, the visionary soup-maker, is introducing exciting varieties of small batch craft flavors packaged in new vibrant, graphic shelf safe Tetra Pak cartons. As a nationally distributed brand, the company brings a novel but increasingly important dimension to the packaged soup market that is fueling this category-defining revival: the small-batch craft approach. The company is unveiling three inventive new flavors, packaged in Tetra Pak's transformative, eco-friendly cartons: Chicken Gumbo, Crab Corn Chowder and Jam-ba LAYA (the famous Seinfeld pronunciation, of course). Given the category's increasingly epicurean-oriented direction towards natural, high-quality, fresh-tasting ingredients, Soupman has also reformulated its lentil soup to a new gold standard, making it all natural and gluten-free.
______________________________________________________________________________________________________

Trinchero Family Estates Launches Ménage à Trois Vodka
The Ménage à Trois brand, wholly owned and operated by Trinchero Family Estates, has launched the Ménage à Trois vodka line, which includes three expressions of Vodka including Ménage à Trois Straight Vodka, Ménage à Trois Triple Berry Vodka and Ménage à Trois Triple Citrus Vodka. Like Ménage à Trois wines, which originated as a blend of three varietals, Ménage à Trois Vodkas are based on a "blend of three." The Ménage à Trois Triple Berry Vodka is a blend of raspberry, pomegranate, and cranberry and the Ménage à Trois Triple Citrus Vodka is a blend of lemon, orange and lime. All three vodkas go through a proprietary triple filtration process, are six-times distilled and ideal to enjoy on their own or for mixing in Ménage à Trois signature cocktails. "Ménage à Trois is the #1 selling red wine in America. Building upon the success of one of the Alcohol Beverage industry's most successful brands, we believe Ménage à Trois Vodka is the next evolution in this exciting brand's future," said Dave Derby, Senior Vice President of Marketing for Trinchero Family Estates.
______________________________________________________________________________________________________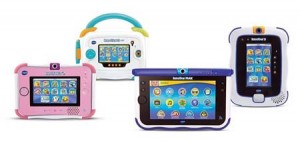 VTech Offers Fastest InnoTab Yet; Android Tablet Offers Children Best Of Both Worlds
VTech, a world leader in age-appropriate and developmental stage-based electronic learning products for children, has added InnoTab® MAX, its fastest Wi-Fi tablet yet, to the InnoTab family, featuring a powerful multi-core CPU and a high resolution 7″ display, and its first to feature Android™ learning content. "We are thrilled to introduce the newest and finest generation of InnoTab tablets to our family of award-winning tablets. InnoTab MAX uniquely combines our expert-endorsed learning library with carefully selected educational Android apps, offering the widest variety of curriculums to provide a superior learning tool that grows with a child and makes learning fun," said William To, President, VTech Electronics North America.
______________________________________________________________________________________________________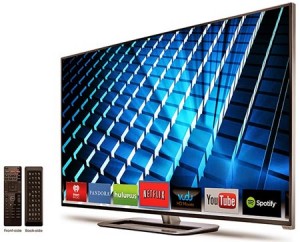 VIZIO Launches M-Series HDTV Collection
VIZIO, America's #1 Smart TV company, announced the availability of its all-new 2014 M-Series Full-Array LED backlit LCD HDTV collection. Demonstrating the brand's leadership in HDTV technology, VIZIO offers a notable step up in terms of picture quality, offering consumers Full-Array LED backlighting and up to 36 Active LED Zones, more than doubling the amount when compared to the 2013 collection. The stunning picture performance of M-Series is complimented by a beautifully simple, smart TV experience with VIZIO Internet Apps Plus®, the brand's latest, most intuitive smart TV platform, and an ultra-slim frame design. Using advanced Full-Array LED backlighting technology in screen size classes 32″ – 70″, the 2014 VIZIO M-Series line-up provides superior picture performance.
"The VIZIO M-Series collection represents a significant milestone in picture quality for mainstream consumers," said Matt McRae, Chief Technology Officer, VIZIO. "We crafted a best-in-class experience by increasing brightness, doubling the number of Active LED Zones and boosting the Clear Action performance. All this is coupled with our VIZIO Internet Apps Plus platform for endless entertainment options."
______________________________________________________________________________________________________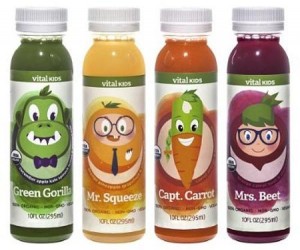 Vital Juice Introduces Vital Kids Cold-Pressed Juice
The top-selling, 100% organic, cold-pressed juice brand in the Pacific Northwest, Vital Juice, has launched Vital Kids cold-pressed juices. A line of 100% organic, GMO-free, locally-crafted fruit and vegetable juices for kids, Vital Kids is currently available at Whole Foods Market, Metropolitan Market and other natural markets in Seattle and Portland. Vital Juice promotes nutrition for the entire family and the new Vital Kids juices were specially-made to appeal to both kids and their parents. The Vital Kids line features four unique flavors including: Green Gorilla – Cucumber, apple, kale, spinach, lemon and almond milk; Capt. Carrot – Carrot, orange and almond milk; Mr. Squeeze – Orange, pineapple, grapefruit and almond milk; and Mrs. Beet – Orange, carrot, beet and almond milk.
______________________________________________________________________________________________________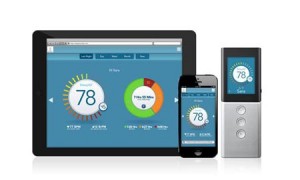 SleepIQ Technology Now Available Nationwide On All Sleep Number Beds
SLEEP NUMBER, a sleep innovation leader whose mission is to improve lives by individualizing sleep experiences, has made its proprietary SleepIQ™ technology now available on all Sleep Number® beds. SleepIQ technology is now available at all Sleep Number® stores nationwide, and is the world's first sleep innovation that provides consumers with knowledge and the ability to improve their sleep quality using simple and intuitive sleep tracking. SleepIQ works directly with Sleep Number's proprietary DualAir™ technology to comprehensively track and monitor each person's sleep through sensors that measure your average breathing rate, average heart rate and movements. There's nothing to wear or turn on – all you have to do is sleep. You can view your personalized data via your smart phone, tablet, PC, or your Sleep Number® remote, and then use this knowledge to adjust your daily routine and the comfort of your bed to experience the best possible sleep each night. Sleep Number's new proprietary technology platform includes cloud-based monitoring, data analytic services and applications.
______________________________________________________________________________________________________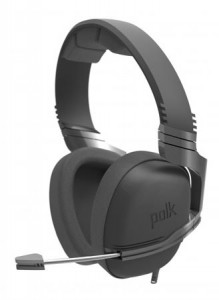 Polk Debuts Striker Headset Gaming Headphone
Polk, a high-performance audio brand, has debuted the Striker headset, which is designed for next-gen gaming platforms. The Striker raises the bar for gaming headsets by offering gamers audiophile-grade sound performance in a well-constructed, affordable and attractive design. "With the Striker, our goal is to fill a void in the gaming headset market by offering an affordable headphone option that delivers dynamic sound during all aspects of a game?whether it's dialogue between characters or an intense action sequence," said Mark Suskind, vice president of user experience at Polk. "As we continue to make significant investments in gaming, all of our supporting innovations will be designed to enhance and expand the rich, multifaceted audio elements within games played on any console."
______________________________________________________________________________________________________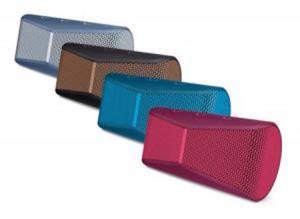 Logitech Introduces New Wireless Speaker Engineered For Performance
Logitech has introduced the Logitech® X300 Mobile Wireless Stereo Speaker, a wireless speaker designed for performance and mobility. Engineered for wide-range sound, the Logitech X300 Mobile Wireless Stereo Speaker has specially angled drivers to give you an expansive sound spectrum, with precise bass response and detailed mids and highs. With this speaker, you can connect and play your music and video entertainment from any Bluetooth®-enabled device up to 30 feet away, giving you the freedom to take your media anywhere. "The Logitech X300 Mobile Wireless Stereo Speaker gives you theater-quality sound on the go," said Jeffery Cheung, product manager for wireless speakers at Logitech. "We designed this stereo speaker on a completely new acoustic platform, strategically positioning the drivers to face upward and outward to deliver expansive sound that can help take your mobile entertainment to the next level."
______________________________________________________________________________________________________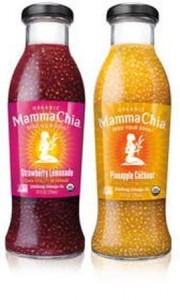 Mamma Chia Launches Two New Beverage Flavors: Strawberry Lemonade & Pineapple Coconut
Mamma Chia, the organic food and beverage company that originated the chia beverage category, is introducing two delicious new beverage flavors, Strawberry Lemonade and Pineapple Coconut. Both new flavors, along with all Mamma Chia Organic Vitality Beverages, feature nutrient-rich organic chia seeds infused with organic fruit juices, resulting in a delicious, satisfying and refreshing drink. Strawberry Lemonade and Pineapple Coconut join the existing line-up of Blackberry Hibiscus, Cherry Lime, Cranberry Lemonade, Raspberry Passion, Pomegranate Mint, Coconut Mango, and Guava Mamma.
______________________________________________________________________________________________________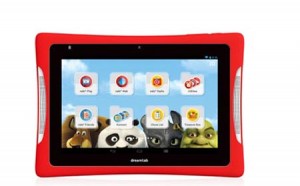 Fuhu And DreamWorks Animation Launch nabi DreamTab HD8
Fuhu, Inc., creator of the nabi tablet, the world's first Android tablet built just for kids, and DreamWorks Animation, have launched a powerful game-changer in the tablet arena with the nabi DreamTab HD8, designed from the ground up by Fuhu and DreamWorks Animation to engage kids with groundbreaking digital experiences that will help them unlock their full creative potential. It combines the latest technology with the iconic and universally beloved DreamWorks characters for an immersive experience that truly transforms the way kids learn, play and grow, inspiring the next generation of creative heroes. To deliver its diverse array of exclusive, signature experiences, Fuhu built an all-new operating system overlay — Blue Morpho™ — that offers more than 400 kid-focused features and incorporates advances in such areas as stylus and near field gaming technologies to take the overall kids tablet experience to the next level. Powered by the latest quad-core processor, the nabi DreamTab runs at lightning fast speed, rendering stunning HD graphics.
______________________________________________________________________________________________________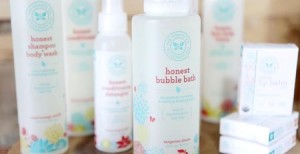 The Honest Company Debuts At Target
The Honest Company, which actress Jessica Alba co-founded with former CEO of Healthy Child Healthy World, Christopher Gavigan, will have an assortment of products available at Target starting mid-June. Ranging from diapers and biodegradable wipes to organic skin care and laundry detergent, The Honest Company offers non-toxic, eco-friendly and beautiful products that are better for the environment, families and wallets.
______________________________________________________________________________________________________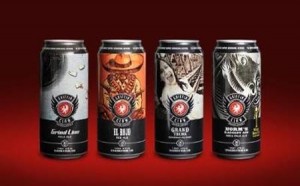 Griffin Claw Brewing Co. Launches Four Core Brands In Rexam 16 oz. Cans
Griffin Claw Brewing Company is looking to expand its distribution and bring its unique brews to more craft beer lovers, and has launched four of its core brands in Rexam 16 oz. cans. Norm's Raggedy-Ass IPA, the company's flagship brand, features a smooth, sweet body with enough malt to balance the huge hop profile of grapefruit and citrus flavors. Grand Trunk Pilsner is a crisp and clear Bohemian style pilsner made with true Nobel hops from the Czech Republic. El Rojo Red Ale has a strong malt character and just the right amount of hops to ensure great drinkability, while also delivering the desired bitterness reminiscent of many English style brown ales. Grind Line Pale Ale is an incredibly smooth and easy to drink American pale ale inspired by the automotive origins of Detroit's hardworking people. "Adding cans into our packaging mix is an excellent way for us to reach more customers and get our great-tasting craft beers in their hands," said Dan Rogers, brewmaster, Griffin Claw Brewing Co.
______________________________________________________________________________________________________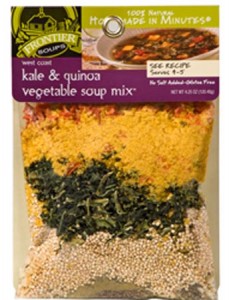 Frontier Soups Introduces Vegetable Soup With Ancient Grains And Kale
Frontier Soups™, a producer of all natural gourmet soup mixes, is introducing West Coast Kale and Quinoa Vegetable Soup Mix, a vegetarian soup and certified gluten free soup that gives home cooks a delicious and easy way to incorporate nutrient rich ancient grains and kale into their diets. The new gluten free kale and quinoa vegetable soup mix gains hunger-satisfying substance from white quinoa and flakes of kale and butternut squash that are freeze dried to preserve nutrition along with canned tomatoes and fresh or frozen butternut squash added by home cooks. "We formulated this soup in response to consumer requests for more vegetarian soup options and for soup mixes that give them an easy way to incorporate super foods like quinoa and kale into their diets," said Trisha Anderson, company founder. "The mix has a bounty of vegetables, a very pleasing texture, and is ready after just 30 minutes on the stovetop."
______________________________________________________________________________________________________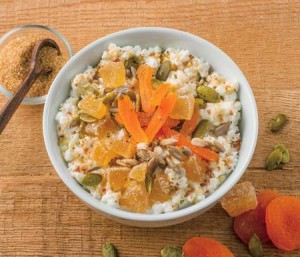 Friendship Cottage Cheese Mix-Ins Created For Quick Snacks And Light Meals
Friendship™ cottage cheese is offering a new collection of Mix-Ins this summer. Friendship™ Mix-Ins take the stress out of healthy eating while providing a satisfying snack or mini-meal that can be whipped up at a moment's notice. With 16 grams of protein per half cup, Friendship™ 1% low fat cottage cheese has more protein per serving than Greek yogurt and, when blended with sweet and savory elements, its crave-worthy appeal is heightened. Protein Packed Mix-Ins include high-protein nuts and seeds like almonds, hemp and sesame to enhance cottage cheese's already powerful protein punch.
______________________________________________________________________________________________________

D-Link Now Shipping Wi-Fi Audio Extender For Streaming Music From Smartphone To Connected Speaker
D-Link is now shipping the Wi-Fi Audio Extender (DCH-M225). Designed to stream music from a smartphone or tablet directly to virtually any connected speaker or home stereo, the Wi-Fi Audio Extender is a seamless way to enjoy music throughout the house. The compact and ultra-portable extender works with any speaker with a standard 3.5mm audio jack and connects wirelessly to an existing home network, allowing users to play music in any room with a Wi-Fi connection. It can also be quickly and easily moved from room to room so there's always music playing, no matter where the party goes. The Wi-Fi Audio Extender doubles as a wireless range extender, eliminating Wi-Fi dead zones and broadening the range of a wireless network for everyday Internet activities like emailing, chatting, video streaming, and music streaming. "What sets the Wi-Fi Audio Extender apart from many others on the market is that it uses Wi-Fi rather than Bluetooth technology for higher quality audio and better range throughout the house. Music lovers expect clear sound quality, and this product delivers," said Ken Loyd, director of consumer product marketing, D-Link Systems, Inc. "For added convenience, it also boosts Wi-Fi coverage in hard-to-reach areas like backyards, basements and upstairs bedrooms, ensuring a great listening experience no matter where you are in the home."
______________________________________________________________________________________________________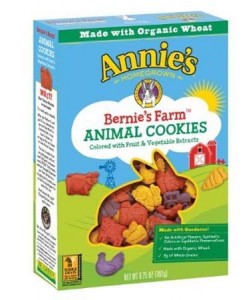 Annie's Expands Bernie's Farm Line With Snacks And Microwavable Macaroni & Cheese
Annie's, a natural and organic food company, has introduced four additions to its Bernie's Farm product line: Animal Cookies, Cheddar Crackers, Fruit Snacks and a Microwavable Macaroni & Cheese Cup. Underscoring the company's dedication to farmers and mission to connect kids to real food, the new products feature playful barnyard shapes, such as farm animals, tractors and carrots. The new brightly colored cookies, crackers and fruit snacks are colored with fruit and vegetable extracts such as beet, blueberry and carrot.
"Our goal is to help kids understand where their food comes from, and our Bernie's Farm products are a fun way to make that connection by showcasing life on the farm," said Sarah Bird, Chief Mom Officer for Annie's. "Plus, parents will feel good about the wholesome natural and organic ingredients we use to make these products."
______________________________________________________________________________________________________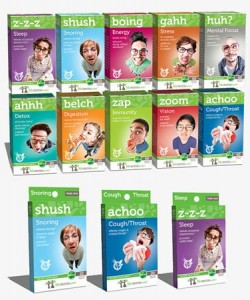 BioTerra Herbs Launches Herbal Remedies Line
BioTerra Herbs has introduced its Herbal Remedies Line®, symptom-based herbs offering seriously reliable results, with a dash of side-splitting laughter. BioTerra Herbs are fun, the packaging is comical, but they are also vegan, natural, globally sourced (eco-sustainably, of course), gluten-free, GMO-free and manufactured in the USA. BioTerra Herbs aids everything from upset stomachs (late-night pizza bender, anyone?) to non-stop snoring (for that special someone keeping you up at night).
______________________________________________________________________________________________________
Purity Vodka Appoints Andres Zuniga To Vice President, Creative And Branding
Purity® Vodka has appointed Andres Zuniga to the role of Vice President, Creative and Branding, where he will be responsible for leading the creative direction of the brand and its marketing communications. In this new role, Zuniga will lead the US marketing team and report directly to Purity Vodka AB CEO Andy Glaser. Zuniga joins Purity Vodka after a longtime leadership term at Colangelo Synergy Marketing, where he was a Group Creative Director. "Andres has an award-winning track record of brand strategy and creative direction for world-class spirits brands, and now he's poised to help elevate the creativity and impact of our own award-winning vodka brand," said Andy Glaser, President and CEO, Purity Vodka.
______________________________________________________________________________________________________
Target Names Kristi Argyilan SVP, Media And Guest Engagement
Target Corp. has further strengthened its marketing organization with the hiring of Kristi Argyilan as senior vice president, media and guest engagement. Argyilan comes to Target from IPG Mediabrands where she was most recently the president, Magna Global, North America. She has also held senior positions with advertising and integrated marketing agencies including Arnold, Hill Holiday, and Goodby, Silverstein & Partners. "Kristi is known nationally as a transformational, digitally savvy marketer. As Target continues to accelerate our efforts to innovate and evolve, her expertise in leveraging today's dynamic media mix will help us connect with Target's guests in new and different ways," said Jeff Jones, executive vice president, chief marketing officer at Target.
______________________________________________________________________________________________________
Tuesday Morning Names Susan Davidson SVP, Marketing
Tuesday Morning Corporation, a leading closeout retailer with 811 stores across the United States, has appointed Susan Davidson as SVP, Marketing. Davidson's 30-year career in specialty retail includes broad expertise in brand building, customer engagement, and results-driven marketing initiatives. Most recently, she served as Group Vice President for Merchandising at Sally Beauty Supply. Prior to this, she served as Vice President of Marketing at Sally Beauty. Prior to her tenure at Sally Beauty, Davidson served as Senior Vice President for Marketing (including Merchandising and Direct Channel) for Things Remembered, one of the nation's largest retailers of personalized gifts.
______________________________________________________________________________________________________
United Brand's JOOSE™ Appoints Philip O'Neil As EVP And Chief Revenue Officer
Philip O'Neil has been appointed Executive Vice President and Chief Revenue Officer for United Brands Company and its JOOSE™ line of flavored malt beverages. United Brands Company President and CEO Michael Michail said O'Neil's experience, leadership, and prowess with distribution will allow United Brands Company to continue to expand the already successful growth of all the JOOSE™ line of margaritas, cocktails and other products. "Phil has a proven track record with Mike's Hard Lemonade Company along with his more than two decades long career of successfully growing businesses. I feel confident adding Phil to our team will help nourish the already healthy growth of our JOOSE™ line of flavored malt beverages to achieve dominance in the industry," Michail said.
______________________________________________________________________________________________________
Wyndham Hotel Group Appoints Josh Lesnick CMO
Wyndham Hotel Group has appointed Josh Lesnick as chief marketing officer. Lesnick will be responsible for the company's brand, loyalty and online marketing; e-commerce; global sales; hotel system strategy; and revenue management functions. Lesnick joins the Hotel Group from Audience Rewards where he served the last six years as President and CEO. Previously, he spent nearly two decades working in hospitality in executive leadership roles with Starwood Hotels and Resorts and Hyatt Hotels.
______________________________________________________________________________________________________
Gabriella DeSantis Named VP of Marketing At The OurPet's Company
The OurPet's Company, a leading proprietary pet supply company, has promoted Gabriella DeSantis to vice president of marketing. DeSantis joined the company in July 2012 as senior director of marketing and has been responsible for overseeing the execution of the company's new two-brand marketing strategy. In addition, she has been responsible for successful new product launches and developing an overall marketing strategy. Prior to her tenure at OurPet's, DeSantis held positions as Marketing Director at United Pet Group and as Senior Marketing Manager for Health Care Products, Inc.
______________________________________________________________________________________________________
Havertys Names Daly-Jennings SVP, Marketing
Havertys has appointed Kathy Daly-Jennings to the company as senior vice president, marketing. She will report to Richard D. Gallagher, executive vice president, merchandising. Daly-Jennings most recently served as Head of Industry, Retail Vertical for Google. Prior to that she held marketing leadership positions as Director, Multi-Channel Marketing for The Home Depot and Director, Media Innovation for The Coca-Cola Company.
______________________________________________________________________________________________________
Dickey's Barbecue Restaurants Names Christie Finley Chief Brand Officer
Dickey's Barbecue Restaurants, the nation's largest barbecue chain, has appointed Christie Finley as the new Chief Brand Officer. Finley will lead marketing initiatives for the expanding concept while aligning brand core values with aggressive business goals.
"Christie brings incredible vision, drive and creativity to our growing brand," said Roland Dickey, Jr., president and CEO of Dickey's Barbecue Restaurants, Inc. "At a time when our company is experiencing tremendous development, Christie will be spearheading our Marketing efforts to drive all aspects of the Dickey's Barbecue brand forward."
______________________________________________________________________________________________________
Intel-GE Care Innovations™ Appoints Price-Rico CMO
Care Innovations™, an Intel-GE company, has appointed Karissa Price-Rico, Ph.D., as Chief Marketing Officer. Price-Rico brings extensive, successful experience providing real solutions to health care organizations and consumers that improve health outcomes and keep patients at home where they want to be. Price-Rico was co-founder and CEO of The Trusted Hands Network, the first national, certified network of Home Care Agencies and service providers to help consumers age in place.
______________________________________________________________________________________________________
Infusion Brands Appoints Eydie Webster CMO
Infusion Brands, Inc. has appointed marketing industry veteran Eydie Webster as Chief Marketing Officer. Webster joins Infusion Brands from Ronco Holdings, where she spent the last three years as V.P. of Sales and Marketing, most notably transforming the decades-old brand to reflect its new lifestyle brand mantra — healthy, delicious food made easy.
______________________________________________________________________________________________________
Andrew Flynn Appointed SVP, Brand Strategy At SGK
SGK, formerly Schawk, a leading global brand development, activation and deployment company that drives brand performance, has appointed Andrew Flynn as senior vice president, brand strategy. In this new role, Flynn will focus on identifying and developing strategic brand solutions for clients to help drive brand performance by leveraging the services offered by Brandimage and Anthem, part of SGK's brand development group, and Schawk, the company's brand deployment business. Flynn was previously a partner at Prophet, a strategic management consultancy where he was a co-leader of Prophet's Brand Strategy practice.
______________________________________________________________________________________________________
Intelligent Loss Prevention Introduces Turtle Security
Intelligent Loss Prevention introduces Turtle product security to the North American market through a distribution partnership with Pataco AG of Henau, Switzerland. Turtle is a multi-functional EAS tag device that is used to secure packaged goods and display products. The Turtle can be used independently by attaching its adhesive backing to any packaged good. In addition, the Turtle can also be attached directly to strapped packaging or used with accessories to protect display merchandise. Accessories include a variety of cables with loop, sensor or USB attachments that connect the Turtle to a display product. Product usage includes housewares, tools, electronics and more. The Turtle emits a pre-alarm upon slight lifting or sliding. A full alarm sounds if the Turtle is removed from the product or if the Turtle passes through an EAS gate. Flexibility is Turtle's key feature. With the use of optional accessories, Turtle can transform from being a tag for packaged goods to line security for display products. This allows retailers to stock one type of EAS tag for a variety of shapes, sizes and types of products. For more information, visit (Web Site) www.intelligentlossprevention.com
______________________________________________________________________________________________________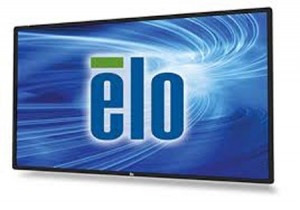 TouchSystems Introduces 70-Inch Touch Screen For Digital Signage
TouchSystems has debuted a 70-Inch Interactive Touch Screen for digital signage applications. The screen, based on the NEC P703, is integrated with infrared and is available as a multi-touch (six, 12 or 32 touch points) solution. Carol Nordin, president of TouchSystems, said, "Our retail, hospitality and education customers have expressed interest in touch screens exceeding 55 inches. As larger screens become more popular, the opportunities for interactivity using multi-touch technologies increase as well. Our newest addition combines size and interactivity at 70 inches with as many as 32 points of touch." The P7080I-U3 is designed for 24/7 use with durable, commercial-grade components complemented by LED-backlighting, a full HD panel and a 4000:1 contrast ratio. It features built-in speakers and expanded connectivity with digital loop-through. For more information, visit www.touchsystems.com.
(Web Site) www.touchsystems.com
______________________________________________________________________________________________________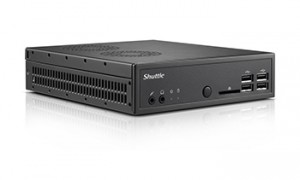 Shuttle Computer Group Introduces DS81 Digital Player
Shuttle Computer Group has introduced its highest-definition digital signage player, the DS81, designed to deliver top-quality advertising, movie trailers, detailed graphics, and the like. Combined with Shuttle's customization services, the new DS81 offers a wide range of features that can save integrators time and money. The advanced processing power in Shuttle's DS81 maximizes intense, action-packed multimedia content used to capture attention in the most demanding vertical applications. "Next generation 4K displays are here, and the market demands that digital signage players are up to the challenge," said Marty Lash, director, sales and marketing, Shuttle Computer Group, Inc. "Shuttle's new DS81 is packed with features that make it the perfect choice." With a body thickness of only 43 mm, the compact DS81 supports international VESA mount standards and can fit seamlessly in many digital signage venues. The DS81 boasts the Intel® Haswell 4th generation chip for lightning fast processing and graphics performance. Shuttle's DS81 also features an exclusive heat pipe cooling module with a smart fan design which allows for constant air circulation and results in high stability and low noise for long-term operation. For more information on the DS81, visit (Web Site) www.us.shuttle.com
______________________________________________________________________________________________________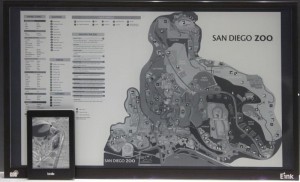 E Ink® Introduces Single Display EPaper Module
E Ink®, a digital signage and display company has introduced the largest single display ePaper module. The new module, measuring 32″ diagonally, is almost 25X the size of the display in an eReader. The new display is targeted primarily at applications in the digital signage and information kiosk markets and is available in black and white and color modules. The display has a resolution of 2560 X 1440, measures 27.75″ by 15.75″at 94 DPI. Having the same ultra-low power properties as all E Ink displays, along with being lightweight and readable in all light conditions, the new module enables the deployment of digital signs in areas that were not possible using standard emissive displays. The new module was developed in cooperation with Global Display Solutions (GDS), a world leader in the deployment of green display technologies for outdoor and indoor digital signage applications. GDS developed the enclosure technology for the display to be deployed in outdoor conditions with very low power consumption. GDS is a sales and marketing partner in the deployment of the ePaper displays for the digital signage market and will jointly market the product with E Ink. For more information on E Ink, visit www.eink.com; for more information on GDS, visit (Web Site) www.gds.com
______________________________________________________________________________________________________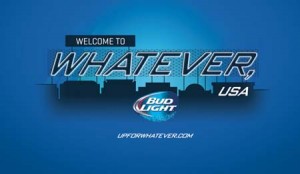 Bud Light Promoted As Perfect Beer For Whatever Happens This Summer
Bud Light plans to create an entire town this summer to support "The Perfect Beer for Whatever Happens" campaign. Consumers who show Bud Light they're up for "whatever" may have an opportunity to visit "Whatever, USA" for a weekend filled with spontaneous, unexpected fun around every corner. Bars across the country have declared themselves as being up for whatever. Bud Light will be collecting auditions at on-premise locations across the country this summer and consumers can submit their audition online at UpForWhatever.com. Bud Light will unveil details about Whatever, USA throughout the summer through new TV commercials featuring Whatever, USA's very own mayor.
______________________________________________________________________________________________________
Bolthouse Farms® Watermelon Mint Lemonade Debuts As Summer-Only Beverage
Bolthouse Farms® is sparking taste buds with a delicious and delightful new summer-only beverage – Watermelon Mint Lemonade, which combines sweet lemons, cool watermelon, and a hint of mint, for a refreshing twist on a classic beverage. Bolthouse Farms® Watermelon Mint Lemonade is available for a limited time this summer in 52oz bottles and is being supported by P.O.S. materials at retail.
(Web Site) www.bolthouse.com
______________________________________________________________________________________________________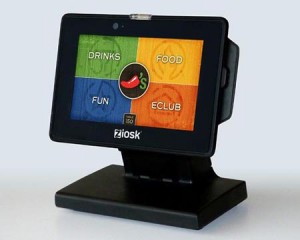 Chili's And Ziosk Complete Installation Of Largest Tabletop Tablet Network In The US
Less than eight months after announcing a partnership to bring tabletop tablets to all company-owned restaurants, Ziosk, makers of the world's first ordering, entertainment and pay-at-the table tablet, and Chili's® Grill & Bar have completed the largest rollout of tabletop tablets in the U.S., installing more than 45,000 Ziosk tablets in 823 company-owned Chili's restaurants. "This rollout marks the first time a restaurant company has installed communal tablets at this scale, and we were able to complete it two months ahead of schedule, bringing up to 6,600 tablets online per day," said Austen Mulinder, CEO of Ziosk. "We are focused next on installing Ziosk in the remaining franchise-owned Chili's. By this fall, guests at nearly every Chili's in the country can place orders, play games and pay their checks from our tabletop tablets."
Ziosk's seven-inch tablets empower Chili's guests to easily browse the menu, order drinks and desserts and quickly pay their checks. Ziosk tablets also feature entertainment, including news from USA Today and interactive games like zTrivia, a Ziosk-developed program updated bi-weekly with timely news and events designed to bring family and friends together as they share a meal. "Ziosk has proven to be a strong partner during the rollout process," said Wyman Roberts, CEO and president of Brinker International and president of Chili's Grill & Bar. "We've just begun to tap into the potential of Ziosk, giving Chili's guests the ability to take control of their dining experience like never before. Additionally, we're getting immediate, valuable feedback that helps us improve our performance." (Web Site) www.ziosk.com
______________________________________________________________________________________________________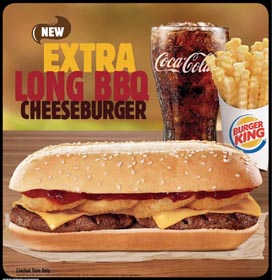 BURGER KING® Extra Long BBQ Cheeseburger Promoted On Summer Menu
Burger King Worldwide is introducing the Extra Long BBQ Cheeseburger on it summer menu. A harmony of fire-grilled and sweet BBQ flavor, the Extra Long BBQ Cheeseburger features two 100% beef burger patties layered side by side on a toasted hoagie bun and topped with American cheese, onion rings and BBQ sauce. "The new savory Extra Long BBQ Cheeseburger is a fun twist on a classic burger," said Eric Hirschhorn, Chief Marketing Officer, North America, Burger King Corporation. "Instead of stacking the patties, we've placed them side by side and topped them with two summer favorites, crispy onion rings and sweet BBQ sauce." The Extra Long BBQ Cheeseburger is available now at participating BURGER KING® restaurants nationwide and is also a part of the two for $5 menu alongside the BIG KING™ sandwich, the Chicken BIG KING™ Sandwich, Original Chicken Sandwich and Big Fish Sandwich – so that this summer, guests can mix and match two of their favorite premium sandwiches for just $5.
______________________________________________________________________________________________________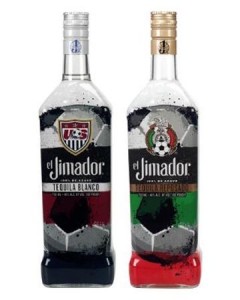 Tequila el Jimador Launches 'Take Home The Spirit' To Engage With Soccer Fans
el Jimador, the official tequila sponsor of the U.S. National Soccer Team and the annual U.S. Tour of the Mexican National Team, has launched its "Take Home the Spirit" 360 degree program with a unique Foursquare component, a first for the brand. As part of its soccer platform, consumers will have the opportunity to purchase limited edition soccer bottles, participate in social media and in-store promotions including sweepstakes and coupons to prepare for the international soccer tournament taking place in Brazil this summer. el Jimador partnered with Foursquare to develop a first of its kind "Watcher's Guide," to provide fans in 14 cities with a list of bars and restaurants where the Brazil soccer games will be featured. This innovative program marks the first time a spirits brand has used Foursquare to advertise to people at locations where the brand is available. Consumers 21 and older will have the opportunity to win prizes such as flat screen TVs, branded glassware and MNT and U.S. national team jerseys after checking-in through Foursquare at select restaurants and stores or by visiting el Jimador's website at www.eljimador.com.
For the third consecutive year the brand will launch a series of commemorative soccer bottles. Available for a limited time in the Blanco and Reposado expressions, these beautifully designed bottles illustrate a soccer ball through a street art splash stroke effect to comprise the background visual while the bold color strokes across the lower portion of the design reflect the US and Mexican team logo colors. "Since 2011 the brand has showed its commitment to soccer fans by creating programs that bring out that passion for the game," said Mark Grindstaff, vice president and group brand director of el Jimador Tequila . "Take Home the Spirit is a unique 360 degree program designed to celebrate the pride, courage and determination each fan has for its national soccer team and el Jimador is once again thrilled to be part of this enthusiasm."
______________________________________________________________________________________________________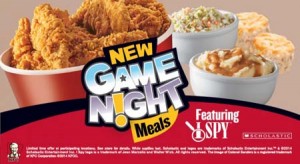 KFC Promotes Game Night Bucket
KFC has introduced the KFC Game Night Bucket, a family meal which includes 12 of KFC's famous Extra Crispy™ Tenders, four dipping sauces, four biscuits, two large side items and a free I SPY game, right on the bucket. (For larger families, the Game Night Bucket is also available with 20 Extra Crispy Tenders.) KFC's Game Night Bucket includes a free I SPY game and bonus I SPY posters to allow families to enjoy time together over dinner. "Colonel Sanders started serving home-cooked meals to travelers at his family's dining room table in his service station in 1930, and he quickly developed a reputation for 'Sunday dinner served seven days a week,'" said Kevin Hochman, Chief Marketing Officer for KFC U.S. "At KFC, we've always prided ourselves on bringing families together over dinner, and we think the Colonel would be proud of the way the Game Night Bucket does that in a fun way."
______________________________________________________________________________________________________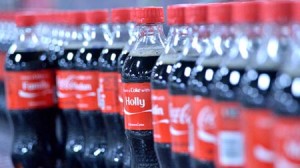 Coca-Cola's Summer Campaign Celebrates 'Share A Coke'
Coca-Cola's summer campaign extends an invitation to America to 'Share a Coke.' For the first time in the U.S., Coca-Cola is personalizing the sharing experience by swapping out some of its iconic logos on 20-ounce bottles for 250 of the nation's most popular names among teens and Millennials. Across the Coca-Cola trademark – Coke®, Diet Coke® and Coke Zero® – the Company is inviting people to find their name and the names of family, friends, colleagues, or even the names of people they want to know better … and open a little extra happiness this summer by sharing a Coke together. The 'Share a Coke' program was first introduced in Australia in 2012. Since then, the Company has helped people 'Share a Coke' – and a little happiness – in over 50 countries around the world, including New Zealand, Argentina, Brazil, South Africa, Great Britain, Turkey, Germany, Spain and Chile. "Coca-Cola has been bringing people together for 128 years to create moments of happiness," said Stuart Kronauge, SVP, Sparkling Brands, Coca-Cola North America. "We hope 'Share a Coke' creates occasions between people this summer where they can simply enjoy the moment."
In addition to first names featured on 20-ounce bottles, Coca-Cola, Diet Coke and Coke Zero logos will give way to group names like "Family" and "Friends" on 1.25- and 2-liter bottles, and 12-ounce cans will feature colloquial nicknames like "BFF," "Star," "Bestie," "Legend," "Grillmaster," "Buddy" and "Wingman." Eight-ounce glass bottle carriers will also encourage 'Share a Coke.' Coca-Cola Freestyle fountain dispensers will also offer an option for sharing a little happiness this summer. Fans who have the Coca-Cola Freestyle app on their mobile phone can scan a QR code on the dispenser's home screen, follow the prompts and send a friend a coupon for a free 20-ounce Coke. "We've seen the excitement 'Share a Coke' has elicited around the world, so we're ecstatic to bring it to life here in the U.S. From baseball games and barbeques, birthday and pool parties, to beach trips and amusement park outings, we want to see how people 'Share a Coke' and we're inviting them to share their stories with us in social media," said Jennifer Healan, Group Director, Integrated Marketing Content and Design, Coca-Cola North America. (Web Site) www.coca-colacompany.com
______________________________________________________________________________________________________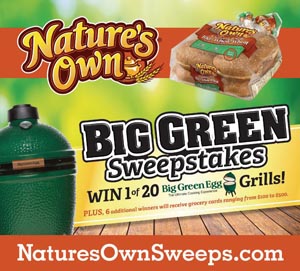 Nature's Own Partners With Big Green Egg For Sensational Summer Giveaway
Nature's Own, America's best-selling bread brand, has joined forces with The Big Green Egg Company, to launch "The Big Green Sweepstakes," whereby consumers can enter for a chance to win one of 20 Big Green Egg grills, known as "The Ultimate Cooking Experience" for backyard cooks and grilling aficionados. In addition to the grills, six more lucky winners will receive grocery gift cards ranging from $100 to $500 for all their BBQ essentials, including Nature's Own bread and buns. "Nature's Own is thrilled to partner again with The Big Green Egg Company to offer consumers the chance to win the perfect grill to enjoy during cook out season and beyond," said Keith Aldredge, vice president of marketing, Flowers Foods. "It's a perfect grilling combo-Big Green Egg's superior grills and Nature's Own quality breads and buns." "The Big Green Egg lifestyle is focused on creating amazing meals using the best ingredients available," said Jodi Burson, director of brand enhancement, Big Green Egg. "We believe that eating well is the first step to living well, and cooking outdoors using quality Nature's Own products is a delicious way to do something good for your family." (Web Site) www.NaturesOwnBread.com
______________________________________________________________________________________________________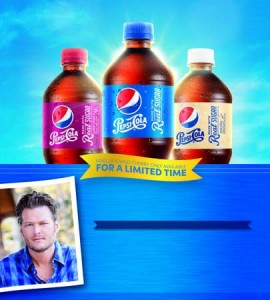 Pepsi Partners With Blake Shelton Throughout His 2014 Summer Tour
Pepsi is partnering with CMA Entertainer of the Year Blake Shelton. Throughout Shelton's summer 2014 tour, Pepsi will upgrade some of country music's biggest fans with VIP access, in addition to giving consumers the chance to sample new Pepsi Made with Real Sugar, and two limited-time flavors – Vanilla and Wild Cherry Made with Real Sugar. Shelton will also appear in POS signage nationwide.
"Nothing says summer better than live music, and who better to kick off the season with Pepsi in a big way than iconic artist Blake Shelton," said Lou Arbetter, Senior Director of Marketing at Pepsi. " As Blake gets ready for his U.S. tour we are thrilled to welcome him to the Pepsi family and take his fans along for some surprise experiences on the way." (Web Site) www.pepsico.com
______________________________________________________________________________________________________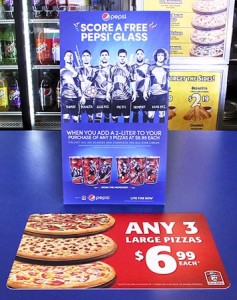 Customers Score Hat-Trick With Pizza Patron 'Any 3′ Promo
With the 2014 fútbol season getting ready to heat up in Brazil, Pizza Patrón has created a pizza combo perfect for fútbol game-watching parties and events with family and friends. From June 1 to July 31, Pizza Patron's "Any 3 for $6.99 each" offer will be available with no coupon required. The campaign, supported by out-of-home advertising and Spanish radio spots in select markets, will allow Pizza Patrón fans to pick any three large pizzas they want for just $6.99 each. "Our customers are huge fans of the big soccer games taking place this summer in Brazil," said Andrew Gamm, brand director for Pizza Patrón. "We want Pizza Patrón to be a 'must have' part of the fútbol-watching experience, so we created a perfect game-day offer that's hard to pass up." (Web Site) www.pizzapatron.com
______________________________________________________________________________________________________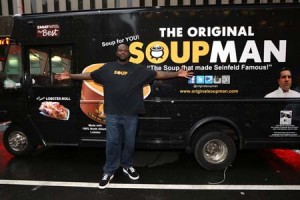 Original Soupman's New Joint Venture With Shaquille O'Neal Will Market Original Soupman 'SoupMobiles' Nationally
Soupman, the parent company of The Original Soupman, is partnering with Shaquille O'Neal who is already a partner and strategic advisor to the company, to drive its SoupMobile franchise program. The first official SoupMobile launched in New Jersey and currently serves food truck goers in Old Bridge and Newark, NJ. The Original Soupman New Jersey truck has future plans of serving the students of Rutgers University as well as foodies in Jersey City. It feature's the company's world-renowned soups including Lobster Bisque, Chicken Gumbo, Crab Corn Chowder and the Seinfeld classic, Jambalaya. Combining one of the hottest new trends in the culinary world — food trucks — with the highly marketable Soupman brand, the Soupman executives are optimistic about the new growth channel. "Our plan is to roll out 100 SoupMobile trucks across America over the next 5 years," said Lloyd Sugarman, CEO of Soupman, Inc.
For a decade before the famous Seinfeld episode in 1995, thousands of people were lining up outside Al's tiny location on West 55th Street in Manhattan for his magical soups, recognizing that if they didn't follow the rules they'd be unceremoniously thrown out. Consumers should now have additional The Original Soupman locations to visit, only these are expected to be coming to a neighborhood near them. Soups should available in cups, bowls or quarts, and as meals or a la carte, along with artisanal bread or oyster crackers, fresh fruit and the Soupman's signature piece of chocolate. (Web Site) www.originalsoupman.com
______________________________________________________________________________________________________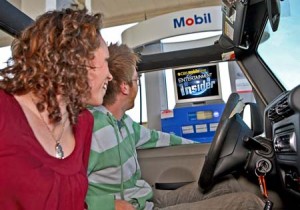 Rockbridge Growth Equity Acquires Gas Station TV (GSTV)
Rockbridge Growth Equity, LLC, a Detroit-based private equity firm, has acquired Gas Station TV (GSTV), one of the fastest-growing media networks for reaching on-the-go consumers. Founded in 2006 and located in Birmingham, Michigan, GSTV is America's No. 1 video network at the pump with 50 million monthly viewers. GSTV engages, influences and drives consumers to action with exclusive content from ESPN, CNN's Headline News and Buzz Today, Bloomberg TV, and AccuWeather at fuel retailers across the country. Its growing viewership continues to solidify video at the pump as an exemplary platform to reach a captivated, real-time audience. "Partnering with Rockbridge empowers us to build upon our leadership position in the industry and bring a GSTV screen to every community in the country," said David Leider, GSTV CEO. "Together with Rockbridge we'll continue to drive strong return on investment for our advertisers and gas station retailers, while providing an exceptional content experience for our viewers." David Leider leads GSTV along with the management team of Stephen Kuehn, CFO and COO, and Mo Alcaptan, Executive Vice President. (Web Site) www.gstv.com
______________________________________________________________________________________________________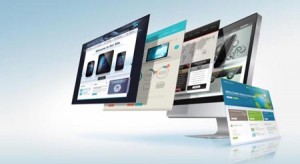 Retail Solutions Partners With Gigwalk To Bring Real-Time Actionable Intelligence To In-Store Execution
Retail Solutions, a global provider of cloud-based, Big Data analytics and real-time intelligence for the consumer products industry, has selected Gigwalk (www.gigwalk.com), the local visibility software platform changing the way brands and retailers collaborate, to power its new RSi Intelligent Crowdsourcing solution. The new offering provides clients with end-to-end business intelligence that drives sales by delivering real-time, actionable intelligence to field operations for improved in-store retail execution and on-shelf availability.
RSi Intelligent Crowdsourcing will combine RSi's daily downstream data and alerting capabilities with Gigwalk's enterprise platform for on-demand access to Gigwalk's public network of 550,000 mobile-enabled independent contractors. The integration will enable retailers and brands to gather and share in-store intelligence, identify gaps in the supply chain, and trigger actions at the store level to correct errors in near real-time. Using RSi Intelligent Crowdsourcing powered by Gigwalk, suppliers can accurately detect store or event conditions, send real-time fix notices to store teams, share observations with the value chain, and reclaim lost sales. RSi Intelligent Crowdsourcing blends the company's proprietary algorithms and unmatched on-shelf alerting technology with Gigwalk's reach and on-the-ground resources to bring customers a laser-focused immediate in-store activation solution. The solution combines sophisticated retailer downstream data transformed into scientific out-of-stock alerts with local, on-the-ground intelligence and serves it to field and sales operations teams on a mobile device for immediate response, remediation and reporting. (Web Site) www.retailsolutions.com
______________________________________________________________________________________________________
OpenEye Grows Retail Design Team With Three New Executives
OpenEye, a global digital media consultancy that designs and creates digital in-store experiences, has added three executives to its growing retail practice: Brian Dyches, San Diego partner & Director of Experience Design + Strategy; Roger Starkweather, Director of Business Development; and IV Dickson, Senior Sales Engineer. Together the new additions to OpenEye bring a depth of experience and knowledge of both retail and interactive technology. Dyches brings more than 25 years of experience in retail & experience design, having recently served as International Chairman & President of the Retail Design Institute. Previously, Dyches work has included brands such as Meijer, Lucky Brand Jeans, Kate Spade, WalMart, Nike & Unilever. Roger Starkweather has 20 years of business development experience, and brings specific expertise in helping retailers maximize engagement with their customers, having worked with clients such as Nordstrom, Eddie Bauer and Kroger. With more than 15 years of experience, IV Dickson is a seasoned marketing technologist who brings a deep knowledge on creating highly creative and well-designed digital solutions for in-store and mobile, having worked with clients such as Harley-Davidson, Louis Vuitton, and various Estee Lauder Company brands. (Web Site) www.openeyeglobal.com
______________________________________________________________________________________________________
Martin Garofalo Named Chairman & CEO\News America Marketing
Martin Garofalo has been appointed Chairman and Chief Executive Officer of News America Marketing, succeeding Paul Carlucci who is retiring after 23 years of service to News Corp. Garofalo, who was most recently President of News America Marketing, has been with the Company for more than 25 years, serving in a number of positions, including Executive Vice President for Shopper Marketing and National Sales Manager for SmartSource iGroup. News America Marketing is the premier publisher of coupons in the U.S and Canada, producing billions of coupons annually. It publishes SmartSource Magazine and is also a well-known provider of in-store marketing products and services, primarily to consumer packaged goods manufacturers. (Web Site) www.newscorp.com
______________________________________________________________________________________________________
Adspace Networks Adds The Movie Theater Lobby Screens Of National CineMedia And Cinema Scene To Offer A New, Larger Digital Place-Based Network To Advertisers
Adspace Networks, (www.adspacenetworks.com) is entering into a joint selling agreement with National CineMedia (NCM) and Cinema Scene to create a new, larger digital place-based network that will now include screens in movie theater lobbies. Combined with the Adspace Digital Mall Network, one of the nation's largest Nielsen-measured digital place-based networks, the screens of NCM's Lobby Entertainment Network (LEN) and Cinema Scenes' cinema lobby Trailervision network – which together include a total of 1,700 theaters with 3,600 lobby video screens – will offer extensive reach against the elusive millennial demographic. "The combination of the two cinema lobby networks with Adspace's existing mall network makes for a powerful new digital place-based advertising platform," said Joe Ross, Managing Partner, Cinema Scene. "Adspace is now a one-stop digital place-based shop, providing meaningful scale and ad frequency against the younger audience."
"It makes perfect sense to join forces with the digital place-based experts at Adspace to incorporate our cinema lobbies into a larger national digital place-based network, in addition to continuing to include the LEN in our own integrated on-screen, on-site, online and mobile cinema advertising offerings," said Cliff Marks, President of Sales & Marketing, National CineMedia (NCM). "As NCM increasingly focuses on the video marketplace, the Adspace management team's focus on selling the on-the-go consumer to the digital place-based media industry will now give brands an even easier way to reach our combined audiences nationwide." "This new larger digital place-based network provides advertisers an affordable means of achieving continuity against the coveted mall and movie-going audience," said Susan Danaher, Chief Revenue Officer, Adspace Networks. "This new larger network now delivers the younger mall and movie theater audience measured by Nielsen very efficiently with sufficient frequency to drive high consumer ad recall." (Web Site) www.ncm.com
______________________________________________________________________________________________________
MyWebGrocer Introduces New Aisle Beacon Technology, Personalizing In-Store Customer Experience
MyWebGrocer, a leading provider of digital marketing solutions to the grocery and CPG industries, has launched Aisle Beacon, new in-store technology that leverages proximity marketing to deliver personalized content to consumers while shopping in a grocery store. Exclusively available on MWG's mobile applications, this is the first beacon messaging system that is built directly within a grocery retailer's branded app. Retailers can use Aisle Beacon to provide consumers with the most relevant offers from their circular, private label brands and CPG manufacturers. This gives retailers another opportunity to bring useful, customizable content directly to shoppers, while improving the in-store experience and increasing sales. Aisle Beacon is able to deliver hyper-personal messages based on a shopper's preferences and past buying behavior. The platform is designed as a natural extension to MWG's existing shopping and planning tools and seamlessly integrates with all other digital and mobile products within the MWG suite, providing a full omni-channel solution. "We have continually seen a spike in mobile in-store usage and already have a large base of engaged consumers with strong retailer and brand affinity. Aisle Beacon adds another layer of value to the consumer conversation, taking advantage of their behavior to further enhance the in-store experience by delivering extremely relevant offers while customers are in the midst of shopping," said Rebecca Roose, Senior Product Marketing Manager, MyWebGrocer.(Web Site) www.MyWebGrocer.com
______________________________________________________________________________________________________

_________________________________________________________________________________________________________

______________________________________________________________________________________________________

______________________________________________________________________________________________________

______________________________________________________________________________________________________
CLICK ON IMAGE TO VIEW DIGITAL EDITION
______________________________________________________________________________________________________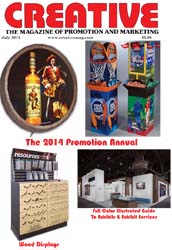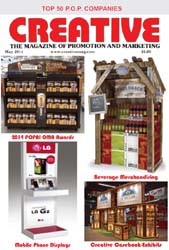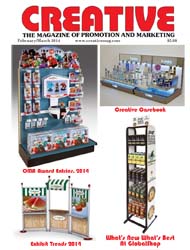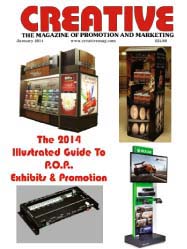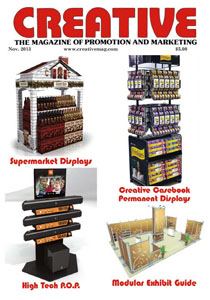 SEPTEMBER 2013 ISSUE
JULY 2013 ISSUE
MAY 2013 ISSUE
MARCH 2013 ISSUE
NOVEMBER 2012 ISSUE
SEPTEMBER 2012 ISSUE
JULY 2012 ISSUE
MAY 2012 ISSUE
JANUARY 2012 ISSUE