_____________________________________________________________________________________________________


_____________________________________________________________________________________________________


_____________________________________________________________________________________________________


_____________________________________________________________________________________________________

_____________________________________________________________________________________________________


_____________________________________________________________________________________________________


_____________________________________________________________________________________________________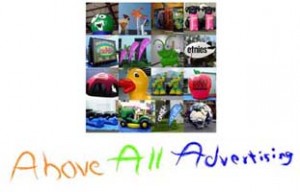 _____________________________________________________________________________________________________

_____________________________________________________________________________________________________

_____________________________________________________________________________________________________

_____________________________________________________________________________________________________

_____________________________________________________________________________________________________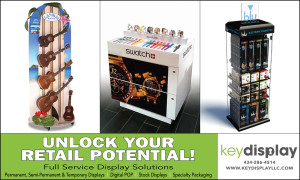 _____________________________________________________________________________________________________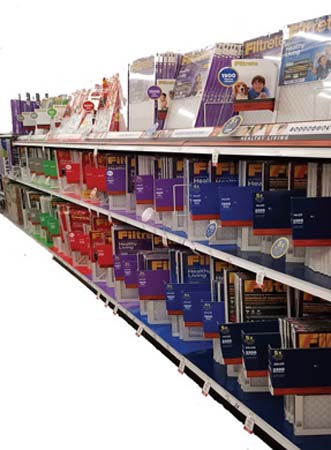 3M Filtrete Develops New Merchandising System
3M Filtrete wanted to create an innovative merchandising system that would stand out in a mass merchandise store and clearly communicate benefits to the shopper, making the product line easy to shop.
A merchandising system was developed with clean graphics, bright colors, and shopper-friendly language to help distinguish product lines and communicate selling points.
3D visual elements were used to grab and maintain the shopper's attention. The merchandising system provided stores with clear set-up instructions for maximum compliance. The merchandising system was designed and produced for 3M Filtrete by Great Northern, (Web Site) www.greatnortherncorp.com
_____________________________________________________________________________________________________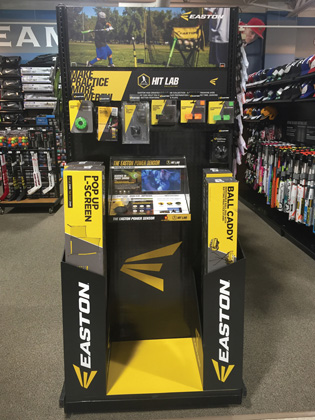 Easton Sports' End Cap Displays Featured At Dicks Sporting Goods
Easton Sports, the world's leading brand in diamond sports, debuted its Hit Lab Collection at Dicks Sporting Goods. The Hit Lab is a group of training aids designed to help athletes maximize their practice time in order to reach peak performance.
Easton selected Michigan based Evolve Group, Inc. to create an end cap display to highlight the new power sensor technology and communicate key product attributes. Constructed of multiple materials including metal, acrylic and ABS plastic, this unit also featured a 10″ LCD screen, strong visuals and bold colors and branding. (Web Site) www.evolve-group.com
_____________________________________________________________________________________________________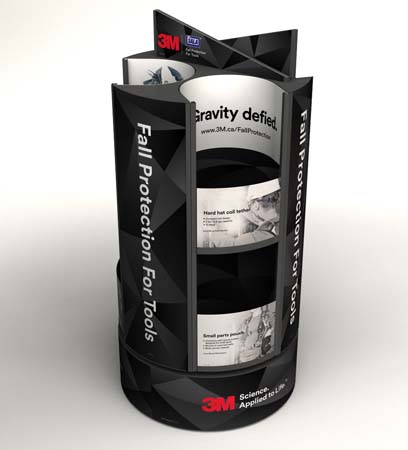 3M Python's Spinner Display Featured In Hardware Stores
3M needed a spinning floor standing display for hardware stores to support a high profile brand acquisition and to showcase their line of workers' safety products. Amongst the criteria was that all graphic panels needed to be interchangeable.
The resulting spinner display is made from a laser-cut sheet metal frame with acrylic and printed styrene forming storage bins for the products. A companion countertop display was also created for promoting smaller items. The 3M Python Spinner Floorstand display was created by Marketing Impact, (Web Site) www.displaypeople.com
_____________________________________________________________________________________________________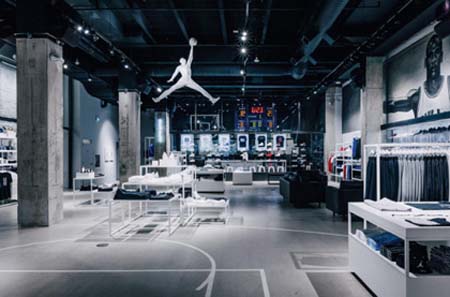 Jordan Brand On Display In Toronto 306 Yonge Location
Toronto's new number one destination for Jordan Brand recently opened. Toronto has long been known for its international appeal and, more recently, a unique basketball culture. These attributes make the city a perfect location for delivering the best of what Jordan Brand has to offer, from pinnacle products to a training space where athletes can pursue greatness. The doors to 306 Yonge first opened during the 2016 NBA All-Star Weekend for a special pop-up experience, but now it's recognizing Toronto's spot within sports, art, and culture with a permanent home for the Jordan Brand.
Not only will Yonge 306 be the source for the latest and greatest Jordan Brand products, it'll also feature Centre 23. Centre 23 will serve as Canada's training hub to prepare athletes with specialized sessions led by Jordan Brand trainers. From Breakfast Club workouts to barbershop services on Get Fresh Thursdays, Centre 23 will both recognize and push Toronto's athletes. (Web Site) www.nike.com
_____________________________________________________________________________________________________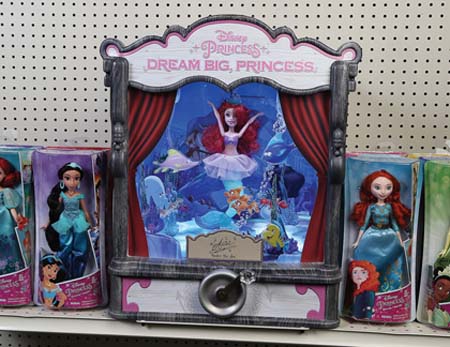 Hasbro Disney Princess Music Box Display
Disney, Hasbro and Target collaborated to develop a high end, fairy tale inspired interactive display to showcase the newest toy additions to the Hasbro Disney Princess collection. Curious shoppers are invited to spin the showcase to trigger lights, motion and sound, engaging them in the product further. From the jewel encrusted knob enticing shoppers to try the display, to the motorized movements of the toys that were carefully engineered to simulate play action, to the lights and sound which added to the experience, the display was designed to support product stocked directly adjacent to it and increasing sales prospects. The "Dream Big" messaging of the Disney Princess line comes through loud and clear in the header graphic and action inside the display. To invite the shopper to engage with the product, an eye-catching turning handle was used to activate motion behind the clear plexy casing. Product swap-outs are made easy through thoughtful design of the inner chamber and changeable graphic cards, meaning transforming the unit can be done in a matter of minutes.
The shelf unit was constructed primarily of highly durable polycarbonate plastic, acrylic, vibrant graphic panels and colored LED lights which create an inviting, eye-catching presence for the merchandised inventory on the shelf. The effective integration of a well-designed but affordable optional battery pack was critical to giving the unit versatility and making it incredibly easy to deploy. Changeable graphics in the display allow periodic, easy changeovers to new products and Princesses. The Disney Princess Music Box displays were delivered and installed at participating Target retail locations throughout the country. The Hasbro Disney Princess Music Box Display was created by United Displaycraft, (Web Site) www.uniteddisplaycraft.com
_____________________________________________________________________________________________________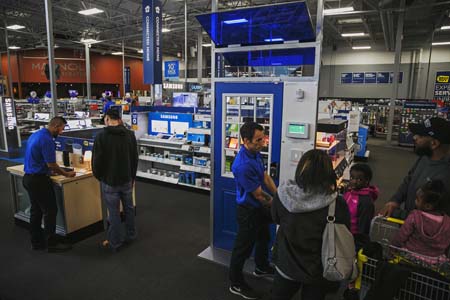 Best Buy, Vivint Partner To Launch Smart Home Service
Best Buy and Vivint Smart Home have collaborated to give customers an easy way to automate and manage their homes with an increased selection of products, professional home installation and monthly monitoring plans. Best Buy Smart Home powered by Vivint will expand to more than 400 Best Buy stores this summer.
When customers walk into a participating store, they'll notice a large, blue door where an expert will demonstrate various smart home devices. The interactive display lets customers see and try out the gadgets and the control panel. Best Buy and Vivint experts are on hand to help customers choose the products and services that fit their needs. Customers can buy the products upfront or take advantage of special financing. "The customers are in control," said Joseph Bardell, a Vivint expert at a Best Buy store in San Antonio. "They get to build the system that's right for them."
Customers also can choose an accompanying service plan that includes 24/7 remote monitoring with emergency response, around-the-clock online and phone support, in-home service and equipment protection. Service plans cost $39 or $49 per month, and there's a no-contract option. A professional installer then visits the customer's home to set everything up – often within 24 hours of the purchase.
Many customers want to make their homes smarter, but they often find it confusing to choose products, install them and monitor the technology on their own. The partnership between Best Buy and Vivint aims to simplify that. In-store displays also will feature Vivint products – including smart locks, cameras and thermostats – that have never before been available at retail stores. "I think it's really opening everyone's eyes to smart home technology," said Mike Grohmann, the general manager at another Best Buy store in San Antonio. (Web Site) www.vivintsource.com
_____________________________________________________________________________________________________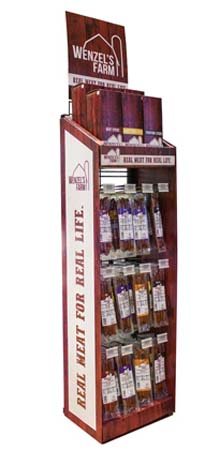 Wenzel's Farm Unveils New Look And In-Store Displays
Wenzel's Farm, a leading producer of small batch, hand crafted and naturally hickory smoked meat snacks, has launched a complete redesign of its brand. The company, which has been producing quality Wisconsin meat products since 1949 has undergone a complete brand transformation, which includes in-store point of purchase displays.
The packaging and point of purchase materials will highlight Wenzel's Farm's continued commitment to producing quality, healthy snacks, with call outs on key product attributes such as Naturally Smoked, No Artificial Colors, and Gluten and MSG Free.
"Wenzel's Farm has been an icon in its home town of Marshfield Wisconsin, and across the upper-Midwest for over 60 years," said Wenzel's Farm President Mark Vieth. "Although our logo and branding has been refreshed, our customers will still find the same great tasting, hand crafted, small batch meat snacks that Wenzel's is famous for." (Web Site) www.wenzelsfarm.com
_____________________________________________________________________________________________________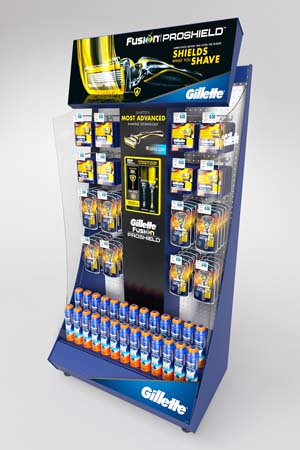 Gillette Fusion Professional Shield Blade On Display At Rite Aid Stores
Gillette razors wanted to introduce the revolutionary new Gillette Fusion Professional Shield Blade as a compliment to the recently introduced Fusion Pro Glide razor with Flexball technology. The introduction of this unparalleled blade is being supported by a full merchandising campaign at Rite Aid.
The end cap highlights the new blade while displaying the wide variety of Gillette razors and products. To assist in the effort, an interactive video display (produced by another partner) was incorporated. The Gillette Rite Aid End cap display was designed and produced by Trans World Marketing, an East Rutherford NJ-based display company; (Web Site) www.transworldmarketing.com
_____________________________________________________________________________________________________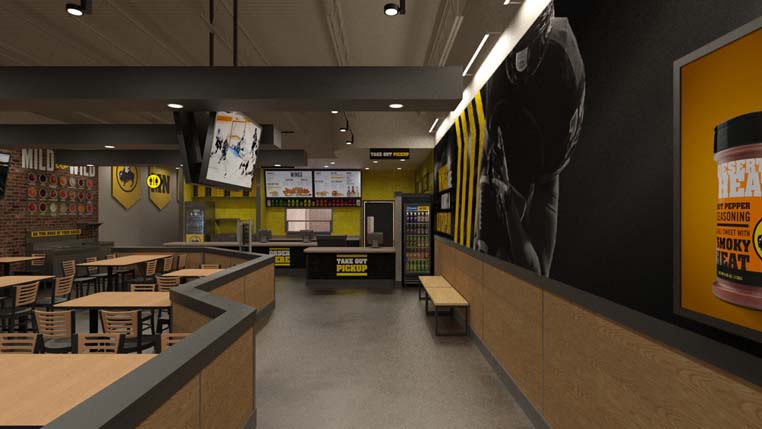 Buffalo Wild Wings® Pilots B-Dubs Express
Buffalo Wild Wings will pilot two new small-format locations in the Minneapolis metro market this summer. Inspired by consumers' growing interest in takeout and at-home dining, B-Dubs Express will offer Buffalo Wild Wings' famous wings and flavors in a streamlined, counter-service, and sports filled environment.
"With B-Dubs Express, we are excited to deliver on Guest feedback and passionately serve up high-quality wings to satisfy cravings even faster," said Todd Kronebusch, Vice President of Market Development for Buffalo Wild Wings. "These first two locations in Minnesota will provide a great opportunity for us to test an alternative format and gain learnings as we continue to look for ways to meet the changing needs of today's consumers."
In addition to wings – traditional and boneless – B-Dubs Express' menu will feature chicken tenders, a chicken sandwich, burger, salad, buffalo mac and cheese along with select sharables and sides. A selection of adult beverages will be offered including draft and bottled beers, and wine. Delivery will also be available through a partnership with DoorDash. While the focus is wings, B-Dubs Express will honor Buffalo Wild Wings' love of the sports fan by providing TVs so fans can check-in on their favorite teams as they grab food to-go or dine-in. Each location will measure approximately 2,500 square feet with seating for about 35-50 Guests. The pilot, company-owned locations scheduled to open late summer 2017 will be located in Edina, Minnesota (7529 France Ave S.) and Hopkins, Minnesota (525 Blake Rd N.). Buffalo Wild Wings is currently looking for future sites for B-Dubs Express in multiple markets across the country.
_____________________________________________________________________________________________________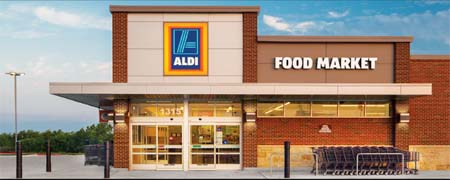 ALDI Ramps Up US Expansion With Goal Of 2,500 Stores By End Of 2022
ALDI continues to disrupt the U.S. grocery industry by providing customers with a smarter way to shop. Building on its already-aggressive growth strategy and $1.6 billion program to remodel 1,300 stores by 2020, the grocery retailer just announced a $3.4 billion capital investment to expand to 2,500 stores nationwide by the end of 2022. With this growth, ALDI will be the third largest grocery store by count in the U.S. and serve 100 million customers per month.
"We pioneered a grocery model built around value, convenience, quality and selection and now ALDI is one of America's favorite and fastest growing retailers," said Jason Hart, CEO. "We're growing at a time when other retailers are struggling. We are giving our customers what they want, which is more organic produce, antibiotic-free meats and fresh healthier options across the store, all at unmatched prices up to 50 percent lower than traditional grocery stores."
ALDI has continued to evolve its selection of products to include more fresh foods, gluten-free options and award-winning products throughout the store. ALDI also continues to increase its offering of fresh and sustainable seafood, specialty wines and cheeses, organic items from its SimplyNature line, and award-winning Little Journey baby products. ALDI was the first grocery store to offer all of its exclusive products free of certified synthetic colors, added trans fat and added MSG.
_____________________________________________________________________________________________________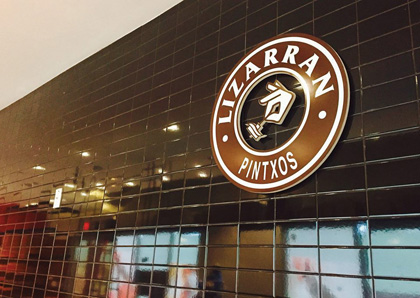 LIZARRAN Gastrobar Experience Arrives In Hialeah, FL
The popular Spanish "Pintxos" food chain has opened its first "gastrobar" in the U.S., next to Westland Mall in Hialeah, Florida. High quality food and fun filled days is what LIZARRAN promised Floridians when it launched its new restaurant. The biggest Pintxo food chain in Spain, in hopes to expand around the U.S. in the next few years and open new locations, unwrapped its first venue at, 49 West Street, one of Hialeah's busiest zone, where some of the most emblematic brands in the world have established themselves already. This first LIZARRAN in Hialeah is the initial step in an expansion plan that will take the brand to other parts of Miami and the U.S.
LIZARRAN creates a stupendous culinary offer; it has a mosaic of cultures combined in to one, and at the center of it, the famous Pintxo. A Spanish modality that has its origins in the Basque Country, it integrates the healthiest ingredients of the Mediterranean cuisine, like olive oil.
"Nonetheless, we want to adapt our rooted Spanish cuisine to the peculiarities of the local public. We have created an exquisite hamburger Pintxo, but we don't want to stop there, we have in store some other specialties, thought out only for the American consumer. It is important to mention that almost all of the products that we will be using are American. We want to be an American restaurant that serves fresh high quality Spanish food," Sofia Alonso explains, Marketing Director at American Franchise Group, firm that propels the project forward.
_____________________________________________________________________________________________________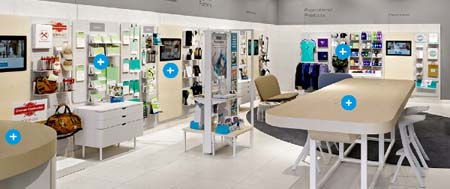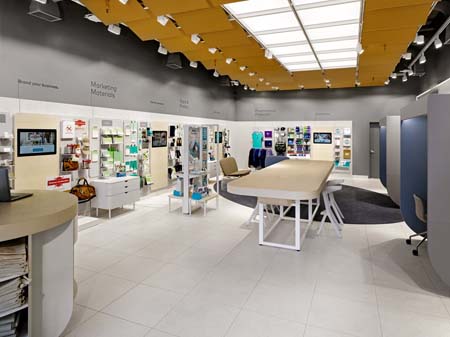 Vistaprint Opens First Brick And Mortar Retail Space In Toronto
Nearly two decades after it started offering professional marketing products and services online to small business owners, Vistaprint has opened its first ever brick and mortar retail space in downtown Toronto.
Business owners can now access the quality marketing products at unbeatable prices they have become accustomed to, but with the advantages of new in-store offerings. These include the ability to touch and feel products and get face-to-face help by the VP Coaches for a truly seamless experience between the online shop and retail space.
"We've listened to and worked with our customers along the way to provide the best of both worlds in Vistaprint Studio – the efficiency and convenience of the online world with the engaging, personalized experience in-store," said Trynka Shineman, CEO of Vistaprint. "At Vistaprint Studio we are offering exclusive services you can't find anywhere else, including free graphic design – services we heard our customers want and which solidify our investment in the success of their businesses, now and in the future."
____________________________________________________________________________________________________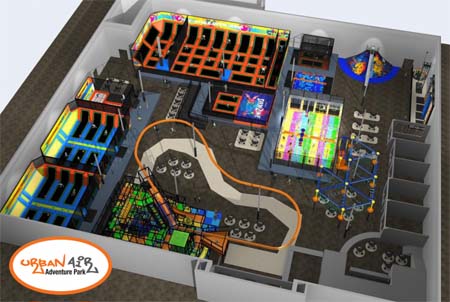 Urban Air Northland Brings All-Ages Entertainment To North Kansas City
Local franchise owners for Urban Air Overland Park, a sprawling indoor adventure park designed for all ages, recently announced plans to develop a second location within the Kansas City metropolitan area. Urban Air Northland will be located at 2707 Vivion Road in Kansas City and is currently on schedule for an early 2018 opening.
"This huge section of North Kansas City is sorely lacking in physically engaging family entertainment that's appropriate for all ages," said Aimee Mayhew, co-founder and partner of Urban Air Overland Park and Urban Air Northland. "Urban Air is the perfect place for everyone – toddlers, middle schoolers, teenagers, adults – to let loose and have fun on any given day."
Urban Air's highly successful Overland Park location, which opened in July of 2015, features over 10,000 square feet of trampolines, a four-lane Ninja warrior inspired obstacle course, a fully enclosed 3,500 square feet indoor playground, and more. The planned Northland location will offer these same features plus all new exciting attractions. Plans have been submitted for the Shoppes at Vivion Point location, which housed K-Mart until 2014. Urban Air Northland will include a 30,000-square-foot build out from the existing structure in order to accommodate the park's newest attractions, including a rock wall, ropes course, and Sky Rider coaster, an indoor zip line that carries riders above the park's ground-level attractions.
"We're very proud of our Overland Park location, but this is going to be an exciting next level," said Nicole Tausz, co-founder and partner of Urban Air Overland Park and Urban Air Northland. "Between all of the Northland park's attractions, fitness classes, and party options, kids, parents, and even adults without kids are going to be as excited to come and play here."
_____________________________________________________________________________________________________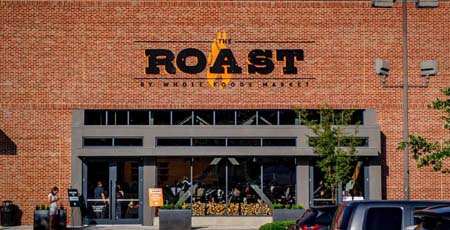 Whole Foods Market Opens The Roast, Fast-Casual Brazilian Churrasco Restaurant
Whole Foods Market has opened The Roast, a freestanding Brazilian Churrasco-inspired restaurant, in Atlanta, Georgia. Every ingredient used at The Roast meets Whole Foods Market's rigorous quality standards and is free of artificial flavors, colors, sweeteners, preservatives and hydrogenated fats.
"At Whole Foods Market, we're always looking to innovate and try new things," said Quentin Arndt, prepared foods coordinator for the company's South Region. "I'm excited to open The Roast's doors and to show Atlanta the Brazilian-inspired quick and healthy options we offer, including Chef Kevin Gillespie's 'Flavor of the Andes' bowl."
Serving lunch, dinner and drinks, The Roast complements the expansive range of freshly prepared items available at the Ponce store and represents the company's ongoing focus on enhancing the shopping experience for customers with new culinary venues and concepts, including partnerships with talented local chefs and culinary innovators.
Currently, more than 250 Whole Foods Market stores, including four in Atlanta, feature quick-service restaurants, and the company operates more than 180 taprooms that offer beer, wine, spirits or a combination of all three.
"I believe that good, nutritious food can also be quick and convenient, and I am excited to be collaborating with Whole Foods Market as they open The Roast in Atlanta," said Chef Kevin Gillespie. "This Brazilian Churrasco-inspired restaurant combines quality ingredients, incredible recipes and a fun environment. I was proud to create the 'Flavor of the Andes' Peruvian red chicken bowl exclusively for The Roast."
_____________________________________________________________________________________________________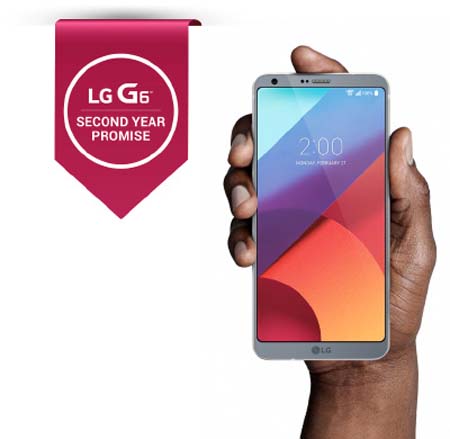 LG Focuses Offers New 'LG G6® Second Year Promise' Program
LG Electronics MobileComm U.S.A. has launched the "LG G6® Second Year Promise", a unique, no-cost limited warranty program aimed at providing an additional year of customer service beyond the first year of ownership for LG G6 smartphone users in the United States. As consumers now use their devices for an average of 18 to 24 months, LG is driven to ensure a positive experience beyond initial ownership and into the longer life cycle of its devices.
"LG's responsibility to its customers is paramount, and this program further supports our commitment to providing quality products," said Chang Ma, President, LG Electronics MobileComm U.S.A., Inc. "With the launch of the LG G6 Second Year Promise program, LG is shifting the definition of 'quality' to one that includes not only device specs and build, but also the peace of mind consumers experience using them, particularly during long term ownership."
Providing the same level of coverage as the original manufacturer's first year limited warranty, the Second Year Promise program will enable registered users to easily file, track a claim, and receive their replacement device faster. While many smartphone owners may be familiar with third-party extended service programs available at an additional cost, this Second Year Promise Program fills the gap with complimentary second-year, brand-level limited warranty coverage – more than what other manufacturers typically offer.
_____________________________________________________________________________________________________
Accolade Wines Launches Outlot Brand
Accolade Wines launches its new wine brand, Outlot. With the addition of this brand to their portfolio, which includes such esteemed brands as Geyser Peak, Atlas Peak and XYZin, Accolade reinforces its offering of popular premium to super premium wines from northern California's most prestigious appellations. The Outlot range includes Sonoma County Sauvignon Blanc and Chardonnay and Alexander Valley Cabernet Sauvignon, priced from $18.99-$24.99. Outlot wines are a tribute to Sonoma's rich agricultural heritage, sourced from appellations within Sonoma County. The label design features a magnolia flower in a nod to the brand's association with the Magnolia Peninsula and its history. This is a US market-focused release, with potential for expansion to other markets globally.
"With Outlot, Accolade celebrates the area and honors those that fought to ensure the Magnolia Peninsula would remain as living history in the modern era," said Stephanie Hahn, Senior Brand Manager for Accolade Wines, North America.
_____________________________________________________________________________________________________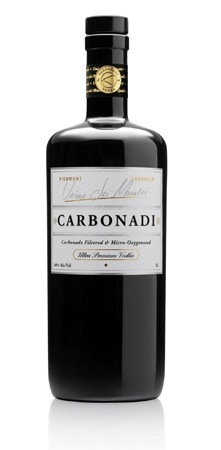 Carbonadi Vodka Launch Elevates Ultra-Premium Spirits Category
House of Carbonadi, an emerging California-based spirits company, has launched Carbonadi, an ultra-premium vodka born in northern Italy. A true expression of rare artistry, the introduction of Carbonadi elevates the ultra-premium category and continues to drive forward the growing segment of premiumization within the spirits industry.
Carbonadi originates from a legendary family-owned distillery located in the Piemonte region. With over half a century of refined expertise, the distillery uses pristine crystalline water and the finest, meticulously sourced organic wheat from the surrounding Italian Alps to create this one-of-a-kind sipping spirit. Of note, the brand is further lauded for its rare filtration process. The initial mash is distilled five times through active charcoal to remove impurities, then re-filtered through uncut carbonados (microporous black diamonds) to remove additional impurities not captured by traditional filtration methods. A final step of micro-oxygenation lengthens the liquid's molecules to create the smoothest vodka expression. With hints of green herbs, bay leaf and dried mint on the nose, Carbonadi tastes crisp and clean, and finishes with a smoothness that glides over the tongue.
"Thoughtful hospitality and exquisite craftsmanship have long been passion points of mine, and Carbonadi was born from a desire to create a sleek, high quality sipping vodka in line with the Italian lifestyle those characteristics embody," said Richard Miller III, CEO. "After four years of development, we are proud to introduce Carbonadi and grow this exceptional brand."
_____________________________________________________________________________________________________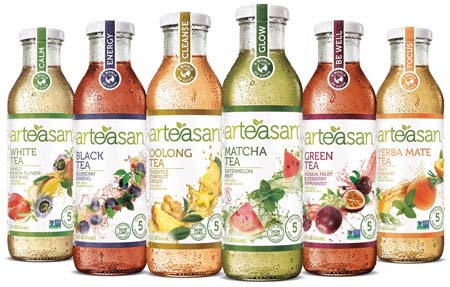 Arteasan Launches Two New Beverage Flavors
Arteasans Beverages, makers of the only 5-calorie ready-to-drink iced tea infusions, will unveil two new flavors, a Matcha Tea with Watermelon & Mint ('Glow') and an Oolong Tea with Pineapple & Ginger ('Cleanse'). The two new products will align with the brand's existing portfolio, infusing on-trend iced teas with luscious fruits and exotic botanicals in deliciously unexpected ways. The Arteasan infusions each offer a natural functionality such as 'Glow' or 'Cleanse,' which are derived naturally from the products' beneficial ingredients.
"We carefully crafted our new infusions using superfood ingredients like matcha and ginger, which are known to benefit both body and mind," said Fernando Rodriguez, Arteasan Founder and CEO. "We're excited for our fans to discover our new and unexpected flavors, and are delighted to continue creating deliciously beneficial iced teas that people can feel great about enjoying."
_____________________________________________________________________________________________________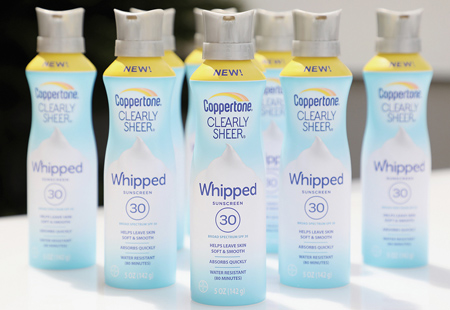 Coppertone Whipped Sunscreen Debuts
Bayer, the maker of Coppertone®, is revolutionizing the sunscreen experience this season with new Coppertone® Whipped, a transformative sunscreen unlike anything ever felt before. Not only is Coppertone introducing the first ever whipped sunscreen, it is rolling out a series of engaging activations throughout the summer to launch it, and partnering with everyone from beauty influencers to the Skin Cancer Foundation. The Whipped line, available in both CLEARLYSheer® and WaterBABIES® Pure & Simple formulas, transforms the sunscreen application process from an ordinary task to an experience people can look forward to before they head out into the sunshine. While many other sunscreen lotions can feel heavy or sticky, Whipped has a rich and creamy texture, yet it absorbs quickly and feels light on skin. Plus it won't clog pores and leaves skin feeling soft and smooth while helping to protect it from the sun's harmful UV rays.
"At Coppertone, we're dedicated to championing a worry-free life in the sun for everyone, focusing solely on developing innovative and expert sun protection. That's why we're approaching this year's Whipped launch in a new and different way," said Lisa Perez, Marketing Director, Suncare at Bayer. "Sunscreen lovers will have a chance to interact with and learn all about Coppertone Whipped through creative content, in-store product samplings, trusted beauty influencers, and more on-the-ground experiences."
_____________________________________________________________________________________________________

Clyde May's Debuts New Limited-Edition 9-year Cask Strength Whiskey
Clyde May's Whiskey, produced by Conecuh Ridge distillers, has introduced its newest ultra-premium spirit – a limited-edition 117-proof 9-year Cask Strength whiskey. This is the second limited-edition Cask Strength whiskey from Clyde May's. Clyde May's Whiskey was created by Clyde May, an Alabama farmer and war hero, in the late 1940s. Clyde lived in Alabama's Conecuh Ridge and was a moonshiner by trade but a craftsman by heart. Using copper stills, fresh Alabama spring water and the finest local grains, he vowed to make the best whiskey Alabama had ever tasted. In 2001, Clyde's son recreated his father's famous recipe and began legally distilling his father's brand while maintaining the same traditions that made his father's whiskey famous. The 9 Year Cask Strength will be in national distribution by the fall and will retail for a suggested price of $99.99.
"Our 9-year Cask Strength is complex and uncommonly smooth at 117 proof. Finishing it in the Alabama style rounds out and even softens the bold flavors into a surprisingly smooth finish," said Ron Call, Whiskey Master at Clyde May's. "Our first Cask Strength, an 8-year, was very well received, and we believe an extra year of aging reveals more complex flavors than last year's release."
_____________________________________________________________________________________________________

JCPenney Welcomes Libby Edelman® Fashion Brand For The Everyday Woman
JCPenney is stepping up its fashion game with the debut of Libby Edelman®, a lifestyle brand featuring irresistible fashion for time-strapped women. Inspired by Libby Edelman, creative visionary and co-creator of Sam & Libby® and Sam Edelman® footwear, the exclusive namesake brand boasts footwear, handbags, casual clothing and accessories that exude effortless style for a busy life. A special preview collection spotlighting summer dresses, casual footwear and lightweight crossbody bags is debuting this summer, followed by a full launch on Sept. 8. The complete fall line-up will include a wider assortment of embroidered boots, sleek totes, feminine blouses in striking prints, layering jackets, versatile dresses, scarves, necklaces and trend hosiery.
"As we move to revitalize our women's business at JCPenney, we want to attract new customers by expanding our women's contemporary assortment and infusing newness into our brand portfolio through unique designer partnerships," said John Tighe, chief merchant for JCPenney. "Libby Edelman is the latest collection to showcase this new strategy as we move toward meeting customer demand for more trendy, casual fashion."
_____________________________________________________________________________________________________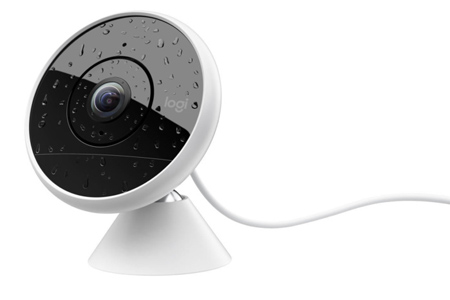 Logitech Unveils Simplest Home Security Camera For Indoors And Outdoors
Logitech has introduced Circle 2, an indoor/outdoor home security camera that can be placed anywhere you want. Whether you're checking to see who's at the door or in your living room, Circle 2 helps you keep an eye on all parts of your home. Simply place Circle 2 in your desired location, connect it with the Logi Circle app, and let the camera do the rest. Circle 2 is an evolution of Logitech's original Logi Circle cam featuring a much more versatile design, weatherproof solution, various mounts and accessories, an updated companion mobile (iOS/Android) and web app to keep you connected at all times, as well as today's most popular smart home integrations. Two models are available, Wired and Wire-Free, which give you the freedom to position the Circle 2 camera wherever you want. No matter where you place it, Circle 2 provides a crafted home security experience that will continue to evolve with your needs.
"People want the peace of mind that comes with a simple security solution," said Vincent Borel, director of new ventures at Logitech. "Circle 2 gives people just that – you can place the camera wherever you need it, inside or out, and rest assured that you'll be alerted of any changes in your home while you're away."
_____________________________________________________________________________________________________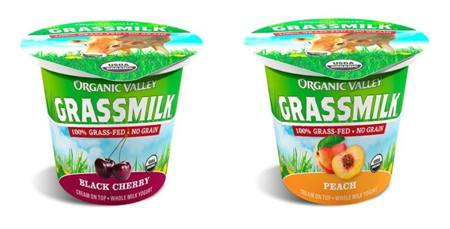 Organic Valley Introduces New Grassmilk® Yogurt Flavors: Black Cherry And Peach
Organic Valley is adding two delicious new flavors to its award-winning, 100 percent grass-fed yogurt line. Beginning in July, Black Cherry and Peach Grassmilk Yogurt will be available in single-serve cups. These will complement the current lineup of Strawberry, Wild Blueberry, Plain and Vanilla flavors. Multi-serve tubs continue to be available in Plain and Vanilla. Organic Valley's Grassmilk Yogurt is produced from the milk of cows that eat only fresh grasses and dried forages-never any grain. This makes for a premium yogurt with a flavor that reflects the "terroir" of 100 percent grass-fed dairy from the nation's largest cooperative of organic farmers. The two new flavors feature organic black cherries from Oregon and organic peaches from California.
_____________________________________________________________________________________________________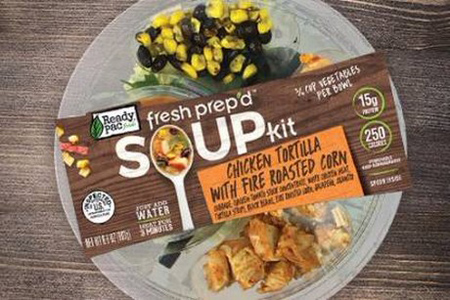 Ready Pac Foods Launches New Fresh Prep'd Brand
Ready Pac Foods, a wholly-owned subsidiary of Bonduelle, will expand into the growing Fresh Meal Category with the introduction of its new Fresh Prep'd™ brand of fresh meals. Beginning in September, the brand will launch two innovative product lines: Fresh Prep'd Soup Kits and Fresh Prep'd Wrap Kits. The product lines will deliver fresh, healthy and convenient meal options with delicious, bold tastes and on-trend flavor profiles. The launch of Fresh Prep'd not only expands Ready Pac Foods into the Fresh Meal Category, but also infuses it with true innovation.
Fresh Prep'd Soup Kits are the first of their kind in the fresh soup category. Created with flavorful broths, on-trend ingredient combinations and fresh vegetables that maintain their great flavor and crisp texture, this is the only fresh soup prepared by the consumer right before enjoying. The Fresh Prep'd Wrap Kits feature high-quality ingredients, bold sauces and vegetables, many inspired by the company's most popular Bistro Bowl® varieties. Consumers assemble their wrap right before mealtime allowing for a fully customizable experience with a fresh, never soggy, tortilla and crisp, crunchy vegetables, not possible previously with pre-prepared wraps.
"In developing the Fresh Prep'd brand, we wanted to create an easy alternative to lackluster desk lunches and unhealthy fast food," said Ready Pac Foods CMO Galit Feinreich. "With more than 75% of households in the U.S. purchasing fresh prepared foods, our Fresh Prep'd options enable consumers to have a delicious, healthy and convenient meal at a great value."
_____________________________________________________________________________________________________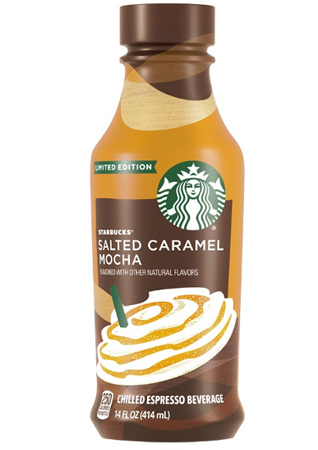 New RTD Starbucks Iced Latte Launches With Salted Caramel Mocha
When Starbucks® served its very first espresso beverages in 1984, the Caffè Latte was a beverage unfamiliar to most Americans. But it quickly became a customer favorite with its rich espresso balanced with steamed milk and a light topping of foam. Now Starbucks is bringing customers a new way to enjoy the beverage and Starbucks high-quality arabica coffee with its new ready-to-drink Starbucks Iced Latte, available in Salted Caramel Mocha for a limited time. This is the first Starbucks single-serve ready-to-drink iced latte. It features cocoa and toffee notes intertwined with hints of sea salt, bold espresso and creamy milk. The Salted Caramel Mocha flavor is inspired by the seasonal customer favorite, the handcrafted Starbucks Salted Caramel Mocha served at Starbucks stores. The new Starbucks Iced Latte Salted Caramel Mocha has begun shipping to grocery retailers nationwide. Starbucks Iced Latte will roll-out in other delicious limited-time flavors throughout the year.
_____________________________________________________________________________________________________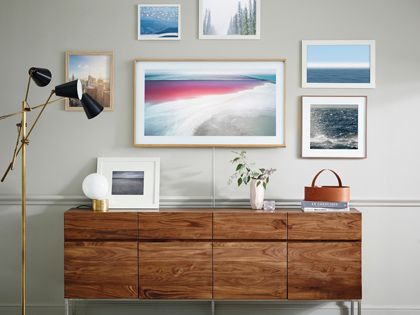 Samsung Introduces The Frame
Samsung Electronics America Inc., has introduced The Frame, its new lifestyle product that transforms from a television into a gallery-like art display. Designed in collaboration with renowned designer Yves Behar, The Frame is designed not only to provide a premium entertainment experience, but also to enhance the look of any home, just like a piece of artwork that you would hang on your wall. When powered on, The Frame offers 4K Ultra HD picture quality. When not displaying TV or movies, The Frame becomes a customizable work of art that can elegantly exhibit artwork and photographs via 'Art Mode.' The Frame is available in two sizes: a 65-inch model, priced at $2,799, and a 55-inch model, priced at $1,999.
"At Samsung, we have built our leadership in the TV business by delivering the very best ways for consumers to view their favorite content on TV – which until now, has been focused primarily on picture quality and interaction," said Dave Das, Senior Vice President of Consumer Electronics for Samsung Electronics America. "With The Frame, we are changing how consumers actually view the TV itself. The entire concept of The Frame is unique and totally groundbreaking. When it's turned on, it offers the stunning picture quality our customers expect. When it's turned off, it becomes the picture itself. So whether viewing movies or art, The Frame will redefine what consumers expect from a TV."
_____________________________________________________________________________________________________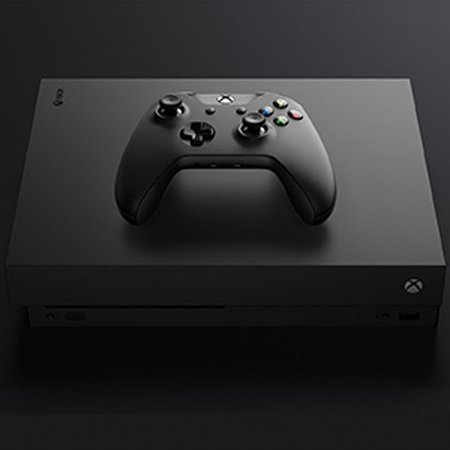 World's Most Powerful Console: Xbox One X Set To Launch To All XBox One Markets
E3 marks the world premiere of Xbox One X, the world's most powerful console designed for immersive true 4K gaming, ultimate compatibility, and unrivaled craftsmanship. As the newest member of the Xbox One family of devices, Xbox One X will offer gamers premier console performance and begins rolling out to all Xbox One markets starting Nov. 7. Every Xbox One X unit will come with a 1TB hard drive, a matching Xbox Wireless Controller, HDMI cable, power supply, a 1-month free Xbox Game Pass subscription and a 14-day free Xbox Live Gold membership. With 40 percent more power than any other console, Xbox One X is the world's most powerful console. Games play better on Xbox One X. It's the first time a system has been engineered around today's cutting-edge engines and the blockbuster titles gamers already love.
_____________________________________________________________________________________________________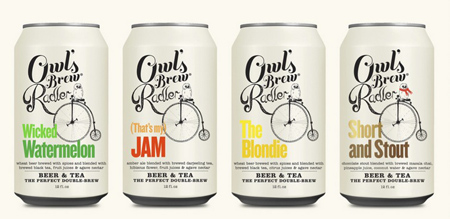 Owl's Brew To Launch Owl's Brew Radler
Owl's Brew, creators of the tea-based cocktail mixer, has just entered the growing craft beer category with the introduction of Owl's Brew Radler. Owl's Brew Radler includes three flavors, and can be found in select on and off-premise locations around the country. Created by entrepreneurs and tea enthusiasts Jennie Ripps and Maria Littlefield, Owl's Brew was designed with versatility and simplicity in mind. While Radlers traditionally combine light beer with lemonade or lemon soda, Ripps and Littlefield decided to swap out the lemonade for tea and create their own innovative blends. Owl's Brew Radler combines the world's two oldest brewed beverages into one and is the first ever mix of beer and tea, "the perfect double-brew."
_____________________________________________________________________________________________________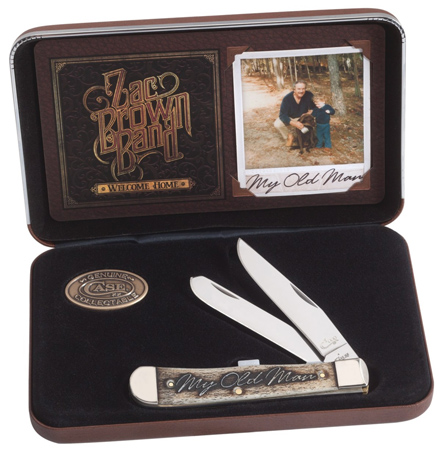 W.R. Case Forms Strategic Alliance With Zac Brown's Southern Grind
W.R. Case & Sons Cutlery Co. has revealed its newest strategic alliance, joining forces with GRAMMY award-winning artist Zac Brown and his Georgia-based metal shop, Southern Grind. Case and Southern Grind officially kicked off the alliance with the introduction of their first officially licensed product – Zac Brown Band "My Old Man" Case Trapper Gift Set. The knife is an amber washed, smooth bone Trapper that features high-polished, stainless steel Clip and Spey blades. Additionally, the words "My Old Man" have been laser-engraved across the knife's handle. The gift set comes complete with a Genuine Case Collectable medallion, certification of authenticity card and a Zac Brown Band guitar pick.
_____________________________________________________________________________________________________
Hyundai Motor Introduces Kona: Urban SUV For Active Lifestyles
Hyundai Motor has unveiled the latest vehicle in its expanding line-up of stylish SUVs, the Kona compact SUV. With a strong, impactful design and uncompromised individuality, the Kona is designed to appeal to modern customers with active lifestyles.
The Kona joins Tucson, Santa Fe and Santa Fe Sport in a growing line-up of Hyundai Motor SUVs, as the company continues to widen customer choice in the segment. At the world premiere of its new B-segment SUV, Hyundai Motor reaffirmed its promise to deliver SUVs that feature progressive design with high interior refinement and spaciousness.
"With the Kona, we have created a stylish and highly functional compact SUV, perfectly suited to the needs of customers who pursue challenging, action-filled lifestyles," said Euisun Chung, Vice Chairman of Hyundai Motor Company. "We aim to set new standards for the compact SUV segment, with appealing design, cutting-edge connectivity and class leading safety features."
_____________________________________________________________________________________________________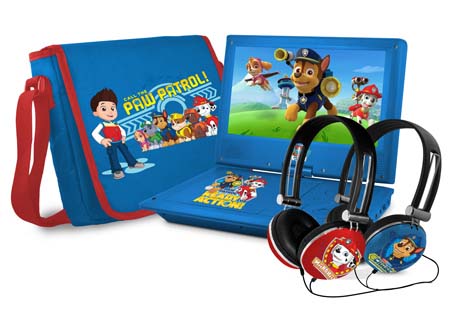 Ematic Unveils 9″ PAW Patrol Portable DVD Player Bundle
Ematic, the innovator in children's educational and entertainment tech products, has introduced the 9″ PAW Patrol Portable DVD Player Bundle, a kid-friendly DVD and CD player that can be taken on-the-go and features the beloved characters from Nickelodeon's number-one licensed preschool property PAW Patrol. The PAW Patrol Portable DVD Player is one of the first Text-to-Speech (TTS) functional portable DVD players available on the market that converts written text and button inputs into voice outputs for use in a variety of ways. The first in a collection of upcoming PAW Patrol products being offered by Ematic and Nickelodeon, the PAW Patrol Portable DVD Player Bundle is available at Wal-Mart stores.
_____________________________________________________________________________________________________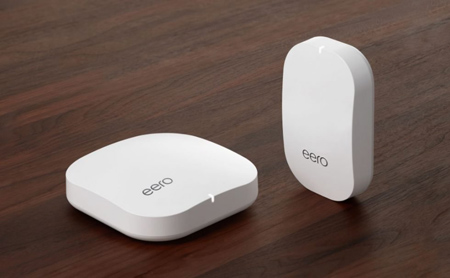 eero Offers 2nd Generation eero And eero Beacon
eero inc., creator of the first home WiFi system, introduces the eero Home WiFi System (2nd generation) and eero Beacon — all new powerful products that make up the most intelligent and customizable WiFi system on the market.
eero (2nd generation) is twice as powerful as its predecessor and is the first WiFi access point of its size with tri-band technology, making it possible to do more in every room of the home. eero Beacon is half the size, and plugs directly into a wall outlet, making it easier to place around the home. Also announced today is eero Plus, a premium subscription service that provides members with advanced security for their network and all of their connected devices.
"Our goal has always been for technology to fade into the background of the home, and the products we're announcing today get us one step closer to that reality," said Nick Weaver, chief executive officer and co-founder, eero. "We want people to stay connected without having to think about their WiFi or worry about digital home security."
_____________________________________________________________________________________________________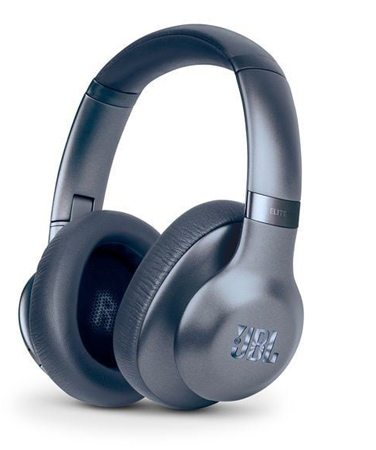 JBL Introduces Wireless Everest 2.0 Headphones
HARMAN International, a wholly-owned subsidiary of Samsung Electronics Co., has introduced the second generation JBL Everest™ series, a line of four wireless, state-of-the-art in-ear, on-ear and around-ear Bluetooth headphones. The new line combines a freshly updated comfort-driven design with innovative technology for an immersive audio experience. The Everest 110, 310, 710, and Elite 750NC headphones are the flagship of JBL's headphone portfolio.
Crafted with care and tuned to deliver a powerful JBL sound experience, Everest is a musical companion listeners will value. Featuring a perfect combination of style and simplicity, the series offers a variety of on-trend metallic shades including Gunmetal and Mountain Silver among other colors, with an exclusive Steel Blue shade in the Everest 110 and Elite 750NC models.
_____________________________________________________________________________________________________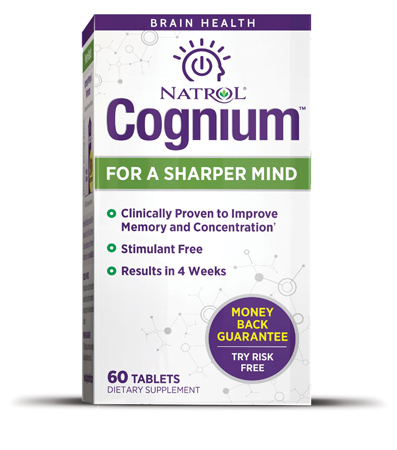 Natrol® Introduces Natrol Cognium™, Breakthrough Brain Health Supplement
Natrol LLC, one of the nation's leading manufacturers of vitamins and supplements, has introduced a new supplement for brain health, Natrol Cognium. This breakthrough product is specifically formulated to keep your mind sharp and your memory strong. Backed by nine human clinical studies, the active ingredient in Natrol Cognium has shown statistically significant improvements in memory and cognition in as little as four weeks. Natrol Cognium is formulated using a unique protein found in silk as its active ingredient. The clinically proven protein works by energizing and protecting the brain. This protein has been used safely in Eastern medicine for hundreds of years and proven safe and effective.
_____________________________________________________________________________________________________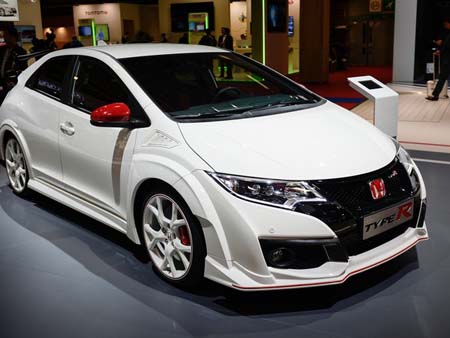 Honda Launches First-Ever Civic Type R
The 2017 Honda Civic Type R arrives in U.S. dealerships tomorrow, marking the first time in the history of Type R for it to be available in the American market. The most powerful production Honda ever sold in America, the track-ready 2017 Civic Type R embodies Honda's racing spirit, making 306 horsepower (SAE net) at 6,500 rpm and 295 lb.-ft. of torque (SAE net) from 2,500-4500 rpm from its 2.0-liter DOHC direct-injected and turbocharged i-VTEC® engine. The Type R puts the power down through a short-throw 6-speed manual transmission with helical limited slip differential hooked up to 245/30ZR20 Continental SportContact 6 high-performance tires on 20×8.5-inch black-finished aluminum wheels. The all-new 2017 Civic Type R offers a sporty and stylish exterior with advanced aerodynamics that immediately distinguishes the hatchback at a glance, while also providing a performance-focused interior with comfort, convenience and the latest in technology and connectivity features.
_____________________________________________________________________________________________________
NIKE Appoints Marketers To Drive New Consumer Direct Offense
NIKE has introduced the Consumer Direct Offense, a new company alignment that allows Nike to better serve the consumer personally, at scale. Leveraging the power of digital, Nike will drive growth-by accelerating innovation and product creation, moving even closer to the consumer through Key Cities, and deepening one-to-one connections.
Trevor Edwards, President of the NIKE Brand, will drive the Consumer Direct Offense through integrated category, geography, marketplace, product, merchandising, digital, and direct-to-consumer teams. Nike is moving closer to the consumer-creating a local business, on a global scale. To improve efficiency, all key cities and countries are supported by a simplified geography structure, changing from six to four-comprised of North America; Europe, Middle East and Africa (EMEA); Greater China; and Asia Pacific and Latin America (APLA). The leaders of the newly-formed geographies are: Tom Peddie VP/GM of North America, Bert Hoyt VP/GM of EMEA, Angela Dong VP/GM of Greater China, and Ann Hebert VP/GM of APLA. The geography leaders will report to Elliott Hill, President of Geographies and Integrated Marketplace.
To double innovation, Nike will accelerate the impact and cadence of new innovation platforms. To double speed, Nike is on a path to cut product creation cycle times in half. That starts with the Express Lane, which quickly creates, updates and fulfills products in response to consumer demand. To supercharge this faster pipeline, Michael Spillane is assuming the new role of President of Categories and Product-leading an end-to-end design-to-delivery organization, including Categories, Design, Product and Merchandising. This new integrated organization will place greater resources in the categories with the highest potential to fuel growth: Running, Basketball, Nike Sportswear, Men's and Women's Training, Global Football and Young Athletes. To build on the growth of the Nike Women's business, a new dedicated Women's team will complement each top-tier category.To double direct connections with consumers and shape the future of retail, Nike is creating the new Nike Direct organization, led by Heidi O'Neill, President of Nike Direct, and Adam Sussman, Chief Digital Officer. This organization will unite Nike.com, Direct-to-Consumer retail, and Nike+ digital products to enhance and expand Nike's membership experience on an increasingly global scale. Nike will also extend innovations to its strategic wholesale partners. Spillane, Hill, O'Neill and Sussman will all report to Edwards. "Today we serve our athletes in a changing world: one that's faster and more personal," said Edwards. "This new structure aligns all of our teams toward our ultimate goal-to deliver innovation, at speed, through more direct connections."
_____________________________________________________________________________________________________
Hostess Brands Promotes Andrew Jacobs To Chief Commercial Officer
Hostess Brands has promoted Andrew W. Jacobs to executive vice president and chief commercial officer, leading all commercial activities for the company. Previously, Jacobs was senior vice president and chief customer office at Hostess Brands, and prior to that, he served as senior vice president of strategic channels. The new executive structure reflects Hostess Brands' recent growth and innovation efforts, including a series of new product launches and aggressive shelf space growth strategies. Additionally, the new position places emphasis on penetrating various new white space channels, such as the recent expansion of the In-Store Bakery business and entrance into the frozen-food aisle.
"I am honored to step into this new role which was established to drive sales and support market share growth for Hostess Brands," said Jacobs. "The creation of this position underscores the value we place on accelerating our collaborative retail partnerships – a key aspect of our growing business."
_____________________________________________________________________________________________________
Sonic Appoints Lori Abou Habib New Chief Marketing Officer
Sonic Corp., the nation's largest chain of drive-in restaurants, has appointed Lori Abou Habib as chief marketing officer. As CMO, she holds responsibility for leading brand strategy, product innovation, national marketing, brand management, media, digital strategy and marketing technology. Habib is a 10-year veteran of SONIC, joining the company in 2007 as a product pipeline manager. Over the past decade, she has led local marketing, brand management, product pipeline and creative for the brand. Most recently serving as vice president of national marketing, her responsibilities included marketing strategy, brand management, marketing calendar and creative. Prior to joining SONIC, she served as regional marketing manager for CKE Restaurants, Inc. and as senior marketing manager for Eateries, Inc.
_____________________________________________________________________________________________________
STXfilms Promotes Amy Elkins To EVP Media And Marketing Innovation
STXfilms has promoted Amy Elkins to Executive Vice President of Media and Marketing Innovation. Elkins is the first "digital first" all media head for a studio with a combination of studio and agency experience. Elkins will continue to lead all media buying for STXfilms with a priority in understanding the dynamically changing marketplace through smart data application and strategic media partnerships. Elkins' new expanded role includes developing and nurturing new enterprise partnerships, which have helped position STX with first-to-market creative, content and data opportunities and analysis. Over the last two years as SVP, Elkins has built a fully integrated media team from the ground up in partnership with Horizon Media.
_____________________________________________________________________________________________________
Life Is Good® Adds Marketing Executives To Leadership Team
Positive lifestyle brand Life is Good® has named consumer marketing veteran Karen Lyon as Vice President of Marketing and licensing executive Linne Kimball as Vice President of Strategic Partnerships. Lyon and Kimball will play a crucial role in growing the $100 million brand as they guide marketing, licensing, and strategic partnership efforts. As Vice President of Marketing, Lyon will be responsible for driving awareness, engagement, and supporting product sales by leading the brand's integrated marketing efforts. In her role as Vice President of Strategic Partnerships, Kimball will work with President, Lisa Tanzer to set the strategy for expanding the brand through licensing and collaborations that will fuel Life is Good brand awareness, grow market reach, and deliver revenue. Prior to Life is Good, Lyon held executive marketing roles at Swarovski North America, Ideapaint, and The Rockport Company. Prior to Life is Good, Kimball held directing and executive positions at Reebok, William Morris Endeavor/IMG, and Polaroid Corporation.
_____________________________________________________________________________________________________
HoneyBaked Ham Names Jo Ann Herold New CMO
The Honey Baked Ham Company, one of the nation's premier food retailers, has named Jo Ann Herold as its new chief marketing officer. Herold returns after previously working with the brand for 16 years. Herold will lead strategic marketing directing development and execution for retail, franchise and e-commerce to generate continued demand for products and participation with the brand. As part of her role, she will look to define the lunch and catering category for the brand and work cross-functionally across multiple segments of the business to ensure profitable growth. Herold previously served as Chief Marketing Officer at Interface, Inc. & FLOR, Interim Chief Marketing Officer at Tropical Smoothie Café & Asian Tin Drum Kitchen, and Vice President of Brand Strategy & Communications at Arby's Restaurant Group.
_____________________________________________________________________________________________________
i.M. Expands To New Location In Pontiac, Michigan
i.M. Branded, the Michigan-based company that creates eye-catching graphic displays and commercial furniture for automotive clients across the country, has announced its expansion. i.M. Branded will be moving from its current 65,000 sq. ft. manufacturing facility at 2791 Research Drive in Rochester Hills to its new 150,000 sq. ft. manufacturing facility at 2040 Centerpoint in Pontiac, Michigan, to support continued growth.
"We currently have 110 employees," said i.M. Branded president Jim Whitehead. "We'll hire about 40 more when we relocate to Pontiac in September and we plan to expand beyond 200 employees in the coming years."
_____________________________________________________________________________________________________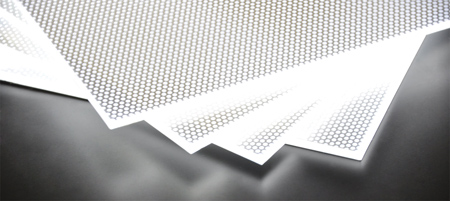 LEDCONN Offers LuxFIT™ LED Light Panel
Slim in profile and providing even and bright backlighting in small spaces, LEDCONN's classic LUXFIT LED Edge-Lit Light Guide Panels are ideal for illuminating signs, panels, and displays for many types of retail merchandising applications. LUXFIT maintains an unassuming profile and can be easily integrated into merchandising displays for both simple or sophisticated applications. Also used to power LEDCONN's state-of-the-art, snap on aluminum SOA Light Boxes, and Fabric Light Boxes (profile 45 only), LEDCONN LUXFIT LED panels are one of the industry's brightest, most even, and thinnest LED panels to illuminate your next display merchandising project. LUXFIT LED panels are fully dimmable and available in standard white, tunable white, and RGB colors. For more information, visit LEDCONN at; (Web Site) www.ledconn.com
_____________________________________________________________________________________________________
LG Unveils Versatile Transparent LED 'Film' Display
LG Electronics USA Business Solutions has unveiled a unique new LED display with unparalleled installation capabilities – the LG Transparent LED Film Display. The display ushers LG into an entirely new product segment, rounding out what already is the industry's broadest digital signage portfolio. The LG Transparent LED Film display (model LAT300MT1) offers eye-catching digital content and information while interacting seamlessly with its surrounding environment. The versatile LED Film offers over 1,000 nits brightness, with each 480x480mm panel containing 256 LED pixels that support gray-scale tones, a great way to display content and information. The product also supports standard and irregular aspect ratios to provide even more display options with a dynamic look and feel. At just 0.8mm thin, the 30mm Pixel Pitch display can be installed on any existing glass surface using its self-adhesive transparent film, making it easy to install with minimal construction required. As a result, the LG Transparent LED Film display is ideal for indoor and window-facing areas with large glass surfaces such as retail storefront windows, where it draws the attention of passing customers without obstructing the view of the products behind the glass or blocking light from coming into the store. Other applications include mass transit rail platforms and safety barriers, where it can display digital content and information while interacting seamlessly with the environment, and lobbies and large public areas where the film can convert ordinary glass into stunning, eye-catching digital signage displays. Even more, the flexible display works on curved surfaces and in parallel to the bezel, can be cut to size, truly converting any area of ordinary glass into state-of-the-art digital signage. For more information, visit; (Web Site) www.lgsolutions.com
_____________________________________________________________________________________________________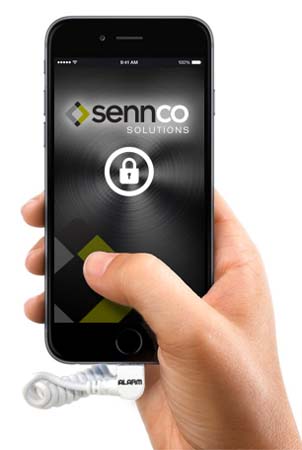 Sennco Solutions Introduces Genesis Wireless Display System
Sennco Solutions has introduced a wireless point of sale security alarm with data analytics. The Genesis Wireless System is the ideal solution for experience driven retail environments. The Genesis system was designed so that customers can truly experience products freely without the limitation of security measures. Customers can hold the product in their hands, fit phones in their pocket, and even walk to another display for product to product comparisons. While empowering customers with the perfect retail experience, merchants can collect time and date stamped analytics showing the daily interactions per product with the Genesis Data Analytics. The Genesis Wireless system uses a patented proximity detection technique based on using multiple wireless frequencies and antennas to measure the distance from the display to the security devices in any direction and any orientation. Walls, floors, people, shelves and other objects in the environment will not affect accuracy. For more information, visit; (Web Site) www.sennco.com
_____________________________________________________________________________________________________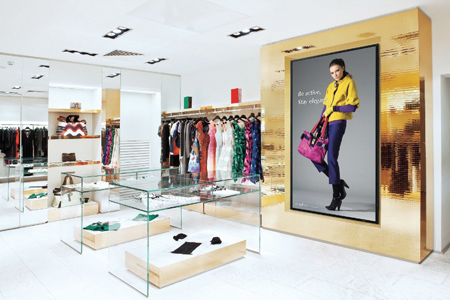 Sharp Introduces Its Largest LCD Monitor
Sharp Imaging and Information Company of America (SIICA), a division of Sharp Electronics Corporation, has introduced the largest professional display upgrade with the PN-R903A LCD monitor, a towering 90″ Class (90 1/16″ diagonal) screen that can show life-size images of people. This LCD excels in various indoor venues including retail, educational, conference rooms and public spaces. It incorporates Sharp's Ultraviolet-induced Multi-domain Vertical Alignment (UV2A) technology, which ensures highly efficient backlight use and prevents light leakage. The panel also has a full-array LED backlight to give images remarkably uniform brightness. For more information, visit (Web Site) www.siica.sharpusa.com
_____________________________________________________________________________________________________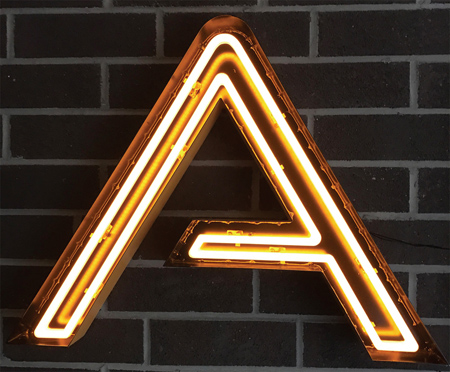 INCISEON Introduces Replacement For Glass Tube Neon
INCISEON is a direct replacement for glass tube neon. Using newly invented lighting technology, INCISEON is able to replicate the glow and brightness of glass tube neon using 12v. INCISEON can be used anywhere neon can, and is low voltage and safe in skeletonized form. Unlike flexible neon substitutes, INCISEON is lit from 360 degrees and holds its shape, allowing it to be mounted with conventional neon tube supports, studs, double-sided tape, or a chain. INCISEON is custom manufactured in the USA according to the customer's artwork. INCISEON can retain the complex bends and shapes that previously only neon could, is brighter than glass tube neon, and saves 92% energy consumption. For more information, visit INCISEON at; (Web Site) www.inciseon.com
_____________________________________________________________________________________________________

Above & Beyond Offers PromoBacklit™ Signs
Above & Beyond's PromoBacklit™ signs provide a custom appearance but with the ability to easily change your graphics as needed. The front panel is magnetically attached to the frame and a backlit film is printed to mount between them. The bright LED backlighting make the graphics really pop out. Great for restaurants & businesses that want to change their graphics often but also great for someone needing a quick solution since they can usually ship in 3-5 days. For more information, visit Above & Beyond Inc. (Web Site) www.giantad.com
_____________________________________________________________________________________________________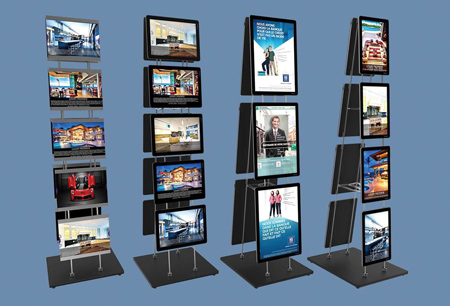 9th Sense Visuals Introduces VM Stand
The new VM Stand from 9th Sense Visuals is part of the VitrineMedia range specifically designed to be used within point of sale materials, showrooms, at tradeshows or other professional events, and window displays. Light-up your messages and advertising with these luminous and autonomous products. Setup only takes minutes. For more information, visit; (Web Site) www.9thSV.com
_____________________________________________________________________________________________________
e4 Design Creates Exhibit For Pollard Banknote
Pollard Banknote's exhibit at NASPL was split into four different sections (Instant game trends, evolve with iLotto, bridge retail & digital, and attract new players) that showcased both scratch off tickets & digital games. Pollard Banknote wanted to show brand awareness with their sister company, NeoPollard Interactive, by bridging the lottery gap between scratch off tickets & digital games. The NASPL show was also used to reveal Pollard Banknote's new Scratch FX lottery tickets. Each station had high traffic and was very successful in walking potential customers through everything that both companies had to offer. The Pollard Banknote exhibit was created by e4 Design; (Web Site) www.efourdesign.com
_____________________________________________________________________________________________________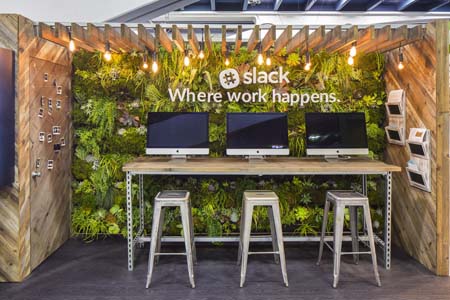 Group Delphi Creates Exhibit For Slack
Slack wanted to create a modern, open, and engaging environment where visitors felt intrigued by unique exhibit elements and inspired by Slack's innovative software. Slack had a small space to make a large impact. Slack's exhibit experience maximized a small space with a design that attendees felt compelled to engage with. Center-stage was a living wall lined with plants set on top of a natural wood backdrop. The design was compelling in its minimal modernity with the Slack logo appearing to effortlessly hover off the wall and above the engagement station. With all elements in place and the fresh scent of succulents around them, visitors felt at ease as they spoke with Slack representatives – setting the stage for more in-depth discussion and meaningful connections. Edison bulbs set a natural, intimate glow over the engagement , transporting visitors outdoors in the midst of a crowded conference hall. The exhibit created a welcome, comforting, and visually stunning experience in an otherwise over-stimulating atmosphere with nearly 200,000 exhibit visitors and attendees. The Slack exhibit booth was created by Group Delphi. (Web Site) www.groupdelphi.com
_____________________________________________________________________________________________________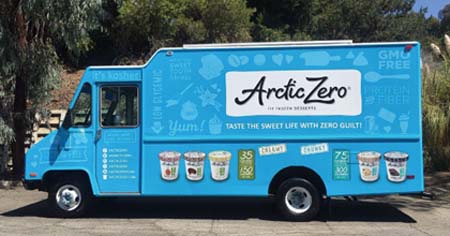 ARCTIC ZERO® Celebrates Summer With 'Freedom Tour'
ARCTIC ZERO® Fit Frozen Desserts™ is launching its summer Freedom Tour, visiting cities nationwide with free samples of its lactose-free, whey protein-based frozen desserts. The tour truck looks like the ice cream truck – but it serves a delicious ice cream alternative, suitable for those with dietary restrictions or who are trying to stay fit.
"We developed The Freedom Tour to spread the word that there's a great-tasting frozen dessert option suitable for everyone," said Amit Pandhi, CEO of ARCTIC ZERO. "We've loaded up with a variety of ARCTIC ZERO flavors and other giveaways and have mapped out a summer road trip – hitting fun parties and events, celebrating Independence Day, meeting up with friends along the way and even building music playlists for the trip."
ARCTIC ZERO® comes in a variety of chunky and creamy flavors and is lactose free, low sugar and low in calories – making it a popular dessert option for those who are diabetic, lactose intolerant, gluten-intolerant or who are focused on staying fit and trying to maintain a healthy diet. ARCTIC ZERO comes in a huge variety of chunky and creamy flavors, including favorites like Brownie Blast, Cake Batter and Hint of Mint as well as new addition Cherry Chocolate Chunk, Peanut Butter Swirl and Rocky Road Trip. ARCTIC ZERO is available at more than 17,000 natural and traditional grocers nationwide. (Web Site) www.arcticzero.com
_____________________________________________________________________________________________________
Kenny Chesney's Blue Chair Bay Premium Rum Launches 'Take A Year Off' Contest
Blue Chair Bay Rum is allowing followers to explore the question that floats through many minds across the country, "what would you do with a year off?" by giving one dedicated supporter the chance to uphold the vacation spirit of Kenny Chesney's premium rum line.
The "Take A Year Off" contest, announced by a video from Chesney, is underway and will run until Sept. 30. The contest will award one winner a grand-prize of enough cash to take an entire year off of work to vacation and enjoy life without the daily pressures at work. An expert panel, including the editors of Rolling Stone Magazine and Parade Magazine, will pick the the prizewinner who will receive $50,000 cash – the U.S. median annual salary.
The Blue Chair Bay premium-blended rum line, founded in 2013, celebrates the beaches of the Caribbean that are central to singer-songwriter Kenny Chesney's island life. Its flavors, like coconut, banana, and vanilla, remind Blue Chair Bay drinkers of the taste of beach vacations past, present, and future. In Spring 2017, Blue Chair Bay introduced a new product, Key Lime Rum Cream, with a unique flavor profile: fresh key lime and buttery notes and a graham cracker finish. Other varieties of Blue Chair Bay's award-winning rum creams include Coconut Spiced and Banana. (Web Site) www.bluechairbayrum.com
_____________________________________________________________________________________________________
Some Best Buy Products Now Have Sustainable Packaging
Best Buy has made some small but impactful changes to the packaging of its private label products so that it's better for the environment. Its Modal brand cellphone case packaging is now made 100 percent from bioplastics, a material that breaks down over time.
Bioplastics save fossil fuels by using plants, a renewable resource. They have a lower melting point temperature than traditional plastic, which translates into reduced carbon emissions during the manufacturing process. They also have the same resiliency as plastic but require less material. That means they use fewer resources for the same quality packaging. They can also be composted and live another life. (Web Site) www.bestbuy.com
_____________________________________________________________________________________________________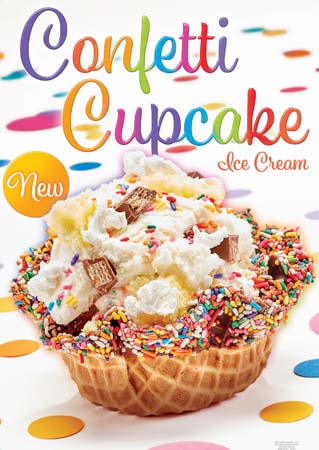 Cold Stone Creamery Promotes New Summertime Confetti Flavor
Cold Stone Creamery® is getting the party started with a fun new flavor to help celebrate summer, Confetti Cupcake Ice Cream, which hits stores this summer and is available for a limited time only. Confetti Cupcake Ice Cream is a creative take on a classic party favorite that combines sweet and creamy Ice Cream with all the colors of the rainbow to create a delicious new summertime flavor perfect for any celebration.
"Cold Stone Creamery is ready to celebrate the summer with our family and friends and what's more iconic for those warm summer months than the cool freshness of Cold Stone® Ice Cream shared with the ones you love? We very much look forward to seeing all our guests enjoy themselves all summer long in stores nationwide as we launch our much-anticipated Confetti Cupcake Ice Cream," said Kate Unger, senior vice president of marketing for Cold Stone Creamery. "This new flavor is made with festive edible Rainbow Glitter and fluffy Frosting. It's fun and fresh and with the rave reviews behind our new Confetti Cupcake Ice Cream, we've taken it up a few notches and created the perfect summer treat with our Party Like a Cupcake™ Creation featuring Confetti Cupcake Ice Cream mixed with Kit Kat®, Rainbow Sprinkles, Yellow Cake and Cake Batter™ Frosting. We've essentially fashioned the perfect way for everyone to cool off and celebrate this summer!" (Web Site) www.ColdStoneCreamery.com
_____________________________________________________________________________________________________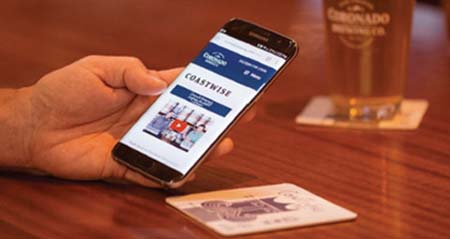 Coronado Brewing Co. Uses Coasters With Thinfilm's Technology To Boost Website Conversions
Thin Film Electronics, a global leader in NFC (near field communication) mobile marketing and smart product solutions, kicked off a collaboration with Coronado Brewing Co. by distributing innovative coasters that engaged the craft brewer's consumers with the simple tap of a smartphone. The coasters were part of a product launch for a new beer, CoastWise Session IPA, and drove website conversions 17.5 times more than the craft brewer's other marketing channels.
"Competing for the attention of craft beer drinkers is intense," said Brandon Richards, COO, Coronado Brewing Co. "Getting people to hear your brand story without interference is even harder." Thinfilm embeds NFC technology in packaging, labels, and merchandise product tags within a range of consumer-focused verticals, from wine, spirits and craft beer to cosmetics and clothing. Consumers tap the products with their smartphones and then see a customized landing page, video or other digital asset provided by the brand. The brand can view the consumer's performance data in real-time, accessible through a single system. The 'smart' coasters, which were distributed at Coronado Brewing Co. locations exclusively, featured Thinfilm SpeedTap™ tags. The unique NFC technology allowed consumers to tap the coasters with their phones and see a customized landing page describing the new CoastWise Session IPA. (Web Site) www.thinfilm.no
_____________________________________________________________________________________________________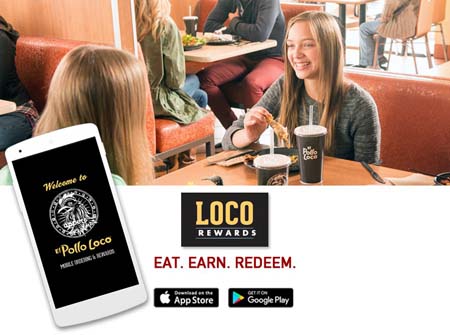 El Pollo Loco Launches Loco Rewards
El Pollo Loco, the nation's leading fire-grilled chicken chain, has launched several new digital initiatives including an all-new loyalty program called Loco Rewards™, a completely redesigned mobile app and delivery service from select restaurant locations.
"At El Pollo Loco, we believe leveraging technology allows us to better connect with our customers and provide them with a high-quality and differentiated dining experience," said Ed Valle, Chief Marketing Officer at El Pollo Loco. "Our new platform not only allows us to reward our loyal fans, but also to learn about their behaviors and become more targeted in our communication."
The all-new Loco Rewards loyalty program, developed by Punchh, is available through El Pollo Loco's mobile app. The program offers customers one point for every dollar spent at El Pollo Loco – with a $10 reward earned after collecting 100 points. In addition to a free entrée reward upon sign-up and a birthday reward, customers may also receive surprise offers tailored for them by participating in the program. Loco Rewards members will be able to earn points, redeem rewards and manage offers directly from the new app. (Web Site) www.elpolloloco.com
_____________________________________________________________________________________________________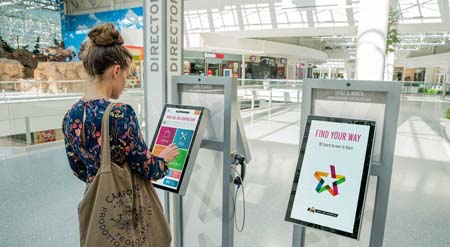 Express Image Expands From 6 To Nearly 100 Digital Directories At Mall Of America®
Mall of America, the nation's largest retail and entertainment destination, recently debuted nearly 100 digital directories to help guests navigate the 5.6 million square foot property with added ease. This industry-leading project is the first of its size and scope, and was developed by Express Image, an all-inclusive, interactive digital and print solutions provider.
With 800,000 unique sessions in a month since the tiered installation began, Mall of America has seen the average dwell time from the physical directories drop from over three minutes to less than 40 seconds on the digital directories. This decreased time spent searching provides the guest with the information needed to more easily find their destination.
"We want our guests to spend their time having fun at MOA, not searching for answers, and these directories save a significant amount of time and ease navigation around the property. We continue to find ways to accommodate our guests – both in person and through innovative technologies like our directories – and make sure they have the best experience possible," said Jill Renslow, SVP of Marketing and Business Development at Mall of America. (Web Site) www.expressimage.com
_____________________________________________________________________________________________________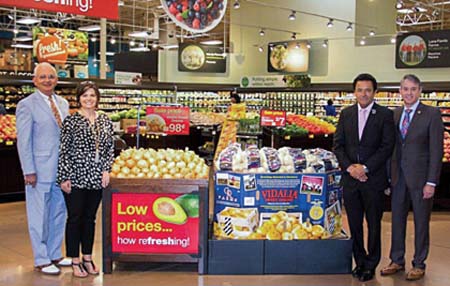 G&R Farms Partners With National FFA For 'Growing America's Farmers'
G&R Farms in Tattnall County, GA has finalized an agreement with the National FFA Organization to support scholarships for students in Production Agriculture. Under the agreement, G&R will contribute a percentage of sales from its 2017 Vidalia onion® crop to enhance educational opportunities for young people who are committed to future farming careers. The new initiative, "Growing America's Farmers™," was the brainchild of Walt Dasher, a third generation southeast Georgia farmer who is a strong advocate of FFA. G&R Farms is recognized as Georgia's oldest grower, packer, marketer and shipper of world famous Vidalia onions®. G&R Farms new FFA onion bins are being featured in select Kroger Stores.
"Over the years, we found that people under the age of 30 in rural areas like ours expressed very little interest in farm work. This caused me great concern because we all know that a lack of farmers could create a myriad of problems for our country," Dasher said. "Without the land being plowed and the crops being planted, nurtured and harvested, our country would be devastated. At G&R, we're committed to helping America's future farmers. We are very excited about partnering with FFA nationally to provide scholarship opportunities for aspiring farmers." (Web Site) www.grfarmsvidaliaonions.com
_____________________________________________________________________________________________________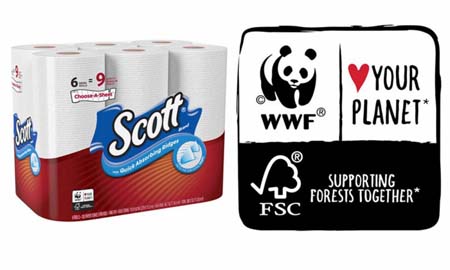 Kimberly-Clark And World Wildlife Fund Engage Consumers To Help Save The World's Forests
Kimberly-Clark, a leader in sustainably-made personal care products, has launched a unique three-year agreement and collaboration with World Wildlife Fund designed to raise awareness of the importance of choosing products that use fiber from responsibly managed forests. As part of the new "? YOUR PLANET" ("HEART YOUR PLANET") campaign, the company will display WWF's iconic logo on its paper towel, facial tissue and toilet paper products sold in North America.
This initiative is part of an 8-year partnership between the two organizations, and is a natural next step in advancing responsible forestry through consumer education and engagement. Kimberly-Clark is proud to display the WWF logo on its packaging and in promotion. The WWF logo will be on the packaging of Kimberly-Clark's North American tissue products certified to Forest Stewardship Council® (FSC®) standards, including Kleenex® facial tissue, Scott® paper towels, Viva® paper towels and Cottonelle® toilet paper. FSC® is considered a "gold standard" in forest certification and assures that these products come from responsibly managed forests that provide environmental, and social benefits. Consumers and retailers will start to see the Kleenex®, Scott®, Viva® and Cottonelle® brands integrate the WWF Panda logo on its packaging from June 2017, starting with Scott® paper towels. In addition to its support of responsibly managed forests through its procurement practices and educating the consumer about FSC, over the next three years, through this partnership, Kimberly-Clark will also provide $4 million to support WWF's efforts to protect forests and other critical ecosystems. (Web Site) www.kimberly-clark.com
_____________________________________________________________________________________________________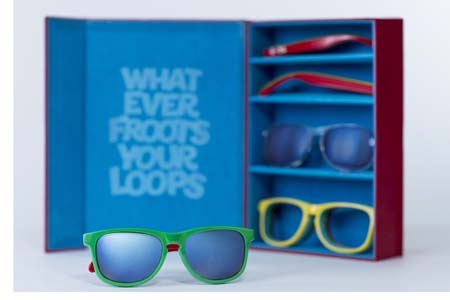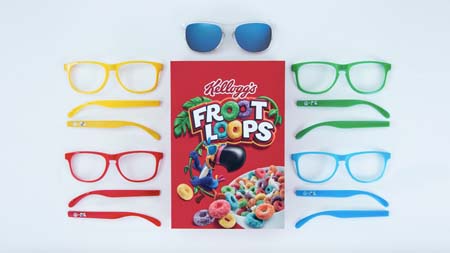 Kellogg's® Froot Loops® Launches 'Whatever Froots Your Loops' Campaign
Kellogg's® Froot Loops®, a brand known for its colorful adventures, is now encouraging fans to do what they love with its first new campaign in 50 years, "Whatever Froots Your Loops." To bring the new campaign to life, Froot Loops is teaming up with the creators behind three highly coveted brands to design gear and accessories that inspire adult fans to do what makes them most happy or "Whatever Froots their Loops." The Froot Loops collaborations with Neff Headwear, Timbuk2 and State Bicycle Co. will launch throughout the summer, beginning with the debut of the Neff + Froot Loops Toucan SamTM Shades.
Designed by Shaun Neff, who created his Los Angeles-based streetwear brand to embrace fun and funky vibes, the Neff + Froot Loops Toucan Sam Shades "kit" features interchangeable faceplates and arms in four Froot Loops-inspired colors. Arriving in a custom storage case with a unique Toucan Sam cleaning cloth and 80 combinations to unlock, wearers can rock this key summer accessory in whatever way "Froots their Loops." Retailing for $40, this limited-edition collection of only 400 pairs is available exclusively at neffheadwear.com/frootloops and at the Kellogg's NYC storefront in New York City.
"We knew we couldn't just pick one color to represent Froot Loops and Toucan Sam. From his head to his tail feathers, Toucan Sam has a crazy cool color palette – and the cereal has a unique burst of colors too," said Neff. "With so many possible combinations, our Toucan Sam Shades let fans create their own look to show off Whatever Froots their Loops." (Web Site) www.KelloggCompany.com
_____________________________________________________________________________________________________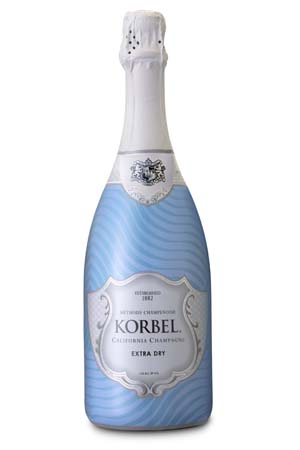 Korbel California Champagne Releases 'Poolside' Bottle Wrap In Time For Summer
Korbel California Champagne is celebrating the spirit of summer with the release of its new, limited-edition bottle wrap inspired by the season. Featuring a vibrant design of blue waves and its popular California Extra Dry champagne, the "Poolside" bottle wrap is sure to make a splash at any summertime gathering.
Two hues of aqua blue create a wavelike design, painting a picture of water flowing around the bottle. The renowned, classic Korbel logo on a crisp white label pops against the blue background, and is topped with a bright white capsule wrap. The striking bottle is the perfect summer accessory for pool parties and outdoor gatherings.
Along with a stylish look fit for summer, Korbel's "Poolside" packaging reflects the sophisticated essence of the award-winning California champagne inside the bottle. Korbel Extra Dry is light and luscious with delightful flavors of bright citrus and vanilla, the perfect pairing with summertime dishes like salads with fruit-based dressings or spicy foods with cilantro, ginger or chilies. As with all Korbel's expressions, it's made using the time-honored méthode champenoise. Whether it's a day spent lounging poolside in the sunshine or simply enjoying a glass of bubbly on the patio, the "Poolside" bottle is an instant vacation and the perfect pairing for any summertime celebration. Limited cases (14,000 9L cases) were produced of the special "Poolside" bottle of Korbel California Extra Dry. The summer package is hitting shelves in select retail locations now. (Web Site) www.korbel.com
_____________________________________________________________________________________________________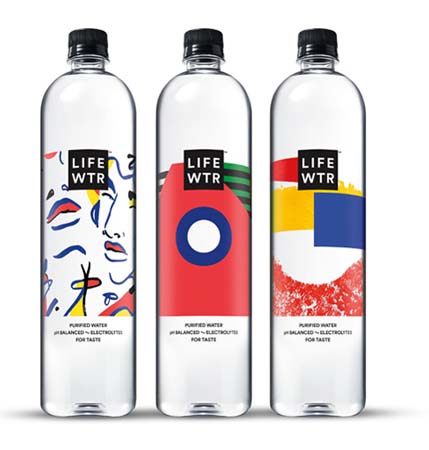 LIFEWTR™ Champions Women In The Arts
To help advance opportunity for women in the arts, LIFEWTR, a premium bottled water that fuses creativity and design to serve as a source of inspiration and hydration, is featuring bold and abstract designs from all female artists on its Series 2 bottle labels. With roughly 20 million bottle labels expected to hit store shelves over the next several months, these passionate artists will have an exceptional platform to be discovered and provide inspiration to all.
Released in a series of three, LIFEWTR labels change several times a year and each series supports a culturally relevant theme. Series 2 will focus on elevating women in the arts while Series 1 featured designs from emerging artists in the public art space. Launching on shelves now as Series 1 phases out, LIFEWTR Series 2 bottles showcase the works of bold artists who hail from the U.S. and United Kingdom. PepsiCo introduced LIFEWTR in February 2017 as a purified water that is pH balanced with electrolytes added for taste. Released in a series of three and changing several times a year, LIFEWTR designs provide exposure for emerging artists and creatives from the worlds of graphic design, fashion, fine arts, photography and more.
"We're proud that the LIFEWTR Series 2 labels will feature designs made by some of today's most talented emerging female artists," said Todd Kaplan, Vice President, Water Portfolio – PepsiCo North America Beverages. "We admire the fact that these women are a diverse group of innovative thinkers — contributing unique and fresh forms of art to the world. They have the potential to influence culture in an impactful and positive way, and it's important we celebrate women in the arts and provide them with a platform to gain exposure and showcase an inspirational outlook." (Web Site) www.pepsico.com
_____________________________________________________________________________________________________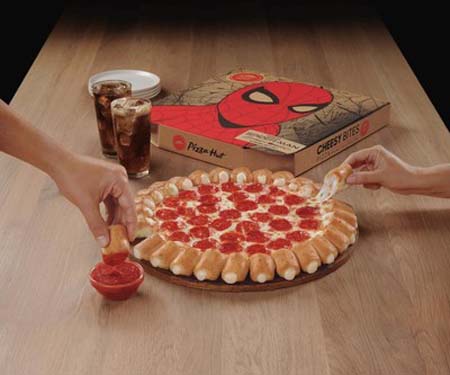 Pizza Hut® Cheesy Bites Pizza And Spider-Man Help Fans Swing Into Summer
Pizza Hut, the pizza restaurant that serves and delivers more pizzas than any other pizza company in the world, is officially bringing back the all-time favorite pizza – Cheesy Bites – to menus across the country, in celebration of the release of Spider-Man: Homecoming, hitting theaters nationwide on July 7. Cheesy Bites Pizza is currently available for a limited time for delivery, carryout, or dine-in at Pizza Hut locations across the country.
"Spider-Man isn't the only hero in town this season," said David Daniels, Vice President of Media and Advertising, Pizza Hut. "As Spidey returns to the big screen, Pizza Hut is ready to deliver crowd-favorite Cheesy Bites Pizza to fans across the country – the perfect combo for one super-powered summer."
Made with 28 craveable, poppable cheese-filled bites in place of a traditional crust, Cheesy Bites Pizza is an appetizer-and-pizza-in-one that can power up any routine pizza night. Pizza Hut spotlights its drivers in the new advertising campaign in support of the movie promotional partnership.
"As Spider-Man gets set to swing into theaters, we wanted to find a marketing partner who could help reach moviegoers where they live," said Ziad Toubassy, Senior Vice President, International Marketing Partnerships for Sony Pictures. "There's no better way to do that than by teaming up with one of the world's most popular pizza restaurants." (Web Site) www.pizzahut.com
_____________________________________________________________________________________________________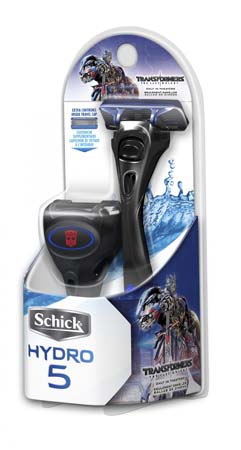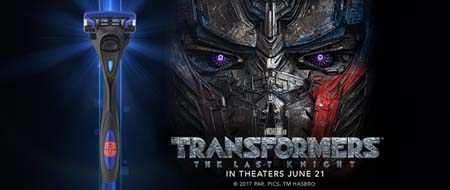 Schick Hydro Partners With Transformers: The Last Knight
Schick®Hydro® is partnering with Paramount Pictures' new movie, Transformers: The Last Knight, directed by Michael Bay, demonstrating how the brand continues to innovate the shaving category and brings to life the transformative powers of a great shave. The partnership highlights Hydrobot, the Schick Hydro iconic hero, a razor designed like no other, and leverages the platform, "Technology That Transforms" through a new TV commercial and Limited-Edition, collectible razors.
"We are committed to bringing movie fans the tools and experiences they crave to truly express who they are. We are thrilled to be partnering with Transformers: The Last Knight, and working with Michael Bay, a legendary filmmaker who has brought his incredible talent in directing and producing these blockbuster action films to our new TV campaign," said Anastasia Tobias, Schick Hydro Senior Brand Manager, Edgewell Personal Care.
"This Schick campaign provides a global platform to reach Transformers movie fans everywhere and ramp up excitement for the film," commented LeeAnne Stables, President of Worldwide Marketing Partnerships at Paramount Pictures. "Both brands have fully leveraged the partnerships through these creative spots from film director Michael Bay." (Web Site) www.schick.com
_____________________________________________________________________________________________________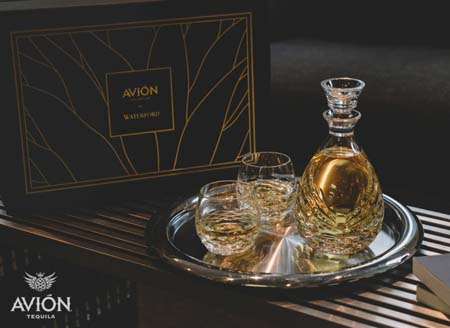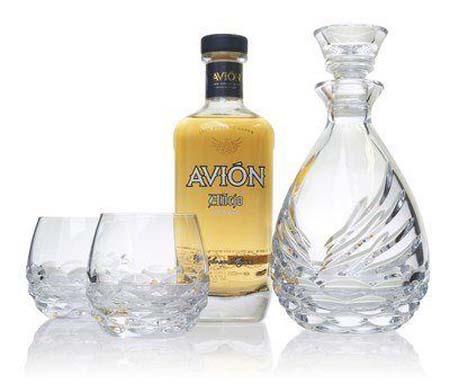 Tequila Avión And Waterford Partner To Launch The 'Avión Collection' Crystal Sipping Decanter Gift Set
Tequila Avión has partnered with Waterford, renowned for the finest quality crystal, to create the Avión Collection, a limited-edition, luxury decanter gift set. The collection includes both a fine crystal decanter and pair of crystal rocks glasses. The exclusive set was designed to provide tequila enthusiasts with a truly elevated sipping experience, helping aficionados enjoy the full aromas and flavors of this exemplary spirit.
"The true tequila aficionado is a growing group that is as informed as their counterparts in whiskey or wine these days," said Martin Williams, Senior Marketing Manager of Tequila Avión. "We have certainly witnessed an increase in the number of people sipping tequila either neat or on ice. You really understand the amazing aromas & complex flavors when you let high quality tequila stand-alone vs. mixing. In partnering with Waterford for the Avión Collection, we set out to provide consumers with a specially designed glass and decanter that allows one to fully appreciate the rich sensorial experience of Tequila Avión."
Drawing inspiration from Avión's single source Rare Blue Weber Agave the raw ingredient that's so critical to the quality and taste of Avión, the decanter and glasses were designed to resemble a freshly harvested agave "pina," the heart of the agave plant. The iconic wings of the Avión "flying agave" are also evident in the opulent cuts of the crystal. The Avión Collection is accompanied by a 750ml bottle of award-winning Avión Añejo tequila and enclosed in a striking custom black box.
"Waterford is renowned for craftsmanship and innovation and it has been a great pleasure to collaborate with Tequila Avión; as their philosophy of elevating tequila to an art and excellence in taste has cemented a natural partnership," said Howard Hyde Global Marketing Director, Waterford. "The Avión Collection decanter and glass has been thoughtfully designed with a slightly bulbous base, which tapers at the top, to allow for a more focused tasting experience; releasing the roasted agave aroma of the tequila as you sip. The ritual of pouring a glass of Avión neat or with the accompaniment of water or ice is further enhanced by the tactile cuts within the crystal creating the perfect grip to the luxurious weight of the Waterford decanter and glass." (Web Site) www.TequilaAvión.com
_____________________________________________________________________________________________________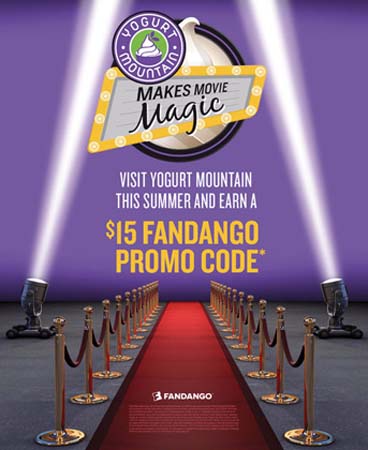 Yogurt Mountain Partners With Fandango For 'YOMO Takes You To The Movies' Campaign
Yogurt Mountain (YOMO) has teamed with Fandango, the ultimate digital network for all things movies, to create a limited-time offer for YOMO customers this summer. Customers can participate in the "YOMO Takes You to the Movies" campaign and earn great prizes like a YOMO Exclusive popcorn box and a Fandango Promo Code (while supplies last) with multiple visits to Yogurt Mountain.
Customers who register visits through the YoMobile system between now and July 19 can earn prizes on as little as two visits. After two visits, customers receive a Buy One, Get One Free mobile coupon; after five visits an exclusive YOMO popcorn box; after 10 visits the Fandango Promo Code which allows customers to receive up to $15.00 total ticket and convenience fee value towards one movie ticket to see any movie at Fandango partner theaters in the U.S.
"This is the third summer we have rewarded YOMO customers through the YoMobile system and adding Fandango as a partner this year makes it even better," said Julie Wade, Vice President of Yogurt Mountain. "Our customers love to visit during the summer, and this year customers have extra reasons to enjoy the experience," said Wade. "Adding the Fandango Promo Code offer makes a summer visit to YOMO even more special." (Web Site) www.yogurtmountain.com
_____________________________________________________________________________________________________
ThirdChannel Named 'Cool Vendor' In Unified Retail Commerce
ThirdChannel, the retail intelligence platform that delivers real-time store monitoring and optimization for the world's leading brands and retailers, has been named one of five "Cool Vendors" in the "Cool Vendors in Transforming Multichannel to Unified Retail Commerce, 2017" report released by analyst firm Gartner, Inc. The report outlines solutions to one of the most significant challenges facing the retail industry today: delivering a unified retail commerce journey and offering a personalized, consistent and comprehensive experience across all customer touchpoints to meet evolving consumer expectations.
ThirdChannel helps brands ensure that the customer experience in physical retail is optimized to meet expectations as one of the many touchpoints in the shopping journey.
The ThirdChannel platform offers brands and retailers access to real-time data across their networks of retail stores. Reporting on retail execution tactics like retail associate education, inventory management, customer engagement, and merchandising, and mapping how they impact sales, ThirdChannel makes recommendations to brands and retailers about how to solve the simple problems plaguing physical retail, and lift sales. (Web Site) www.thirdchannel.com
_____________________________________________________________________________________________________
DataXu And Placed First To Connect In-Store Consumers & Targeted TV
DataXu, a leading provider of programmatic marketing solutions, and Placed Inc., the leader in ad to in-store attribution, have formed a new integrated partnership that allows DataXu's brand and agency customers to reach audiences based on store visits across digital and television properties. Breaking new ground together, DataXu and Placed are now able to target in-store shoppers via connected TV, an industry-first that creates an exciting new avenue in which marketers are able to reach both new and existing customers.
This integration allows DataXu to reach consumers in Placed audience segments on connected TV devices using DataXu's OneView data activation product. Placed measures location data from over 150 million devices a month, which translates into 4.6 billion daily location signals. With a series of patents around location, Placed is the market share leader when it comes to connecting advertising with store visits, thanks to its unique Placed Attribution. DataXu customers now have access to Placed's market-leading attribution and unique audience data directly within DataXu's DSP platform. (Web Site) www.dataxu.com
_____________________________________________________________________________________________________
Cognistix Releases Cognistix Vision
Cognistix Vision is a new reporting interface that benefits from the Cognistix team's decades of experience in Retail Merchandising and Experiential Marketing. Cognistix's latest release highlights new reporting technology for MSOs, Retailers and Brands.
Many of the Vision reports are linked from a new Customer Dashboard that can be configured to display high-level metrics with drill-down access to more granular data regarding specific project, employee and store-related information. Cognistix Vision can easily be configured and customized to fit within your operating environment. (Web Site) www.cognistix.com
_____________________________________________________________________________________________________


_____________________________________________________________________________________________________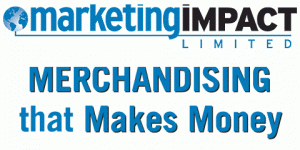 _____________________________________________________________________________________________________

_____________________________________________________________________________________________________
CLASSIFIED ADS
_____________________________________________________________________________________________________
CLICK ON IMAGE TO VIEW DIGITAL EDITION
_____________________________________________________________________________________________________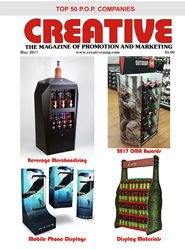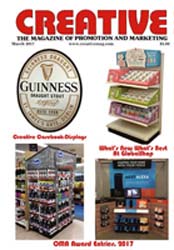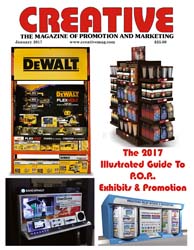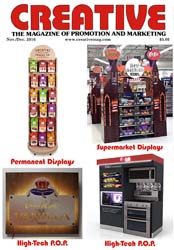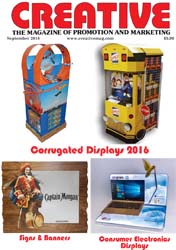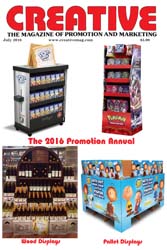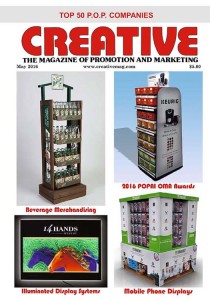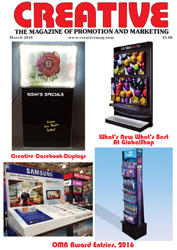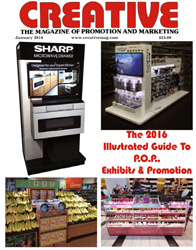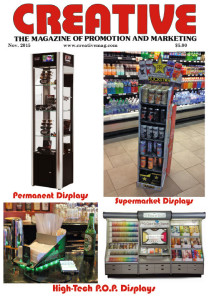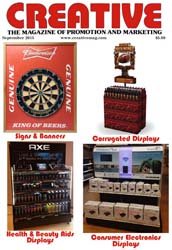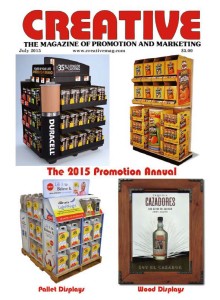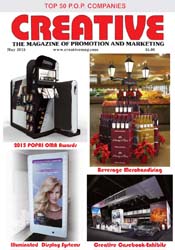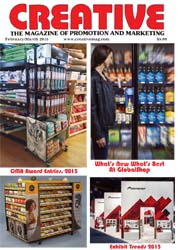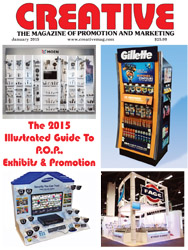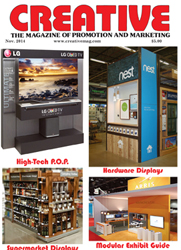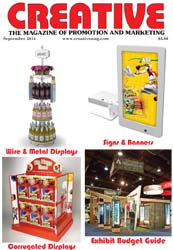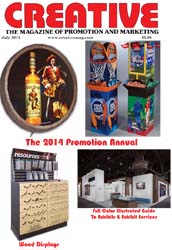 MAY 2014 ISSUE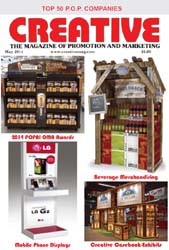 MARCH 2014 ISSUE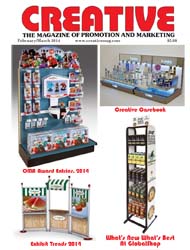 JANUARY 2014 ISSUE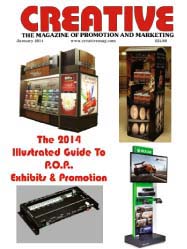 NOVEMBER 2013 ISSUE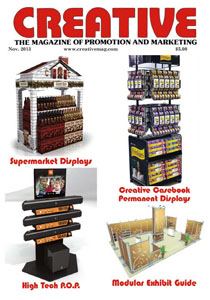 SEPTEMBER 2013 ISSUE
MAY 2013 ISSUE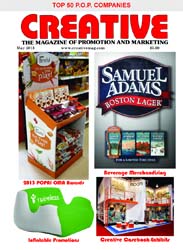 MARCH 2013 ISSUE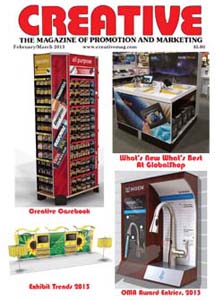 JANUARY 2013 ISSUE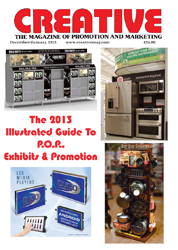 NOVEMBER 2012 ISSUE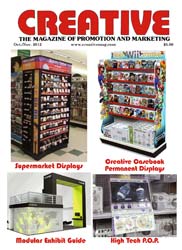 SEPTEMBER 2012 ISSUE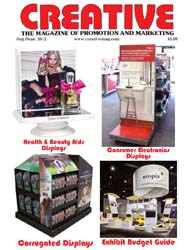 JULY 2012 ISSUE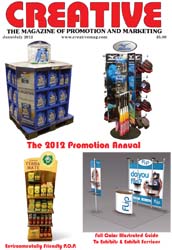 MAY 2012 ISSUE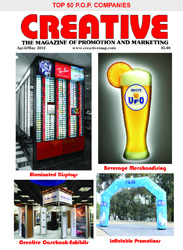 JANUARY 2012 ISSUE