_____________________________________________________________________________________________________



_____________________________________________________________________________________________________


_____________________________________________________________________________________________________


_____________________________________________________________________________________________________

_____________________________________________________________________________________________________


_____________________________________________________________________________________________________


_____________________________________________________________________________________________________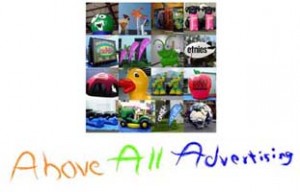 _____________________________________________________________________________________________________

_____________________________________________________________________________________________________

_____________________________________________________________________________________________________

_____________________________________________________________________________________________________

_____________________________________________________________________________________________________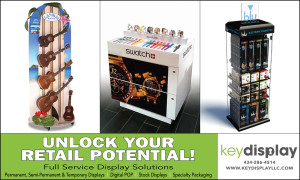 _____________________________________________________________________________________________________
HGTV HOME™ By Sherwin-Williams Introduces INFINITY® Paint At Lowe's Nationwide
HGTV HOME by Sherwin-Williams, a leading paint brand that brings together the design expertise of HGTV with the legendary quality of Sherwin-Williams, has launched INFINITY, a premium line of interior and exterior paint that will deliver on the 150-year-old company's highest quality standards and can be found exclusively at Lowe's stores nationwide. INFINITY is a complete, one-coat, paint and primer in one with exceptional hiding power and coverage. Manufactured with industry-leading technology and the highest quality materials, INFINITY offers extreme durability and the beautiful, designer-finished appearance both Pros and DIYers expect from this leading brand. INFINITY paint is available in 16 designer-inspired Color Collections, each featuring 20 coordinating colors. The Color Collections inspire individuals to be bold and mix-and-match their color choices to create a harmonious, cohesive look.
"INFINITY is 50 percent more scrubbable, washable and stain resistant than a leading competitive product, making it one of the most durable home products available," said Andrew Kinnen, Senior Director of Paint Marketing for Sherwin-Williams' Diversified Brands Division. "Additionally, INFINITY tackles one of the most frustrating DIY paint projects, dramatic color changes. INFINITY hides the original color 55 percent better than a leading competitive product. With INFINITY, we have combined several of our very best technologies, and we're redefining what customers should expect from paint." (Web Site) www.hgtv.com
_____________________________________________________________________________________________________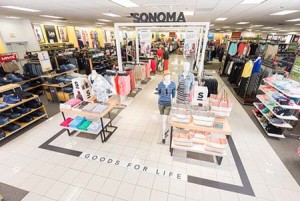 Kohl's Unveils Sonoma Goods For Life With New Look And Inspired Design
Kohl's has re-launched the billion-dollar private brand, Sonoma Goods For Life™, designed to offer a casual and easy lifestyle experience across all product categories to better serve today's families. As part of Kohl's focus on delivering amazing product, Sonoma Goods For Life's new, curated assortment delivers modern, useful and versatile fashion and home essentials and provides customers with goods that help them live smarter, simpler, better lives. Sonoma Goods For Life's new brand essence will come to life through elevated in-store experiences including refreshed packaging, fixtures and graphics.
"As part of Kohl's Greatness Agenda, we want to inspire our customers by giving them amazing products that deepen their engagement with our brand," said Michelle Gass, Kohl's chief merchandising and customer officer. "Sonoma Goods For Life is one of Kohl's largest brands and also represents the greatest opportunity for growth. We're elevating the collection and creating a more exciting and cohesive offering. We believe that the new Sonoma will resonate with our customers and build great momentum for Kohl's." (Web Site) www.kohls.com
_____________________________________________________________________________________________________
Red Robin Burger Works Opens Its Newest Restaurant In Illinois
Red Robin Burger Works is opening its newest fast-casual restaurant in Evanston, Illinois. The new Evanston restaurant remixes the iconic atmosphere of Red Robin Gourmet Burgers and Brews restaurants, which have welcomed guests for more than forty years, in a quick-serve dining format with a contemporary twist.
Now even more Chicago-area residents and workers will be able to "Get Their Quick Fix of YUMMM®" at Red Robin Burger Works and enjoy many of Red Robin's signature gourmet burgers and steak fries, starting at $6.99, including the Whiskey River® BBQ burger, Royal Red Robin Burger® (topped with a fresh fried egg), the Banzai Burger® with grilled pineapple or the Guacamole Bacon burger.
"We are excited to open the newest Red Robin Burger Works location and bring our mouth-watering burgers to another popular neighborhood in the Chicago area," said Jason Rusk, Vice President of Burger Works. "The community members who live near the Northwestern University campus will love having a great new option for lightning speed service, while experiencing Red Robin's signature gourmet burgers. We promise to have guests out of the door quickly after they order." (Web Site) www.rrburgerworks.com
_____________________________________________________________________________________________________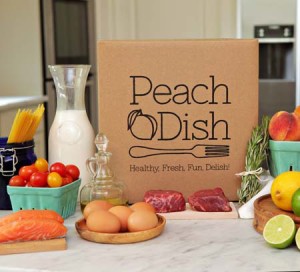 Homewood Suites By Hilton Launches First-Ever Meal Kit Delivery Service Partnership
Homewood Suites by Hilton has formed a partnership with meal kit delivery service PeachDish. Through its "Home Cooked Meals" program, Homewood Suites will offer guests discounted access – an approximate 20 percent savings – to PeachDish's service which will deliver pre-portioned ingredients to prepare fresh, seasonal meals for guests to cook in their suite's fully-equipped kitchen. The program will first be introduced in Atlanta and Dallas – two of the hotel brand's largest markets – during a three-month introduction.
"Homewood Suites concentrates on making our guests' stay as comfortable and convenient as possible, and we are always looking for new ways to deliver on this," said Christian Kuhn, vice president of marketing, Homewood Suites by Hilton. "'Our Home Cooked Meals' partnership with PeachDish provides travelers the simple pleasure of cooking a delicious, healthy meal in their suite without the hassle of shopping or buying more food than they will need."
____________________________________________________________________________________________________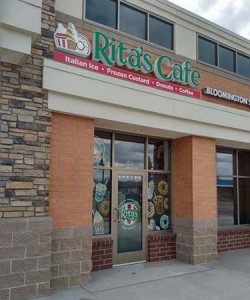 Rita's Italian Ice Tests New Cafe Concept With Custom Donut Creations
Rita's Italian Ice, the world's largest Italian Ice brand with more than 600 stores worldwide, has begun testing a new cafe concept with the opening of a location in Albuquerque, New Mexico – the first of five Rita's Cafe stores in the U.S. The new concept is an exciting evolution of the brands' beloved frozen treat offerings, which in the select markets, will now include fresh donuts, coffee and specialty drinks, in addition to its signature Italian Ice and famous Frozen Custard treats.
"Expanding our menu with fresh, custom donuts and coffee creations was an obvious choice for us," said John Small, vice president of international and concept development at Rita's Franchise Company. "As we looked to expand business hours to new dayparts, the cafe concept gave us the perfect opportunity to provide our guests with delicious, quality products that also naturally fit within our existing menu of famous frozen treats."
In addition to Rita's signature Italian Ice and Frozen Custard, the Rita's cafe menu will include unique donut creations such as Maple Bacon, French Toast, Chocolate Chip and Strawberry Shortcake, as well as create-your-own options – customizing a freshly made Vanilla Cake Donut with a variety of icings and toppings of choice. In addition to fresh donuts, Rita's Cafe will offer specialty beverages combining Rita's award-winning Frozen Custard with coffee, espresso and hot chocolate, and will feature new items that combine fresh donuts into frozen treats such as a Donut Blendini, Donut Sundae and Donut Milkshake.
_____________________________________________________________________________________________________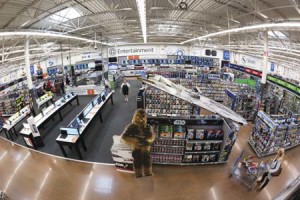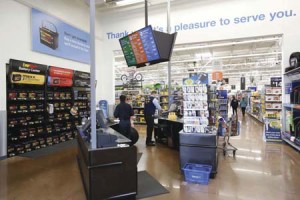 Walmart Supercenter #5260 In Rogers, Arkansas Gets Updated Look
Walmart Supercenter #5260 in Rogers, Arkansas, recently received a fresh new look. Added into the refreshed look were several new approaches to technologies, services, products and layouts, which are currently being tested with customers. Early reports are positive, but it's too soon to tell what's working and what isn't. What's clear: Things that seem straightforward could show up in new stores or remodels. Store 5260 is simply the first step toward the supercenter of the future, but it's critical to informing upcoming tests.
Electronics department: The electronics and entertainment areas have a sleek, modern look that customers say feels very welcoming and on-trend. Produce Department: A New Angle on Fresh-A reorganization (along with improved sight lines and angled aisles) puts berries – a growing category – in the front of the department. Bananas, already a huge draw, are toward the back to help lead customers through. Purple signage in Fresh and throughout the store connects to an increase in organic products. Digital menu boards and service signage in a Walmart automotive area: Along with new digital menu boards and signage in automotive, there's a comfortable customer waiting area – furnished with items from Walmart.com. Customers can watch TV, enjoy a coffee, charge their phones, and see their cars being serviced. In-Store Pickup and Walmart Services share space up front at Store 5260. It's clearly marked so customers can find it and get their orders quickly. A wide checkout area features double belts to place your items on for faster checkout. There are multiple options for checkout. Scan & Go supplies a wand so customers can scan items as they're shopping. Hybrid registers can be self-service or manned by associates, depending on the need. And high-velocity checkouts – where a cashier scans items while the customer moves through the line to pay – are more than three times faster than conventional checkouts. One-Stop Baby Shop: The new baby department combines it all in one space. There's even a stroller garage for hands-on tryouts. Local Eats: A local food truck operator, Big Rub BBQ, has restaurant space in the store, with lots of glass and natural light – and even seating on an outdoor patio!
____________________________________________________________________________________________________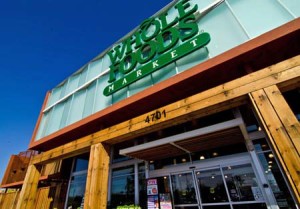 Whole Foods Market And NRG To Plan Large Scale Commercial Solar Project Portfolio
Whole Foods Market, America's healthiest grocery store, in conjunction with NRG Energy, the country's leading integrated competitive power company, plans to install rooftop solar at up to 84 Whole Foods stores and distribution centers across 9 states to generate renewable energy onsite. When completed and determined by final negotiations and analysis, the portfolio of solar projects has the potential to generate up to 13.8 megawatts (MW) of solar power.
NRG will help Whole Foods Market build what may become, upon completion, one of the largest commercial rooftop solar installations in the country. NRG's single-brand, multi-site approach facilitated a streamlined process to obtain contracted solar generation and tailored financing options that allowed NRG to meet Whole Foods Market's needs.
"Installing solar at Whole Foods Market locations across the country will increase the percentage of renewable energy that is generated in communities where we work," said Kathy Loftus, Global Leader in Sustainability for Whole Foods Market. "We're thrilled to work with NRG to bring about this multiple stakeholder view of our clean energy goals while simultaneously maximizing the utilization of resources."
_____________________________________________________________________________________________________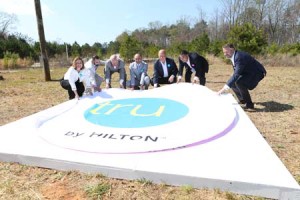 Tru By Hilton Breaks Ground On First Property
Hilton Worldwide broke ground on its very first Tru by Hilton property located in McDonough, Georgia. The 98-room, 4-story hotel is located at 251 Avalon Court and is owned by McDonough Hotel Partners, LLC. It is expected to be completed in summer of 2017.
"Tru is a disruptive brand, as evidenced by its statement-making entrance to the midscale category and now the Atlanta market," said Alexandra Jaritz, global head for Tru by Hilton. "We know the brand will have broad appeal to Atlanta-area travelers who span generations but share a similar youthful mindset. At its core, Tru is value-engineered to provide guests with a contemporary, consistent and fresh experience in an affordable way, while at the same time being operationally efficient to our owners."
When completed, the new Tru by Hilton McDonough will provide guests with smart and efficiently designed guest rooms and reimagined public spaces, including an open lobby with four distinct zones for lounging, working, eating or playing. Designed to appeal cross-generationally, complimentary amenities will include breakfast, coffee and tea; mobile check-in and Digital Key available through the Hilton HHonors mobile app; a multifunctional fitness center; and segment-leading Wi-Fi bandwidth.
"With Tru by Hilton, we are breaking through the clutter of undistinguished offerings in the midscale sector and delivering a hotel that travelers will want to go to rather than just through," said Matt Wehling, senior vice president of development – North America, Hilton Worldwide. "Our fantastic partners within McDonough Hospitality Partners and Vision Hospitality are the first of many developers that see the opportunity Tru creates and will be breaking ground across the US in the coming months."
_____________________________________________________________________________________________________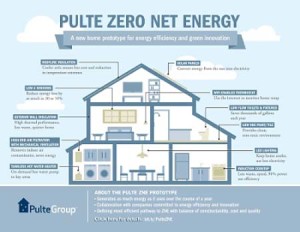 PulteGroup Prototyping Innovative Zero Net Energy Home
PulteGroup has produced a zero net energy (ZNE) home prototype in Northern California, becoming the largest builder to participate in a pilot aimed at building new homes to achieve maximum energy efficiency and utility grid load reduction.
"The Pulte ZNE prototype will help guide and create best practices for the Company in building more energy efficient new homes in California and, ultimately, across the nation," said Ryan Marshall, president of PulteGroup. "Our goal for this prototype is to help define the most efficient path to building zero net energy homes that effectively balance constructability, cost and quality."
The Pulte ZNE home prototype embraces California's long-term zero net energy goals by leveraging advanced design, construction and on-site renewable energy solutions. The home's design combines airtight building methods, highly efficient insulation, HVAC, lighting technologies and more, with on-site solar energy production to offset the home's energy consumption. Pulte is participating in Pacific Gas and Electric Company's (PG&E) Zero Net Energy Production Builder Demonstration program that supports California's energy efficiency and climate goals for all new residential construction to be zero net energy by 2020.
"California is clearly leading the charge on zero net energy, and we believe this is an opportunity to harness the lessons learned with our building partners so we can offer consumers the ultimate combination of affordability, quality and energy efficiency in the future," Marshall said. "We are already developing plans for future zero net prototypes."
A ZNE home or building is one designed with the goal of producing as much energy as it uses during a year. To cope with fluctuations in demand, ZNE homes are typically connected to the grid, exporting electricity when there is a surplus, and drawing electricity when not enough is being produced. Construction of the prototype in Botanica by Pulte Homes in Brentwood is expected to be complete in May 2016. The energy performance of the home will be monitored for a year after it is sold, and overall energy performance and consumption will be evaluated.
_____________________________________________________________________________________________________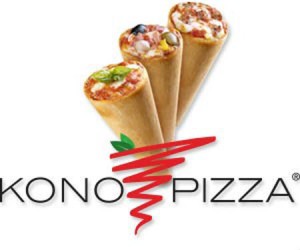 Kono USA Introduces 'Kono To-Go' Brand
Kono USA, the franchisor that first introduced the popular pizza-in-a-cone concept to the United States in 2013 as "The Original" Kono Pizza, has expanded its brand portfolio with the addition of "Kono To-Go" – Fresh Eats, Treats & Sweets. The first two Kono To-Go locations are slated to open in mid-April in Dallas and Baltimore. The strategic introduction of the new brand follows robust growth in 2015, including long lines of customers at existing Kono Pizza locations and more than 40 franchise agreements for new mobile carts, kiosks and in-line units at malls, Walmart stores and other high-traffic venues. In 2016, the company is on track to add 75-100 locations across the country.
Kono To-Go reflects the diverse menu offerings beyond its staple pizza-in-a-cone and positions the franchise for continued growth in the snack category. The potential for Kono To-Go to thrive within the snack segment is evidenced by the popularity of a new kiosk at the Cherry Hill Mall in New Jersey, which flourishes amid multiple snack brand choices available to shoppers.
Both "The Original" Kono Pizza and the new Kono To-Go franchises offer the same variety of quality products, including breakfast, deli, pizza and dessert items, all served in freshly-baked dough cones. Items are prepared using ingredients inspired by original Italian recipes and baked in just three minutes in the brand's proprietary oven. However, with the introduction of Kono To-Go, franchisees will now have the flexibility to open with either name, depending on which one best suits their market. Franchisees can also choose between traditional brick and mortar stores, kiosks, mobile carts, in-line stores or a combination of the models.
_____________________________________________________________________________________________________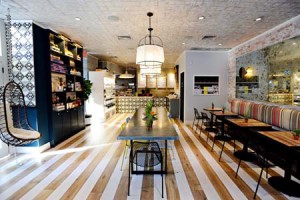 ESquared Hospitality Expands by CHLOE. Brand
ESquared Hospitality's by CHLOE. brand will join 365 by Whole Foods Market™ as its first partner in the Friends of 365 in-store program. by CHLOE. will be part of the first 365 location, which will open in late May in the Silver Lake neighborhood of Los Angeles, marking the popular plant-based, fast-casual brand's first location outside of New York City.
Friends of 365 is an opportunity for innovative businesses and entrepreneurs that align with the mission and quality standards of Whole Foods Market® (WFM) to establish their own independent retail spaces inside of 365 stores. As the first "Friend of 365," by CHLOE. will feature its own space within the 365 by Whole Foods Market Silver Lake location, offering a core menu of items reflective of the flagship by CHLOE. location in NYC, accented with seasonal LA-influenced Market Specials.
"As we countdown the days to the first 365 by Whole Foods Market grand opening, I'm thrilled to unveil our first Friends of 365 partner, by CHLOE., in Silver Lake," said Jeff Turnas, president of 365 by Whole Foods Market. "by CHLOE. truly embodies what we look for in partners – innovative businesses that align with our core values and introduce our customers to new food products and up and coming brands."
by CHLOE. will be located adjacent to the fresh produce section. Guests can dine-in at by CHLOE., at the communal dining space within 365 by Whole Foods Market, or take their order to-go at their convenience. The menu will feature signature items from by CHLOE.'s beloved menu such as The Guac Burger, Quinoa Taco Salad, Mac n Cheese, and Air-Baked Fries; a selection of sweets including Old Fashioned Chocolate Chip Cookies, Chlostess Cupcakes and Vegan Cinnamon Rolls; Juice by CHLOE., Ice Cream by CHLOE. and more.
"We're truly excited for the opportunity to announce our brand expansion outside of NYC and to bring the by CHLOE. brand to the West Coast by partnering with 365 by Whole Foods Market," said Samantha Wasser, co-partner of by CHLOE. and creative director of ESquared Hospitality. "To be the inaugural Friend of 365 in this venture is such an incredible honor and we're looking forward to connecting with their like-minded customers."
_____________________________________________________________________________________________________
Aunt Fannie's Introduces New Line Of Food-Based Cleansers
Aunt Fannie's, Inc., a line of highly-effective, food-based Healthy Housekeeping™ solutions, introduces new household and food service cleansers that will drastically reduce the number of harmful chemicals in homes and food establishments across America. Unlike other conventional cleaners on the market, Aunt Fannie's Cleaning Vinegar is created with food-based ingredients, which makes it so safe it can be used directly on food or to clean food-contact surfaces. Complementary to the company's popular FlyPunch!, this new line of cleansers further supports Aunt Fannie's mission to empower families to take back their homes from toxins, make restaurants safer places to share a meal and help food manufacturers create wholesome foods without risk of chemical contamination. Aunt Fannie's Cleaning Vinegars have all the cleaning power of vinegar, without the vinegar smell — making them just as, and in some cases more, effective than commercial cleaners. Made from garden-fresh herbs and fruits, Aunt Fannie's Cleaning Vinegars are available in four aromatic varieties, Eucalyptus, Lime Mint, Sweet Mandarin and Lavender, making healthy housekeeping easy and enjoyable.
_____________________________________________________________________________________________________
Brisk Iced Tea Introduces Brisk Mate
Brisk®, the iced tea brand known for its bold flavors, is taking inspiration from South America by introducing a new product line-Brisk Mate (pronounced mah-tay)-a smooth energizing iced tea, with the Brisk flavor fans know and love, blended with South American Yerba Mate. Brisk Mate will be available in 16-oz. cans (90 calories per can) in three bold flavors: Mango, Dragonfruit and Cherry.
"Yerba Mate has been enjoyed in South America for hundreds of years because of its energizing qualities," said Mandy Mazzeo, Marketing Manager, Brisk. "Brisk Mate gives Brisk fans what they've been asking for, a smooth, energizing iced tea with the great-tasting, bold flavors they expect from Brisk."
_____________________________________________________________________________________________________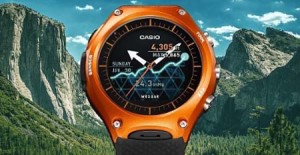 Casio Introduces Smart Outdoor Watch
Casio America has unveiled a variety of new models – including the company's new Smart Outdoor Watch, the WSD-F10 – to its portfolio of high-performance timepieces.
The WSD-F10 is the company's first official entry into the smart watch category, and features a dual-layered LCD comprised of a color and monochrome touch display. The new watch utilizes the Android Wear™ platform and comes equipped with a wide range of useful apps and features that are perfect for a tech-savvy outdoor enthusiast. Users can check direction, altitude, atmospheric pressure, sunrise and sunset times, tide graphs and activity graphs, and more. They can also tap into apps such as email alert, weather, maps, voice search and more to help them stay connected while navigating the outdoors.
_____________________________________________________________________________________________________
Naturally Gluten-Free Coors Peak Expands Portfolio With Golden Lager
Following a strong launch in the Pacific Northwest last year, MillerCoors is expanding its naturally gluten-free Coors Peak offering with a second style, Golden Lager. Like its predecessor Copper Lager, Coors Peak Golden Lager is brewed with 100 percent all-natural, gluten-free ingredients including California brown rice and Pacific Northwest hops. While Copper Lager is a rich copper color with a slight caramel profile, Golden Lager is bright and balanced, with a toasted malt backbone and hints of citrusy hops.
Coors Peak Golden Lager is a full-flavored, medium-bodied beer that contains five percent alcohol by volume. Coors Peak Copper and Golden Lagers are naturally gluten free from grain to glass and are certified gluten free by the Gluten Intolerance Group. Coors Peak Copper and Golden Lagers are available in the Seattle and Portland metropolitan areas.
"We spent nearly five years experimenting with different grains to develop a great tasting beer that is 100 percent naturally gluten free," said Troy Rysewyk, MillerCoors manager of brewing technology and innovation. "We wanted to highlight the versatility of our signature brewing process and ingredients by developing additional styles. After considering multiple grain options including sorghum, amaranth and quinoa, we are proud to be the only major brewer crafting a great tasting, naturally gluten-free beer brewed from brown rice."
_____________________________________________________________________________________________________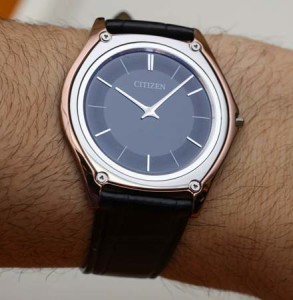 CITIZEN Eco-Drive One Watch Introduced
It has been 40 years since CITIZEN invented the world's first analog quartz watch that uses light as a power source. For this milestone, CITIZEN has introduced its latest flagship model, Eco-Drive One which is the world's thinnest light-powered analog quartz watch with a 2.98mm case and 1.00 mm movement. Capturing the rank of 'world's thinnest' required redesigning almost every part of the movement, the structure of parts by using CITIZEN's most advanced processing techniques. CITIZEN also improved on its Eco-Drive technology. For example, in spite of its thinness, Eco-Drive One runs 10 months on a single full charge by successfully reducing energy consumption.
_____________________________________________________________________________________________________
DRY Soda Co. Launches New Fuji Apple DRY Sparkling
DRY Soda Co., tastemakers of gourmet sparkling beverages, is expanding its beverage offering with the launch of Fuji Apple DRY Sparkling. Full bodied and elegant, Fuji Apple DRY Sparkling celebrates the sweet, crisp taste of one of the world's most beloved apples. The luscious new flavor will be sold exclusively at 1300+ Target stores nationwide from April through September, with additional national retailers to be added in the fall of 2016.
"Fuji apples have been one of my favorite fruits since before I can remember. It's very exciting to bring the flavor of these apples to the DRY line," said Sharelle Klaus, founder and CEO of DRY Soda Co. "The flavor profile of Fuji Apple DRY Sparkling is so refreshing – much lighter and more elegant tasting than the heavy, sugary ciders and other apple drinks on the market. It is great straight out of the bottle, but it also pairs well with so many of my favorite meals – not to mention, the cocktail possibilities are endless. Adding Fuji Apple to our core line was an easy decision. We are thrilled to be launching it at select Target stores, alongside four of our other flavors."
_____________________________________________________________________________________________________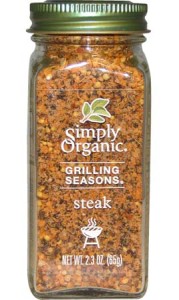 World Finer Foods Adds Dimply's Rub & Grill To Its Product Assortment
Liberty Richter, a division of World Finer Foods, a leading supplier of specialty food, beverage and personal care products from around the U.S. and the world, has added Dimply's Authentic Rub & Grill seasonings and marinades to the Company's select assortment of premium products. Inspired by years of outdoor grilling surrounded by family and friends, Anish Patel, owner of Dimply's, wanted a greater variety of grilling seasonings. With more than 100 years of family experience in the spice business, Patel traveled the U.S. to root out the best authentic flavors in American grilling to create unique spice blends.
"We're excited that the spirited Dimply's brand is joining our prestigious portfolio of specialty products," said Susan Guerin, CEO of World Finer Foods. "Its lively 'spokespig', Dimply, vibrant packaging and complex yet familiar flavor profiles, is a combination that consumers will embrace. We look forward to expanding its loyal customer base from Texas across the U.S."
_____________________________________________________________________________________________________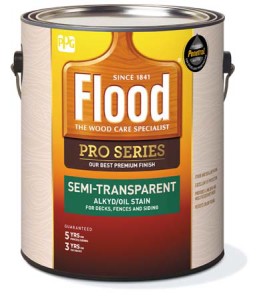 FLOOD Brand Launches Flood Pro Series Wood Care Line
FLOOD® wood care, a brand of the PPG architectural coatings business, has launched its new comprehensive Flood Pro Series line of professional stains, finishes and preparation products available exclusively at PPG PAINTS™ stores and independent retailers nationwide. Developed to deliver on the staining needs of the professional, the new Flood Pro Series line combines popular existing formulas with several new and improved formulas to provide highly durable products with easy application. Backed by the Flood brand's 175-year heritage, the new Flood Pro Series line was created through extensive research and collaboration with PPG's global wood care technology resources. The program includes a core line of stains, finishes, preparation products and a new resurfacer product. It will also include a broader color platform of 40 semi-transparent and more than 120 solid hues that enhance the natural beauty of wood, in addition to new product labels.
"The Flood Pro Series line boasts some of our best, most durable products in order to better serve the needs of professionals," said Jennifer Dodson, PPG senior manager, wood care, architectural coatings, U.S. and Canada.
_____________________________________________________________________________________________________
Evolution Fresh Introduces Four New Juice Varieties
Evolution Fresh has introduced four new juice varieties. The four new Evolution Fresh juices will be available nationally this spring at select Whole Foods as well as natural and premium grocery stores. Sweet Greens and Lemon, Essential Greens with Lime, Organic Sweet Greens and Ginger, Smooth Greens with Kale and Organic Greens with Kale are made from more than one pound of green vegetables.
_____________________________________________________________________________________________________
hello Offers Naturally Friendly Kids' Toothpastes
hello® naturally friendly™ oral care is bringing smiles to the aisles of Walmart stores nationwide with its line of kids' toothpastes. With hello, parents can end brush time negotiations with their kids: kids get flavors so awesome they'll rush to brush, and parents get thoughtfully selected ingredients they can feel good about, with formulations free from artificial sweeteners, dyes, parabens, triclosan, or microbeads. hello kids fluoride pastes are ADA accepted and clinically proven to prevent cavities and strengthen enamel. For little ones who may swallow paste or for parents who don't want to give their children fluoride, hello has introduced new fluoride and SLS free toothpaste in natural watermelon flavor.
_____________________________________________________________________________________________________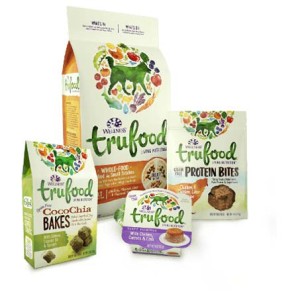 Wellness® Debuts TruFood® Whole Food Wet Meal Complements, For Cats And Dogs
Wellness® Natural Pet Food has introduced the newest additions to its Wellness® TruFood® line: Grain Free Wellness TruFood Meal Complements for cats and dogs, made with whole prey proteins and fresh produce. Each recipe contains no more than five ingredients, making them a simple, pure and natural appetizer, snack or meal topper to complement and enhance pets' existing diets.
"The Wellness TruFood line was created to help make it easy for pet parents to serve their pets natural, grain-free, raw-inspired meals," says Lisa Laich, Director of Marketing at Wellness. "TruFood Complements are a delicious, healthy way for pet parents to make mealtime more special. They contain a limited number of quality ingredients that pack big flavors into a moist mealtime topper or savory snack."
_____________________________________________________________________________________________________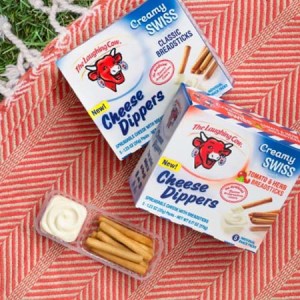 The Laughing Cow® Introduces New On-The-Go Snacking Innovation: Cheese Dippers
The Laughing Cow® has introduced its newest innovation, Cheese Dippers, a portable, individually portioned snack featuring The Laughing Cow's rich, creamy cheese and crunchy breadsticks. The brand's new offering addresses consumers' increasingly on-the-go lifestyles and appeals to adults and children alike. Each serving provides an excellent source of calcium, delivers 4 grams of protein, and contains no artificial flavors, colors or preservatives. These factors combined with great taste and convenience make Cheese Dippers an ideal snack choice to savor on the go. Cheese Dippers is currently rolling out on store shelves and will reach nationwide distribution by May 2016 with two flavor varieties – Creamy Swiss with Classic Breadsticks and Creamy Swiss with Tomato & Herb Breadsticks.
"The release of Cheese Dippers ties perfectly into The Laughing Cow's current Reinvent Snacking campaign, which aims to bring mindful satisfaction to consumers' unique snacking experiences," said Dan Waters, chief marketing officer at Bel Brands USA, parent company to The Laughing Cow. "With its portability, Cheese Dippers gives our consumers the chance to snack adventurously."
_____________________________________________________________________________________________________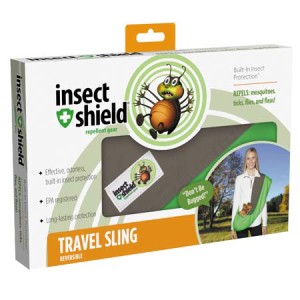 Insect Shield® Repellent Expands Apparel And Gear Products In 2016
Insect Shield® technology, originally developed for the US military, is widely utilized throughout a multitude of industries including outdoor lifestyle, work wear, global health, pet and equestrian. New interest from the lawn, garden and hardware industry is sparking strong sales as retailers seek to provide additional methods of insect protection for their customers in the wake of the Lyme disease epidemic and recent concerns about Zika virus and other dangerous insect-borne illnesses. In response to strong sales and demand, Insect Shield has expanded the 2016 hardware offering to include hats and socks, enhancing buying options for retailers and personal insect protection choices for consumers.
_____________________________________________________________________________________________________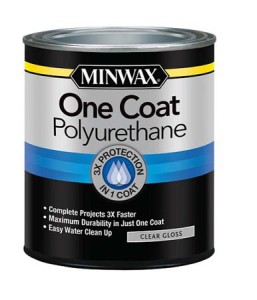 Minwax® One Coat Polyurethane Introduced
Minwax® has developed new One Coat Polyurethane for added protection in one simple step. With just a single coat, you will quickly and easily add durable protection to your next project and preserve the unique and beautiful grain of the wood. Compared to a traditional three-coat application, One Coat Polyurethane provides a crystal clear protective topcoat in a single application. Not only does it allow you to complete your project up to three times faster, but you also achieve the same level of durability with less effort. One Coat Polyurethane is recommended for use on most wood projects including decorative items, furniture and trim.
"Regardless of how much you enjoy doing DIY projects, everyone appreciates products and tips that allow them to complete projects faster and easier," said Jacquelyn Ferrara, Director of Marketing at Minwax. "Minwax® One Coat Polyurethane makes it possible to get the protection that's essential to preserving the look of wood without having to spend the extra time it takes to apply multiple coats of finish."
_____________________________________________________________________________________________________
LucidSound Transforms Gaming Audio With New LS30 Wireless Headset
LucidSound, creator of the most groundbreaking new headsets in gaming, has launched the LS30 Universal Wireless Gaming Headset. Every detail of the LS30 was developed with gamers in mind, with a focus on an innovative interface, ultimate comfort, solid construction, and something yet to be seen in a gaming headset…incredible style. The intuitive controls for game volume, chat volume, and game and mic mute allow for effortless access while playing. Compatible with PlayStation®4, Xbox One, PlayStation® 3, Xbox 360, mobile phones, and mobile gaming devices, the LS30 features a groundbreaking design centered on comfort, style, and innovative controls. 50mm Neodymium drivers provide deep bass and clear highs. With three audio modes, Normal, Bass Boost and Treble Boost, gamers can find the best sound for a wide range of gaming, while the rechargeable battery offers up to 15 hours of uninterrupted, comfortable gameplay. Advanced 2.4GHz uncompressed wireless technology provides the best possible sound quality and proprietary channel-hopping technology for interference-free audio.
_____________________________________________________________________________________________________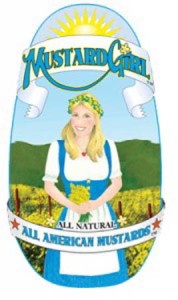 Mustard Girl All American Mustards™ Hits Target Stores Nationwide
Mustard Girl All American Mustards makes its debut in all Target stores nationwide reflecting Target's commitment to promote unique, all-American, healthy brands on a national level. Jennifer Connor founded Mustard Girl All American Mustard in 2009. Target will carry the full line of Mustard Girl, which includes Sweet N' Spicey Honey Mustard, Stoneground Deli, Sweet N' Fancy Yellow, American Dijon and Zesty Horseradish. All varieties are all-natural, gluten-free, fat-free, low in sodium, Kosher, and contain no preservatives and no high fructose corn syrup. The mustards make sandwiches come to life, but they can also be used as marinades or for dipping. With healthy ingredients such a turmeric, Mustard Girl Mustards make for a healthy choice in the condiment aisle.
_____________________________________________________________________________________________________
Nike Debuts HyerAdapt 1.0
Nike has introduced Nike HyperAdapt 1.0, which introduces the future of sport-informed adaptive lacing. The Nike HyperAdapt 1.0 is the payoff of significant research into digital, electrical and mechanical engineering. Powered by an underfoot-lacing mechanism, the shoe proposes a groundbreaking solution to individual idiosyncrasies in lacing and fit preferences. That means the undue pressure caused by tight tying and slippage resulting from loose laces are relics of the past. Precise, consistent, personalized lockdown can now be manually adjusted on the go.
_____________________________________________________________________________________________________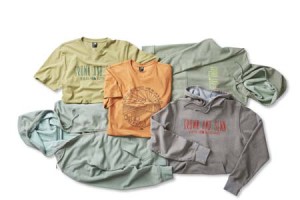 North Face Expands Made In The U.S.A. 'Backyard Project' Collection
The North Face, the world's premier supplier of authentic, innovative and technically advanced outdoor apparel, equipment and footwear, has launched the second installment of its locally produced, Made in the U.S.A. clothing line, The Backyard Project. For this new line, The North Face challenged itself to find ways to expand and scale its pilot project with a goal of increasing both domestic production and impact. The Backyard Project again brought together a collective of farmers, artisans and small businesses to achieve increased production, new styles and colors and a lower price point for consumers. From last year's single-color, unisex hoodie, The Backyard Project has expanded to now include men's t-shirts, as well as both men's and women's full zip and pullover hoodies, and will now be available in more than eight colors – all sourced and manufactured within the U.S.A. One hundred percent of the cotton used for The Backyard Project was grown in the U.S.A. The cotton for this year's Backyard Project was also ginned in California and Arizona and spun into yarn in South Carolina, before being dyed, cut and sewn in Los Angeles. The new Backyard Project line of products are available in select retail stores and online in the U.S.A.
"The Backyard Project is about connecting with local artisans right here in the U.S.A. It's about knowing which farms grew your cotton, who spun the yarn, or how your product was dyed. We learned a lot during Backyard's 2014 introduction and challenged ourselves to produce a bigger run of locally sourced clothing this season," said Sumi Scott, Director of Sportswear, The North Face.
_____________________________________________________________________________________________________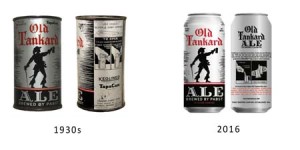 Pabst Brewing Company Rolls-Out Old Tankard Ale Nationwide
Pabst Brewing Company has released Old Tankard Ale nation-wide. The classic post-prohibition brew has been available on draft in Wisconsin, Illinois, Indiana, Minnesota, and Michigan since October 2015. After a highly successful trial run, Old Tankard Ale will now be available on draft and in 16oz cans across the country. Old Tankard is a classic American Ale that was first produced in Wisconsin in the 1930s, eventually becoming the #2 ale in America. Today, Old Tankard is brewed based on a recipe from Pabst's 1937 brewer's log, using an authentic ale yeast with an alcohol content of 5.8% and 35 bitterness units. The top fermented brew has 2-row, imported Cara-Munich and Cara-Aroma malts with Nugget, Liberty, Willamette and Cascade hops. The result is a well-balanced, sessionable craft brew with a rich copper color, creamy head, and full body taste with notes of fruit and malt.
Pabst's Master Brewer and Wisconsin native Greg Deuhs, said, "Pabst has a rich craft brewing heritage that dates back to the 19th century. Old Tankard Ale was the first craft brew in the Pabst brand family, and it is an honor to revive its legacy. We spent a lot of time making sure we stayed true to the original recipe and used only the highest quality ingredients. I'm very proud of the result."
_____________________________________________________________________________________________________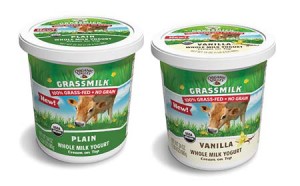 Organic Valley Launches Organic Grassmilk Yogurt In Two Flavors
Organic Valley, the nation's largest cooperative of organic farmers and a leading organic brand, has launched Organic Valley Grassmilk Yogurt. Offered in plain and vanilla flavors, the yogurt is made from organic whole milk produced by cows that eat no grains, only fresh green pasture and dried forages. Products made from organic, 100 percent grass-fed milk are uniquely complex in their flavor profile, not unlike fine wine, single-origin chocolate or estate-grown coffee. Organic Valley crafts its new yogurt with non-homogenized whole Grassmilk milk cultured in small batches and cup-set for artisanal quality. The yogurt is also nutritionally exceptional. It flows with naturally occurring calcium, higher levels of conjugated linoleic acid (CLA) and omega-3, and a more healthful ratio of omega-3 to omega-6 fatty acids.
_____________________________________________________________________________________________________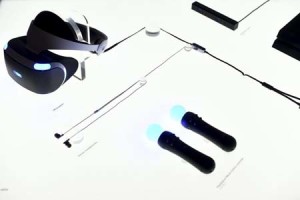 Playstation VR To Launch Globally
Sony Computer Entertainment announced that PlayStation®VR (PS VR), a virtual reality system that takes the PlayStation®4 (PS4™) system to the next level of immersion, will launch from October 2016. Currently more than 230 developers and publishers are working on PS VR software titles, from smaller independent teams to larger studios at the industry's top publishers such as 2K Games and Ubisoft®. The system also has a Cinematic mode, which lets users enjoy a variety of content in a large virtual screen while wearing the headset. Supported content for the Cinematic mode includes standard PS4 games and videos as well as variety of PS4 features including Share Play and Live from PlayStation. Users will also be able to enjoy 360 degrees photos and videos that are captured by devices such as omnidirectional cameras on PS VR via PS4 Media Player, which will let them feel as if they are physically inside the captured scene.
_____________________________________________________________________________________________________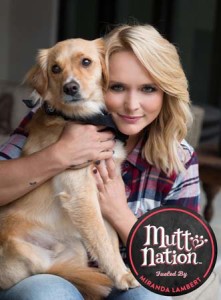 Petmate Teams Up With Miranda Lambert To Introduce MuttNation Pet Collection
Petmate®, a worldwide provider of fun, trusted, quality products to enhance the lives of pets and their families, and country music superstar Miranda Lambert are teaming up to launch the MuttNation™ Pet Collection by Miranda Lambert brand. Every purchase will help fund rescue and adoption programs of MuttNation Foundation™, the organization established by Miranda and her mother Beverly Lambert in 2009. The comprehensive collection of bedding, collars, leashes, toys, apparel, feeding and watering products reflect Miranda's lifestyle. The product unites a country chic feel with a rock & roll flair. The vintage prints and antique hardware are inspirations of Miranda Lambert's signature look. One of the highlights is the Rescue Mutts collection of six plush puppies – each toy puppy was created from a real-life rescue dog with its own story. Each tale is a touching depiction of the dog's adoption and their new family.
"This partnership represents a major commitment to help put a stop to the epidemic of homeless pets sweeping our nation," says Chris Wilson, the company's executive vice president for product development. "We are so excited to create a collection that provides ongoing support for MuttNation Foundation. The MuttNation product line truly reflects Miranda's lifestyle and her passion for pets."
_____________________________________________________________________________________________________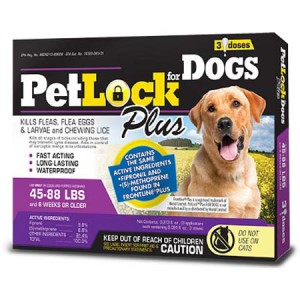 PetLock(R) Launches New Line Of Flea And Tick Treatment And Prevention Products
PetLock(R) has launched its full line of quality and affordable products for the treatment and prevention of fleas, ticks, and other pests on dogs and cats, inside the home, and other outdoor areas. PetLock products are exclusively sold at Petco and other pet specialty stores. Prevention Products include: PetLock Plus (For Dogs and Cats) – Same active ingredients as Frontline(R) Plus; NEW PetLock II (For Dogs and Cats) – Same active ingredients used in Advantage(R) II; NEW PetLock Six Month Collar for Large Dogs – Same active ingredient as Scalibor(R) Protector Band for Dogs; and NEW PetLock Six Month Collar for Small Dogs – Same active ingredient as Scalibor(R) Protector Band for Dogs. Treatment Products include: NEW PetLock Flea & Tick Dog Shampoo, NEW PetLock Flea & Tick Spray for Dogs; NEW PetLock Indoors for Fleas, Ticks and Spiders Ready-To-Use Spray; and NEW PetLock Yard for Fleas, Ticks and Mosquitoes — Yard Spray Concentrate.
"When it comes to flea and tick products, each dog and cat has unique needs," said Glen Moore, Vice President of Marketing at True Science, maker of PetLock. "The mission of PetLock is to provide a variety of quality products to meet those needs at affordable prices. In many cases, our PetLock products have the same active ingredients as the leading brands, but sell for a fraction of the cost."
_____________________________________________________________________________________________________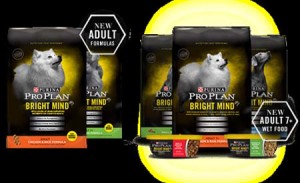 Purina Pro Plan To Launch New Bright Mind Formulas
Following the introduction of Purina® Pro Plan® BRIGHT MIND™ Adult 7+, a breakthrough nutrition innovation for dogs seven and older, Purina Pro Plan is introducing new BRIGHT MIND™ Adult formulas that feature a proprietary blend of brain-supporting nutrients to help adult dogs reach their full potential. Purina Pro Plan BRIGHT MIND Adult formulas are available in two varieties – Chicken & Rice Formula and Small Breed Formula. BRIGHT MIND Adult formulas contain a blend of nutrients that help support a dog's cognitive health throughout adulthood including Arginine, which helps support circulation of blood throughout the brain, B vitamins, which are essential for healthy brain function, antioxidants that help protect cells by fighting free radicals and DHA and EPA, omega 3 fatty acids that play a role in healthy brain function.
_____________________________________________________________________________________________________
Intense Pure Air Filter Introduced
Rowenta, maker of the revolutionary new air purifier the Intense Pure Air, is collaborating with renowned Environmental Toxicologist Dr. Noreen Khan-Mayberry (aka "The Tox Doc"), to help allergy sufferers better manage their symptoms. An estimated 50 million Americans are allergic to dust, dander, mold and mites, which can cause trouble breathing, excessive sneezing, eye irritation and coughing, amongst other ailments. Equipped with four stages of filtration, including a true HEPA filter to remove 99.97% of all household allergens and pollutants, Rowenta's Intense Pure Air is a powerful tool to help allergy sufferers alleviate their symptoms. Available at select retailers nationwide, it is also the only purifier of its kind capable of permanently capturing and destroying domestic formaldehyde – a prevalent airborne chemical classified by the World Health Organization as a human carcinogen.
_____________________________________________________________________________________________________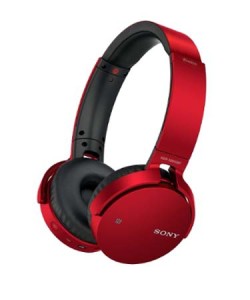 Sony Electronics Releases 2016 EXTRA BASS™ Product Lineup
Sony Electronics has introduced its new enhanced EXTRA BASS™ lineup, which enables users to enjoy the intensity of deep bass notes in a variety of locations and scenarios, just like being at an actual club or live festival. The Bluetooth® compatible MDR-XB650BT headphones will allow users to experience premium sound quality with the bass booster no matter where they are. The sound technology ideally achieves deep sound at any volume level and is supported by the 30mm driver, exclusive to EXTRA BASS, which enables optimum playback of deep bass notes. Users can enjoy the benefits of the EXTRA BASS diaphragm, which boasts even higher compliance, while maintaining its properties of resistance to amplitude and atmospheric pressure, to achieve highly realistic deep bass notes. Sony's SRS-XB3 and SRS-XB2 compact speakers are available with the newly developed wireless full range speaker units (42mm gauge in the SRS-XB2, 48mm gauge in the SRS-XB3). These speakers boast powerful bass notes with a lightweight diaphragm, which improves sound pressure levels, and a strong magnetic circuit which drives low frequency response. The new high-powered GTK-XB7 audio system is perfect for rooms and large party venues. The system, equipped with the EXTRA BASS technology, is sure to provide tones that fully sound out punchy and deep bass notes and comes with two large gauge 16cm woofers to amplify the deep bass notes even more.
_____________________________________________________________________________________________________
Thompson's® WaterSeal® Introduces Signature Series Available Exclusively At Lowe's
Thompson's® WaterSeal®, a leader in exterior wood protection, has launched Signature Series. This full collection of waterproofing and staining products will be available for purchase exclusively at Lowe's nationwide, beginning in mid-March. The new lineup features highly-specialized formulas to give homeowners the perfect one-step solution for their outdoor wood care needs, providing outstanding protection and beautiful results. With Signature Series, homeowners can devote more time to enjoying their outdoor space and less time maintaining it. This new family of products includes both clear and richly-colored stain offerings. Homeowners can select either a Clear Wood Protector to highlight wood's natural grain with a rich amber hue or a Stain & Sealer to add beautiful color. The Stain & Sealer is available in three opacities: Transparent, Semi-Transparent, and Solid. Homeowners can also choose from four popular colors: Autumn Brown, Natural Cedar, Timber Brown and Honey Gold.
"We've seen a growing trend over the years around homeowners bringing their interior design aesthetic to their outdoor space and decks," said Mike Kozlowski, Director of Marketing for Thompson's WaterSeal. "Thompson's WaterSeal Signature Series products not only protect and preserve decks, but also allow you to easily make your outdoor space a beautiful extension of your home. This new line offers Lowe's shoppers excellent protection, a beautiful finished appearance, and a convenient shopping experience."
____________________________________________________________________________________________________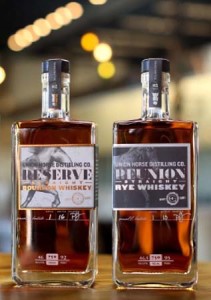 Union Horse Distilling Releases Straight Bourbon And Straight Rye Small Batch Whiskeys
Union Horse Distilling Company continues its commitment to creating quality craft spirits with the release of its small batch whiskeys, Reunion Straight Rye Whiskey and Reserve Straight Bourbon Whiskey. Reunion Straight Rye Whiskey is a small batch, 100 percent rye whiskey, handcrafted from the finest quality rye in Union Horse's copper still, then aged to perfection in signature oak barrels. Reunion unites smooth complex notes of butterscotch, caramel, ginger and cinnamon spice. Reserve Straight Bourbon Whiskey is a small batch, artisanal whiskey, distilled from a sour mash recipe in the copper pot still, then aged to perfection in our signature oak barrels. From first sight to final sip, consumers will be seduced by tender notes of creamy vanilla, maple and smoke. The new whiskeys come from some of the earliest barrels laid down at Union Horse Distilling Company. Each has aged up to five years, creating a well-developed and complex flavor. They complement existing Union Horse Distilling Company spirits (Long Shot White Whiskey and Rider Vodka) and will roll out to retailers, restaurants and bars over the next few weeks.
_____________________________________________________________________________________________________
Fossil Debuts Q Wander, Its Slimmest Digital Display Smartwatch
Fossil Brand, an innovator in both the fashion watch and wearable space, has introduced its slimmest digital display Android Wear Smartwatch, Q Wander. Q Wander features a soft curving, multi-finish case with artfully sculpted wire lugs, making it both beautiful and functional. The interchangeable genuine leather strap provides the style and comfort customers have come to expect from a watch.
_____________________________________________________________________________________________________
Vestia-Vac™ Dry Food Storage Containers Introduced
Answering the growing consumer demand for more environmentally friendly food storage options that go beyond single-use disposable packaging, Vestia has introduced the patent pending Vestia-Vac™ family of stackable, automatic vacuum-sealable dry food storage containers that preserve food five times longer, reduce waste, and help consumers save money. The heart of the patent pending Vestia container storage system is the removable, battery powered (two AA batteries not included) Vestia-Vac Vacuum Sealer that easily attaches to the top of every Vestia container. Consumers simply have to put their dry food into a container, attach Vestia-Vac to the container top, activate the one-touch vacuum seal, and look for the red indicator light to go on, indicating that the process is complete. The vacuum seal can be re-activated after every use.
"As much as 40% of the food produced in America every year is wasted and up to 25% of the food Americans actually purchase is wasted through the use of poorly-designed packaging that doesn't do what it's supposed to do," Marketing Director Mark Hantout said today. "Vestia-Vac provides consumers with an affordable way to enhance dry food preservation while taking one more important stand for environmentalism."
_____________________________________________________________________________________________________
thinkThin® Debuts High Protein Smoothie Mix
thinkThin®, a leader in creating nutritious, protein-rich foods, has launched thinkThin® High Protein Smoothie Mix. This innovative mix combines the three essential building blocks for consumers to make a nutritious, delicious smoothie at home: real fruit, a protein boost, and beneficial mix-ins like chia seeds. thinkThin High Protein Smoothie Mix is available in delicious fruit combinations such as Blueberry Banana, which features whole dried blueberries and chunks of real dried banana for a satisfying smoothie experience that is bursting with flavor and delivers one full serving of fruit. thinkThin High Protein Smoothie Mix in Strawberry Raspberry combines deep, red berries for a sweet, juicy flavor that also packs an antioxidant punch. For a more indulgent smoothie experience, thinkThin is also introducing a Protein Smoothie Mix in Peanut Butter Banana, which features roasted peanuts, creamy peanut butter flavored drops, and real banana chunks for 1/4 serving of fruit. thinkThin's new product line of smoothie mixes can be found in the Protein Powder aisle and is currently rolling out to Target stores nationwide, with additional retailer distribution in the coming months.
"As a leader in the protein bar category, we're always looking for ways to introduce female-focused products that are made from high-quality ingredients and use real, whole foods," said Cherry Joh, Marketing Director of thinkThin. "In addition to tasting great, our smoothie mix satisfies the growing consumer demand for protein from a variety of sources, which is why we included GMO-free, plant-based protein from almonds and sunflower seeds."
____________________________________________________________________________________________________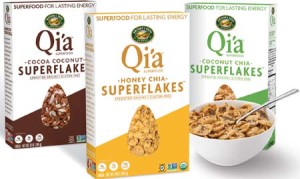 Nature's Path Introduces Sprouted Grain Flake Cereal
Nature's Path, the largest organic cereal brand in North America, is introducing Qi'a Superflakes™, the industry's first organic superfood and sprouted grain flake cereal. High in protein and fiber to provide all-day lasting energy, the new flakes are low in sugar, certified organic, certified gluten-free, Non-GMO Project Verified, and available in three delicious flavors including: Honey Chia: sprouted sorghum, whole grain corn, chia seeds, and a touch of honey; Cocoa Coconut: sprouted black bean and brown rice, coconut, and Fair Trade cocoa; and Coconut Chia: sprouted sorghum, whole grain corn, chia seeds, and coconut. Qi'a Superflakes will begin shipping to the U.S. market this summer.
"As the leader in organic cereals, we continue to introduce innovations that fuel society's desire for healthy products," said Arjan Stephens, Nature's Path Executive Vice President of Sales and Marketing. "Our new Superflakes revolutionize the category and make it easy for consumers to boost their nutrition and feel long-lasting energy from this powerful, functional, nutritious and delicious superfood cereal."
_____________________________________________________________________________________________________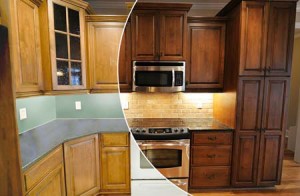 N-Hance Wood Renewal Releases Lightspeed Plus Finish
N-Hance® Wood Renewal, a leader in cabinet and hardwood floor renewal will incorporate the new Lightspeed Plus™ anti-microbial Ultra Violet (UV) finish into its already innovative Lightspeed® Instant-Cure system. The new Lightspeed Plus™ anti-microbial finish will keep homes safer and healthier after a home improvement project by reducing bacteria growth by 99 percent and effectively eliminating dangerous microbes such as E. Coli and Staph. The finish will be effective as long as it remains intact, as it is not water-soluble, and cannot be wiped-off with normal cleaning. In addition, by encapsulating the seams of the wood, the finished product is less likely to trap harmful germs and is easier to clean. The wood finish builds up the factory wear layer for added protection from foot traffic and other stains.
"The new anti-microbial wood finish is different than anything we have offered before because it allows us to give the customer a surface that inhibits the growth of bacteria, ensuring a healthier home," said Jesse Gibbs, Director of Product Development at N-Hance® Wood Renewal. "Very few refinishers have adopted this groundbreaking technology and even fewer offer the product in an Instant-Cure method. We expect this state-of-the-art service to have a very positive impact on our customers and the industry."
_____________________________________________________________________________________________________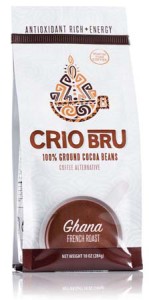 Crio Bru To Distribute Its Brewed Cocoa In Sprouts Farmers Market Stores
Crio Bru plans to distribute its proprietary brewed cocoa beverage through more than 200 Sprouts Farmers Market stores in 13 states. The agreement includes the full line of Crio Bru flavors roasted through the company's patent-pending process using cacao (cocoa) beans from Ecuador, Ghana, Dominican Republic, and Venezuela. Named after the most prized of cacao beans, the Criollo, Crio Brü astounds the taste buds with its complex chocolaty flavors and subtle aromas of the world's best cacao beans. It is 100% natural and 100% pure. Crio Brü is the ultimate superfood. It is low in calories and contains no sugar, no fat, no dairy, no sodium, no cholesterol and practically no caffeine, yet is extremely high in antioxidants, theobromine and a host of other vitamins and minerals.
_____________________________________________________________________________________________________
Coco Libre Debuts Sparkling Organic Coconut Water
Coco Libre, the pioneer of organic coconut water in the U.S., is unveiling Sparkling Organic Coconut Water, a new product line that reflects the company's energized strategic mission: creating coconut water beverages with a purpose. Its new Sparkling Organic Coconut Water line comes from-something that works as an anytime refresher and also as a cocktail mixer. Sparkling Organic Coconut Water is available in 3 flavors: Original with a kick of lemon, Grapefruit, Cucumber + Lemongrass. A fourth flavor, Lemon + Ginger, is exclusive for Whole Foods customers.
"We were first to bring organic coconut water to U.S. shoppers, first to market coconut water plus protein, and now we're focused on coconut water's broader nutritional promise," said Candace Crawford, CEO of Maverick Brands, Coco Libre's parent company. "We want to grow the number of ways people can choose to bring coconut water nutrition into their routine, day and night."
_____________________________________________________________________________________________________
Advecta II Flea Prevention Product Launches At Target Stores Nationwide
Advecta II, a new affordable and easy-to-use flea solution for dogs and cats, is now available at Target and other stores nationwide. Advecta II comes in a 4-month supply and offers better value compared to a leading brand with the same two active ingredients: Imidacloprid and Pyriproxyfen. Not only does it effectively break the flea life-cycle stages (flea eggs, flea larvae, adult fleas) but it also stops existing chewing lice infestations.
"Our pets deserve to be happy and healthy. Advecta II provides relief for pet parents who are looking for an effective and easy-to-use solution that treats and prevents fleas," said Glen Moore, Vice President of Marketing at True Science, maker of Advecta II. "Finding a flea product that is affordable and provides the same quality as other leading brands is now possible with Advecta II."
_____________________________________________________________________________________________________
Wellness® CORE® Natural Pet Food Introduces Hearty Cuts
Wellness® Natural Pet Food introduced CORE® Hearty Cuts for cats and dogs, grain-free meals with gourmet meat cuts surrounded by savory gravy, expertly combined with superfoods. The new grain-free Wellness CORE Hearty Cuts are protein-packed, rich cuts of meat surrounded by savory gravy and combined with superfoods for a meal cats and dogs will love. Available in 12.5-ounce cans, these delicious dinners come in a variety of flavors for dogs, including Beef & Venison, Turkey & Duck and Whitefish & Salmon. And CORE Hearty Cuts also come in four flavorsome varieties for cats including Shredded Whitefish & Salmon and Chicken & Tuna, available in 5.5-ounce cans. The CORE Hearty Cuts are available now for purchase at Petco, PetSmart and independent retailers nationwide.
"Our Wellness CORE line continues to grow in popularity and in its offerings, adding Hearty Cuts as a protein-packed wet food for dogs and cats. All recipes include quality proteins like beef, venison, turkey, duck or salmon, balanced with fresh produce like spinach, sweet potatoes and kale," said Chanda Leary-Coutu, Senior Marketing Communications Manager at WellPet.
_____________________________________________________________________________________________________
True Value Appoints Heath Ashenfelter Vice President, Chief Merchandising Officer
True Value Company, one of the world's largest retailer-owned hardware cooperatives, has promoted Heath Ashenfelter to the position of Vice President, Chief Merchandising Officer. Ashenfelter previously served as Divisional Vice President of Merchandising.
In his new role, Ashenfelter will play an integral role in creating experiences that best serve customers and differentiate True Value from its competitors. He will serve as a member of the senior leadership team, reporting to True Value President and CEO John Hartmann.
_____________________________________________________________________________________________________
American Textile Company Promotes Patrick Seiffert To Senior Vice President Of Marketing
Pittsburgh-based American Textile Company, a leading provider of innovative sleep solutions since 1925, has appointed Patrick Seiffert to Senior Vice President of Marketing. In this newly-created position, Seiffert will focus on consumer insights, brand growth, customer experience and ecommerce. Seiffert, formerly VP of Marketing, joined American Textile Company approximately two years ago. He has prior brand management experience with GlaxoSmithKline overseeing marketing efforts for Aquafresh and Nicorette. (Web Site) www.americantextile.com
_____________________________________________________________________________________________________
Metromile Names Raquel Rozas Head Of Brand
Metromile, a pioneer in pay-per-mile car insurance in the United States, has added Raquel Rozas to the company's marketing team as Head of Brand and Product Marketing.
Rozas, a former Procter & Gamble executive, brings more than 10 years of brand experience from senior marketing roles working with brands including Secret® and Tide®. Most recently, as the Associate Brand Director for front-end innovation, she was in charge of leading disruptive technologies and business models for P&G's Global Fabric Care business. (Web Site) www.metromile.com
_____________________________________________________________________________________________________
Armodilo Display Solutions Names Tara Parachuk Marketing And Sales Manager
Armodilo Display Solutions has named Tara Parachuk as the company's Marketing and Sales Manager. Parachuk will be responsible for driving revenue through marketing initiatives and overseeing the customer service team at Armodilo. (Web Site) www.armodilo.com
_____________________________________________________________________________________________________
Paramount Promotions Opens New Facility
Paramount Promotions, a Phoenix-based printing company which produces large format digital imaging products including pre-press, graphic arts and large format projects, has opened its new office location and state-of-the-art production facility at 3440 E. Roeser Rd., Phoenix, AZ 85040. This new state-of-the-art, 17,000 square foot production facility will serve the increasing demand for production for Paramount Promotions' clients with an additional 8,000 square feet of work space. (Web Site) www.paramountpromotions.com
_____________________________________________________________________________________________________
Daktronics Acquires ADFLOW Networks
Daktronics, which designs, manufactures, markets and services display systems for customers around the world, recently acquired ADFLOW Networks, which specializes in delivering digital media solutions to leading retailers, convenience stores and other businesses throughout North America. ADFLOW will operate as a subsidiary of Daktronics from its Burlington, Ontario headquarters. ADFLOW's workforce of experienced sales, service, and software engineering teams will continue to focus on delivering state-of-the-art digital media solutions to new and existing customers. (Web Site) www.daktronics.com
_____________________________________________________________________________________________________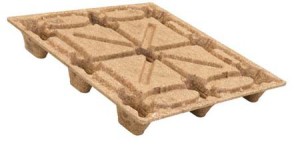 Litco Introduces New Inca Molded Wood Pallets
Litco, the source of Inca molded wood pallets, has introduced a new size 20″x24″ as an economical and aesthetic alternative to corrugated, plastic and traditional wood. It is ideal for use as a shipping pallet and a base for in-store point of sale displays. Unlike traditional hardwood pallets, Litco's 20″x24″ pallets are aesthetically pleasing and dimensionally identical from pallet to pallet. Designed with rounded edges, nail-free and without foot "trip points", the pallets allow safe walk-around on retail store floors.Pallets are both light weight at 8.5 lbs. and exceptionally strong at 750 lbs. dynamic capacity rating. Designed without bottom boards to allow for full four-way entry, smooth handjack entry and nestability. The pallets are available in any quantity and priced as low as $2.65 each (in quantities of 1,000+). Litco's Inca pallets are available in a variety of sizes and weight carrying capacities. For more information, visit; (Web Site) www.litco.com
_____________________________________________________________________________________________________
Exceptional 3D Introduces 3D Auto-Stereoscopic Display Solutions
Exceptional 3D, the world largest supplier of Glasses-Free 3D auto-stereoscopic display solutions, is introducing its new product line of 3D display technology in amazing 4K resolution. "Yes, 4K displays are definitely here," said Mike Egan, Exceptional 3D President & CEO. "This was quite evident at this past year Consumer Electronics Show (CES) where 4K televisions were 'the norm'. We are now seeing this translate in the digital signage industry too, with the prices of 4K panels dropping like the consumer market, now virtually everyone in the commercial space is asking about 4K displays. It's a natural evolution for us to transition to 4K displays for our 3D solution as we have the opportunity to combine these two emerging technologies." For more information, visit www.exceptional3d.com.
(Web Site) www.exceptional3d.com
_____________________________________________________________________________________________________
Ideum Introduces Powerful Pro Multitouch Tables
Ideum has introduced new 65″ Ultra High Definition (UHD) 4K versions of its iconic Platform and powerful Pro multitouch tables. These new models follow the Ideum Drafting Table as the first to incorporate 3M™ projected-capacitive touch technology in a 65″ display. The new 65″ multitouch display is bezel-less, impervious to optical interference, and it has greater fidelity and responsiveness than displays using other touch technologies. The all new Platform 65 and Pro 65 have support for 60 touch points.
The Ideum Platform 65 is a fully integrated multitouch table equipped with a powerful Intel® Core™ i7 quad core computer and single push-button power. The Platform 65 and Pro 65 multitouch tables are designed and built by Ideum in the USA to exacting standards. Like all of Ideum's products, they are built out of aircraft-grade aluminum and come complete with lockable ports to ensure security. They are ready for any environment including busy public spaces. For more information, visit; (Web Site) www.ideum.com
_____________________________________________________________________________________________________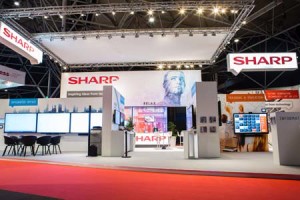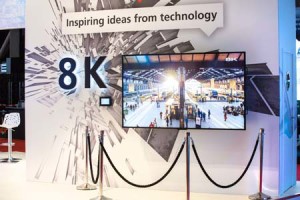 Sharp Introduces 8K 120Hz LCD Display
Sharp Imaging and Information Company of America (SIICA), a division of Sharp Electronics Corporation, is introducing its 80-inch Class (diagonal) 8K 120Hz LCD display utilizing IGZO technology. Featuring 16-times the pixel resolution of 1080p, new wide color gamut technology and HDR functionality, the new 85-inch (diagonal) Class 8K Ultra HD display represents the future generation of commercial display technology, and is so sharp it seems as if you're looking through a window. For more information, visit (Web Site) www.sharpusa.com
_____________________________________________________________________________________________________
Toshiba Offers TD-U UltraSeries 4K Ultra HD Displays
Toshiba's Digital Products Division (DPD), a division of Toshiba America Information Systems, has made available the TD-U UltraSeries, the next step in display resolution, screen size and customer impact. Toshiba has designed the UltraSeries specifically for the commercial market, and it includes the super-large 85-inch and 98-inch screen sizes. The TD-U UltraSeries models include the key features that commercial customers need in a high quality digital display. With 24/7 operation, landscape and portrait orientation, 3,840 x 2,160 4K Ultra HD resolution, 120Hz panel refresh rate and 500 Nits brightness, Toshiba TD-U UltraSeries is at the top of the class. Additionally, the innovative Quad Screen Mode can segment the screen into four separate 1080p images, allowing the set to act as an "all-in-one video wall" without an external switcher. The TD-U UltraSeries is housed in a durable metal cabinet with rear carry handles, has full connectivity with 4 HDMI® Inputs, DisplayPort, VGA, Audio In/Out, RS232C, LAN, and IR Port, and even offers input priority for failover support. As with Toshiba's other commercial displays, the TD-U UltraSeries comes with Toshiba's 3 Year Limited Commercial Warranty and strong Advanced Replacement Program. For more information, visit; (Web Site) www.us.toshiba.com
_____________________________________________________________________________________________________
Visionect And E Ink Launch 32″ epaper Signage Products
Visionect, a leading innovator in developing epaper based products, and E Ink®, a leading innovator of electronic ink technology, have introduced the new 32″ epaper (electronic paper) development kit, which supports a turnkey solution for rapidly prototyping new digital signage products and quickly transitioning them to real production end products. The kit is available for both color and grayscale displays.
The new development kit supports the largest single module epaper display available from E Ink, and is integrated with Visionect's software and hardware platform, developed specifically for large-scale epaper deployments. At 32″, the displays are approximately 25X the size of an eReader. The new kit joins Visionect's existing family of epaper development products which support product development for display products ranging from 6″ to 13″. The energy efficiency and robustness of epaper signage makes it an excellent solution for displaying clear, crisp information under all lighting conditions, both indoors and outdoors. This is particularly true where power consumption and infrastructure costs are a very important consideration. Examples of such applications include wayfinding, advertising and passenger information solutions, to name a few.
"Epaper is increasingly emerging as the technology of choice for smart interconnected signage," said Harit Doshi, head of the Signage Business Unit for E Ink. "The new kit supporting our 32″ epaper displays will expand the application of signage solutions to many new areas, particularly to areas requiring extra adaptability such as energy consumption or outdoor readability." For more information, visit;(Web Site) www.visionect.com
_____________________________________________________________________________________________________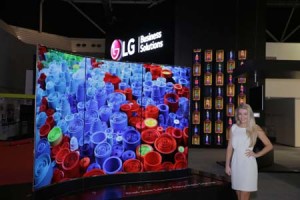 LG Electronics Introduces OLED Digital Signage
LG Electronics USA Business Solutions has introduced digital signage displays based on revolutionary OLED technology. The paper-thin, dual-sided displays with perfect blacks and incredible color will be available in curved and flat configurations. Ushering in a new premium standard to the digital signage marketplace, LG's commercial OLEDs feature the unrivaled picture quality that customers recognize from LG's state-of-the-art consumer OLED televisions, now available to businesses seeking high-end display solutions that offer an unrivaled consumer experience. The Dual-View Curved Tiling OLED display offers a beautifully curved design using slim tiles to form customizable displays that link two, three or four tiles together. The 65-inch portrait display, boasts a paper-thin and an eye-catching dual-sided view to offer customers a multi-media experience while providing retailers a way to utilize their space efficiently. Each screen boasts 4K Ultra HD (3840 x 2160) resolution, showcasing a bigger, bolder and more lifelike viewing experience to capture consumer attention effortlessly. High-performance system-on-a-chip (SoC) and an internal memory capacity enable perfect UHD-synced playback without the need for PCs or media players. The Dual-View Curved Tiling OLED display can fit perfectly into any retail or commercial space. The Dual-View Flat OLED display also offers a space-efficient dual-sided view to provide customers a two-sided media experience in full HD (1920 x 1080). With an even slimmer depth, measuring under 8mm, and three different installation options – ceiling suspension, wall-mount and floor stand – this 55-inch flat OLED commercial display allows retailers to plan the most efficient use in any retail space while utilizing a high-end display solution.
The display has the unique ability to swap and mirror content on either side of the screen with a simple press of a remote control button. For more information, visit; (Web Site) www.LGSolutions.com
_____________________________________________________________________________________________________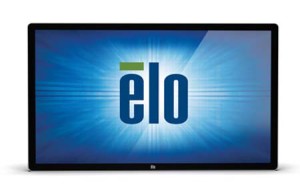 Elo Offers 02-Series Large Format Touchscreen Interactive Digital Signage Displays
Elo, a global supplier of digital touchscreen solutions, has introduced the new Elo 02-Series interactive digital signage display, featuring an ultra-thin form factor at only 2-inches, making it the ideal large format wall tablet platform for immersive interactive applications. The new 02-Series displays are available in 32, 42 and now 46 inch sizes with either projected capacitive "PCAP" or infrared touch technologies, providing a fast and extremely sensitive response similar to mobile devices. Each size is also available as a non-touch display option. The low-profile design integrates seamlessly into modern interiors for all commercial markets including retail, hospitality, gaming, corporate and medical applications, and offers system integrators and value-added resellers a high-performance solution that is easy to deploy and will withstand the heavy use of a commercial setting. With the 02-Series displays, Elo is making touchscreen interactive digital signage even easier. The smartphone-like touch experience provides up to 10 touches simultaneously, and with the sleek and modern edge-to-edge glass displays, they look good in any commercial environment. With no plastic border to trap dirt or grease, this clean aesthetic not only looks good — it's also built for commercial-grade use. For more information, visit (Web Site) www.elotouch.com
_____________________________________________________________________________________________________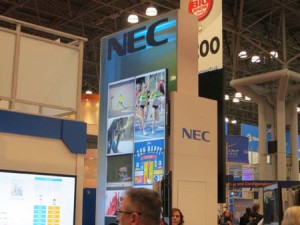 NEC Introduces LED Video Wall
NEC Display Solutions of America, a leading provider of commercial LCD display and projector solutions, has introduced its 1.9mm fine pitch direct view LED video wall. NEC Display's fine pitch LiFTtm (LED intelligent Front Technology) solutions are built with 16:9 modules and come with interchangeable pixel panels, enabling easy upgrade paths. The LiFTtm series of direct view LED video walls comes with magnetically attached pixel cards on the front face for easy maintenance, simple replacement or upgrade to smaller pitches. The pixel cards are completely modular so that a customer who buys a wall large enough for Full HD with the 3.8mm version can upgrade later to a 1.9mm pitch and run 4K content without changing anything else on the wall. For more information, visit (Web Site) www.necdisplay.com
_____________________________________________________________________________________________________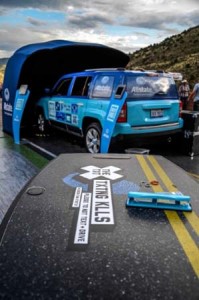 Allstate Reality Rides Simulator Drives Coast-To-Coast To Help Save Lives
With motor vehicle deaths increasing by 8 percent from 2014 to 2015, the largest year-over-year increase in 50 years, Allstate is especially determined to help keep Americans safer on the roads. As part of these efforts, Allstate has launched its fourth annual Reality Rides® distracted driving simulator tour, which aims to increase awareness around the dangers of distracted driving – the cause of more than 3,000 deaths and more than 400,000 injuries each year – and offer solutions to be safer behind the wheel.
The simulator features a real car equipped with a virtual reality, curved LED screen atop the windshield that displays a responsive animated environment. Using the steering wheel, gas and brake pedals, the operator is tasked with driving the car while also attempting to text, talk on the phone and enter navigation system directions. After their ride, participants are given "traffic citations" that highlight real-life infractions the driver committed during the simulation. Participants are then encouraged to take the Allstate X the TXT® pledge to not text and drive. (Web Site) www.allstatenewsroom.com
_____________________________________________________________________________________________________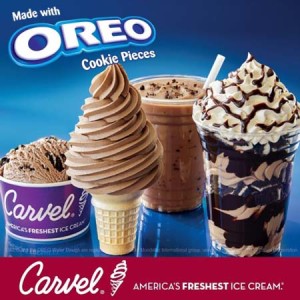 Carvel Teams Up With OREO® To Introduce OREO® Cookie Flavor Soft Ice Cream
Carvel, America's Freshest Ice Cream®, is teaming up with OREO® to debut Carvel's first ever soft serve OREO® cookie inspired ice cream. This highly anticipated new flavor will be available at participating Carvel Shoppes.
"We couldn't be more excited to kick off the ice cream season with such a tremendous flavor innovation," said Scott Colwell, president of Carvel. "Bringing together America's freshest ice cream and America's Favorite Cookie® to create OREO® cookie soft ice cream is something that our guests have been asking for, and we couldn't wait to deliver. We're confident that this flavor is going to be a huge hit."
In addition to the new OREO® cookie flavor soft serve ice cream, Carvel will also be dishing out an array of other OREO® cookie ice cream treats, including: Hand-Scooped OREO® Cookie Ice Cream blended with OREO® cookie pieces. OREO® Cookie Sundae Dasher™, OREO® Cookie Shake, OREO® Lil' Rounders, and OREO Cake. (Web Site) www.carvel.com
_____________________________________________________________________________________________________
Derrike Cope Racing And E-hydrate® Team Up To Promote Launch Of New Protein On-The-Go ACTIVE
E-hydrate announced its primary sponsorship of Derrike Cope's #70 car for the NASCAR Xfinity Series race on March 19th at the Auto Club Speedway in Fontana, California to launch E-hydrate's new natural protein and joint health product, ACTIVE Protein On-the-Go. This race will be the fourth in a series that kicked off in Daytona this year and is part of the brand's sponsorship of Derrike Cope's NASCAR West Coast Swing.
Protein On-the-Go ACTIVE is the world's first ready-to-mix natural protein and joint health product designed for active adults. ACTIVE will be available at Target stores nationwide starting the first week of April, 2016. ACTIVE is low sugar, low calorie, balanced adult nutrition with the added power of glucosamine and Omega 3's to promote healthy joints. (Web Site) www.e-hydrate.com
_____________________________________________________________________________________________________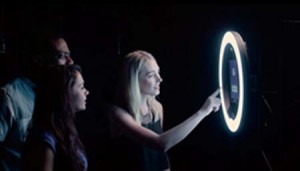 Gifn Sets Up Streaming Gif Booths Nationwide
Gifn is providing a new consumer engagement tool to businesses that snaps gifs and lets customers share to social media channels with the introduction of Gif Booths nationwide. The wall-mounted social technology is now available nationwide in restaurants like Bahama Breeze and Shake Shack Las Vegas. When using Gifn, guests create and send gifs while shopping or waiting in line. Gifs are shared instantly on the store's stream, and guests can send gifs to their phones or social media channels like Facebook, Instagram and Twitter. Stores can also customize gifs with brand logos and hashtags.
On the business side, Gifn booths also support email signups for guest loyalty programs and tracking social engagement with consumers in different channels. As for guest experience technology, Gifn is also much smaller than old in-store entertainment like photo booths and jukeboxes. Gifn devices only need a wall to hang on. The Gifn booth is brand new, in-store entertainment with modern social features and an online gif stream that can be linked to or displayed on a website. For social marketing purposes, the gif machine is another way for brands to connect to guests and improve consumer engagement from inside stores. Gifn even tracks social performance and provides a weekly report.
"People love taking selfies, and we want businesses to encourage customers to take selfies with their brand while they're in store. People are really drawn to it," said Cynthia Adams, Marketing Manager at Gifn. (Web Site) www.gifn.it
_____________________________________________________________________________________________________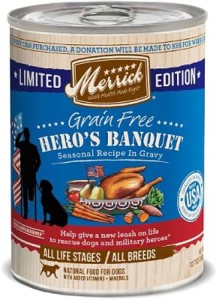 Merrick Pet Care Expands Partnership With K9s For Warriors
K9s For Warriors and Merrick Pet Care are once again joining together to demonstrate the effective role service dogs play in the treatment of post-traumatic stress disability (PTSD) among American military veterans. Merrick will now offer its Hero's Banquet canned recipe year round and donate a portion of the item's proceeds to underwrite research on how pairing specially trained rescue dogs with veterans suffering from PTSD and/or traumatic brain injury (TBI), helps veterans readjust to civilian life. The $250,000 donated by Merrick will allow for research to create guidelines to predict efficacy based on warrior characteristics and to identify the organizational and service dog training standards required to achieve desired outcomes.
"There is currently no comprehensive evidence to support the validity of service dogs as an effective therapeutic intervention for veterans diagnosed with PTSD or their families and we're hoping to change that," said Greg Shearson, CEO of Merrick Pet Care.
Merrick's help and commitment to veterans and service dogs also includes hundreds and thousands of pounds of high-quality food and treats it provides to K9s For Warriors. In addition to feeding these best service dogs ever, Merrick launched a limited-edition special can recipe of Merrick dog food, Hero's Banquet, last fall, honoring American military veterans. The 12.76 oz. can will now be available nationally year-round at Petco, independent pet supply stores and online with a suggested retail price of $2.99. (Web Site) www.merrickpetcare.com
_____________________________________________________________________________________________________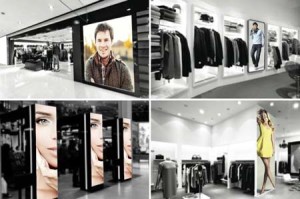 Reflect Systems Launches ReflectMedia Digital LED Billboard Displays
Reflect, a premier turnkey solutions provider for place-based digital media networks, has launched ReflectMedia. ReflectMedia provides the technology and services to help brands deliver relevant, timely advertising content to the fast-growing place-based digital media market, from billboards to in-store displays and outdoor digital signage. ReflectMedia utilizes digital technologies from Reflect Systems to improve customer experience and provide the opportunity for advertisers to reinforce their brand in a nonintrusive way.
ReflectMedia activated a new full-size digital billboard, located in The Colony, TX. The dual-sided 14'x48′ LED billboard displays static or dynamic content (e.g., social media, weather, sports scores) by utilizing real-time content feeds. Content can be day-parted to reach audiences with the right message at the right time. It's a great outlet to drive business for local businesses, retail, restaurants, health care, real estate, automotive, sports, and entertainment. (Web Site) www.reflectsystems.com
_____________________________________________________________________________________________________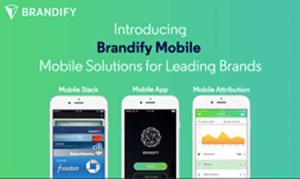 Brandify Mobile Launches To Empower Brands With Suite Of Mobile-Centric Solutions
Brandify the industry-leading provider of location-based digital marketing solutions that enables brands to connect better with their consumers, has launched the company's new mobile platform, Brandify Mobile.
With the insurgence of mobile, where nearly 70 percent of local online traffic now lives, Brandify created a suite of services to help brands better connect with their customers. Brandify Mobile provides brands with multiple touch points to reach potential customers throughout the customer journey. By utilizing Brandify's new mobile suite, brands will be better positioned to be present when customers are ready to make a purchase and continue to engage with them post-purchase.
The Brandify Mobile Stack is an integrated mobile-local solution creating a complete mobile customer experience. The Brandify Stack is made up of the following three products: The Brandify Stack, The Brandify App, and Mobile Attribution Insights.
The Brandify Stack well positions Brandify to keep building out the local-mobile layers of the product that are instrumental in connecting consumers to brands. Upon its first release, The Brandify Stack will include Brandify's Location Software Development Kit (SDK), Beacon and Wallet Integration, and Apple Watch Integration. The Brandify Mobile App gives brands and store managers the power to unify location data, act in real-time and grow local presence with flexible configuration options built to suit different organizations. (Web Site) www.brandify.com
_____________________________________________________________________________________________________
Appspace And BrightSign Partner To Integrate Their Platform And Players
Appspace Inc. and BrightSign Inc. are partnering to enable BrightSign players to integrate with the Appspace digital content management and delivery platform.
Available in the cloud or entirely on-premises, the Appspace platform provides a robust toolset for managing content-including digital signage and video-and distributing it to televisions, mobile devices, and notebook and desktop computers. Appspace is used by customers around the world in a wide range of use cases including workforce communications, guest communications, and retail signage. BrightSign digital signage devices are industry-leading solutions known by the commercial digital signage market worldwide for their signature reliability, affordability, and ease-of-use.
"Whenever we extend our platform or ecosystem, we focus on adding capabilities without adding complexity," said Kyle Smith, Sr. Director of Product Management for Appspace. "The Appspace and BrightSign engineering teams are working hand in hand to deliver a customer experience that has the capabilities, workflows, and performance that Appspace and BrightSign customers know to expect." (Web Site) www.appspace.com
_____________________________________________________________________________________________________
All Terrain Adds April Quealy As Creative Director
All Terrain, an 18-year agency specializing in experiential marketing, has appointed April Quealy as creative director. Quealy will lead all of the agency's creative offerings including development of creative campaign concepts and experiential marketing solutions, design and production services, and digital and social media campaign extensions. Quealy joins All Terrain most recently from Legacy Marketing Partners where she led a large team in the ideation and articulation of experiential events across a number of industries. (Web Site) www.allterrain.net
_____________________________________________________________________________________________________
Event Strategy Group Appoints Eyl And Kemmerer
Event Strategy Group (ESG), a global experiential agency, has appointed Marina Eyl as the company's new Art Director and Kerah Kemmerer as a Social Media Manager. With headquarters in Philadelphia, PA, ESG partners with brands to create original experiences and high-impact results, including corporate and employee events, user conferences, trade shows, and road shows. (Web Site) www.esg.us
_____________________________________________________________________________________________________
Nielsen Catalina Solutions And Time Pioneer New Method For Cross-Platform Advertising Sales Measurement
Nielsen Catalina Solutions (NCS), the leader in helping CPG marketers optimize return on advertising spend with in-store purchase data, and Time Inc., one of the world's leading media companies, have launched a groundbreaking method of cross-platform advertising measurement that makes it possible to measure the quantifiable in-store sales impact of campaigns across print, digital and TV.
"Until now, cross-platform measurement for campaigns including print just wasn't possible because of the unknown time of exposure to the ads. Since we've developed Cognitive AdVantics – a new analytic tool that uses machine learning – we can look back in time from a purchase to determine which marketing variables actually influenced a sale," said Leslie Wood, Chief Research Officer, NCS. "Being able to measure the effect that print, digital and TV have on a campaign will allow marketers to deliver even smarter campaigns in the future."
To put this methodology to the test, NCS and Time Inc. collaborated with Crystal Light to measure a cross-platform campaign for the brand. The measurement revealed that print and digital advertising have synergies with TV, and that using multiple channels together has a positive, quantifiable impact on sales. By matching subscriber data from Time Inc. with data from GfK MRI, NCS was able to determine the value of the secondary audience, which has not been quantifiable until now. This secondary audience made a significant contribution to incremental in-store sales driven by the campaign.
"Time Inc. is committed to driving results for our clients, and continuously supports efforts to improve and evolve the methods that we have today. This new methodology allows us to quantify the synergy between media platforms," said Caryn Klein, Vice President of Research & Insights, Time Inc. "In this case, we've learned that there is an increase in sales impact when you add print and digital to TV. When it comes to synergies between print, digital and TV, 1+1 is greater than 2."
"Print continues to play an important role in our media strategy. Our ultimate goal for cross-platform is to understand where the synergies lie so we can optimize across business units, aligning print with other channels to effectively drive incremental sales," said Kazim (Kaz) Gunay, Head of Consumer Insights and Strategy, beverages and snack nuts, The Kraft Heinz Company. "This study with NCS, Time Inc. and our Crystal Light brand has given us invaluable insights to help accomplish this." (Web Site) wwww.ncsolutions.com
_____________________________________________________________________________________________________
Retail Solutions Unveils Shopper Marketing Optimization Solution For Brands
Global retail analytics leader Retail Solutions Inc. (RSi) announced the general availability of its new Shopper Marketing Optimization (SMO) offering for brands, an innovative solution helping Consumer Packaged Goods shopper marketing teams plan, execute and measure all their events in an end-to-end workflow solution. The SMO solution will be delivered in partnership with rmi, the company behind the industry-leading BASE™ software, the end-to-end technology platform powering shopper marketing activities worldwide. RSi SMO for Brands will complement the company's offering for agencies and ad networks, Ansa.
"We believe this solution is being released at a critical moment for the industry," said David Harker, Vice President and General Manager, Shopper Marketing at RSi. "With an increasingly complex path to purchase, Shopper Marketing is the fastest growing investment choice in CPG, yet marketers are struggling to understand where lift really comes from and how to ensure they invest on the most relevant tactics. RSi's SMO solution provides the fact base and the platform to answer both questions and put marketers strongly in control." (Web Site) www.retailsolutions.com
_____________________________________________________________________________________________________
Swrve Adds Ramsey Masri To Leadership Team As CRO
Swrve, a leader in mobile engagement, has appointed veteran mobile executive Ramsey Masri to its leadership team as its new Chief Revenue Officer (CRO). Masri joins Swrve from OtherLevels where he was Chief Executive Officer and brings with him a 21-year career in mobile and digital marketing.
"I couldn't imagine a more exciting time to join Swrve," said Masri. "The opportunity and scope of the platform's capabilities at the cross-section of mobile and data automation is extremely powerful and it's clear that the company has built a fundamentally innovative solution for mobile marketers with a broad set of valuable applications across all conceivable vertical markets. My charter is to encourage these global brands to get to know Swrve." (Web Site) www.swrve.com
_____________________________________________________________________________________________________

_____________________________________________________________________________________________________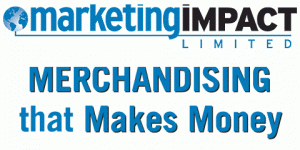 _____________________________________________________________________________________________________

_____________________________________________________________________________________________________
CLICK ON IMAGE TO VIEW DIGITAL EDITION
_____________________________________________________________________________________________________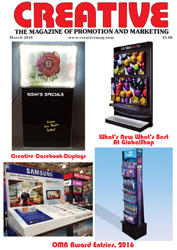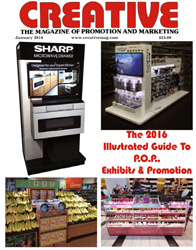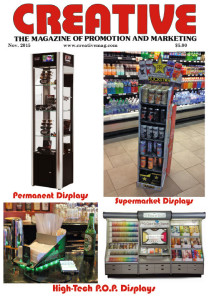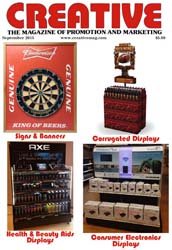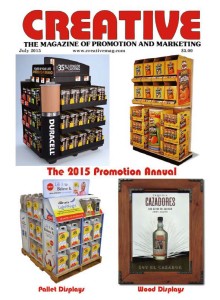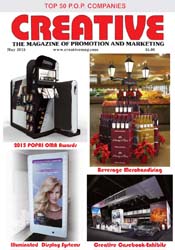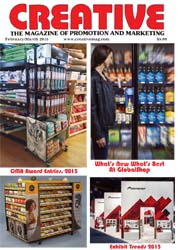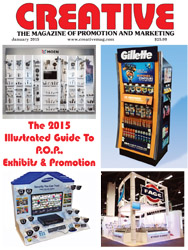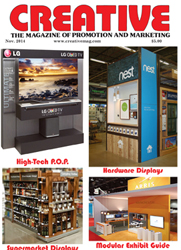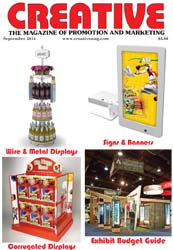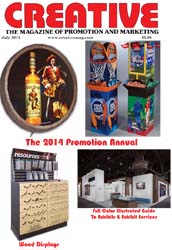 MAY 2014 ISSUE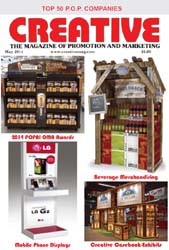 MARCH 2014 ISSUE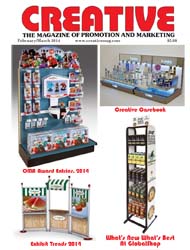 JANUARY 2014 ISSUE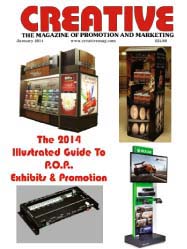 NOVEMBER 2013 ISSUE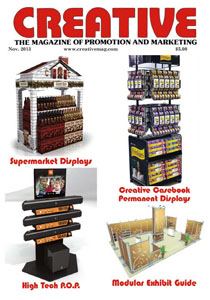 SEPTEMBER 2013 ISSUE
MAY 2013 ISSUE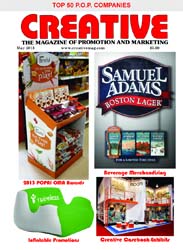 MARCH 2013 ISSUE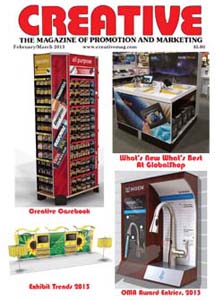 JANUARY 2013 ISSUE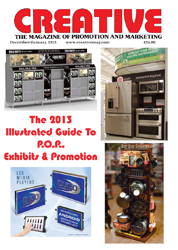 NOVEMBER 2012 ISSUE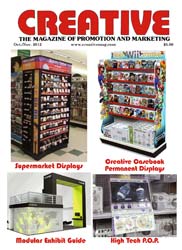 SEPTEMBER 2012 ISSUE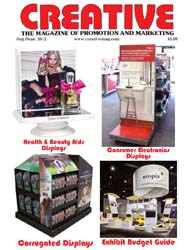 JULY 2012 ISSUE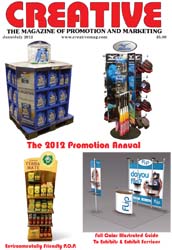 MAY 2012 ISSUE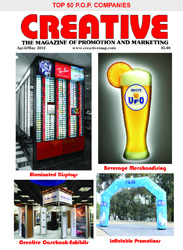 JANUARY 2012 ISSUE