______________________________________________________________________________________________________


______________________________________________________________________________________________________

______________________________________________________________________________________________________


______________________________________________________________________________________________________

______________________________________________________________________________________________________

______________________________________________________________________________________________________

______________________________________________________________________________________________________

______________________________________________________________________________________________________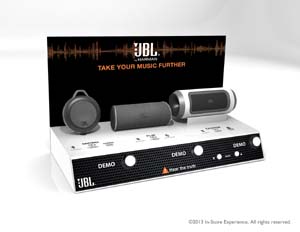 JBL 2-Sided Speaker Demo Display Educates Shoppers At Retail
JBL is using this 2-sided Speaker Demo Display to demonstrate its speakers to consumers at retail. The display features Wood construction, Locking glass front cabinet, Lockable casters, Touchpad membranes and Integrated sound boards that allow shoppers to sample any of the 3 speakers displayed and control the volume. The display also features a large interchangeable graphic panel making it easy for retailers to update the display. The JBL Speaker Demo Display was produced by In-Store Experience, (Web Site) www.instoreexperience.com
______________________________________________________________________________________________________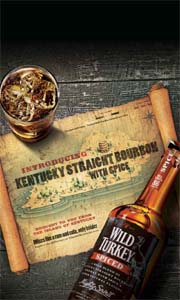 Wild Turkey Propels Flavored Bourbon Category With Wild Turkey Spiced™ Introduction
In a move designed to offer a more masculine choice to Spiced Rum, Wild Turkey® Bourbon has introduced Wild Turkey Spiced™, the first-ever spiced Bourbon from the "Island of Kentucky." Featuring world-famous Kentucky Straight Bourbon with exotic spice, Wild Turkey Spiced is the consummate choice for drinkers curious about Bourbon and looking to trade-up from Spiced Rum. At 86 proof, Wild Turkey Spiced is a truly unique Bourbon experience that maintains Wild Turkey's signature bold flavor while highlighting spiced cues previously found only in island spirits. Supported by a unique, tongue-in-cheek digital campaign that conveys what life is like on the "Island of Kentucky," the marketing will take aim at the notion of graduating from Spiced Rum to the classic, all-American spirit – Bourbon.
______________________________________________________________________________________________________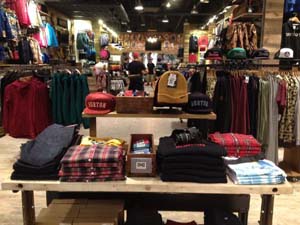 Burton Snowboards Partners Opens Two New East Coast Partner Stores
Just in time for winter, Burton Snowboards has opened two new East Coast partner stores: the first is in the DC metro area and the second is a pop-up Burton partner store in northern New Jersey. Both new stores were opened in partnership with local retailers and will service the broad snowboard and winter lifestyle communities in each region.
Located at the Westfield Montgomery Mall in Bethesda, Maryland, Burton DC opened its doors earlier this fall thanks to a partnership with long-time Burton retailer Shenk & Tittle. The new Burton DC Store pays homage to Vermont's roots with many handcrafted New England design details, including shelves, tables and fixtures that were custom-made in Vermont. Burton's long heritage in snowboarding is prevalent throughout the store, especially on the 'history wall' where archival snowboards and photographs are on display. The 2,800-square-foot Burton DC store features an extensive line-up of Burton's best-in-class outerwear, bags and accessories, as well as a great range of apparel including hoodies, denim, flannels, t-shirts and more. Inside the store, customers can also check out a wide selection of the newest 2014 Burton snowboards, as well as dedicated sections for boots, bindings and everything else you need to gear up to go to the mountains. Burton also opened a pop-up shop in northern New Jersey in partnership with local retailer Mount Everest, a proud supporter of local snow culture. Featuring a footprint of just over 3,000 square feet, the store offers a cozy Vermont feel with a large selection of Burton's industry-leading, year-round product collections for men, women and youth.
______________________________________________________________________________________________________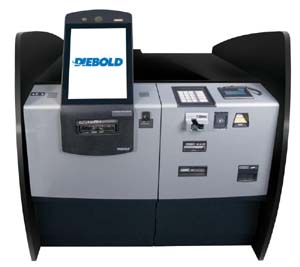 Diebold Transforms The Consumer Banking Experience With Branch Performance Series Terminals
Influenced by a two-year research initiative on the ideal in-branch consumer experience, Diebold's Opteva® Branch Performance Series™ is designed to help Financial Institutions (FIs) realize operational efficiencies and encourage customer relationship-building opportunities. The in-lobby teller terminals deliver a self-service or partially assisted service capability directly at the teller line, next to a teller pod or as a stand-alone unit within the lobby or vestibule.
"Our job is to help connect banks with their customers in a way that simplifies the process and enhances the experience for both parties," said Frank Natoli Jr., Diebold executive vice president and chief innovation officer. "As consumer needs change, we are helping financial institutions evolve the form and function of the branch to become a more efficient, customer-centric destination."
Branch Performance Series terminals migrate transactions to a self-service device within the branch, reducing the costs associated with completing routine transactions at the teller line. This allows financial institution employees to spend more time interacting with customers for value-added transactions. The in-lobby teller terminals are specifically oriented toward the unique needs of the branch, allowing automation and tellers to coexist in meaningful ways. Keeping consumers inside the branch enhances personal interactions and enables FIs to capitalize on cross-selling opportunities.
"Based on Diebold's research, which included one-on-one interactions with FIs and consumers, we believe a key to transforming branches is incorporating automation within the branch," said Natoli. "Consumers and small to medium-sized businesses want to complete fast, efficient transactions in a professional environment. They want intuitive technologies. The Branch Performance Series addresses each of these needs."
______________________________________________________________________________________________________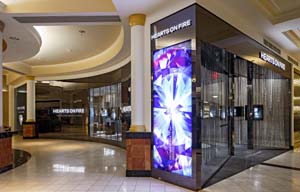 Hearts On Fire Expands Retail Concept With King Of Prussia Store Opening
Hearts On Fire®, The World's Most Perfectly Cut Diamond®, has opened its second domestic retail store featuring its new, innovative shopping experience at the King of Prussia Mall in Philadelphia, PA. This retail launch is part of Hearts On Fire's global expansion plan designed to transform the way consumers relate to and buy fine diamond jewelry in premiere mall locations across the country.
Hearts On Fire opened its first U.S. location featuring its new retail concept in the Forum Shops at Caesars Palace in Las Vegas in May 2012. After experiencing immense success at this location, Hearts On Fire continued to evolve both its selling and conceptual designs, with even more revolutionary enhancements in the new 1,200 square foot King of Prussia store that creates a modern and inviting environment for shoppers. Features include: Eye-level, transparent "Jewel Boxes" that replace long display cases and, for the first time, allow sales associates and customers to work side-by-side rather than over a counter for a more personal relationship. State-of-the-art lighting, sound, scents, materials, and more, that appeal to all five human senses and create an enjoyable environment for trying on diamond jewelry. A digitally enhanced environment throughout the store empowers consumers to learn about all aspects of the Hearts On Fire brand, including interactive screens, video, a digital jewelry catalog and more. An innovative "Community Table" that encourages shoppers to interact and confer with each other as they try on diamond jewelry – much like they would in a store's fitting room.
"With all of the technology and digital innovation in our lives today, consumer expectations have changed when it comes to how they want to shop," said Glenn Rothman, CEO and Founder of Hearts On Fire. "Especially when it comes to highly considered purchases, such as diamond jewelry, consumers no longer want a traditional feel and are searching for a more unique, personal experience. That is why we are excited to continue to refine and expand our retail concept – breaking conventional shopping barriers and making the diamond jewelry retail experience enjoyable and interactive fun again."
______________________________________________________________________________________________________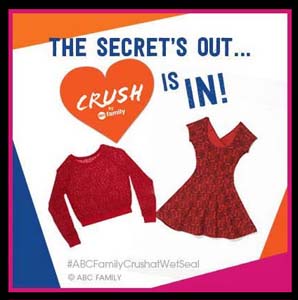 Disney And Wet Seal Debut #ABCFamilyCrushAtWetSeal, A First Of Its Kind Collection Inspired By ABC Family Characters
Disney Consumer Products and ABC Family, in collaboration with The Wet Seal Inc., have formed a millennial lifestyle brand called 'Crush by ABC Family.' This new collection will offer an assortment of apparel and accessory styles wholly inspired by the fashion-forward female characters of popular ABC Family shows. A first of its kind for Wet Seal, a leading specialty retailer to young women, the initial collection will be unveiled in all Wet Seal stores nationwide and online at wetseal.com this holiday season.
"The passion and enthusiasm our viewers have for our series and iconic characters is only matched by their passion for the trendsetting fashion of our shows," said Kate Juergens, Executive Vice President, Original Programming and Development and Chief Creative Officer, ABC Family. "Fans are always asking -'how can I get 'that' look?' and I'm so happy we can now respond…'go to Wet Seal.' This a wonderful collaboration that enables us to further extend the connection our fans have with their favorite characters."
The first collection this fall will feature fashions inspired by characters from ABC Family's sizzling dramas "The Fosters," "Twisted" and "Switched at Birth" and its hit comedy series, "Baby Daddy." Each of the items in the collection is designed specifically based on a character's personality and individual style.
"This is a very innovative collaboration unlike anything Wet Seal has done in the past. The team has worked to craft fashions and marketing programs that will drive exciting buzz around two very well-known brands," said John D. Goodman, chief executive officer of The Wet Seal Inc. "We know that the 'Crush by ABC Family' collection will directly appeal to our customer, as she will now have access to the closets of her favorite ABC Family characters." Wet Seal will support the launch with creative windows and in-store displays, a national print and digital media campaign, and an extensive social media program that includes a variety of contests hosted on the brand's social platforms.
______________________________________________________________________________________________________
The Life is good Company And Planet Dog Partner For New Collection Of Dog Supplies
Life is good®, the lifestyle brand committed to spreading the power of optimism and helping kids in need by donating 10 percent of its net profits to The Life is good Kids Foundation, has partnered with Planet Dog, the socially responsible pet industry leader. Both companies will offer consumers a full line of dog supplies that includes Life is good's optimistic and upbeat messages, while drawing on Planet Dog's product design expertise. The new products will be available for purchase beginning in the summer of 2014 at locations in the U.S., Canada and the Caribbean where Life is good and Planet Dog merchandise is sold. In addition to the collaboration, Planet Dog will make ongoing contributions to The Life is good Kids Foundation through volunteerism and donations.
"There has always been a great connection between dog lovers and Life is good," said Bert Jacobs, chief executive optimist for Life is good. "By teaming up with Planet Dog, we can bring our customers' favorite Life is good messages and graphics to the best-made dog products in the industry."
"We are thrilled to partner with another like-minded New England company to offer dog lovers and their canine companions unique, high quality, socially responsible pet products," said Stephanie Volo, Planet Dog's Co-CEO. "Planet Dog and Life is good have both built our brands on giving back, and we are both dedicated to making extraordinary and fun products that enable us to celebrate life while contributing to great causes."
______________________________________________________________________________________________________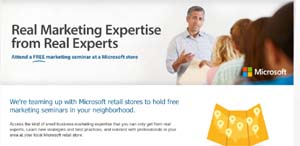 Constant Contact Launches New Educational Program With Microsoft Retail Stores
Constant Contact®, is launching a new educational program with Microsoft retail stores aimed at helping small business leverage today's tools and technologies to effectively drive business results. The program was developed by Constant Contact and Microsoft's U.S. Small-and-Midsized Business (SMB) group, which delivers on Microsoft's commitment to helping small businesses reach their full potential. They will offer free small business workshops at Microsoft retail stores across North America to teach best practices in online marketing, and how to take full advantage of the cloud. Starting with 30 events at Microsoft retail stores across 18 states this month, Constant Contact's team of local small business marketing experts will lead workshops on how small businesses can use online tools to achieve business success. The program is expected to scale to all Microsoft retail stores in North America by the end of 2013.
"Small businesses are time-starved, so they need to make sure they are using the strategies and tools that will drive the most value," said Richard Israel, senior director of local success at Constant Contact. "By having Constant Contact educators go into local Microsoft retail stores and share marketing expertise, we are offering small business owners easy access to learning opportunities that will help them build successful businesses."
"Microsoft retail stores are a place where business owners and consumers alike can come for technology expertise and hands-on learning," said Alex Fong, senior director of U.S. SMB business development at Microsoft. "Constant Contact is a leader in helping small businesses successfully market themselves, and we're excited to have them share that expertise as part of our ongoing effort to help SMBs grow and thrive."
______________________________________________________________________________________________________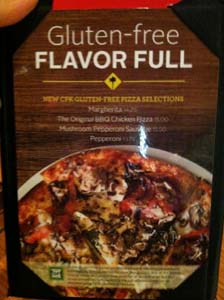 California Pizza Kitchen Introduces New Line Of Gluten-Free Pizzas
California Pizza Kitchen has launched a new line of gluten-free pizzas available at restaurants nationwide through a partnership with the Gluten Intolerance Group (GIG). The four gluten-free pizzas are prepared using strict procedures set forth and approved by the GIG, including a certified gluten-free crust and other ingredients verified by California Pizza Kitchen's suppliers as gluten-free. GIG will also conduct regular site inspections and audits to ensure all guidelines are being met.
"We are excited to expand our product offering to provide delicious and flavorful pizzas to guests who are affected by Celiac Disease or may suffer from gluten sensitivities," said Brian Sullivan, SVP of Culinary Development for California Pizza Kitchen. "Through this partnership, we can now offer guests the opportunity to dine with confidence and an understanding that we have followed the strict guidelines set forth by the Gluten Intolerance Group. Over the past several months, we've unveiled several new initiatives that are all part of the next chapter at California Pizza Kitchen and the addition of our gluten-free pizzas is another great example of the culinary direction in which we are headed."
Guests may choose from four options under the new gluten-free pizzas line, including: THE ORIGINAL BBQ CHICKEN PIZZA, PEPPERONI, MUSHROOM PEPPERONI SAUSAGE and MARGHERITA. The Gluten Free Food Service (GFFS) certification logo, an industry program of GIG, will be displayed on all California Pizza Kitchen menus to indicate the independent verification of quality, integrity and purity of food preparation policies, education and standards.
______________________________________________________________________________________________________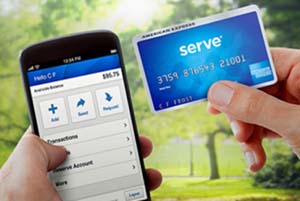 American Express Serve Introduces New Money Management Capabilities At More Than 14,000 CVS/pharmacy And 7-Eleven® Stores
American Express has launched a free nationwide cash load network and the addition of new money management capabilities to its full-service reloadable prepaid account. The new features include: Direct Deposit, Bill Pay, Mobile Check Capture, Personal Financial Management Tools, and Reserve, which allows customers to put money aside for future expenses. These enhancements are designed to meet the needs of the nearly 70 million Americans underserved by traditional financial services. Starting this November, American Express Serve customers will be able to take cash to the register at more than 14,000 participating CVS/pharmacy and 7-Eleven stores and add it to their American Express Serve Account. This is made possible through a relationship with InComm and its Vanilla Reload Network.
"We are striving to provide the best value and convenience for the underserved market," said Dan Schulman, Group President, Enterprise Growth at American Express. "We've added a slew of new features to American Express Serve in an effort to build one of the most comprehensive full-service reloadable prepaid offerings available today."
______________________________________________________________________________________________________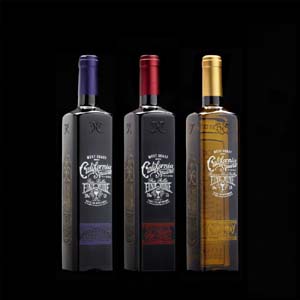 Truett-Hurst Releases California Square Super Premium Wine
Truett-Hurst Inc., the leading Sonoma County wine producer of the Truett-Hurst and VML brands, has launched its all-new line of eco-friendly "California Square" fine wines. California Square comes in three varieties of super-premium appellation-based wines, each offered in a striking, retro/chic bottle, crafted by winemaker Virginia Marie Lambrix, the winemaker for VML and Truett-Hurst wineries. The 2012 vintage of California Square includes a Russian River Valley Chardonnay, a Paso Robles Cabernet and a unique Paso Robles Three Red Blend. Winemaker Virginia Lambrix, said, "We worked hard to create these wines- from carefully selecting the vineyards to blending over the course of weeks. We truly hope the customers see these wines as a testament of our commitment to both quality and eco-friendly principles."
______________________________________________________________________________________________________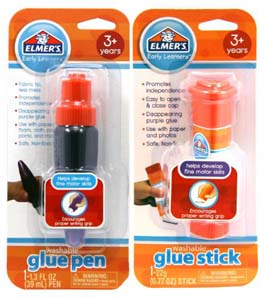 Elmer's Launches 'Early Learners' Product Line For Preschoolers
Elmer's Products has launched Elmer's Early Learners, a first-of-its-kind product line designed to meet the specific learning and developmental needs of preschool-age children. The line includes a glue pen and glue stick that help children develop fine motor skills while encouraging creative and independent play. The glue stick is available at all Target stores and the glue stick and glue pen are available at select Wal-Mart stores. "With more than 65 years experience working closely with educators and parents of school-age children, we have recognized that preschool is where many important life and learning skills are developed," said Roger Posacki, president and CEO of Elmer's Products. "After years of expert testing, classroom observation and conversations with moms, the Elmer's Early Learners line marks our brand's entry into designing products specifically for the preschool-age child. We look forward to building on this launch."
______________________________________________________________________________________________________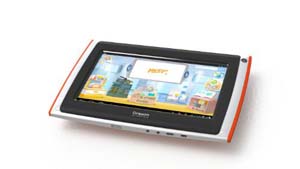 MEEP! X2 From Oregon Scientific Offers Slimmer, Fully Upgraded Tablet Designed For Kids
With the new MEEP! X2 tablet for kids, Oregon Scientific has reinforced the company's commitment to online safety with updated parental monitoring settings that are accessible on the tablet itself and from any PC, iPad or mobile device with a cellular or Wi-Fi Internet connection. The simple web interface allows parents to control the way children access the Internet, view their log files and browsing history, approve friend requests in the Kids Communicator, setup play, video and reading time, and add virtual coins to their MEEP! Market account. MEEP! X2 incorporates its own online Meep! Store with over 800 games and apps, and also access to Google Play through the parental portal. Additionally, MEEP! X2 comes pre-loaded with apps, games, and eBooks. Upgraded technical specifications include the latest Android 4.2 operating system, a VGA front-facing camera and 2.0 MP rear-facing camera, zForce® touch screen, G-Sensor, Wi-Fi b/g/n, Bluetooth 4.0 dual mode, a dual Core Cortex 1.2GHz processor, 1GB RAM, high capacity Lithium Polymer battery, and a Micro SD card slot. The MEEP! tablet is geared for kids 6 and up and is available at Toys "R" US retail stores.
______________________________________________________________________________________________________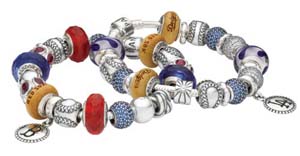 PANDORA Introduces MLB Themed Jewelry
PANDORA Jewelry and Major League Baseball Properties have introduced a collection of PANDORA charms representing the Leagues' 30 MLB clubs. This marks the first-ever sports licensing agreement for Pandora Jewelry. MLB club logos will be featured on PANDORA's sterling silver Unforgettable Moments dangle and Pau Amarelo, yellow, wood charm. Additional MLB themed offerings will be introduced in 2014. PANDORA continues to capture all of the unforgettable moments in a woman's life, and with MLB charms, women can celebrate their favorite teams all year round.
"Men aren't the only ones who watch sports these days, women are huge sports enthusiasts as well," said Beth Moeri, Senior Vice President, Merchandising, PANDORA Americas. "There's not a week that goes by that we don't receive feedback from consumers requesting a more robust assortment of sports-related PANDORA charms, so we're glad we can finally give them an opportunity to cheer on their favorite MLB teams and treasure their team charm forever!"
"We are absolutely thrilled to form a new relationship with PANDORA Jewelry, which not only marks their first-ever sports licensing agreement, but also features logos for all 30 Major League Baseball Clubs," said Howard Smith, Senior Vice President, Major League Baseball Properties. "Women comprise almost half of baseball's fan base and we are continuously seeking creative and fashionable ways to appeal to such a significant audience."
______________________________________________________________________________________________________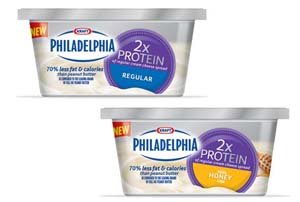 PHILADELPHIA Unveils PHILADELPHIA Cream Cheese Spread With 2X Protein
Cream cheese fans now have a delicious new protein option for the morning or at snack time with the first-of-its-kind offering from PHILADELPHIA. The new PHILADELPHIA 2X Protein Cream Cheese Spread, not only offers twice as much protein (4g vs. 2g per serving) as regular cream cheese spread, but also has 70 percent less fat and calories (per serving) than the leading peanut butter. PHILADELPHIA 2X Protein offers a delicious cream cheese spread, while providing fans with another way to incorporate protein into their diets, especially for those who have other dietary restrictions or preferences.
"We've already mastered the country's best-selling cream cheese but want to continue to offer our fans new and delicious ways to truly enjoy their breakfasts and snacks," said Katie Peterson, brand manager for PHILADELPHIA Cream Cheese. "PHILADELPHIA 2X Protein Cream Cheese Spread delivers another way for consumers to get the protein they want with less fat and calories than peanut butter."
______________________________________________________________________________________________________

Pernod Absinthe Relaunches Its Original Recipe
Pernod Absinthe, the first-ever absinthe commercially produced and sold, has re-launched its original formula. Available on- and off-premise, the change marks a new chapter in the brand's storied history. The formula was developed during a two-year process using the few remaining records of how Pernod Absinthe was made in the 1800s. Since the 1912 ban on absinthe in the United States was lifted in 2007, Pernod Absinthe has been at the forefront of the spirit's renaissance. With the re-introduction of the Original Formula, Pernod Absinthe again takes its rightful place as the most authentic and original absinthe on the market.
"Pernod Absinthe has a rich history that helped shape an era, and a return to the original Pernod Absinthe formula marks a historic time for both the brand and its heralded past," said Clare Kanter, VP, Category Marketing (Gin, Tequila & Exports) at Pernod Ricard USA. "As we pay homage to the brand's past, we look forward to introducing Pernod Absinthe for the world to enjoy as it once did."
______________________________________________________________________________________________________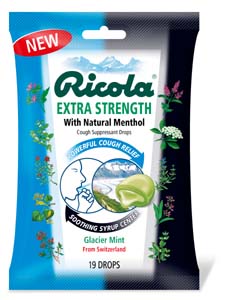 New Ricola Extra Strength Herb Cough Drops Made From Natural Menthol
Ricola®, the leading manufacturer of soothing herb drops from Switzerland, has added a new product to its line of uniquely effective and delicious herb drops – Extra Strength for powerful cough relief. Available in a "just-dripped-from-an icicle"-Glacier-Mint flavor, Extra Strength is cultivated from a blend of ten natural Swiss alpine herbs and a soothing syrup center that delivers powerful cough relief with natural menthol.
"Ricola invented the original Swiss herb cough drop more than 80 years ago and today still uses the same blend of ten natural Swiss alpine herbs to provide the world relief from coughs and colds," said Ricola Senior Market Manager Tobias VonRohr. "Our new Ricola Extra Strength with Natural Menthol continues that tradition of providing the finest quality herb drops with a powerful soothing syrup center, made from natural menthol."
______________________________________________________________________________________________________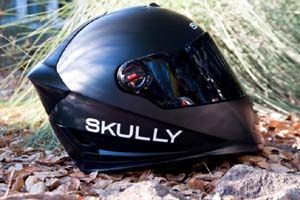 Skully Launches Intelligent Motorcycle Helmet
Silicon Valley-based Skully Helmets, a pioneer in advanced Heads-Up Display (HUD) technology solutions for the head protection industry, has unveiled its Skully P1, the first vertically integrated smart HUD motorcycle helmet for consumers. The Skully helmet enables riders to dramatically enhance their awareness with an intelligent Heads-up Display (HUD) system. On board is a full 180-degree rearview camera, turn-by-turn GPS navigation, smartphone pairing and voice control. "For riders, awareness is crucial," said Marcus Weller, Ph.D., Chairman and CEO of Skully Helmets. "We designed the Skully P1 to operate as a natural extension of the senses. It sees, it hears, it feels, and, most importantly, it thinks and connects you with the rest of the world. This is just the beginning for this platform."
______________________________________________________________________________________________________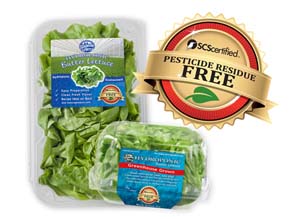 Tanimura & Antle Hydroponic Lettuce Certified Pesticide Residue Free
Produce industry leader, Tanimura & Antle, has had its greenhouse grown butter lettuce independently certified as Pesticide Residue Free. Tanimura & Antle is the first to obtain this certification for greenhouse grown lettuce. Packaged year-round from their Livingston, Tennessee greenhouse, Tanimura & Antle hydroponic butter lettuce is available in a one-count clamshell and a three-count club-pack at retail stores across the United States.
"Our greenhouse operation uses minimal controls in the growing cycle, as the growing environment is closed and generally pest free," according to Diana McClean, Director of Marketing for Tanimura & Antle. "This certification independently assures consumers that our greenhouse grown lettuce does not have pesticide residue."
______________________________________________________________________________________________________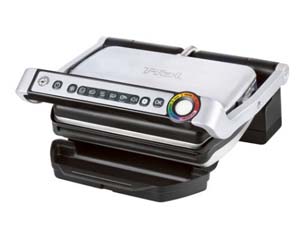 T-fal Launches The OptiGrill 'Intelligent' Indoor Grill
T-fal®, the leading manufacturer of non-stick cookware and small appliances, is unveiling its newest innovation to the U.S. retail market, the T-fal OptiGrill. Designed with a "brain," the OptiGrill is an electric indoor grill featuring built-in sensors that automatically adapt to the thickness of food to precisely grill and cook to the user's preference of doneness from rare to well-done. It features six different programs, including: burgers, poultry, sandwiches, sausage, red meat and fish. Additionally, the manual cooking function allows for grilling vegetables and personal recipes while the defrost setting evenly thaws and cooks foods conveniently from frozen. The OptiGrill's key attributes include angled plates that drain excess fats from foods, the ability to cook steak to preference despite level of experience in cooking red meat, and the access to grilling year-round regardless of the season. The brushed stainless steel exterior is sleek and compact for easy storage and the removable cooking plates and drip tray are dishwasher safe for fast and easy clean up.
______________________________________________________________________________________________________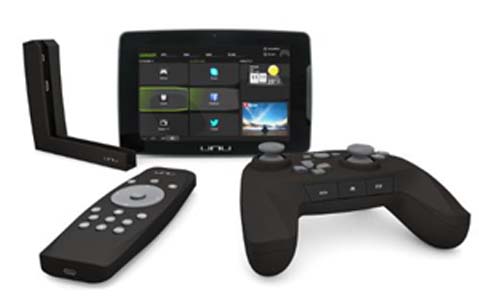 Unu, First Universal, Portable, Smart Entertainment Hub Hits Retail
Sunflex has introduced unu, the world's first HD-display Android tablet that can be docked to your TV and used as a smart TV and video game microconsole. Available in two versions for the November launch, both have full access to the more than 1 million games and apps to enjoy via the Google Play store. The unu Media Edition comes with a TV docking station and an air mouse controller with keyboard and the fully-loaded Gaming Edition adds an advanced game controller supporting tens of thousands of video games.
Nicki Repenning, vice president of business development, Sunflex, said, "The tablet is one of the most exciting consumer technologies in the last 50 years, but we knew it could and should do more. So, we built a custom smart TV user interface and two different controllers to match up with every entertainment experience found on the Google Play Store. That's how unu was born."
______________________________________________________________________________________________________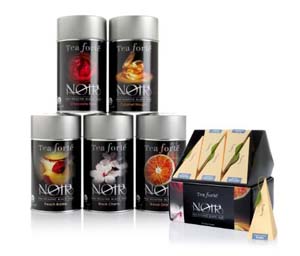 Tea Forte Launches NOIR Tea Line
Tea Forte®, the global luxury tea company, has launched its innovative line of NOIR™ pan-roasted black teas. Carefully crafted using select leaves from the famed Jamguri tea garden in the Assam highlands in Northern India, NOIR tea offers a robust concentrated character to delight even the coffee purist.
Stuart Avery Gold, Tea Forte's Chief Brand Officer, said, "With trends indicating coffee is not everyone's cup of tea, we are excited to create a connection, extending an invitation to both coffee connoisseurs and tea aficionados alike to experience how the delicious depth of NOIR teas can become a more meaningful part of their daily beverage experience." The artisan blends include: NOIR Black Cherry, NOIR Caramel Nougat, NOIR Peach Brulee, NOIR Blood Orange, and NOIR Chocolate Rose. NOIR is available in Tea Forte's signature pyramid infusers or loose tea canisters.
______________________________________________________________________________________________________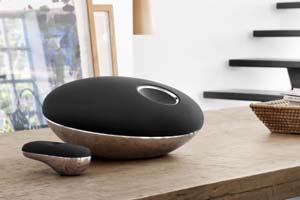 Singing Machine Home Introduced
Singing Machine, one of the first companies to bring karaoke into American homes, has introduced the Singing Machine Home™, an elegant speaker that pumps out room-filling sound and wirelessly connects to any Bluetooth-enabled device including smartphones, tablets, laptops and more. When the mood is right, Home turns into an on-demand, Wi-Fi-enabled karaoke machine. It plugs into your TV via HDMI and connects to the cloud wirelessly. With one click, you have instant access to Singing Machine Play™, a platform that streams more than 8,000 HD karaoke music videos. Rolling out to Best Buy stores in late October, Singing Machine Home allows you to fully experience your music, whether you are listening to a classical mix on a lazy Sunday afternoon or belting your favorite jam into the mic on Friday night with friends.
______________________________________________________________________________________________________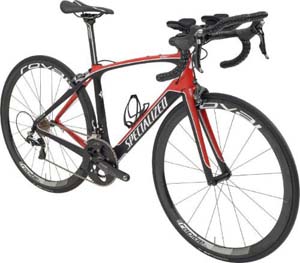 Specialized Unveils Alias Tri-Bike For Women
Specialized Bicycle Components has introduced a new player to the women's triathlon scene-the Alias. Part high-performance road bike, part triathlon bike, the Alias delivers the best of both worlds, allowing women to train and race on the same bike. The Alias eliminates a common issue cyclists face when taking up the sport of triathlon-the need to have one bike for training and another dedicated tri-bike for racing. The Alias solves this problem making it an ideal bike choice for women who don't want to buy, or store, two bikes for different needs.
"Women's triathlon and cycling have become powerful and permanent forces in women's fitness," said Erin Sprague, women's product manager. "The Specialized Alias is the first bike of its kind, designed for women participating in mid-distance triathlon."
______________________________________________________________________________________________________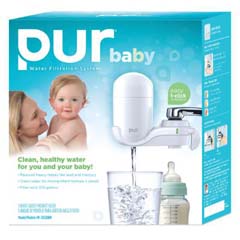 PUR Water Unveils PUR Baby Water Filtration System
Parents today pay attention to everything that goes into their babies' bodies, even when it comes to something as simple as drinking water. Filtered tap water is an excellent source to prepare formula, which is why PUR has introduced the newest addition to its product line-up: the PUR Baby Water Filtration System. The PUR Baby Water Filtration System removes potentially harmful contaminants from tap water to offer parents peace of mind when using water to prepare formula and cereal. The PUR faucet mount filter is certified to remove 99 percent of lead, and it also removes agricultural pesticides, industrial pollutants, pharmaceuticals, microbial cysts, and chlorine taste and odor – up to 61 contaminants found in drinking water.
"We understand that parents have plenty to worry about, especially during the precious, early days of raising a baby," said John Wojcik, Vice President of Marketing at Kaz. "We want to offer parents assurance that something as simple as turning on the faucet can give parents what they need to help keep baby healthy and nourished."
______________________________________________________________________________________________________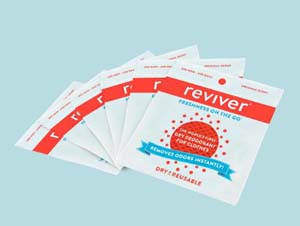 Reviver™ Debuts Freshening Wipes For Clothes
Reviver, invented by Kusin & Kusin Ltd., is the world's first dry deodorant for clothes and hair, and is now available nationwide at Walgreens in the laundry aisle. Reviver is a revolutionary odor-neutralizing dry swipe that lets you instantly and discreetly 'swipe away the everyday.' Like breath mints for clothes and hair, Reviver lets you bring freshness and confidence wherever you go. Each swipe is packaged in a resealable packet and delivers multiple uses. To use, simply slip the swipe over your fingers and rub against your clothing or hair. The wiping action releases proprietary non-toxic compounds that safely neutralize odor-causing elements without damaging clothing. Reviver can be found on a clip strip in the laundry aisle of Walgreens nationwide.
______________________________________________________________________________________________________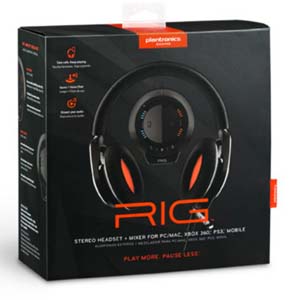 Plantronics Introduces RIG™ Headset + Mixer
A complete audio system of stereo headset, mixer, convertible mics and cables, RIG Headset + Mixer is the first gaming headset designed from the ground up with mobile in mind. The RIG audio system lets players focus on the game by managing their mix, their way. Dial in a preferred mix of game and smartphone sound – calls, music, and app notifications – for a fully customized audio experience. The RIG headset delivers epic audio performance, with precision stereo, crystal-clear voice and three EQ profiles, including Seismic mode, allowing players to feel the bass.
"RIG Headset + Mixer is truly unique as the first gaming headset developed with mobile at its core, which allows for seamless calls, side game chat, music, and a variety of other second screen uses. For gamers, RIG connects their game life with their real life," said Chuck Frizelle, Head of Plantronics Gaming.
______________________________________________________________________________________________________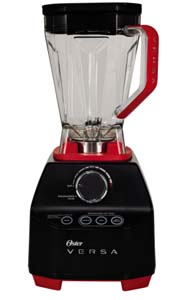 Oster® VERSA® Brand Makes High-Performance Blending Affordable
On a mission to meet overwhelming consumer demand for a commercially-inspired, high-performance blender that delivers power, precision and versatility at an affordable price, Oster, the number one brand in blending, has introduced the new Oster® VERSA® Performance Blender. The VERSA is offered at a fraction of the cost of comparable high-performance blenders, bringing higher-level nutrition within reach of all Americans.
"Performance is up, but price is down. High-performance blenders are not a niche appliance anymore," said Matthew Ragland, Vice President of Marketing. "They are everyday, sit-on-your counter, use-all-the-time lifestyle appliances that deliver tangible health benefits to consumers. As an industry leader in overall blending, it was our responsibility to provide a better option for consumers in the high-performance blending space. This product's exemplary combination of performance, precision and value make it a rare and extraordinary offering among high-performance blenders."
______________________________________________________________________________________________________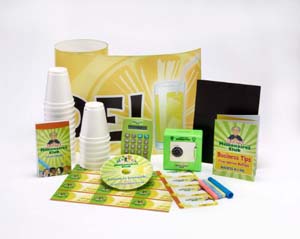 Warren Buffett's Secret Millionaires Club Introduces 'Business In A Box' Exclusively At Toys"R"Us
Warren Buffett's popular television and online series, Secret Millionaires Club, continues to expand with the introduction of Business in a Box, an all-new product from A Squared Entertainment that teaches kids the fundamentals of financial literacy through interactive play. Business in a Box, created in partnership with toy company TCG, will launch at Toys"R"Us with two kit options, which provide children with everything they need to create a lemonade stand or a car wash, including a DVD with episodes from the animated Secret Millionaires Club series, as well as a booklet with business tips from Mr. Buffett himself. Secret Millionaires Club, created in partnership with and starring an animated Warren Buffett, features a group of kids who have adventures in business. A Squared Entertainment CEO, Andy Heyward, said, "We've found ways to make it fun for kids to understand business and to build the confidence to think like entrepreneurs while learning valuable life lessons that can be key to future success."
______________________________________________________________________________________________________

Heel Launches Reboost™ Cold And Flu Products
Heel Inc., a pharmaceutical company, which makes medicines from ingredients found in nature, has launched the Reboost™ product line, which includes four of the company's trusted homeopathic cold, cough and flu products: Nasal Spray, Throat Spray, Tablets for the temporary relief of minor flu symptoms and Cough Syrup. Reboost™ products can be used by adults and children four years and above and the product line is now available at a variety of fine natural health stores and pharmacies, including Whole Foods Market and Sprouts Farmers Market.
"There is growing consumer demand for natural alternatives to traditional over-the-counter cold and flu medications," said Cliff Clive, CEO of Heel Inc. "We are excited to offer an affordable product line to the marketplace that provides multi-symptom relief for the cold and flu."
______________________________________________________________________________________________________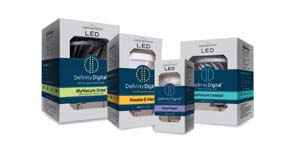 New Definity Digital™ LED Light Bulbs Go Beyond Illumination To Enhance Wellness
Lighting Science®, a global leader in innovative energy-efficient lighting, has launched Definity Digital™, the world's first line of biologically-corrected lighting with products specifically designed to improve sleep, support natural melatonin production, boost alertness, accelerate plant growth, and protect wildlife. Based on patented LED digital technology developed by Lighting Science for the International Space Station and the U.S. South Pole Station, the revolutionary line of bulbs is both a scientific and technological breakthrough. The light bulbs fit into conventional sockets and provide the same bright white light that consumers expect, but with added health benefits.
"Definity Digital is not a replacement light, it's an entirely new way to use lighting," said Fred Maxik, Founder and Chief Technology Officer at Lighting Science. "Definity Digital products far surpass the benefits of efficient, environmentally-friendly illumination that consumers and customers expect from LED lighting. Our lights can radically improve your lifestyle by providing biological, emotional and environmental support to you to maximize your productivity and allow your body to more naturally function."
______________________________________________________________________________________________________
Apple Names Angela Ahrendts SVP Retail
Apple® has appointed Angela Ahrendts to the newly created position of senior vice president of retail and online stores and member of the executive team, reporting to CEO Tim Cook. Ahrendts will join Apple in the spring from Burberry, where she serves as CEO and has led the company through a period of outstanding global growth. Prior to Burberry, she was executive vice president at Liz Claiborne Inc., and earlier in her career she served as president of Donna Karan International.
______________________________________________________________________________________________________
Famous Brands Appoints David Bloom SVP Of Strategic Development
Famous Brands International, the parent company of TCBY Yogurt and Mrs. Fields Cookies, has appointed David Bloom to the position of Senior Vice President of Strategic Development. Bloom has been serving as the Chief Development Officer for Hurricane Grill & Wings.
______________________________________________________________________________________________________
DCI Marketing Sold To Warren Buffett's Marmon Group
DCI Marketing Inc. was sold by its British-based owner to Warren Buffett-controlled The Marmon Group of Chicago. IMI plc sold its merchandising division, which includes DCI and its beverage-dispense unit to The Marmon Group, which is part of Buffett's Omaha, Neb.-based Berkshire Hathaway Inc. "The IMI beverage dispense and merchandising businesses will become an integral part of the Marmon Retail Technologies company, one of three Marmon companies that together comprise approximately 160 independent manufacturing and service businesses worldwide," said Marmon CEO Frank Ptak. (Web Site) www.dci-artform.com
______________________________________________________________________________________________________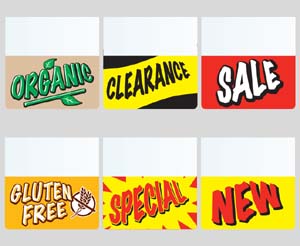 Shelf Talkers Offers Pre-Printed Shelf Edge Signage
Shelf Talkers Mfg., a leading innovator in shelf edge signage, has introduced pre-printed signs that are sure to cover all selling and promotional requirements. A variety of sizes are available and messages include: Organic, Clearance, Sale, Gluten Free, Special, New. Personalized artwork can be printed as well. For more information, visit Shelf Talkers Mfg., (Web Site) www.shelftalkers.com
______________________________________________________________________________________________________
TM Shea Products Introduces PowerTowers
TM Shea Products produces PowerTowers,™ which are custom ordered to display merchandise off of pallet, hypermax, multi-function vertical racking and wire wing racks. Custom printed side panels and headers display P.O.P. logos and graphics. Peg hooks are available in a variety of styles and lengths of 2 to 6 inches with or without UPC scan plates. Merchandise multiple products/price points per PowerTower™. For more information, (Web Site) www.tmshea.com
______________________________________________________________________________________________________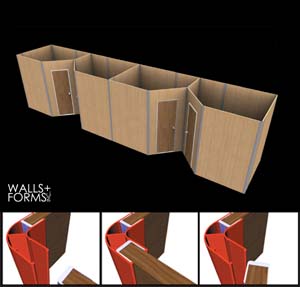 Walls + Forms Adds Three New End Caps To Its CornerForms™ System
Walls + Forms, Inc. has added three end caps to its proprietary CornerForms™ system. They include a finished end cap, a finished angled end cap, and a finished double end cap. CornerForms finished end cap #2810 is a single panel (edge) profile that provides a decorative "edge treatment" for vertical and horizontal edges. It can be mechanically attached to a wall and/or fixture surface to receive a panel. Applications include end of perimeter wall application, mounting a panel perpendicular on to a wall or fixture. CornerForms finished angled end cap #3181 is a single panel (edge) profile designed to be mounted to a substrate along with a 30 degree profile to create a pop out. Applications include product category dividers; angled edge cap along with 30 degree profile to create "V" shape pop out. CornerForms finished double end cap #3563 connects two panels back to back. It can be mechanically fastened to a wall or display. Applications include a pop out perimeter wall, fitting/privacy rooms, partitions and more. CornerForms end caps measure 96″ long (custom cuts available) and are available in standard white, gray, almond and black finishes. For more information, please visit (Web Site) www.wallsforms.com
______________________________________________________________________________________________________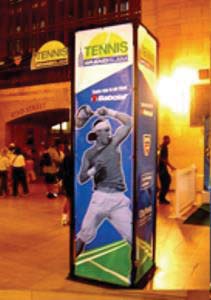 Ultraflexx Offers SuperSmooth PET GreyBack
Ultraflexx produces SuperSmooth PET GreyBack, which is a non-curling banner with a grey back and smooth print surface, making it ideal for high resolution printing. The grey back-side prevents light transparency and shadowing making SuperSmooth PET GreyBack ideal for pop-up, roll-up, X-displays, and other indoor applications. For more information,(Web Site) www.ultraflexx.com
______________________________________________________________________________________________________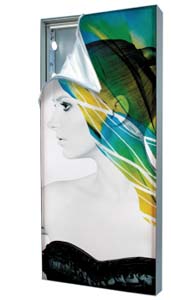 Moss Introduces EZ Fabric Walls
Moss' Illuminedge Lightbox for EZ Fabric Walls creates affordable and luminous booth entrances, enclosures and full walls. This efficient solution combines Moss' most affordable lightbox technology with Moss's most versatile modular exhibit system. Illuminedge LED modules are integrated directly into 80mm EZ Fabric Wall frames to dramatically backlight graphics. For more information, (Web Site) www.mossinc.com
______________________________________________________________________________________________________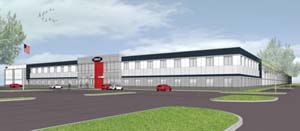 Orbus Exhibit & Display Group Announces New 350,000 sq. ft. Facility
Orbus Exhibit & Display Group™ plans to expand operations through the construction of a new 350,000 sq. ft. manufacturing and distribution facility. This not only allows the company to achieve its plans for growth, but enables it to consolidate current operations and bring its team together into one facility. In 2010, Orbus merged with its sister brand Nimlok. This move is the last step in the consolidation of its Illinois-based operations, and combines the company's custom exhibit manufacturing capabilities with its portable display production and distribution. Not only will the consolidation improve efficiencies and reduce duplication, but it will support the company in establishing a unified corporate culture.
(Web Site) www.orbuscompany.com
______________________________________________________________________________________________________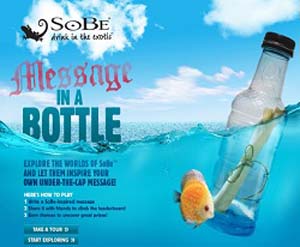 SoBe Conducts 'Message In A Bottle' Promotion
For years, SoBe has placed unique and quirky messages under the bottle caps of their teas and fruit-flavored elixirs. Now, the brand is giving its most dedicated SoBe fans in the U.S. a chance to share their words of SoBe-inspired wisdom under caps with a new "Message in a Bottle" promotion. Fans can visit www.sobeunderthecap.com and submit their messages, then share their submissions via social media and rally friends to vote for them. The most popular submissions will be displayed on a leader board, and the top sayings will go underneath SoBe caps next year. Additionally, the author of the most creative and "SoBe-fied" message, as selected by a panel of judges, will receive a trip for two to Hawaii.
"Our 'Message in a Bottle' promotion lets fans experience SoBe's fun and exotic brand personality," said Natalie Labuda, Marketing, SoBe. "Through the promotion and our interactive microsite, we hope to increase consumer engagement, drive equity and traffic to our other social media channels, and set the stage for the next phase of the campaign in 2014."
______________________________________________________________________________________________________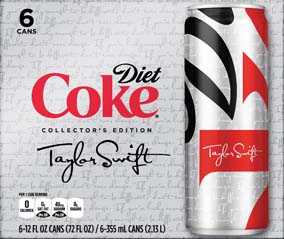 Diet Coke Promotes New Limited-Edition Taylor Swift Can Design
In a nod to Taylor Swift's inspirational sayings and award-winning lyrics, Diet Coke has created a collector's edition can. In-store and point-of-sale advertising inspired by Swift will also support the launch of the new limited-time Diet Coke® Taylor Swift can 6-pack can, which is being promoted in beverage aisles nationwide in October and November, and is sure to catch the eye of people who enjoy Diet Coke and Taylor's messages. Each 12 oz. can is adorned in hand-written style with one of her most popular sayings: "If you're lucky enough to be different, don't ever change."
"The Taylor Swift collector's edition Diet Coke can is a way for us to celebrate the individuality and creativity that inspires people to achieve their dreams and be anything but ordinary," said Lauren Radow, associate brand manager, Diet Coke, Coca-Cola North America. "Taylor's message is simply extraordinary. We couldn't have said it better ourselves."
The collector's edition is the latest evolution in Diet Coke's multi-year partnership with Swift as the centerpiece of the brand's iconic Stay Extraordinary platform. Brought to life by San Francisco-based agency Turner Duckworth, the bold design features Swift's popular quote handwritten in Diet Coke red along with the singer's logo, which wraps the 12-ounce can.
______________________________________________________________________________________________________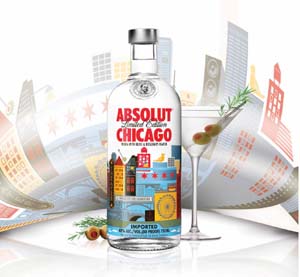 ABSOLUT Introduces Chicago-Inspired Flavor In Specially Designed Bottle
Absolut has unveiled the latest limited-edition, city-inspired flavor to the ABSOLUT® VODKA portfolio, ABSOLUT® CHICAGO. Just like the city of its namesake, ABSOLUT® CHICAGO is a true modern classic. Fused with olive and rosemary flavor, ABSOLUT® CHICAGO is perfect for many of the city's favorite cocktails, including martinis, bloody marys and lemonade simple serve. ABSOLUT® Chicago is packaged in a specially-designed bottle, whose design was crowd sourced through a partnership with the Chicago-based design community, Threadless. Over 170 designs were submitted and over 156,000 votes cast for the unique canvas on the limited-edition bottle. Ross Bruggink, 26, describes his winning design as a "stylized cityscape incorporating architectural and iconic elements of Chicago."
"ABSOLUT® CHICAGO is a product of creativity and collaboration," said Maxime Kouchnir, Vice President, Vodkas, Pernod Ricard USA. "By putting the bottle design in the hands of artists, ABSOLUT® CHICAGO inspired hundreds of people to express their creativity through an unexpected canvas."
ABSOLUT® CHICAGO is the seventh flavor in the US brand's city-inspired flavor portfolio, which launched in 2007 with the introduction of ABSOLUT® NEW ORLEANS, a flavor reminiscent of the Big Easy. Each year since, ABSOLUT has introduced the following US limited-edition flavors – ABSOLUT® LOS ANGELES in 2008, ABSOLUT® BOSTON in 2009, ABSOLUT® BROOKLYN in 2010, and ABSOLUT® SF in 2011 and ABSOLUT® MIAMI in 2012.
______________________________________________________________________________________________________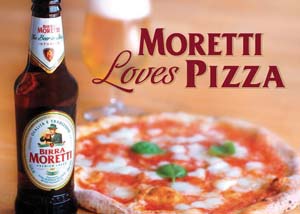 Birra Moretti Offers Fans Ultimate Pizza Experience
In recognition of National Pizza Month this October, Birra Moretti USA is giving fans a chance to win the Ultimate Pizza Experience. The grand prize winner will receive a three day, two night trip to enjoy the best pizza New York City has to offer. The trip for two includes an Ultimate Pizza Crawl to authentic pizzerias that feature Birra Moretti, round-trip flights, accommodations and a $150 gift card.
Fans of Birra Moretti USA can visit Facebook and enter for a chance to win both weekly prizes and the grand prize trip to New York City. Each week, three fans will win a Pizza Party Prize Pack to make pizza nights at home More Italian. The month-long celebration is inspired by Birra Moretti's proud ties to Italian cuisine and culture. As the most popular beer in Italy, Birra Moretti pairs perfectly with traditional Italian pizza. With more diners choosing Birra Moretti in the United States, the popularity and appreciation of authentic Italian flavors grows. Birra Moretti USA is excited to give fans the opportunity to experience the classic pairing of Moretti and pizza in New York City – a destination famous for its love of the classic artisan pie.
______________________________________________________________________________________________________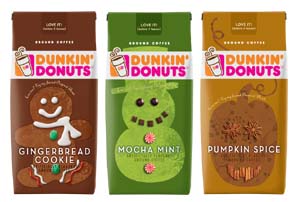 Dunkin' Donuts Seasonal Packaged Coffee Products Promoted In Store
Dunkin' Donuts® packaged coffee is celebrating the aromas of fall and winter with seasonal coffee flavors, including a new Apple Pie variety and returning favorites, Pumpkin Spice and Mocha Mint. Dunkin' Donuts seasonal coffee flavors are available for a limited time from the coffee aisle at local grocers or retailers selling Dunkin' Donuts packaged coffee. Dunkin' Donuts® brand is licensed to The J. M. Smucker Company for packaged coffee products sold in retail channels such as grocery stores, mass merchandisers, club stores, and drug stores.
______________________________________________________________________________________________________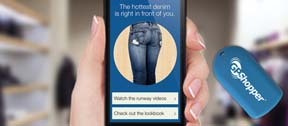 GPShopper Launches Beacons In-Store Mobile Marketing Solution
GPShopper has introduced Beacons, an innovative way to engage consumers with an in-store retail experience. Utilizing the new Bluetooth Low Energy (BLE) standard, compatible with Apple's iBeacon framework, Beacons bring the power of mobile location marketing to the in-store consumer's iPhone or Android smartphone.
The Beacons solution allows a retailer or brand to introduce micro-location messaging and personalized targeting to indoor locations in an efficient and easy-to-manage way. Beacons can be used for entry/exit messaging, cash-wrap notifications, in-aisle promotional targeting as well as store-level heat-mapping and analytics. Shoppers can receive instant information on their phones related to their favorite products, tailored promotions and immediate customer support for an enriched in-store experience.
Combining GPShopper's award-winning mobile Platform with their new Beacons capability brings retailers and brands an end-to-end mobile marketing solution with a robust content management system and detailed reporting. As mobile experts, GPShopper can assist retailers in deploying applications which can interact with the BLE devices to trigger videos, personalized promotions, products, Look Book and more, all of which can be managed on a store-by-store or national level. (Web Site) www.gpshopper.com
______________________________________________________________________________________________________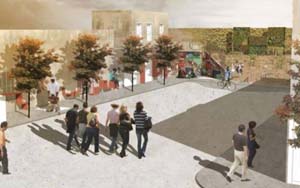 The Lincoln Reimagine Project Collaborates With Architectural Leaders
The Lincoln Motor Company, the luxury automobile brand, launched the third installment of The Lincoln Reimagine Project™ in conjunction with Architectural Digest and non-profit firm Architecture for Humanity. For this project, the Burrows Street pocket park in the Portola neighborhood of San Francisco, will be transformed into an enriching and valuable city destination.
The Lincoln Reimagine Project aims to collaborate with and support visionary leaders on innovative ideas and projects within Lincoln's passion points of the arts, design and thought leadership. Led by visionary architect Cameron Sinclair's Architecture for Humanity and in collaboration with Lincoln's design team and Architectural Digest, the Burrows Street Park will be reimagined from an underutilized space to a thriving hub of community-centric events and programming. Inspired by the holistic approach to Lincoln car design, the park will be imaginative, yet purposeful. Through Lincoln's funding, the park will receive significant upgrades, including, lighting, street furniture, a living wall, an informational kiosk and a mural wall designed by local artists.
"The Lincoln brand was built by one man's vision. We are reclaiming that forward-thinking and imaginative spirit through The Lincoln Reimagine Project to foster innovation and design throughout our community," said Andrew Frick, group marketing manager, Lincoln. (Web Site) www.lincoln.com
______________________________________________________________________________________________________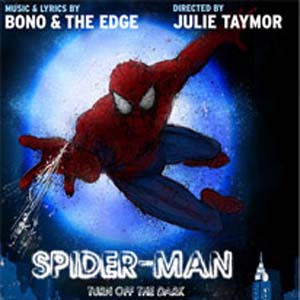 Broadway's Spider-Man Partners With Mobiquity For Location-Based Mobile Marketing Campaign
Mobiquity Technologies, the nation's largest location-based mobile marketing network, has teamed up with Spider-Man Turn Off the Dark, Broadway's groundbreaking musical, for its first ever location-based mobile marketing campaign. The campaign will run for three months and micro-target passersby outside of The Foxwoods Theatre on 42nd Street in Times Square with interactive messages, videos and content.
The majority of Americans own a smartphone and, 74% of adult smartphone owners ages 18 and older say they use their phone to get location based information. Harnessing the rise in location-based usage and mobile video consumption coupled with the highly-trafficked location of the Theatre, Mobiquity Networks will drive mobile awareness and commerce using rich digital content delivered via Bluetooth and Wi-Fi. Consumers who choose to opt-in will receive digital images, a 30-second promotional video, along with a show calendar equipped with a click to purchase or click to call feature when the Theatre is open. When the box office is closed, consumers will receive the promotional video and creative sending them online for reservations and a click to call for Ticketmaster.
"We are thrilled to partner with Spider-Man Turn Off the Dark to drive ticket sales and awareness for the show," said Michael Trepeta, co-CEO of Mobiquity Networks. "The rise in location-based services users, and the volume of foot traffic in Times Square combined with Mobiquity's ability to deliver engaging content to interested people who pass by serves as a powerful tool to build excitement and ultimately more patrons for the show." (Web Site) www.mobiquitynetworks.com
______________________________________________________________________________________________________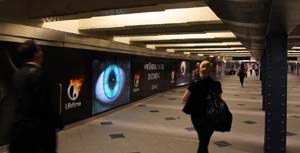 Spooky Interactive Video Wall Promotes 'Witches Of East End' Lifetime Series
Subway riders at NYC's busy Columbus Circle subway station have been spooked by a large-scale interactive video wall promoting the new Lifetime series "Witches of East End." The gesture activated, multi-media billboard was produced by Pearl Media, specialists in digital and interactive out of home experiences. Two, nine square-foot walls, comprised of nine screens each, intrigue subway riders with gesture-technology. An extreme close up of a woman's green iris abruptly changes as commuters stroll by. Masses of black birds fly out of the woman's eye; the more movement in front of the screen, the more the scene changes. Trees will go up in a blaze and additional gesturing will burn the flames brighter, higher and faster. The second wall, equally as large, plays the show's trailer. There's music and sound, too. Pearl Media partnered with Horizon Media, Civic Entertainment Group and CBS Outdoor on conception and implementation of this activation. (Web Site) www.pearlmediaus.com
______________________________________________________________________________________________________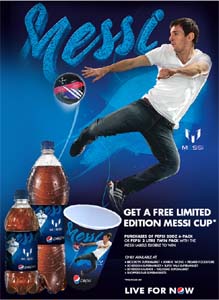 Pepsi Builds Global Football Excitement For 2014 With New Leo Messi Campaign
Pepsi is building global excitement for a yearlong football platform with the launch of a new campaign, "The Trick," starring four-time "FIFA World Player of the Year" Leo Messi, #10. The fast-paced 30-second TV spot opens on Messi performing a fancy footwork trick with an iconic can of Pepsi. Football enthusiasts around the world attempt to replicate Messi's Pepsi can trick with their own personalization, evolution and varied level of success.
"Tricks with a football are hard and tricks with a can are harder," said Messi. "It's an honor to partner with Pepsi to bring this campaign to life and literally kick-off what promises to be an exciting, passionate year around football." "The Trick" is the latest installment and interpretation of Pepsi's "Capture the Excitement of Now" global brand spirit and "Live for Now" campaign, which inspires fans around the world to embrace the moment with their passion for the game of football. Shot over two days on location in Barcelona, Spain by 180 LA, the spot was directed by Laurent Chanez and will launch globally on Pepsi's digital platforms and air in select cities. "Next year will be an incredible year for football and for football fans everywhere, and what better way to lead into it than to see if we can start building the fun, excitement and a little spirit of competition – all instigated by the iconic can of Pepsi," said Kristin Patrick, Senior Vice President, Global Chief Marketing Officer, Pepsi.
______________________________________________________________________________________________________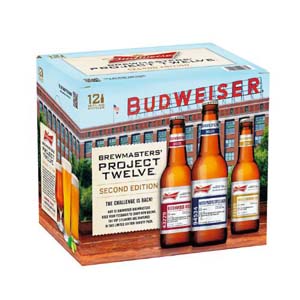 Budweiser's Project 12 Is Back To Surprise Beer Drinkers With Three New Brews
Budweiser's Project 12 – the brewmaster innovation platform that resulted in the introduction of Budweiser Black Crown – is back with three new beers named for the ZIP codes where the beers were brewed. Budweiser's team of brewmasters have developed new beer recipes featuring the signature yeast first used by Adolphus Busch in 1876, creating brews that exhibit Budweiser's clean and crisp taste while expanding the brand's offerings.
"Our brewmasters are the best in the business and the quality of our brewing standards is unmatched," said Brian Perkins, vice president, Budweiser. "'Project 12′ showcases our brewmasters at the top of their game, challenging them to create new recipes that stay true to the Budweiser taste profile while also introducing unique, new flavors."
The three small-batch Budweisers named for the ZIP code where the beer is brewed include: Batch 94534 (Fairfield, Calif.): Brewed with a unique blend of North Pacific hop varieties, including Cascade and Palisade, this bold, hoppy lager is 5.5 percent alcohol by volume (ABV) and offers a distinct taste of the American Northwest. Batch 23185 (Williamsburg, Va.): Aged on a bed of bourbon barrel staves and vanilla beans, this light amber lager indulges the sweet side and features a 5.5 percent ABV. Batch 43229 (Columbus, Ohio): Brewed with chocolate and caramel malts for a rich auburn appearance and finished on Beechwood chips for a crisp, clean taste, this deep amber lager is 6 percent ABV.
______________________________________________________________________________________________________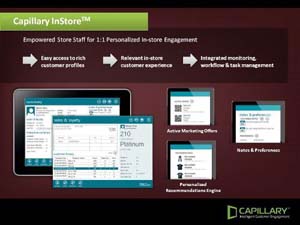 Capillary Technologies Launches Capillary InStore™
Capillary Technologies, a leading provider of cloud-based solutions that enable retailers to intelligently engage with shoppers, has unveiled Capillary InStore™, the latest module in Capillary's suite of Intelligent Customer Engagement™ solutions. Capillary InStore captures and analyzes data on customer behavior and shopping preferences through social, e-mail, local and mobile channels and arms sales associates with a host of tools for cross-selling, up-selling and strengthening customer engagement directly on the sales floor.
"CRM has long been used by marketers as a 'back-end' process to mine data and create sales campaigns, but the ideal customer relationships are built face-to-face by store associates," said Krishna Mehra, Capillary Co-Founder & Chief Technology Officer. "By putting valuable up-to-the-minute intelligence directly into the hands of sales associates, forward-thinking retailers can now dramatically enhance shopping experiences on the showroom floor, driving customer engagement through personalized recommendations and instant offers, with an immediate impact to the bottom line."
Highlights of the InStore solution include: On-demand knowledge of how customers have interacted with marketing campaigns, loyalty programs and store associates as well as product selection from past shopping experiences, enabling sales personnel to make current store experiences both richer and more rewarding; End-to-end customer experience management, including integration with Facebook, Twitter and other social networks, enabling deep customer profiles to be built incrementally over time; High-quality data maintenance through multichannel de-duplication, enrichment programs and simple, effective authentication procedures; Powerful instant rewards and couponing capabilities that enable sales associates to engage customers while they are in stores; and Tailor-made recommendation workflows, personalization and targeting capabilities that help retailers combat 'showrooming' and other contemporary customer behaviors. Capillary InStore can integrate with any point of sale (POS) system in real-time and has ready adapters for hundreds of the most popular retail and restaurant POS systems. The cloud-based solution also powers Android and iOS mobile and tablet apps so store associates can carry the power of intelligence with them onto retail sales floors. (Web Site) www.CapillaryTech.com
______________________________________________________________________________________________________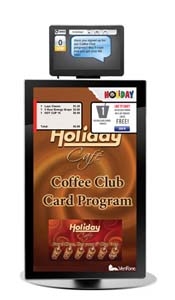 Holiday Oil Completes Deployment Of VeriFone LiftRetail Interactive Marketing System
Holiday Oil of West Valley, Utah, has completed a chain wide rollout of VeriFone's in-store marketing solution, LiftRetail, which uses POS-connected digital screens to engage each shopper with relevant offers and coupons. Additionally, it analyzes each item in a shopper's basket in real-time to make the right offer to the right shopper at the right time. The result is a proven increase in sales, delighted shoppers, and empowered cashiers.
VeriFone worked closely with Holiday to incorporate its coffee loyalty program into the shopper's interactive checkout experience. Instead of relying on paper punch cards, LiftRetail tacks each shopper's purchases by mobile number and automatically redeems their sixth coffee for free.
"LiftRetail provides leverage to our existing marketing programs and enabled us to implement an aspect of loyalty," said Blain Boelter, vice president of Operations with Holiday Oil, which operates 50 retail gasoline and convenience stores. "We are going to expand that loyalty program to our fountain areas and possibly fuel purchases as well." (Web Site) www.verifone.com
______________________________________________________________________________________________________
Grocery Shopping Network Launches Shopper Welcome Application
Grocery Shopping Network has launched Shopper Welcome for retailers and affiliates, a patent-pending digital shopping application that gives shoppers the opportunity to select and view retail offers and brand messages from the consumer packaged goods companies they are most interested in when browsing their favorite participating grocer's website. The Shopper Welcome messaging platform can now be easily implemented on any retailer or shopper focused website.
"The mission of Shopper Welcome is to provide shoppers with immediate value from their online visit," said John Gaughan, Vice President of Digital Media at Grocery Shopping Network. "This innovative digital shopping app assists our grocery and CPG partners in building more effective relationships with consumers, while also placing consumers in the driver's seat when it comes to the brand experience."
Grocery Shopping Network is a shopper marketing platform consisting of grocery stores, grocery shopper websites, and consumers that use it to plan their upcoming shopping trip at their favorite grocer. Every month shoppers visit these websites to better plan their shopping trip and the dollars they are going to spend. (Web Site) www.groceryshopping.net
______________________________________________________________________________________________________
FineLine And Scanbuy Collaborate To Offer Retailers A Turnkey Mobile Engagement Solution For Shoppers
FineLine Technologies and Scanbuy www.scanlife.com have introduced a unique in-store merchandising service that will enable retailers to easily implement a QR Code, Microsoft Tag, and/or an NFC mobile-enhanced packaging solution across their global supply chains, and directly into the hands of shoppers. FineLine's unique in-store merchandising service enables retailers to control the use of Scanbuy mobile codes but more importantly to leverage the customer engagement opportunities the codes create. The comprehensive service provides everything retailers need to rapidly implement their own store-branded QR/NFC product marketing programs including mobile microsite design, product and shelf labeling, a vendor compliance program to manage all content, and integratable analytics. Mobile codes and NFC triggers can be used by retailers to deliver mobile content such as accessory ideas, promotional videos, cross promotions or product information, and much more-all aimed to shorten the sales cycle and drive brand engagement.
"With easy implementation across any number of products and suppliers, retailers can take advantage of mobile-enhanced product packaging to engage with shoppers in real-time," said George Hoffman, CEO, FineLine Technologies. "This is an important element in a retailer's strategy to provide their own store-branded mobile content to shoppers and fully realize their omnichannel marketing objectives." Using its turn-key FastTrak web solution which provides 5 billion ticket/labels to over 15,000 global retail vendors, FineLine can now empower leading retailers to integrate mobile engagement technology into their product packaging at the manufacturing source.
"Through our collaboration with FineLine, retailers can now use our SmartCode technology to not only create smarter retail experiences by dynamically delivering compelling and timely content to shoppers," said Mike Wehrs, president and CEO of Scanbuy, "but they can also create new opportunities, build brand loyalty and continue to nurture the customer lifecycle." (Web Site) www.finelinetech.com
______________________________________________________________________________________________________
Jingit Introduces Omnichannel Shopper Marketing Platform
Jingit has launched its most significant platform update since the product's launch in 2010, enabling retailers and brands to better engage with shoppers across multiple channels. Jingit offers shoppers instant cash for engaging with retailers and brands at any step in the transaction process and from any media point: print/FSI, signage, TV, online, banner ads, mobile and social. Shoppers use Jingit via their smartphone to access personalized, time-sensitive engagements and offers. Engagements can include watching a brief ad, taking a short survey, checking in with a product in-aisle, or any combination a brand desires. Once the product engagement is complete, the consumer instantly earns cash — along with the ability to spend it immediately. Jingit uses feedback from surveys and specific shopper actions to deliver personalized offers to the individual.This sequenced conversation complements traditional marketing, and includes the consumer throughout the entire lifecycle in an opt-in manner that protects privacy.
Merchants want to track their marketing dollars to optimize media spend, build consumer loyalty and ultimately recapture those funds. Jingit helps retailers meet the shopper at the right time, right place, with the right context. Jingit helps with a retailer's banner and their thematic to drive store selection and trip frequency, drive aisle awareness and basket size, incentivize the transaction and quarantine spend to a retailers' location, and reward loyalty with personalized post-purchase engagement and offers. "Existing ad tech solutions have failed to address advertisers' and merchants' needs while engaging shoppers on their terms," said Joe Rogness, co-founder and CEO of Jingit. "Jingit delivers a true omnichannel digital engagement solution that complements, not competes, with traditional advertising and promotions." (Web Site) www.jingit.com
______________________________________________________________________________________________________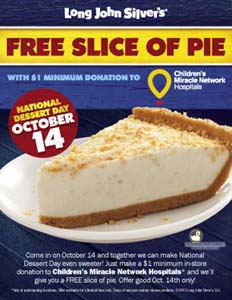 Long John Silver's Features Sweet Promotion Benefitting Children's Miracle Network Hospitals
Long John Silver's, the world's largest quick service seafood company, has introduced a month-long campaign to raise money for Children's Miracle Network Hospitals, the restaurant's national charity partner. Customers who visit any participating Long John Silver's restaurant are encouraged to donate to the cause. Customers who make a minimum $1.00 donation on October 14, 2013 will receive a free slice of pie, honoring National Dessert Day. Throughout October, Long John Silver's will encourage donations through in-store signage and through social media outreach on the restaurant's Facebook and Twitter.
"Children's Miracle Network Hospitals is a vital organization, raising funds for children's hospitals, medical research and community awareness of children's health issues," said Mike Kern, Chief Executive Officer of Long John Silver's. "If each Long John Silver's customer donates at least a dollar during October, we can make a big impact in the lives of these children."
______________________________________________________________________________________________________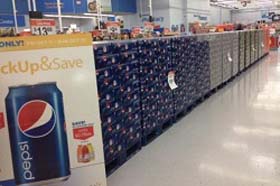 PepsiCo Launches 'Stock Up And Save' Promotion At Walmart
PepsiCo recently took over Walmart stores nationwide with a "Stock Up and Save" promotion that offered its core beverage brands at highly competitive prices to drive excitement in store with Walmart shoppers. Field sales teams loaded roughly 20 pallets of product into every Walmart store in the U.S., whereby shoppers could purchase 12-pack cans of Pepsi, Diet Pepsi, Mountain Dew, Diet Mountain Dew and Crush and 32-ounce Gatorade flavors. Additionally, Frito-Lay products were co-merchandised with beverages where possible to drive incremental sales, further illustrating PepsiCo's Power of One. To support the event, Walmart featured large, pallet train displays in stores, as well as point-of-sale materials, in-store TV and Walmart Facebook posts. (Web Site) www.pepsico.com
______________________________________________________________________________________________________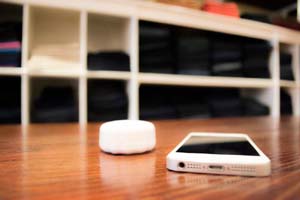 Swirl Brings Power Of Mobile Marketing To Major Retail Stores
Swirl Networks has joined forces with Hearst Ventures, a unit of Hearst Corporation, to expand its technology platform into the large-scale, multi-category retail market. Swirl is extending its proven mobile marketing and personalization capabilities from specialty apparel and fashion retailers to the largest big box and department stores to drive in-store sales, customer engagement and loyalty.
Swirl brings established online marketing and advertising technologies to physical retail locations through a combination of indoor positioning beacons, mobile apps and cloud-based services. Swirl leverages indoor micro-location targeting to deliver highly relevant messages, content and offers to consumers while they shop. First generation mobile phone location technology relies on GPS tracking, which drains battery, provides limited precision and does not work indoors. New indoor positioning technology (powered by Bluetooth Low Energy and supported by all major smartphone manufacturers) makes it possible to pinpoint a shopper's precise location within a store, for example, the baby aisle or electronics department, in real time. By combining micro-location sensing with any retailer's mobile app, Swirl's platform makes it possible to deliver personalized and contextual offers, recommendations and content to shoppers' smartphones while they browse specific areas within a store.
Hilmi Ozguc, founder and CEO of Swirl, said, "Major retailers are looking for a comprehensive omnichannel strategy that brings the immense benefits of online marketing and e-commerce to their retail store sales efforts. The retailers that can seamlessly couple mobile consumer behavior with in-store marketing technology will be the winners. Swirl offers the first and only fully integrated, enterprise-grade platform to provide the intelligence, micro-location targeting and campaign management necessary to handle even the largest retailers' in-store mobile marketing needs." (Web Site) www.swirl.com
______________________________________________________________________________________________________
Energizer Appoints TABS Group To Optimize Its Promotional Spending
Energizer Personal Care and Energizer Canada have retained TABS Group, a technology-enabled analytics firm, to provide the TABS PromoMaster® Plus suite of services to help them measure and optimize their promotional spending through the trade. TABS holistic approach to promotion optimization includes advanced tools that provide instant insight to trade promotion results plus the intellectual capital to deliver best practice strategy and tactics. "Trade Promotion continues to grow more complex with many more activities, beyond basic Circulars, Displays and TPR's to Loyalty Cards, web events and shopper marketing. Energizer is focused on maximizing our trade promotion investment and working with our retail partners to grow the category," said Pete Seidita, Director of Commercial Strategy & Planning, Energizer. (Web Site) (Web Site) www.tabsgroup.com
______________________________________________________________________________________________________

/>
Arby's Uses PunchTab's Omni-Channel Loyalty Platform To Increase In-Store Traffic And Purchases
Omni-channel loyalty and engagement platform PunchTab is currently working with Arby's Restaurant Group to engage guests and reward them for trying their new Smokehouse Brisket Sandwich. When Arby's recently launched their new menu item, they chose PunchTab to help build a rewards campaign called "The League of Brisket." The campaign encourages guests who are passionate about brisket to join the league and complete challenges to earn free food and gear, as well as an entry for a chance to win the grand prize — pro football tickets and "the ultimate tailgate party." The Arby's campaign engages and rewards participants for uploading purchase receipts. Participants are also rewarded for engaging with Arby's across a variety of channels, including checking in at an Arby's location, taking online quizzes, Tweeting, Liking, and completing online challenges. For this campaign, PunchTab created a mobile web and web experience, which lets Arby's guests upload a receipt without requiring an app download. When users make a purchase, they can take a picture of their receipt and submit it via the mobile web site. The receipt image is automatically uploaded and upon verification, points are rewarded. Alternatively, guests can upload their receipt from their computer and submit it online from the campaign home page.
"With PunchTab's receipt scanning abilities, brands can quickly enable loyalty campaigns that focus on increasing traffic and volume. Marketers can easily tie engagement behavior to purchase data, while gaining full visibility into what consumers are doing," said Angela Sanfilippo, Chief Marketing Officer at PunchTab. "These are important retail insights marketers can't always attribute to engagement — and something completely unavailable to brands who sell through 3rd party retailers." ______________________________________________________________________________________________________
Mobiquity Technologies Expands Nationwide Bluetooth Marketing Network
Mobiquity Technologies, the nation's largest location-based mobile marketing network, is expanding the footprint of its Bluetooth location-based mobile marketing network, Mobiquity Networks, increasing reach by 33%. Mobiquity Networks enables advertisers to micro-target millions of mall visitors per month in the nation's Top 10 DMAs with mobile digital content and offers when they are most receptive to advertising messages. Mobiquity-powered malls include Roosevelt Field in New York, King of Prussia in Philadelphia, Copley Place in Boston, Brea Mall in LA, Orland Square in Chicago, The Galleria in Houston and Lenox Square in Atlanta among others. Brands like Bloomingdales, 1800flowers.com, the NY Knicks and Dollar General, and entertainment like Def Leppard, Cody Simpson, Zero Dark Thirty, War Horse and Insidious have already relied on Mobiquity Networks to reach their consumers and influence behavior.
Mobiquity's interactive zones are positioned in shopping malls near entrances, anchor stores, escalators and other high-traffic, and high dwell-time areas and are designed to reach on-the-go shoppers via their mobile devices with premium opt-in content delivered using Bluetooth, Wi-Fi and Beacon Technology. This advertising medium offers highly targeted messaging, and has been engineered to engage and influence shoppers as they move about the mall environment. Michael Trepeta, co-CEO of Mobiquity Networks, said, "Before the expansion, our network could service an estimated 96 million shopping visits per month and Apple's release of AirDrop should accelerate the education, adoption and belief in Bluetooth/Wi-Fi/Beacon solutions for delivering content — a huge win for mobile marketing." (Web Site) www.mobiquitytechnologies.com
______________________________________________________________________________________________________

_________________________________________________________________________________________________________

______________________________________________________________________________________________________

______________________________________________________________________________________________________

______________________________________________________________________________________________________
CLICK ON IMAGE TO VIEW DIGITAL EDITION
______________________________________________________________________________________________________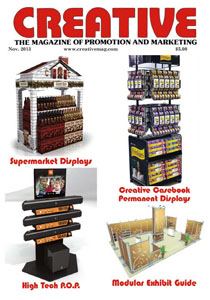 SEPTEMBER 2013 ISSUE
JULY 2013 ISSUE
MAY 2013 ISSUE
MARCH 2013 ISSUE
NOVEMBER 2012 ISSUE
SEPTEMBER 2012 ISSUE
JULY 2012 ISSUE
MAY 2012 ISSUE
JANUARY 2012 ISSUE