______________________________________________________________________________________________________


______________________________________________________________________________________________________


______________________________________________________________________________________________________

______________________________________________________________________________________________________


______________________________________________________________________________________________________


______________________________________________________________________________________________________

______________________________________________________________________________________________________


______________________________________________________________________________________________________

______________________________________________________________________________________________________


______________________________________________________________________________________________________

______________________________________________________________________________________________________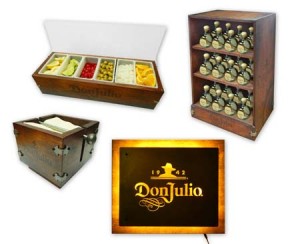 Don Julio Tequila Uses Wood POS For Cohesive Old World Feel
Diageo wanted a cohesive old world feel incorporated into a suite of POS items created for Don Julio Tequila that includes a napkin caddy, condiment caddy, counter unit, and illuminated LED sign. The products have a rough-luxe feel with the look of distressed wood and metal accents.
The napkin caddy is designed with a metal rod and finials as well as a bar rail base. The condiment caddy has a branded acrylic lid, 6 pint size garnish containers and an ice tray. The counter unit features 2 repositionable shelves to accommodate 50ml or 375ml bottles. The wooden LED sign is constructed with a laser cut metal pop-out and amber illumination.
The display products were produced by Heritage Sign and Display and include Heritage's proprietary digital staining technique that assures consistency with the brand image across all products; (Web Site) www.popsigns.com
______________________________________________________________________________________________________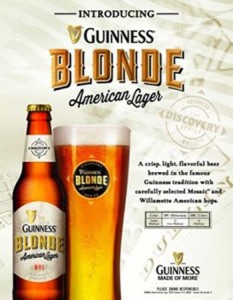 Guinness Blonde American Lager Introduced
New Guinness® Blonde™ American Lager, from the makers of iconic Guinness Stout, is made in the famed American brewing city of Latrobe, Pennsylvania. Guinness® Blonde™ American Lager uses American hops and Guinness' world famous 125-year-old Guinness yeast. As lagers continue to gain favor among beer drinkers in the U.S., Guinness Master Brewers in Dublin have collaborated with brewing experts in the U.S. to create a one-of-a-kind taste in American Lagers. Guinness® Blonde™ American Lager is a complex, flavorful lager with a floral, hoppy aroma that is a combination of Mosaic™, Willamette and Mount Hood hops. Combining these American ingredients with the world famous 125-year-old Guinness yeast intertwines two brewing traditions – Guinness and American. Guinness® Blonde™ American Lager is the first release in the Guinness Discovery Series™, an innovative concept showcasing a range of new 'fusion brew' beer options, all to be released under the Guinness trademark.
"Beer drinkers' tastes are evolving and people are looking to try different flavors and styles, and we're excited to show what Guinness is capable of beyond the traditional dark stout with Guinness® Blonde™ American Lager," said Doug Campbell, Guinness Brand Director. "The beauty of this beer is that we're able to produce a characteristically American-style lager, while fusing the standards of quality and taste expected of Guinness with a taste profile and color characteristics long loved by traditional American beer drinkers." (Web Site) www.guinness.com
______________________________________________________________________________________________________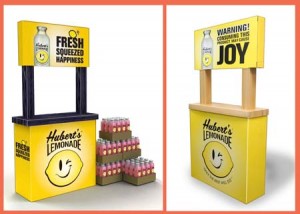 Hubert's Lemonade Floor Display Mirrors Roadside Lemonade Stand
Hubert's Lemonade Floor Display was designed to mimic a roadside lemonade stand highlighting a new customer rewards campaign. The display is constructed out of litho laminated corrugated material, with no hardware needed for assembly in store. The display was designed to ship flat and be assembled easily to save on parcel shipping costs.
The Hubert's Lemonade Floor Display was produced by Latitude Display and Design, Inc., a Los Alamitos, CA-based POP display company; (Web Site) www.latitude-display.comm
______________________________________________________________________________________________________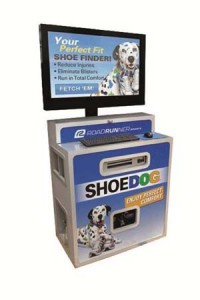 Road Runner Sports Stores Uses Mobile Running Assessment And Storage Display
This all-in-one mobile running assessment and storage cart was created for Road Runner Sports stores. The unit accommodates a large digital display, a video camera, a personal computer, a keyboard, a power source, cleaning suppliers, and product. This graphics-intensive unit is constructed of MDF with a satin stainless laminate and metallic edge trim. This display was produced for Road Runner Sports stores by RICH LTD., an Oceanside, CA-based POP display firm; (Web Site) www.richltd.com
______________________________________________________________________________________________________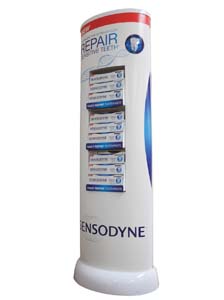 Sensodyne Floor Display Merchandises Repair And Protect Product
Sensodyne is the market leader in the sensitive tooth care category and this display was created to focus on their Repair and Protect tooth enamel product. The floor display needed to feel and look fresh and clean, and that was accomplished by using white vac form caps top and bottom.
The body of the display utilized high gloss chipboard, to give the entire display a white bright feeling, reinforcing Sensodyne's message of providing a clean, fresh brushing experience-even for those with sensitive teeth. It was designed to be shopped from both sides, making it easy to see and touch product regardless of whether shoppers were traveling up or down the aisle.
The product was clearly the hero in this display. This display was created for Sensodyne by Hughes Decorr, a Concord, Ontario Canada-based POP display company; (Web Site) www.hughes-decorr.com
______________________________________________________________________________________________________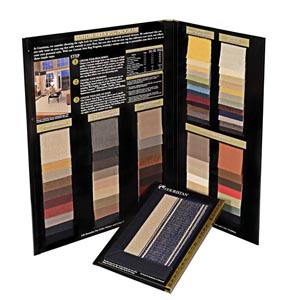 Couristan Offers Custom Area Rug Program At Retail
Couristan, Inc., a leading manufacturer of fine, quality area rugs, residential broadloom and custom contract/hospitality carpeting, has debuted its Custom Area Rug Program. Consumers are now the designers in this innovative and fully-customizable program, which makes it possible for each Couristan broadloom design to be converted into a custom area rug in any size or standard shape. Clients are able to choose any pattern from the company's three broadloom brands: Premiere, Creations™ and Purity®.
Offering a wide selection designs, colors and rich textures, Couristan's quality residential broadloom assortment will provide end-users with the decorating flexibility needed to create a truly custom, one-of-a-kind area rug.
In support of this program, the company has created a merchandising display board, featured in 13″ x 18″ and 24″ x 36″ formats to fit each of the company's display units. Filled with lifestyle imagery, binding swatches, finishing specifications and fabricated corner feeler swatches, this board has been designed to provide consumers with a complete overview of the Custom Area Rug Program.
Larry Mahurter, vice president of marketing/advertising, said, "We are extremely excited about the unlimited potential of this program, as it allows both consumers and our dealers to bring their decorating inspirations and personalities to life. It's a great way for our dealers to fabricate a Couristan product into a custom area rug that addresses their customer's decorating needs, allowing them to showcase their design point of view in their homes. The program also serves as a way of unifying our residential broadloom brands by merchandising them together in the most modern way possible." (Web Site) www.couristan.com
______________________________________________________________________________________________________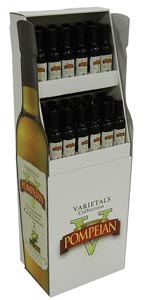 Pompeian Olive Oil Bottles Merchandised On Environmentally Friendly Display
Pompeian olive oil bottles are being merchandised in this environmentally friendly display. The display was digitally printed with water-based ink instead of the more harmful UV inks. This display size was reduced from former displays produced for Pompeian, so as to eliminate waste and unnecessary materials, and to minimize freight. All components of the display and product "drop" down into the base which becomes the shipping carton. Initial sell-through was very positive. Backup orders were placed and product continues to sell at a high volume.
This environmentally friendly display was produced for Pompeian Olive Oil by CaroCon Display & Packaging, a High Point, NC-based point-of-purchase display company; (Web Site) www.caroconusa.com
______________________________________________________________________________________________________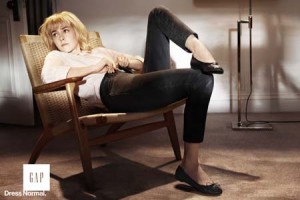 Gap Debuts Fall Campaign Which Celebrates Individuality And Dressing Normal
Gap has revealed the first chapter of its new fall campaign which celebrates the individuality and authenticity of personal style by questioning what it means to Dress Normal. Launching across multiple global vehicles, the campaign is rooted in the same core values the brand has unapologetically stood for over the past 45 years – individualism and the liberation that comes from confidently being your most authentic self. Dress Normal boldly instructs individuals to shape their own authentic, personal style – and intentionally challenges every one of us to dress for ourselves.
"Finding your own version of 'dress normal' is an art – my normal is different from your normal, and that's the essence of the campaign," said Seth Farbman, Gap Global Chief Marketing Officer. "This fall, Gap celebrates dressing for yourself and finding those perfect items – a pair of jeans, a t-shirt – that make you feel confident to be your most authentic self."
The campaign features photography of recognizable people who are known for their own art of dressing normal, starting with Anjelica Huston, The Royal Tenenbaums; Elisabeth Moss, Mad Men; Michael K. Williams, Boardwalk Empire; Jena Malone, The Hunger Games: Catching Fire; and Zosia Mamet, Girls. The print ads bring unexpected moments and storytelling with taglines that challenge people to 'dress like no one's watching' and 'let your actions speak louder than your clothes.' In addition to print, the campaign spans outdoor, mobile, direct, social, in store and digital. (Web Site) www.gapinc.com
______________________________________________________________________________________________________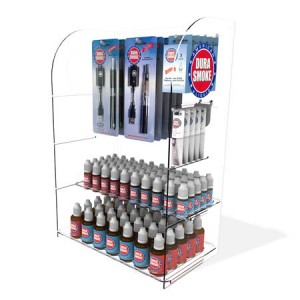 Frank Mayer and Associates DuraSmoke Counter Merchandiser Placed In Convenience Stores
This DuraSmoke Counter Merchandiser was produced for the convenience store environment. This space-saving counter display provides high visibility for the DuraSmoke brand in the crowded convenience store environment, while merchandising their expanding line of flavored eLiquids and accompanying products for eCigarettes.
The display features Clear molded plastic frame and shelves to highlight products; Peg hooks for starter kits and replacement parts; Space-saving footprint for counter use, wall mount also available; and Additional shelves for product expansion. The DuraSmoke Counter Merchandiser was produced by Frank Mayer and Associates, a Grafton, WI-based point-of-purchase display manufacturer; (Web Site) www.frankmayer.com
______________________________________________________________________________________________________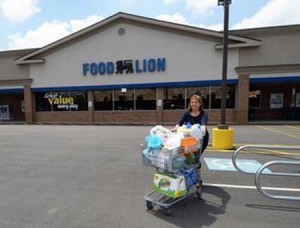 Food Lion Unveils New, Easier Shopping Experience In Remodeled Stores
Food Lion has unveiled a new, easier shopping experience for customers in 31 stores in the greater Wilmington, N.C., market. The stores are the first in the Food Lion chain to receive remodels as part of the grocer's new "Easy, Fresh and Affordable…You Can Count on Food Lion Every Day" strategy, which was announced earlier this year.
"Since announcing our new strategy, we've been doing a lot across the Food Lion chain to create positive change. We're proud to continue that momentum by launching the first market of enhanced stores that bring all the elements of our new strategy to life to make shopping easier for customers," said Beth Newlands Campbell, president of Food Lion. "Our customers told us that they want a grocery experience where it's easy to shop, easy to save and easy to figure out what is for dinner tonight. In these enhanced stores, we've worked to deliver just that."
The remodeled stores debut new features that make shopping – and saving – easier for customers. Food Lion expanded its selection in stores by adding thousands of new items so customers can get everything they need in one trip. Food Lion also made great deals easier to find throughout the store with new yellow signage and Three Easy Ways to Save: MVP On Sale, Extended Savings and Great Value Every Day. For busy families on the go, Food Lion has also added Daily Dinner Deals, hot meals for families of four for around $10, offered from 4 to 7 p.m., as well as all-day daily meal deals, in the deli department. The grocer now has a wider variety of grab-and-go items and pre-sliced deli meats and cheeses, which are sliced fresh daily, but available for customers to pick up without waiting in line. Knowing that customers want to get in and out of the store quickly, Food Lion made checkout faster with improved technology, larger display screens so customers can see items and prices as they're scanned and additional associates available to bag groceries for customers. Food Lion will continue to roll out storewide enhancements in markets over time.
______________________________________________________________________________________________________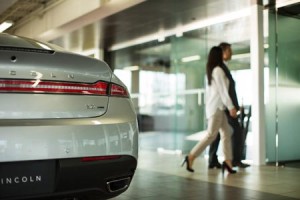 Lincoln Engages Customers With Original Showroom Scent, 'Essence Of Lincoln'
The Lincoln Motor Company, hoping to create an emotional connection between the luxury brand and consumers, recently unveiled Essence of Lincoln, an original scent designed to create an upscale, relaxing showroom experience. Visitors to select Lincoln dealerships across the country will experience Essence of Lincoln, an award-winning scent created by master perfumer Rene Morgenthaler for aroma marketing leader SensoryMax. In Essence of Lincoln, Morgenthaler infused top notes of green tea (to encourage a sense of upscale well-being) with undertones of jasmine and tonka (to create a relaxing atmosphere). Together they form a fragrance that exudes luxury and warmth. Essence of Lincoln is made available on scent cards at Lincoln showrooms nationwide. In others, the scent is dispersed through the facility's ventilation system.
"Perfumers are memory makers," Morgenthaler said. "The sense of smell is very closely connected with a person's overall perceptions of an experience." Because the sense of smell is so closely tied to memory, Essence of Lincoln reinforces Lincoln's brand identity when a consumer encounters it again.
"While every sense plays a part in forming a client's perception of an experience, scent has one of the strongest connections to not only memory, but emotion," said Dennis Carnevale, Lincoln experience training manager. "Essence of Lincoln is a subtle, yet powerful tool for our dealers to use to help clients make an emotional connection to their store and the Lincoln brand."
______________________________________________________________________________________________________
Staples Advantage Partners With ERI To Enable Businesses To Reduce E-Waste With Technology Recycling Service
Staples Advantage, the business to business division of Staples, has launched a Technology Recycling Service, making it easy for businesses to recycle old electronics. The first of its kind in the industry, the program, offered in partnership with Electronic Recyclers International (ERI), allows businesses of all sizes to recycle large volumes of electronics conveniently, responsibly and in a secure manner. Many electronic devices become unwanted, non-working or obsolete within a few years of use, compounding the global volume of e-waste, which is expected to more than double by 2016, reaching 93.5 million tons compared to 41.5 million tons in 2011, according to the EPA.
"This program demonstrates how Staples continues to lead the industry in recycling efforts," said Al Zoldos, Vice President of Sales, Staples Technology Solutions. "In 2007, we were the first retailer to offer recycling at our retail stores. Now we're the first to provide a way for our corporate customers to easily and responsibly recycle old electronics. From provisioning new equipment, then providing services to manage it and now an easy way to handle end of life recycling, we're offering a true lifecycle approach to technology management."
Staples Advantage's new program allows businesses to recycle equipment – from cell phones and keyboards to telecom equipment and multi-function devices – via three simple steps: 1) Order recycling boxes online at www.StaplesAdvantage.com. 2) Fill boxes with electronics and ship back to Staples using a provided return label. 3) Receive a Certificate of Recycling from Staples that their electronics have been properly recycled and data safely removed. The certificate is accredited by the e-Stewards Initiative, a project of the Basel Action Network, which is a non-profit organization dedicated to the responsible recycling of e-waste.
"Staples Advantage is filling a void desperately needed in our industry – a way for companies to easily and securely recycle the mass amounts of e-waste being created annually," said John Shegerian, Chairman and CEO of ERI. "Staples recognized this need and implemented this program, not because they're required to, but because they know it's the right thing to do. We're privileged to be partnering with Staples on this initiative."
______________________________________________________________________________________________________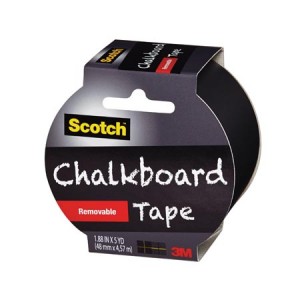 3M Introduces Erasable And Removable Chalkboard & Dry Erase Tapes
For the first-time ever, 3M is making it possible to write, erase and write again, all on a piece of tape. With the launch of new Scotch™ Dry Erase and Chalkboard Tapes, consumers can purchase these revolutionary tapes that behave exactly like a whiteboard or chalkboard, making labeling and organizing as simple as tearing tape.
"Scotch Tape is known for inspiring creativity and now the brand will also be known for inspiring easy organization," said Chris Feather, Brand Manager Scotch Specialty Tapes. "Available just in time for back-to-school, consumers of all ages can get inspired by the tapes and utilize them in their homes and at school."
______________________________________________________________________________________________________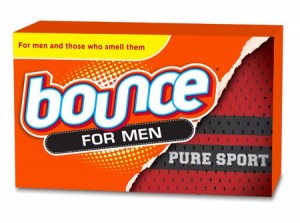 P&G Introduces New Bounce For Men Dryer Sheets
New Bounce For Men dryer sheets is P&G's first laundry product designed specifically for men "to help him smell like he can reach his potential." Bounce For Men teamed up with LeSean McCoy to show that anything is possible when you smell like you can. In support of McCoy's quest for 2,000 yards, Bounce for Men will donate $10 for every yard gained – up to $20,000 – to McCoy's Shades of Greatness Foundation, an organization dedicated to promoting the empowerment of people in the communities of Pennsylvania. Trevor Thrun, Associate Brand Director, North America Fabric Care at Procter & Gamble, said, "He is a superstar both on and off the field, and we look forward to contributing to his Shades of Greatness foundation and providing people in his community with the tools and resources needed to reach their potential."
"Every man is looking for that extra edge, that extra something to help them reach their full manly potential – whether that's on the field or off – and I'm no different," said McCoy. "To reach 2,000 yards in a season would be a great accomplishment. That's not my only goal. I want to help defend our NFC East crown and win a Super Bowl. Our team has the potential to do great things and with Bounce for Men, I know I'll smell like I can."
______________________________________________________________________________________________________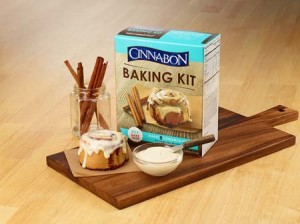 Cinnabon Launches Baking Kit Available In Select Walmart Stores
Cinnabon® lovers can now create Cinnabon World Famous Cinnamon Rolls® in their own kitchen with the introduction of the Cinnabon Baking Kit, available exclusively at 2,500 Walmart stores. The baking kit marks the latest way consumers can bring Cinnabon into their home. Each kit makes eight cinnamon rolls, along with other delectable treats made with the same irresistible ingredients, such as monkey bread, cupcakes or even ham and cheese pinwheels. The Cinnabon Baking Kit will be available at Walmart's nationwide in the baking aisle this holiday season.
______________________________________________________________________________________________________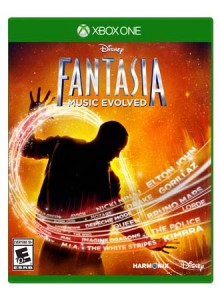 Disney Interactive And Harmonix Introduce Musical Motion Video Game 'Disney Fantasia: Music Evolved'
Disney Interactive and Harmonix have joined forces for the musical motion video game, "Disney Fantasia: Music Evolved." The breakthrough musical motion video game inspired by Disney's classic animated film "Fantasia," will be available worldwide on October 21 for Xbox One, the all-in-one games and entertainment system from Microsoft and for Kinect for Xbox 360. Featuring over 30 tracks – including contemporary hits, classic rock, classical music, and more – "Disney Fantasia: Music Evolved" transports players to a breathtaking world where music and magic combine to transform extraordinary interactive landscapes in entirely new and creative ways.
______________________________________________________________________________________________________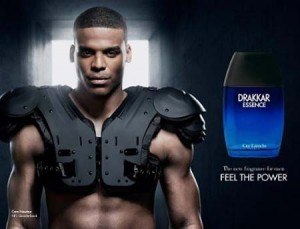 L'Oreal USA Introduces Drakkar Fragrance With NFL Quarterback Cam Newton
L'Oreal USA's International Designer Collections Division has debuted a new Guy Laroche fragrance, Drakkar Essence, with NFL quarterback Cam Newton, as the face of the campaign. Continuing the legend of the iconic, wildly popular Drakkar Noir fragrance, Drakkar Essence expresses the same conquering spirit, in a contemporary and thrilling new way, championing action, energy, strength, power and unstoppable self-confidence. "The ambition for Drakkar Essence was to open another segment of the market, the millennial generation," said Alexandre Choueiri, President International Designer Collections, L'Oreal USA. "To embody Drakkar Essence, we were looking for a strong, young American athlete who not only excels in the sport he does, but who can also deliver more on an emotional level. Cam Newton's wit, charm, self-confidence, charitable action and sense of purpose are the attributes that make him so appealing to his fans, personifying the next evolution of the Drakkar brand."
______________________________________________________________________________________________________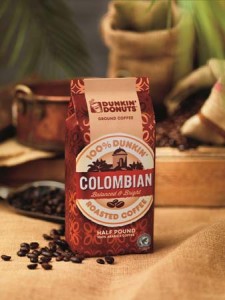 Dunkin' Donuts Introduces New Colombian Packaged Coffee
Dunkin' Donuts is introducing new Colombian Packaged Coffee, the brand's first-ever single-origin packaged coffee. Dunkin' Donuts' new Colombian Packaged Coffee is a medium roast with a full-bodied flavor and sweet finish, showcasing the balanced and lively characteristics that have made Colombian coffee one of the world's most popular coffee varieties. Dunkin' Donuts' Colombian Packaged Coffee is available in an 8-ounce bag only at participating Dunkin' Donuts restaurants nationwide for a limited time. Jeff Miller, Dunkin' Brands' Executive Chef and Vice President of Culinary Innovation, said, "Colombian coffee is one of the most popular varieties in the world, and we are thrilled to expand our coffee portfolio with new Colombian packaged coffee featuring beans sourced from a single place of origin from Rainforest Alliance Certified farms."
______________________________________________________________________________________________________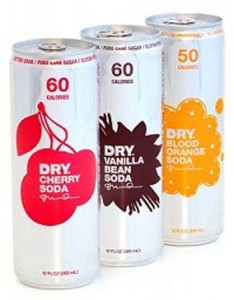 DRY Soda Launches The Craft Soda Category's First Discovery Pack
DRY Soda Co., the Seattle-based brand that is at the forefront of the better-for-you soda movement with its less-sweet, natural beverages, recently launched its first Discovery Pack. Inspired by the thriving discovery / variety pack trend in the craft beer sector, DRY Soda's Discovery Pack is the first in the rapidly growing craft soda industry, which is now the primary revenue driver growing the larger carbonated soft drink category. DRY Soda's Summer Discovery Pack is a 12-pack of 12 oz. slim cans featuring four servings of each of DRY's best-selling flavors: Vanilla Bean, Blood Orange and Cherry. Going beyond the standard sample or variety pack, the DRY Soda Discovery Pack contains tasting and pairing notes and recipes, allowing consumers to learn more about DRY, and to sip, explore and experiment with the flavors for cocktails, mocktails, food pairings, and more. DRY will also offer a Fall/Winter Discovery Pack later this year with flavors curated specifically for fun and flavorful holiday entertaining.
"Recent market insight has shown that millennials are continually looking for new products, new experiences and new flavors, which in turn is leading to the acceptance of more sophisticated beverage flavors," says Sharelle Klaus, CEO and founder of DRY Soda. "Through the Discovery Pack we hope to introduce new customers to DRY Soda, providing them with a unique sipping experience, and to educate them about our brand and how the sodas can be enjoyed – from an everyday beverage option, to a cocktail and mocktail enhancer."
______________________________________________________________________________________________________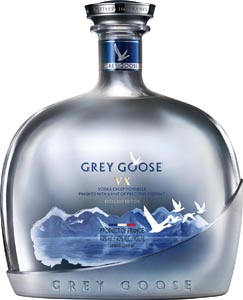 GREY GOOSE® VODKA Introduces GREY GOOSE® VX
GREY GOOSE vodka has introduced GREY GOOSE VX (Vodka Exceptionnelle) — in the US market. An exclusive edition of GREY GOOSE inspired by the spirit making traditions of its creator and Maître de Chai François Thibault, VX is masterfully finished with a hint of precious Cognac, resulting in a discerning new spirit that delivers an exceptional new taste experience to luxury spirit connoisseurs. By delving deeper into his expertise, Thibault has created a unique new expression of GREY GOOSE – one that draws from past tradition, and expertly marries a hint of precious Cognac with GREY GOOSE vodka to create something truly distinctive. GREY GOOSE VX is created by marrying GREY GOOSE vodka with a hint of precious Cognac made by François exclusively for GREY GOOSE VX that is crafted with grapes from the Grande Champagne region including a rare harvest from the GREY GOOSE brand home – Le Logis, and aged in hand selected old cask barrels made of Limousin oak for up to two years. GREY GOOSE VX is presented in an exquisite decanter made from 'extra flint' glass – a glass known for its exceptional quality. Taking inspiration from the finest French spirit decanters, the stunning GREY GOOSE VX bottle boasts an elegant shape with exquisite detailing, and is crowned with a luxurious "collectible" bottle stopper. The launch of GREY GOOSE VX will be supported by national print, digital and influencer experiential programs.
"GREY GOOSE VX delivers a new luxury experience for the spirits connoisseur seamlessly marrying the distinct character of GREY GOOSE vodka and fine cognac", said Lyle Tick, VP Managing Director, GREY GOOSE Vodka, "It's a celebration of the new and the old, of authenticity and innovation, and the result is something very special."
______________________________________________________________________________________________________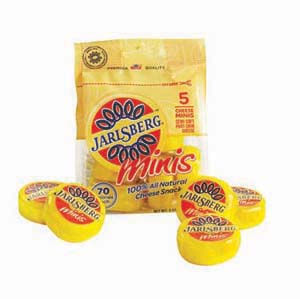 Jarlsberg® Cheese Minis Grab 'N' Go Snack Introduced
Jarlsberg® Cheese, a nationally-recognized, premium quality brand, is now available in a mini snack size. Each 20g portion-sized Jarlsberg® Cheese Mini is just 70 calories and a good source of calcium and protein. Dipped in wax and wrapped in cellophane to replicate the popular Jarlsberg® wheel, its mild, mellow and nutty flavor makes it a tasty grab-and-go alternative to sugary snacks. Jarlsberg® Cheese Minis suit the needs of today's busy families who snack more frequently but want healthier, all-natural and fresh ready-to-eat options, and can be found in supermarket deli sections.
______________________________________________________________________________________________________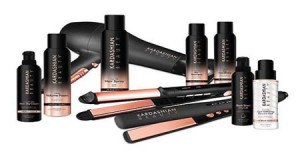 The Kardashian Sisters Launch Beauty Line In Partnership With Farouk Systems
Kourtney Kardashian, Kim Kardashian West, Khloe Kardashian and renowned hair care company, Farouk Systems, have launched Kardashian Beauty, a complete line that will feature professional, salon quality hair styling products, tools and chic accessories at an approachable price point. The Kardashian Beauty line will debut in Spring 2015. The Kardashian Beauty products will include high performance, innovative ingredients designed to create styles for signature Kardashian looks whether they be casual and bohemian or red carpet inspired. While performance and quality were top of mind when developing the line, Kardashian Beauty reflects Kourtney, Kim and Khloe's desire to bring high-end products to their fans at an affordable price point.
"Farouk Systems is a company of hairdressers dedicated to creating beauty, new trends and innovative styling products, so the partnership with Kourtney, Kim and Khloe to introduce Kardashian Beauty was a natural fit," said Basim Shami, CEO of Farouk Systems, Inc. "Our team worked hand-in-hand with the sisters to create a premium product line directly inspired by their iconic styles and individual hair needs, while also honoring our company's commitment to offer superior quality professional products."
______________________________________________________________________________________________________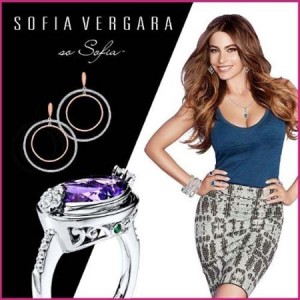 Kay Jewelers Launches Sofia Vergara Jewelry Collection That Is So Sofia
Actress Sofia Vergara has partnered with Kay® Jewelers to launch her jewelry collection, SOFIA VERGARA so Sofia™. Aptly named, the fashionable yet elegant collection embodies Sofia's playful, vibrant and sexy style with bold statement necklaces and earrings as well as shimmering bracelets. The SOFIA VERGARA so Sofia™ collection is available exclusively at select Kay® Jewelers stores.
"My new jewelry collection, SOFIA VERGARA so Sofia™, developed in partnership with Kay® Jewelers, reflects my love of jewelry and sense of style, and I hope it inspires women to express themselves with their own unique look that says, 'This is so me!,'" Vergara said.
______________________________________________________________________________________________________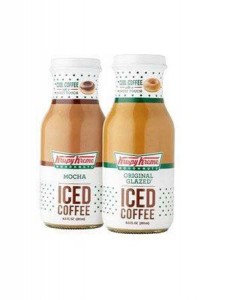 New Krispy Kreme Ready-To-Drink Iced Coffees Come To Select Walmart Stores
Inspired by the signature blends and flavors available at its world famous doughnut and coffee shops, Krispy Kreme's great tasting iced coffees are coming to consumers in new ready-to-drink varieties including Krispy Kreme® Original Glazed Iced Coffee and Krispy Kreme Mocha Iced Coffee at over 900 Walmart locations throughout the United States. Krispy Kreme Original Glazed and Mocha Iced Coffees capture the great taste of the Company's freshly brewed signature coffees, with a hint of Original Glazed and chocolaty goodness and will be available in ready-to-drink 9.5oz bottles.
"People have been satisfying their craving for our doughnuts and coffee for 76 years," said Brad Wall, Senior Vice President, Krispy Kreme. "Making our premium quality coffee available to consumers through the convenience of ready-to-drink is part of our continuing efforts to build awareness and equity in our coffee program."
______________________________________________________________________________________________________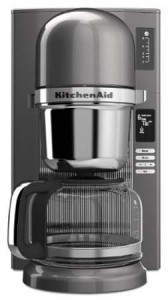 New KitchenAid® Pour Over Coffee Brewer Designed To Simulate Manual, Pour Over Method
KitchenAid has introduced the new KitchenAid® Pour Over Coffee Brewer, engineered with input from baristas and other industry experts to automatically simulate the manual, pour over method of brewing coffee. Unlike drip coffee makers that continuously flood the brew basket, the KitchenAid® Pour Over Coffee Brewer precisely heats and pulses the flow of water, steeping in the same manner as the manual pour over process, allowing the grounds to bloom for the appropriate amount of time and at the optimal temperature range of 200 degrees F. The thoughtfully located water tank close to the brew basket helps minimize heat loss. Additional features on the new model that coffee lovers will appreciate include one-touch medium and dark roast settings, which adjusts the brewing temperatures higher and lower to accommodate different roasts. A cup selector ranging from two to eight cups allows for a specific serving size to be selected while reserving the remaining water in the tank for future use. An intuitive brew progress bar on the visual display indicates points in the brewing process including heating the water, pouring over the grounds and steeping.
"We set out to build a coffee maker that far exceeds the average drip model with the ability to produce a nuanced, flavorful cup of coffee that satisfies even the most discerning coffee aficionados," said Derek Ernst, Global Marketing Director for KitchenAid small appliances. "We're thrilled that our Pour Over Coffee Brewer has met the rigorous standards required by this world renowned organization to earn a place on its short list of SCAA Certified Brewers."
______________________________________________________________________________________________________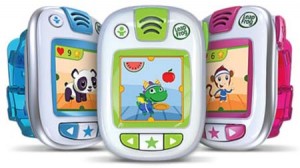 LeapBand Unveils LeapBand Wearable Activity Tracker For Children
LeapFrog Enterprises, the leader in educational entertainment, has unveiled LeapBand, the first wearable activity tracker designed just for children that encourages active play and healthy habits while nurturing their very own personalized virtual pet. The LeapBand activity tracker gets kids moving and having fun with 50 different activities and challenges, tracking a child's physical moves so the more active a child is, the more points they earn with their virtual pet. The LeapBand activity tracker comes with eight different customizable pets from LeapFrog's popular Pet Pals franchise – a cat, dog, dragon, monkey, panda, penguin, robot and unicorn – which can be customized by color and name. With their very own virtual pal, children can play 10 preloaded active games and challenges with access to 40 additional free challenges. As they move and earn points, kids can unlock each of the additional eight pets and earn virtual toys for each of them as they stay engaged and learning with mini-games including Pet Boogie, Pet Chef and Pet Salon.
______________________________________________________________________________________________________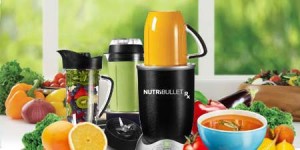 NutriBullet Launches NutriBullet Rx Nature's Prescription
NutriBullet has released the NutriBullet Rx, the most recent addition to the NutriBullet collection of products. Equipped with a 2.3 horsepower motor and SMART technology, the NutriBullet Rx creates the most nutritiously powerful superfood drinks possible. The NutriBullet Rx operates without the use of on/off switches, plungers, speed adjusters, or time settings. Instead, hands-free SMART technology determines the exact RPM and time needed to fully extract ingredients. "In our fast-paced world, stress and poor chewing habits can significantly challenge our body's ability to digest and absorb what we eat. Even those who eat healthfully can have trouble processing and utilizing the full range of nutrients contained within their food," said Colin Sapire, Chief Executive Officer of NutriBullet, LLC. "That's why the NutriBullet Rx is such an incredible tool – it breaks food down into a highly digestible state, making it easier for your body to focus on the absorption part of the equation."
______________________________________________________________________________________________________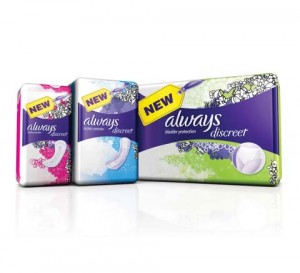 P&G's Always Brand Launches Always Discreet™
Procter & Gamble's Always brand has launched new Always Discreet, specifically designed to revolutionize the way women manage their sensitive bladders. New Always Discreet's liners, pads and underwear are designed to offer incredible comfort, protection and discretion, in a flattering feminine design, that absorbs leaks and odors in seconds. Always Discreet pads are up to 40 percent thinner than the leading brand and absorb twice as much fluid as women may need, based on the average consumer usage of incontinence products. The curve-hugging, disposable Always Discreet underwear is easy to wear and discreet, with the extra protection of Dual LeakGuard barriers™ to help stop leaks where they are most likely to occur.
______________________________________________________________________________________________________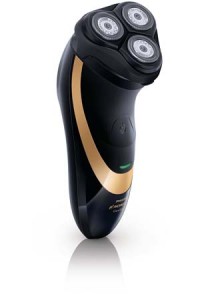 Philips Norelco Introduces CareTouch Shaver
To address the shaving needs of men who experience frequent ingrown hairs, redness and bumps, Philips Norelco has designed its first electric shaver that reduces ingrown hairs, while being smooth on skin. The Philips Norelco CareTouch shaver features unique product innovations such as GentleCut heads, which cut hair just above the skin level for a smooth shave without the irritation, as well as Aquatec Wet & Dry technology so guys can shave dry, or wet with gel or foam for extra skin protection. Additionally the shaver features a Rotary Comfort system, which includes shaving heads that effortlessly glide over the skin for enhanced comfort and smoothness.
"Creating meaningful innovation to improve people's lives is at the core of what Philips does," says Annette Domnik, Senior Director of Marketing for Philips Norelco. "With a void in the electric shaving market for men with sensitive skin who are prone to ingrown hairs, we were determined to design a shaver that addressed this and the new Philips Norelco CareTouch
delivers."
______________________________________________________________________________________________________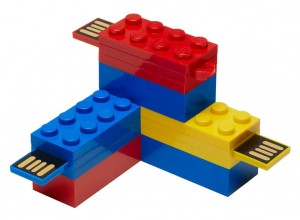 PNY Launches LEGO® USB Flash Drives
PNY Technologies has partnered with LEGO® Group to produce LEGO branded USB Flash Drives. This new line of USB Flash Drives will launch in multiple colors in both 8GB and 16GB options. PNY's new branded LEGO USB Flash Drive was designed to appeal to LEGO toy enthusiasts of all ages. Designed in the shape of a traditional LEGO brick, this USB Flash Drive holds up to 16GB of data to easily store, share, and transport media and files. Available in red, blue, and yellow options, the LEGO USB has a capless, sliding design and an included key fob for easy attachment to any key chain. Each USB Flash Drive also comes with an additional LEGO brick in either blue or red for building fun. Both the LEGO USB and the additional LEGO brick are compatible with all LEGO brick elements/pieces, so users can combine and make their own creation.
______________________________________________________________________________________________________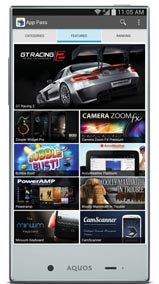 Sharp's First AQUOS Smartphone Comes To The U.S. – Sharp AQUOS Crystal
Sharp is launching its first AQUOS wireless phone available in the United States, Sharp AQUOS® Crystal. AQUOS Crystal breaks the mold of traditional smartphone design. From its stunning picture quality and immersive, vibrant display to its sleek, 5-inch edge-to-edge HD screen, AQUOS Crystal revolutionizes the mobile phone experience. The chic, compact exterior houses a smartphone powered by Android 4.4.2 KitKat and supported by the ultra-fast Sprint Spark network. Showcasing incredible audio with Harman Kardon® technologies and HD voice, and a camera that can make any amateur look like a pro, AQUOS Crystal is truly technology without bounds. Sprint will offer AQUOS Crystal in two color options (black or white). "The combined power of SoftBank and Sprint will bring our customers this high-end device for an extraordinarily value," said David Owens, senior vice president-Product Development for Sprint. "We are thrilled to welcome Sharp to the U.S. wireless market. AQUOS Crystal will quickly become a must-have smartphone, showcasing Sharp's strength in display technology."
______________________________________________________________________________________________________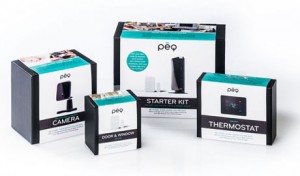 SmartHome Ventures Launches PEQ Home Automation Service
SmartHome Ventures has launched P?Q (pronounced "peek"), the company's flagship service designed to bring professional grade home automation to the everyday consumer. P?Q is a comprehensive home automation service that allows consumers to view, manage, and receive alerts from their homes through a single app on their smartphone, tablet or PC. P?Q is simple enough for the average consumer to install in 30 minutes or less, and is available through a growing network of online and in-store distribution partners. With powerful, state-of-the-art technology and a growing suite of interoperable devices, P?Q is the industry's first home automation service to deliver a truly flexible and scalable whole-home solution to the mass market at an affordable price, and with no contract requirement.
"With widespread adoption of broadband internet, smartphones and tablets, consumers are ready to embrace the concept of a smart home," said Ted Schremp, chief executive officer of SmartHome Ventures. "However, consumers are still hesitant because of the lack of a simple, affordable, and consistently reliable platform. With P?Q, we're making home automation easy, reliable and accessible through a consumer friendly design, a rigorous lab certification process for devices, ongoing firmware and app updates, and dedicated customer support."
______________________________________________________________________________________________________

SVEDKA Vodka Introduces SVEDKA Peach To U.S. Market
SVEDKA Vodka, the Swedish-imported vodka brand, has introduced its latest flavor addition to the portfolio: SVEDKA Peach. A blend of imported Swedish vodka with aromatic notes of ripe peaches that produce a warm, sweet entry followed by a slight, crisp, pear finish, SVEDKA Peach provides a multi-sensory flavor experience. This subtly sweet and deliciously fruity peach flavored vodka is a nostalgic yet unexpected interpretation on a flavor favorite.
"Our newest flavor launch is reflective of our continued desire to deliver enjoyable flavors that are both familiar and innovative," said Diana Pawlik, SVEDKA Vodka's Vice President of Marketing. "SVEDKA Peach is sure to please our diverse consumer base while continuing to offer them fresh and varied flavored vodkas to enjoy."
______________________________________________________________________________________________________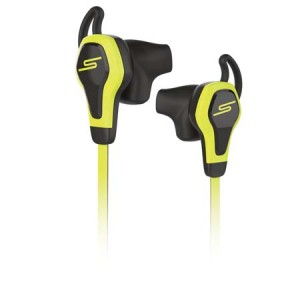 SMS Audio BioSport In-Ear Headphones To Supercharge Fitness Wearables
SMS Audio, a premier audio headphone and accessories brand from Curtis "50 Cent" Jackson, and Intel Corporation, have collaborated to develop the first heart-pounding personal audio system converging lifestyle and technology innovation for an exceptional fitness experience. The SMS Audio BioSport In-Ear Headphones powered by Intel will bring smart exercise capabilities to athletes of all levels later this year. The SMS Audio BioSport In-Ear Headphones powered by Intel will extend the recently launched SMS Audio Sport Collection and harness advanced technology features to deliver high-quality audio while gathering actionable data on fitness progress.
"The wearable technology collaboration between SMS Audio and Intel elevates our capability to bring smart exercise to consumers," said Brian Nohe, president of SMS Audio. "With the introduction of the SMS Audio BioSport In-Ear Headphones powered by Intel, we're now the first to provide this level of integrated, seamless and helpful biometric information to inspire customers to advance their fitness experiences."
______________________________________________________________________________________________________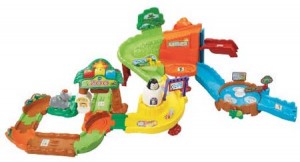 VTECH Extends Line With Go! Go! Smart Animals Playsets
VTech®, a world leader in age-appropriate and developmental stage-based electronic learning products for children, has introduced Go! Go! Smart Animals™, a brand new extension to the acclaimed Go! Go! Smart Wheels® line. Go! Go! Smart Animals offers exciting animal-themed playsets that let kids explore the natural wonders of a zoo, travel through a forest and explore a tree house with colorful animal friends. The expansive Go! Go! Smart Animals and Go! Go! Smart Wheels lines feature nearly 50 different playsets, accessories, animals and vehicles, and are available at major retail locations nationwide.
______________________________________________________________________________________________________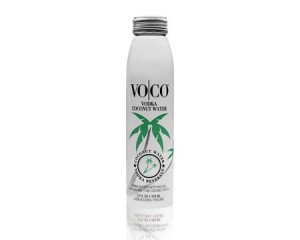 VO|CO Vodka Coconut Water Beverage Launches
VO|CO, the world's first "ready-to-drink" coconut water and vodka beverage, has been introduced. VO|CO mixes a premium triple distilled vodka and pure coconut water to create a refreshing and elegantly simple cocktail for all to enjoy. The alcoholic drink has successfully created a category of its own by bridging a gap in the market through preserving the individual great tastes of two of the world's most popular beverage choices, vodka and coconut water. VO|CO is a one-of-a-kind product that consists of all natural ingredients and requires no chaser or mixer.
______________________________________________________________________________________________________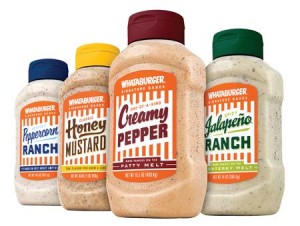 Whataburger Introduces Signature Sauces And Original Mayo To H-E-B Stores
Whataburger and H-E-B have made Whataburger's Signature Sauces available at H-E-B and Central Market stores. The unique bold flavors that are found on some of Whataburger's most famous burgers and sandwiches are now available for consumers to enjoy in their own home. Available in the condiment aisle, Whataburger's Signature Sauces include: Peppercorn Ranch; Creamy Pepper Sauce; Jalapeño Ranch; and honey Mustard. "Whataburger's entry into the retail market over the past year has been an exciting ride for us. The response from our fans has been overwhelming and we're thrilled to offer customers a wider variety of Whataburger products they can take home," said Senior Vice President of Whataburger Retail Dino Del Nano.
______________________________________________________________________________________________________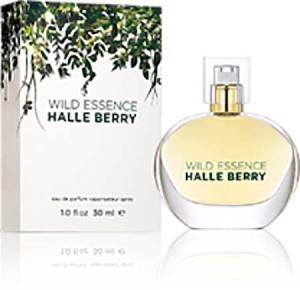 Wild Essence Halle Berry Fragrance Launches
COTY introduces Wild Essence Halle Berry, a new fragrance that captures the sensual essence of a women in nature-beautiful, modern, sexy, yet always desirable. Wild Essence is an amazing multifaceted floral, featuring a top that is a sparkling burst of light fresh citrus. Inspired by Halle's raw natural beauty, Perfumer Claude Dir ingeniously blended the top notes with a floral heart bouquet of freesia, linden blossom, white rose and cotton flower that provides a brightness, while wrapping this rich depth and texture with white patchouli and sandalwood for a sophisticated contrast.
"The essence of a woman is in body and soul and becomes more sensual in nature," said Halle Berry, "so with my newest fragrance I wanted to go deep into the rainforest where I could capture the primal richness of nature in an effortless scent. I love the idea of creating a fragrance that will allow women to connect with nature, through perfume."
______________________________________________________________________________________________________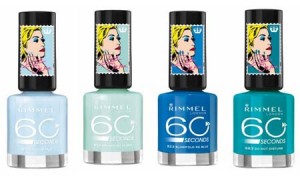 Rimmel London Introduces Rita Ora Collection
Rimmel London has brought six shades of 60 Seconds Color Rush Nail Polish created by London's most stylish cart-topper Rita Ora, to the American market, so everyone can get in on her extreme style. Her funky yet hyper-glamorous style and London attitude make her the ultimate Rimmel London muse. Already a smash hit in Britain, the collection features colors chosen and named by Rita herself. With a special formula enriched with Vitamin A, the polish protects and strengthens nails, and with its Xpress Flat Brush, the Rita Ora 60 Seconds Color Rush Nail Polish collection covers your nail in one stroke and dries in lightning fast speed-60 seconds-for an exhilarating rush of intense, pure color.
Available Shades include: Lose Your Lingerie, an icy pink shade; Don't Be Shy, a fiery fuchsia; White Hot Love, a white polish with a stunning pearl effect; Breakfast in Bed, an icy green; Do Not Disturb, a smoky teal; and Midnight Rendezvous, a deep, vibrant purple, available in chain drug stores and mass retailers nationwide.
______________________________________________________________________________________________________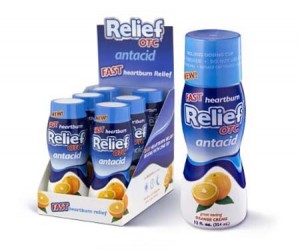 Relief OTC™ Offers New Hope For Heartburn Sufferers Nationwide
Relief OTC™, a new, fast-acting liquid antacid, hopes to take the crowded heartburn remedy category by storm. Forgoing the chalky flavor and gritty texture of most antacids, Relief OTC™ is a great-tasting drink that begins to work instantly by neutralizing stomach acid at the source of pain.
"We have created something different for people who have all but given up in finding fast relief," said Doug daCosta, executive chairman of Tummy Company Inc., creator of Relief OTC™. A longtime heartburn sufferer, daCosta created the product to fill an unmet demand in the market for fast-acting, drinkable heartburn relief with no known side effects.
______________________________________________________________________________________________________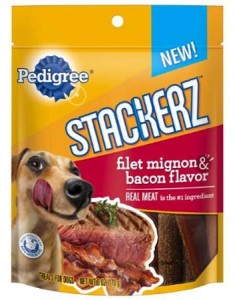 New PEDIGREE STACKERZ™ Dog Treats Combine Tasty Meat Flavors
PEDIGREE® Brand has released its new PEDIGREE STACKERZ™ dog treat in three flavor combinations. To satisfy the carnivore in every dog, each PEDIGREE STACKERZ treat contains real meat as the first ingredient and provides a combination of two succulent flavors. Dogs of any size will be infatuated with PEDIGREE STACKERZ, as these delectable treats come in soft, breakable pieces. Three meaty flavor combinations include: Filet Mignon & Bacon Flavor, Grilled Chicken & NY Strip Flavor and Smoky Bacon & Cheddar Flavor: "It's not a secret that dogs love real meat as the first ingredient, especially when it comes to flavors like bacon and filet mignon," said Lisa Campbell, senior brand manager. "So we created STACKERZ to shine a spotlight on what dogs love. With three different flavor combinations, there's a STACKERZ treat for every craving."
______________________________________________________________________________________________________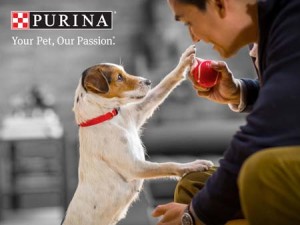 Nestlé Purina To Offer Brain Protection Blend Nutritional Supplement For Pets
Nestlé Purina has developed new food solutions for middle-aged pets to help sustain a healthier brain as they enter the latter stages of life. The finding is a breakthrough in pet care, providing nourishment to strengthen brain cells to help pets maintain function well into their senior years. The solution, a new Brain Protection Blend™ (BPB), is a nutritional enrichment that targets metabolic changes and risk factors linked to brain aging. It is designed for pets to start consuming in middle age. The BPB can help maintain cognitive functions, such as memory, social interaction and learning abilities, and can keep them as sharp as they can be as pets age. The BPB can be added to pet food and is comprised of a unique formulation including key ingredients such as fish oil, B vitamins, antioxidants and the essential amino acid, arginine. "By taking a more proactive approach, we may be able to slow the brain's decline often experienced among pets as they get older," said Dan Smith, Nestlé Purina's vice president of research and development. "Humans understand the need for additional nutrients to live healthily, so it's imperative that pet owners are aware of similar nutritional breakthroughs available for their pets that help slow the changes associated with aging."
______________________________________________________________________________________________________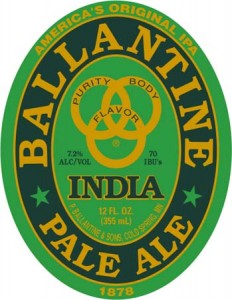 Ballantine India Pale Ale Re-Launches In Northeast
Pabst Brewing Company, the largest American-owned brewery with over 30 beers in its portfolio, has re-launched Ballantine India Pale Ale, one of the oldest and most iconic craft beers in the country. The beer is available beginning in September in major Northeast markets. First brewed in 1878 by P. Ballantine & Sons Brewing Company in Newark, NJ, Ballantine India Pale Ale was the only American-made beer that successfully continued the tradition of the 19th century IPAs once Prohibition ended. In order to replicate the original recipe as closely as possible, Pabst Master Brewer Gregory Deuhs reverse-engineered the beer, ensuring the robust heritage and quality of the 136-year-old brew was properly reflected in the 21st century version. Dry hopping and the addition of hop oil has long been credited as the key to the beer's unique profile. In addition, a proprietary brewing method ensures that every drop of Ballantine India Pale Ale comes in contact with American Oak, effectively capturing the robust flavor and heritage of the brand. With the reintroduction, an entirely new generation of craft beer enthusiasts will experience what made America's Original IPA so exceptional.
Master Brewer Deuhs, said, "Unlike recreating a lost brew from long ago, I had the advantage of actually being able to speak with people who drank Ballantine back in the day. Their feedback was crucial to ensuring that the hoppy, complex flavor that was revered for over a hundred years was front and center in my recipe."
______________________________________________________________________________________________________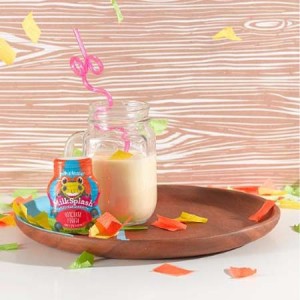 MilkSplash™ Unveils Horchata Pinata Flavor In Texas
MilkSplash™, the zero-calorie milk flavoring created by S&D Beverage Innovations, has unveiled a new flavor in its Texas market. Horchata Pinata, which is reminiscent of rice milk mixed with a cinnamon sweetener, was created to evoke a popular beverage enjoyed by so many children and adults in Mexican restaurants. The charming packaging design is a donkey pinata to remind people of the beloved birthday party tradition. The MilkSplash version of Horchata captures the richness of rice milk with just the right touch of sweetness and cinnamon. MilkSplash is great for busy, on-the-go families because it's convenient, delicious and not messy like powder or syrup.
______________________________________________________________________________________________________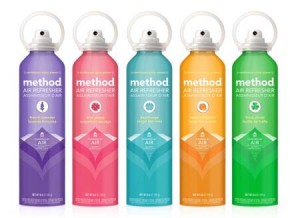 Method Launches Air Refresher With Pressurized Air Technology
Method Products, PBC, the leader in eco-friendly household, fabric, and personal care products, is entering a new category with the launch of their new Air Refreshers. This new product offers consumers a cleaner way to spray and enjoy Method fragrances in their homes. Unlike many traditional aerosols which are powered by petroleum-based propellants, the continuous spray air refreshers are packed in an airtight chamber powered by compressed air. When sprayed, the air refreshers fill the room with a non-toxic, vibrant scent-no CFCs or dirty propellants. Method, a leader in premium fragrances, looked to nature for inspiration for this line. The fragrances are inspired by nature and actually smell like they belong in nature. "Fresh clover" is the unmistakably dewy scent of fresh-cut grass and "sweet tangerine" captures the tang of just peeled citrus.
"Consumers know and love Method for our unique, vivid fragrances. Our fans have been clamoring for us to begin making air refreshers again, so we are especially excited to be getting back into this space," says Josh Handy, Vice President of Product Experience at Method. "Our goal is to elevate the category by giving consumers a beautiful, non-toxic product that they are actually proud to use and display in their homes."
______________________________________________________________________________________________________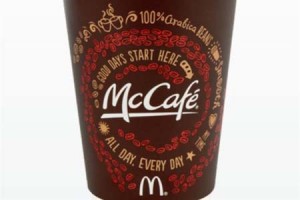 McDonald's And Kraft Bring McCafe Coffee To Retail Outlets
McDonald's and Kraft have collaborated to expand the manufacture, marketing and distribution of the McDonald's McCafé brand in the U.S. by packaging its signature coffee for sale in grocery stores and other retailers nationwide. Consumers will be able to enjoy a variety of ground, whole bean and on-demand single cup McCafé coffees in the comfort and convenience of their own homes, beginning in early 2015.
"We understand there is huge demand for at home options and we've built great success with our McCafé coffee in restaurants. So, it was a natural next step to provide customers with McCafé coffee to enjoy in their own home," said Greg Watson, senior vice president, McDonald's U.S. Menu Innovation. "We have always been committed to serving delicious, high quality beverages at a value and we're happy to provide consumers another great way to enjoy McDonald's McCafé coffees."
Nina Barton, vice president of Coffee for Kraft Foods, said, "By tapping into the loyal McCafé fan base already built by McDonald's and leveraging our deep coffee category expertise here at Kraft, we have the ability to reach a larger audience than ever before, really giving this brand room to thrive."
______________________________________________________________________________________________________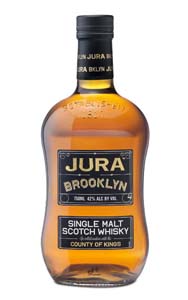 Jura Brooklyn Whisky Now Available Nationwide
Jura Brooklyn, the rule-breaking Scotch whisky created in collaboration with Brooklyn visionaries and Jura, part of the Whyte & Mackay single malt portfolio, is now available to retailers nationwide after an exclusive run in metropolitan New York. The distinct single malt, which launched at the end of June to borough-backed fanfare, quickly gained the attention and envy of retailers and whisky drinkers across the US. Jura's rogue of a Master Distiller, Willie Tait, traveled across the Atlantic to the streets of Williamsburg, Park Slope, Bushwick and every neighborhood in between, with one objective: to craft a world-class single malt Scotch, chosen by and for the people of Brooklyn. And now the nation wants a taste.
"We are proud to have executed a project that has never been attempted before in the Scotch whisky world," said Tait. "We've developed a totally new whisky liquid in collaboration with artisans, craftsman and pioneers in the place where food and drink trends are born- Brooklyn. And we can't wait to see the rest of America's reaction to our whisky. It's a true blend of two places both known for their uniqueness." "Jura Brooklyn is a product born out of the minds of Kings County, so to see the public as eager about it as we are is incredibly validating," says Chris Watt, Marketing Director Premium Brands, Whyte & Mackay Americas. "We were thrilled to bring to the Brooklyn market in June a bespoke product that each of our collaborators can proudly stand behind, and we're equally as excited to share it now with the national market."
______________________________________________________________________________________________________

HI-Health Launches Kaleidoscope Collection, Customized Nutrition Paks
The Kaleidoscope Collection, customized nutrition paks developed by Hi-Health Corporation to support healthy lifestyle goals, launches with a new formulation, packaging and product offerings in August 2014. The Kaleidoscope Collection was developed to address the demand for simplicity and convenience. "Hi-Health created the Kaleidoscope Collection to take the guesswork out of daily vitamin intake. Each Kaleidoscope Collection pack was carefully developed to address specific health needs for both men and women of all ages," said Jay Chopra, COO for Hi-Health. "It was received extremely well by our customer base. The early adopters provided great feedback to improve our offering and that led to the design of new packs with even better ingredient selection, better targeting of customized goals and better convenience of delivery."
______________________________________________________________________________________________________
Fuhu Introduces nabi Big Tab HD Line
Fuhu, the creator of the nabi® tablet, the world's first Android tablet built just for kids, has unveiled the nabi Big Tab HD™ 20″ and nabi Big Tab HD™ 24″, the world's biggest Android tablets made for sharing. The category-defining line of big tablets was specifically designed to promote increased social interaction, communication, collaboration, and socialized learning. Perfect for the entire family, the nabi Big Tab HD was built to be the ideal shared device for everyone in the family.
nabi Big Tab HD line features a massive 20″ and 24″ brilliant HD+ (1600×900) and Full HD (1920×1080) resolution, 15-point capacitive touch screen, Quad-core lightning fast NVIDIA® Tegra® 4 processor, 16 GB of onboard storage and a revolutionary lightweight, removable carrying frame that is easily adjustable to any angle or removed for a surface/table-top experience, perfect for board games and multi-play. The built-in short-term battery enables easy room-to-room portability.
"We are so pleased to introduce the nabi Big Tab line of products and are excited about the implications as a new category of family tablets. We were simply amazed at how Big Tab's larger format transformed our interactions with our children, family gatherings and made the tablet experience easier for seniors," said Jim Mitchell, CEO.
______________________________________________________________________________________________________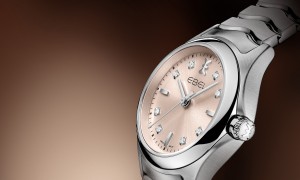 Ebel Introduces New Wave Lady With Pink Dial
EBEL has introduced the new Wave Lady, an exciting new style within its freshly reimagined Wave collection. Available fall 2014, the new Wave Lady artfully combines EBEL's rich heritage of fine watchmaking with contemporary trends. Featuring fluid lines, sensuous curves and on-trend pink dial, this chic new watch is designed for women desiring to make a fashion statement. The pink galvanic dial is detailed with 8 glamorous diamond markers and 3 applied indexes and EBEL symbol at 12.00. The case and bracelet are crafted in alternating brushed and polished stainless steel for an elegant metallic finish.
"Since 1911 EBEL has dedicated their talents, passion and creativity to create distinctive and enduring watch designs," said Mary Leach, Chief Marketing Officer, Movado Group, Inc. "The newly reimagined EBEL Wave Lady perfectly reflects the brand's ability to blend technical precision with an unmistakable sense of modern sophistication."
______________________________________________________________________________________________________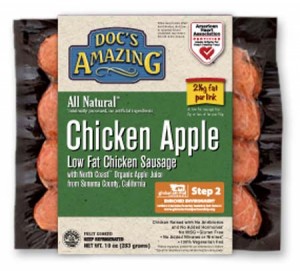 Doc's Amazing Heart Healthy Sausage Available At Whole Foods Markets
Doc's Amazing Heart Healthy Sausage including its Low Fat Chicken Italian, Low Fat Chicken Apple, and Low Fat El Chipotle Chicken Sausage flavors, have been officially certified heart healthy foods by the American Heart Association, and are available at Whole Foods Markets in Northern California. Doc's Amazing found a way to dramatically lower fat content and calories by as much as 90%, compared to other sausages while retaining great taste and juiciness. By reducing fat so dramatically, calories in Doc's Amazing sausages are a lot lower than other chicken sausages, and are much lower than those in traditional pork sausages. Doc's Amazing chicken sausages have about 70 calories and 2.5 g fat per fully cooked 2-ounce link.
______________________________________________________________________________________________________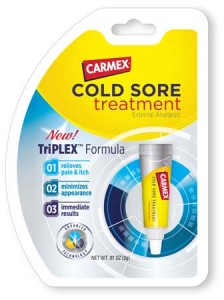 New Carmex® Cold Sore Treatment Introduced Nationwide
Carma Laboratories, Inc., the maker of Carmex® lip balm products, has launched NEW Carmex® Cold Sore Treatment, the only over-the-counter cold sore treatment that works on contact to block pain and itch with 10% Benzocaine, while also minimizing the appearance of a sore. This breakthrough product features TriPLEX™ Formula advanced technology, which combines three different optical brightener and filler technologies that each provide unique appearance-minimizing benefits.
______________________________________________________________________________________________________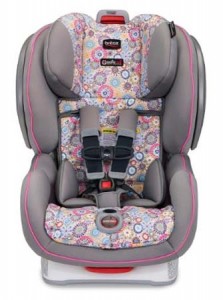 Britax Brings ClickTight™ Installation System To Its Convertible Car Seats
As the leader in mobile safety for more than 70 years, Britax now brings its game-changing ClickTight(TM) Installation System to its most popular and versatile convertible car seats. With ClickTight's revolutionary ease of use, every caregiver, from parents to grandparents to babysitters, can be confident they're installing their car seat securely and correctly, just by buckling the seat belt. With a quick push and twist of a button, parents simply open the front of the car seat, buckle the seat belt across the labelled belt path and then click shut for a proper installation every time. The Britax Marathon ClickTight, Boulevard ClickTight and Advocate ClickTight will be available for purchase beginning
______________________________________________________________________________________________________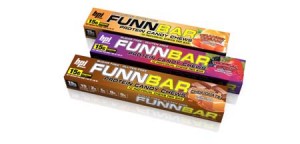 BPI Sports Launches FUNNBAR™ – The Perfect Protein Chew
BPI Sports has introduced FUNNBAR as a delicious new way to feed your protein needs – while satisfying your sweet tooth without the guilt. The first of its kind to hit the market, FUNNBAR™ is the convenient, mouth-watering, and delicious protein candy chew manufactured by BPI Sports, the fastest growing sports nutrition company worldwide. Never has the nutrition industry seen a company combine protein into a candy chew like this. Funnbar is a guilt free, high protein, high fiber, gluten free, sugar free, all natural and zero artificial flavoring way to snack. The fact that FUNNBAR™ tastes like candy is just where the appeal begins. These delicious, gluten-free and sugar- free chews are available in three flavors: Caramel & Chocolate, Tropical Berry and Orange Cream. Each FUNNBAR™ packs 15 grams of protein and 10 grams of fiber in 10 individually wrapped chews. These delicious chews are perfect for eating on the run or packing a snack for later.
"We are consistently coming up with innovative ideas and we hit the jackpot with Funnbar," said James Grage, Vice President of BPI Sports. "The protein category is a crowded area with heavy saturation and little to no innovation. We wanted to change that and push boundaries by formulating the first perfect protein chew that tastes like candy. Funnbar is a game-changer for the nutrition industry."
______________________________________________________________________________________________________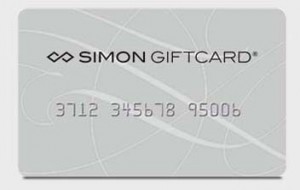 The Visa Simon Giftcard Program Managed By Blackhawk Network Offered At Simon Centers
Simon®, a global leader in retail real estate, will team up with prepaid and payments provider Blackhawk Network to offer an enhanced Visa Simon Giftcard® at select Simon malls and Premium Outlets®. For the first time, the Simon Giftcard will also be made available outside Simon centers through Blackhawk's participating network of grocery stores and other third-party locations. Loyal Simon shoppers will enjoy features including no fees after purchase, no penalties or fees to replace if the card is lost or stolen and the comfort that the funds on the card will never expire. The new Visa Simon Giftcard is scheduled to debut at select Simon
"Customers will appreciate these new enhanced features of the Visa Simon Giftcard," said Lindsey Schaefer, Vice President of Gift Cards and Business Insights for Simon. "Blackhawk's product gives us access to more consumer demanded features and the new deal will allow consumers to have the added convenience of buying our newly branded Simon Giftcard at participating Blackhawk distribution locations nationwide."
______________________________________________________________________________________________________
Build-A-Bear Workshop Names Jennifer Kretchmar Chief Product Officer
Build-A-Bear Workshop has appointed Jennifer Kretchmar as chief product officer and innovation bear. Kretchmar will lead the Company's merchandising and product development teams and will report to Sharon John, chief executive officer of Build-A-Bear Workshop®. She will be responsible for product development, design, quality, sourcing, merchandising, planning, and wholesale. Kretchmar most recently held the position of SVP of Product and Brand Management with the Stride Rite Children's Group of Wolverine World Wide where she was responsible for the global product creation strategy for a diverse portfolio of children's footwear brands.
______________________________________________________________________________________________________
NIKE Appoints Two Marketers To Lead NIKE's Retail And Women's Business
NIKE, Inc. announced two management appointments in two important areas of its global business, Retail (Direct to Consumer) and Women's. NIKE veteran Heidi O'Neill assumes the newly created role of VP, GM of NIKE Stores, responsible for all aspects of NIKE's retail presence worldwide, including oversight of NIKE-branded partner stores. O'Neill will be responsible for further elevating consumers' experience of the NIKE Brand at retail including development of new store concepts. O'Neill joined NIKE, Inc. in 1998. During her 15-year tenure she has served in a variety of consumer-focused roles, including VP of US Apparel and most recently as VP, GM of NIKE Women's.
Amy Montagne has been appointed VP, GM of NIKE Women's. Montagne will be responsible for expanding NIKE's brand position with women and continuing to drive the current momentum within NIKE's Women's business. Montagne joined NIKE in 2005 and has held a range of global roles, including VP, Global Running Merchandising and, most recently, VP, GM of Global Merchandising.
"NIKE innovates to deepen our connections with consumers worldwide. These two appointments demonstrate our commitment to investing in our retail experience and our women's business – two of our most strategic growth opportunities. We're delighted to elevate two seasoned NIKE leaders in these important roles," said Trevor Edwards, President, NIKE Brand.
______________________________________________________________________________________________________
Marriott International Appoints Brian King Global Officer Of Marriott Signature Brands & Global Sales
Marriott International has named Brian King Global Officer, Marriott Signature Brands & Global Sales. In his new role, King will be responsible for leading the Marriott Signature Brands and brand marketing teams, as well as leading the Global Sales Organization. During his 23 years with Marriott International, King has held multiple leadership roles. He most recently held the position of Senior Vice President, Brand Management & Portfolio Programs for Marriott. "There is no executive better suited for this role," said Stephanie Linnartz, Executive Vice President and Chief Marketing & Commercial officer, Marriott International. "Brian's experience and expertise along with his passion for brands, sales and customer engagement make him the ideal candidate to lead our Marriott Signature bands and the Global Sales Organization."
______________________________________________________________________________________________________
Immedia Names Justin Raney As General Mgr.
Immedia, the Twin Cities-based designer and manufacturer of point-of-sale displays and graphics for major retailers, has named Justin Raney its General Manager. Raney will be responsible for Immedia's overall business operations. Raney previously was CEO of Colony Display in Elgin, Ill.
"Justin is bringing to Immedia a vast skill set in the retail merchandising marketplace," said Dan Zdon, LDI President and Chief Operating Officer.
______________________________________________________________________________________________________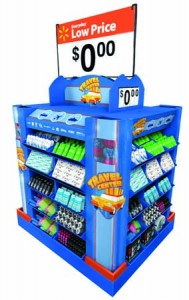 RockTenn Introduces Transformer Pallet Display
Walmart and RockTenn have partnered on the new "Transformer" pallet display concept that is currently being shipped to Walmart stores. The system enables creation of shopper solution centers around the store, that can incorporate brands from multiple suppliers. Built around an ultra-sturdy core of Falconboard®, the unit can hold heavy loads of goods, and is 100% recyclable. The initial program using the Transformer system will be a "Travel Center." It will provide added value to Walmart shoppers by showcasing travel/trial sizes in a convenient, easy-to-shop location. For more information, visit RockTenn; (Web Site) www.rocktenn.com
______________________________________________________________________________________________________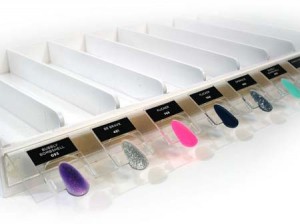 OSI Creative Introduces Accu Colors™
OSI has introduced Accu Colors™, the nail tip swatch system, a revolutionary new nail display featuring easy-to-apply clip-in strip nail brackets. With patents pending, the unique nail-bracket system features individual color tips, enabling consumers to see how various colors will look before purchasing. The unique nail-bracket system can be custom fit to any tray configuration and easily snaps on and off. The clip-in strip nail bracket also eliminates messy test stations, wasted product and tampering. The brackets are sold in two models, a snap version and a soft-locking version. Developed, manufactured and produced by OSI, this unique product has already generated strong acceptance with leading nail polish manufacturers. Available for purchase now, Accu Colors is an attractive POP display system designed for distributors, boutiques, salons and spas. For more information, visit or call 800-899-4990. (Web Site) www.osicreative.com
______________________________________________________________________________________________________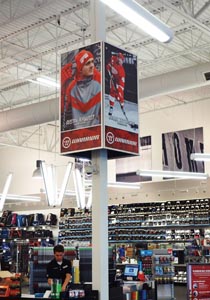 Graphic Resource Group Introduces Universal Column Display System
Graphic Resource Group has introduced its new patent pending in-store Universal Column Display System. This new display fits on any column 10″ to 30″, round or square, metal or concrete and holds four snap frame sign holders for 360° visibility. This Internal Hanging system is easily installed with no damage to the columns and best of all, allows for consistent signage at every store, regardless of the construction. It offers real cost savings by producing the same size signs instead of managing hundreds of different variables. For more information on Graphic Resource Group's new Universal Column Display, visit (Web Site) www.graphicresource.com
______________________________________________________________________________________________________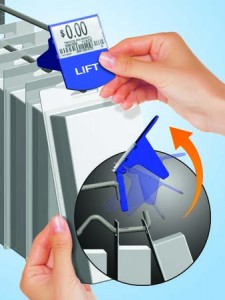 Mechtronics Introduces Anti-Sweep / Anti-Pilfer Hook System
Mechtronics' Anti-Sweep / Anti-Pilfer Hook System features a patent-pending "Security Gate" and camel back hook. The "Security Gate" requires two-handed operation, which allows easy access to the product while deterring theft. The staging area on the hook allows the retailer to easily front-load product while also permitting consumers to replace product, if necessary. In addition to its anti-theft function, the "Security Gate" can be customized to provide an area for branding and/or UPC/EAN labels. Backplates are available for all attachment requirements, and hooks are available in multiple lengths. For more information, contact Mechtronics, (Web Site) www.mechtron.com
______________________________________________________________________________________________________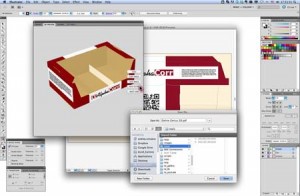 AlphaCorr Introduces Dieline Genius 3D
AlphaCorr introduces Dieline Genius 3D for Adobe Illustrator on Mac and Windows. Compatible with Adobe Illustrator CS4 CS5, CS6, CC and CC 2014, Dieline Genius allows easy customization of packaging and point-of-purchase displays from a library of over 500 resizable designs. Even those without previous box design experience can quickly create corrugated and folding carton material structures. Robert Bou, AlphaCorr co-founder, said, "Dieline Genius changes the game, giving graphic artists the power to easily create successful packaging and point-of-purchase displays from a library of proven designs without worrying about material structure." For more information, visit (Web Site) www.alphacorr.com
______________________________________________________________________________________________________
Display Supply & Lighting Hires As Tom Beard National Sales Mgr.
Display Supply & Lighting has added industry veteran, Tom Beard, to its team as its National Sales Manager working out of its Itasca, IL headquarters. Beard's career has spanned 20 years servicing the trade show and display industries. Beard is charged with helping DS&L grow its presence in the marketplace. (Web Site) www.dslgroup.com
______________________________________________________________________________________________________

Orbus Exhibit & Display Group Introduces Exhibitors Handbook Rental Program and Catalog
Orbus Exhibit & Display Group has introduced its brand-new rental program and catalog, The Exhibitors' Handbook™ Rental. This program offers 100+ rental exhibits, displays and accessories, and is a turn-key solution for any exhibitor. The off-the-shelf kits lower turnaround times, making the only time investment in the design and printing of display graphics. Many of Orbus' most popular product lines are included in The Exhibitors' Handbook Rental, including Formulate™ fabric displays, Vector Frame™ Geometric displays, Orbital Express™ Truss exhibits, and a brand-new line of Hybrid Pro™ modular displays and a double deck system. For more information, visit. (Web Site) www.orbuscompany.com
______________________________________________________________________________________________________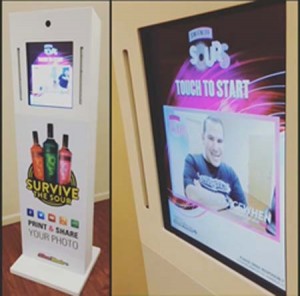 Smirnoff Promotes New Sours Product Using Social Shots Social Media Photo Booths
Social Shots created customized social media photo booths for Smirnoff's national marketing launch of its new Sours product line. With a completely branded graphic interface tailored to Smirnoff's new brand, the social media photo booths act as independent brand advocates, spreading the word long after the user has walked away from the unit. The theme of the activation is #myfacewhen, referring to the face a person makes when consuming a shot of the new liquor. The photo booths capture this moment in real time and can do so in both photo and video format. The photo booths instantly snap and share these branded photos or videos to a variety of social media outlets including Facebook, Twitter and Pinterest as well as grant users the ability to share the branded interactions to their cell phone via text message or directly to their inbox via email.
The photo booths for sale from Social Shots are simple for anyone to set up and easily can ship around the nation or around the world via traditional carriers such as FedEx or UPS. On the ground promotional staff needs no previous knowledge or special skills to set up a Social Shots photo booth. Once the unit is physically in place and connected to the internet Social Shots staff from the New York office can cue and launch the unit remotely as well as deal with any rare issues that may arise. Social media photo booths from Social Shots are a powerful marketing tool for brands looking to increase engagement and social media reach in a very organic way. For information, visit (Web Site) www.socialshots.com
______________________________________________________________________________________________________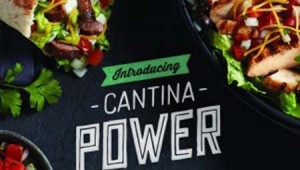 Taco Bell Promotes New Cantina Power Menu
Big flavor and high protein have come together to create a Power Platform at Taco Bell®, which recently launched nationally. This new platform was created to reflect the evolving lifestyles and dietary needs of consumers looking for great tasting options that are high in protein. Available at participating locations nationwide, the first iteration within the Power Platform – the Cantina Power Menu™ – offers Bowls and Burritos packed with protein and nutrient-rich produce, with more than 20 grams of protein and 500 calories or less. Additionally, the company plans to expand these protein-packed options throughout different day parts and will begin local testing for a new Power Greek Yogurt at Breakfast, as well as Power Breakfast Bowls and Burritos.
"We've evolved the Cantina platform based on consumer feedback. We heard customers requesting a higher protein solution with the flavors Cantina delivers, so here is Cantina Power," said Brian Niccol, President, Taco Bell Corp. (Web Site) www.tacobell.com
______________________________________________________________________________________________________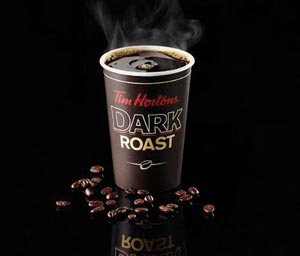 Tim Hortons Promotes Dark Roast Coffee Across North America
Tim Hortons launches its new Dark Roast coffee at restaurants across North America, marking the first time in the company's 50-year history that an alternate blend is available in restaurant in addition to Tim Hortons iconic Original premium blend. Tim Hortons Dark Roast is a brand new premium blend made from 100 per cent Arabica beans, sourced from the world's most renowned coffee regions. It is carefully roasted to bring out the full, rich flavor and aroma of a dark roast coffee, while ensuring a perfectly smooth finish. The new Dark Roast coffee is available at Tim Hortons restaurants across Canada and the United States for the same price as Tim Hortons Original coffee blend. To celebrate the launch of Dark Roast coffee, Tim Hortons had unknowing customers try and taste the rich flavor of the coffee…in the dark.
"The launch of Dark Roast is historic for Tim Hortons and it couldn't have come at a better time than during our 50th anniversary year," said Marc Caira, President & CEO, Tim Hortons Inc. "Tim Hortons prides itself on serving best-in-class coffee and responding to the evolving tastes of our guests, and our new Dark Roast blend speaks to that commitment. We know that our guests want choice when consuming their daily coffee and we applied our passion for coffee and brewing expertise to develop a superior tasting Dark Roast blend our guests will love." (Web Site) www.timhortons.com
______________________________________________________________________________________________________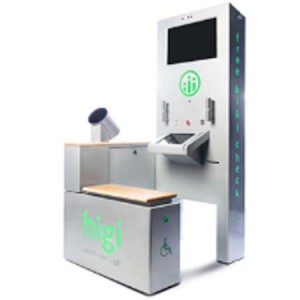 IZ-ON Media Joins Higi To Deploy Stayhealthy Kiosks In Nearly 10,000 Drug And Grocery Locations
IZ-ON Media, a Technicolor company and in-store shopper marketing solutions leader, has joined forces with higi, a leading provider of connected health screening kiosk networks at retail pharmacies. IZ-ON Media will serve as the advertising sales representative for the combined higi Stayhealthy kiosk network, tripling its Health and Wellness footprint to nearly 10,000 locations. By mid-2015, higi expects to complete the chain wide deployment of its kiosks to 4,100 Rite Aid stores — marking the first health station deployment and digital in-store media play in a national drugstore chain. Higi Stations are already located in the pharmacy area of over 1,800 Publix, Ahold, Fred's, Wakefern, and other grocery chains.
Using the higi Stations, consumers can measure their weight, BMI, pulse, and blood pressure. They can also track their wellness progress anytime online or via the higi app, integrate their preferred fitness tracking device and/or app into the higi platform, and be rewarded and motivated for adopting healthier habits.
"Our network is growing as consumer health engagement becomes more habitual," said Richard Hirsch, higi's Senior Vice President of Marketing and Media. "Our collaboration with IZ-ON Media enables relevant and trusted brands to interact with a key consumer segment across the combined higi Stayhealthy network, when these consumers are directly engaged in their health and wellness. We think these opportunities create real wins for marketers, shoppers, and our retail partners."
"Adding higi to our portfolio continues the expansion of IZ-ON Media's Health and Wellness footprint and provides our valued brand partners with more targeted advertising opportunities that deliver meaningful results," said Kevin Carbone, Senior Vice President of Retail Partnerships at IZ-ON Media. "With its growing community of engaged users and premier retail partners, the combined higi Stayhealthy network fits well with our retail-focused strategy." (Web Site) www.izonmedia.com
______________________________________________________________________________________________________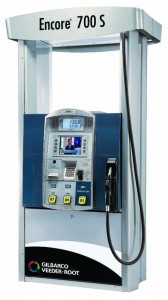 Gilbarco And VeriFone To Offer Global Digital Media Network To Convenience And Fuel Retailers
Gilbarco Veeder-Root, worldwide leader in retail petroleum technology, and VeriFone Systems, the global leader in secure electronic payment solutions, have partnered to offer next generation forecourt payment solutions and to create the largest at-pump interactive digital media network worldwide. The two companies will collaborate on future fuel dispenser payment platforms to be developed and supplied by VeriFone. The solutions will meet convenience and fuel retailers' functionality and regulatory needs in an increasingly complex payment ecosystem, as well as offer at-pump media advertising and entertainment.
Gilbarco will become the software and solutions integration lead and sales and service provider for forecourt payment systems developed under the partnership. The companies will work together to transition the payment electronics in Gilbarco's global dispenser product lines to VeriFone technology. The VeriFone Digital Network (VNET) now spans more than 140 media markets across the U.S. and the U.K., including all of the top 50 U.S. media markets, providing one-to-one, interactive media engagement across more than 50,000 screens in taxis, gas pumps, and convenience stores around the world with the merger of Outcast Media. (Web Site) www.outcast.net
______________________________________________________________________________________________________
Cardenas Marketing Network Names Cesar Angulo Director Of Business Dev.
Cardenas Marketing Network, a a multicultural experiential marketing agency, has appointed Cesar Angulo as the firm's new Director of Business Development. Angulo is a former sales executive with NBC Universal/Telemundo (Chicago, Miami and San Francisco) and Univision (Chicago).
"We are confident that Cesar Angulo will be able to utilize his vast experience, creativity, and impeccable professionalism and client servicing skills, to grow and expand business for the company," said Henry Cardenas, CMN President and CEO. "Cesar is a strong addition to our cross-cultural marketing team." (Web Site) www.cmnevents.com
______________________________________________________________________________________________________

_________________________________________________________________________________________________________

______________________________________________________________________________________________________

______________________________________________________________________________________________________

______________________________________________________________________________________________________
CLICK ON IMAGE TO VIEW DIGITAL EDITION
______________________________________________________________________________________________________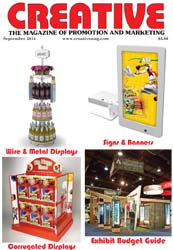 " target="_blank">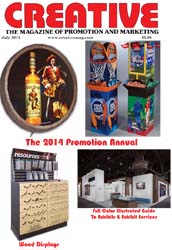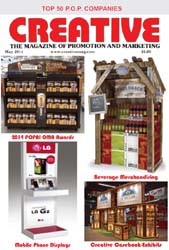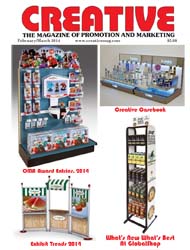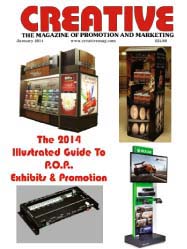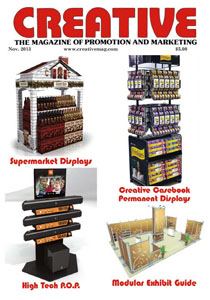 SEPTEMBER 2013 ISSUE
JULY 2013 ISSUE
MAY 2013 ISSUE
MARCH 2013 ISSUE
NOVEMBER 2012 ISSUE
SEPTEMBER 2012 ISSUE
JULY 2012 ISSUE
MAY 2012 ISSUE
JANUARY 2012 ISSUE